In 2015, the Tadworth 10 began in dense fog. Last year we weren't there, but we understand that it was run in torrential rain. Well this year, you can actually see what's happening!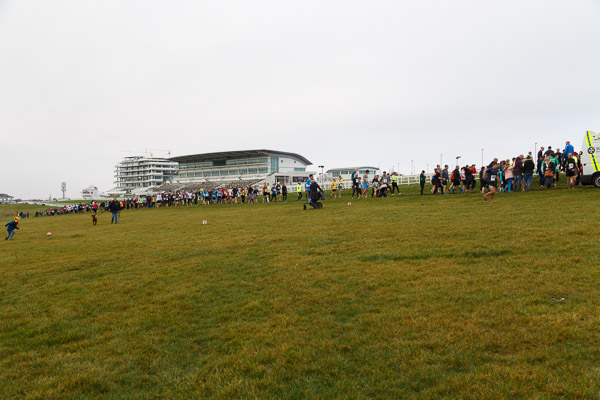 Look at that! Runners, the grandstand, everything, all plain to see! Ok, it's a bit dull, and there's been some on-and-off drizzle if not actual rain, but it's not bad weather for running.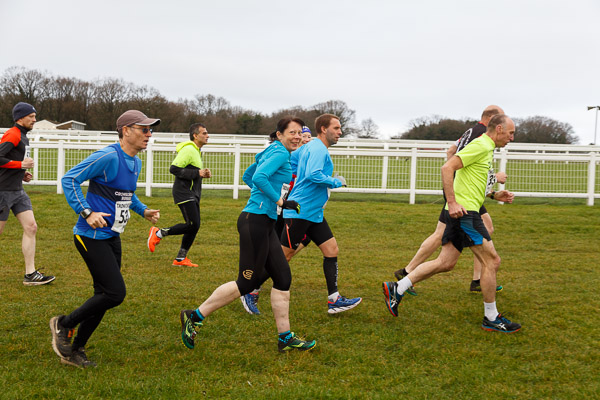 Ah, good visibility or no, it's still hard to see Claire; but if you look closely, she's just peeping through a crack in front of Amanda.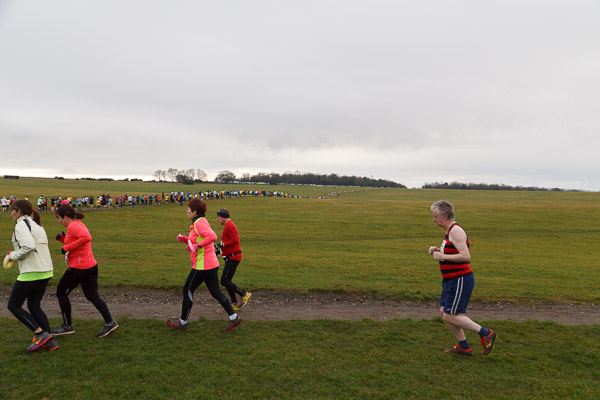 As the back markers reach the end of the start/finish straight, the pack heads up over the hills and far away. Time to jump on the bike and head to the 2-mile point. In 2015 I missed Amanda there by a minute or two, but I'm not sure why. I ought to be much faster even though I'm travelling a slightly longer distance.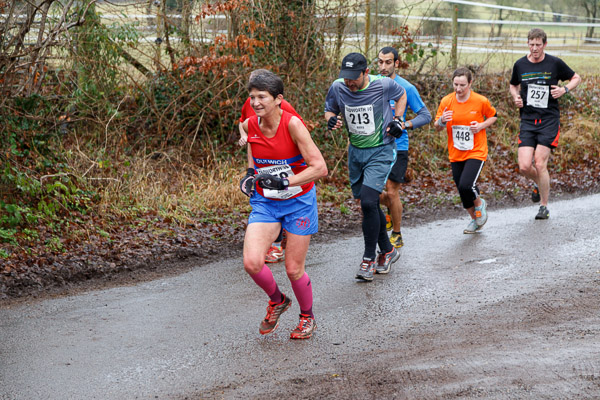 By dint of knowing where I'm going this time and not hanging about, I get there before her 2015 arrival time, but only just. Clearly it's much tighter than I realised. But the first runner I recognise here is another Dulwich Claire we met pre-race: I can't call her 'New Claire', because that would imply... No, best not go there! I'll just call her Claire X...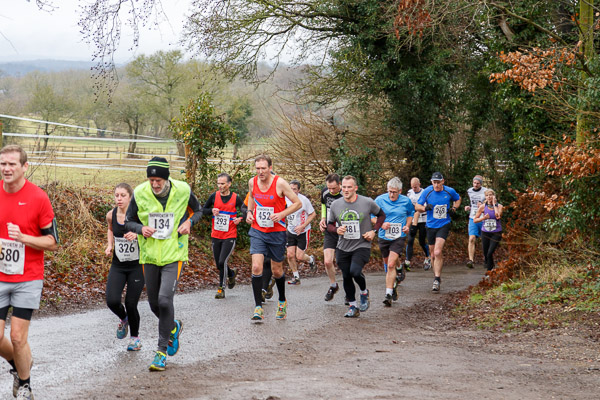 Paul next. He's actually the third Dulwich runner at the moment, but Tony, the leader, is well gone. We won't see him at all in this story!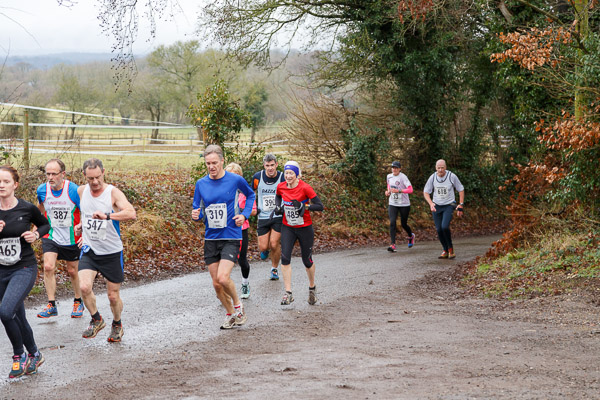 And the one and only Original Claire!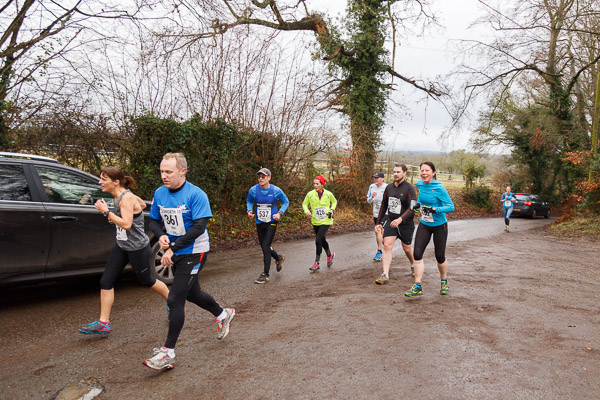 Oops, Amanda has to dodge some cars here.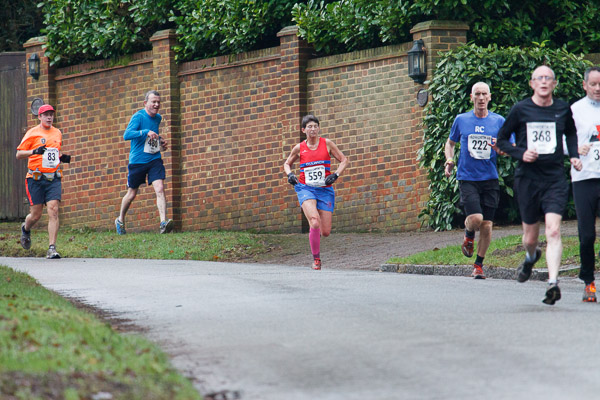 Aha, Nigel has overtaken Claire X, after being behind her earlier. Looks like he's on form today.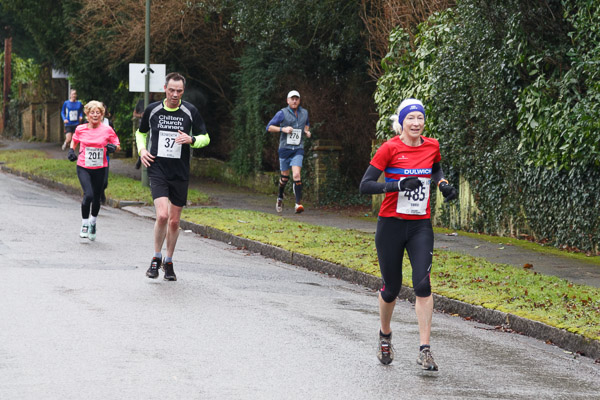 Look closely at the guy behind Original Claire: his top says, "Chiltern Church Runners". It was at this exact same spot two years ago that I saw the Selsdon Baptist Church Runners. Truly the Lord moves in mysterious ways.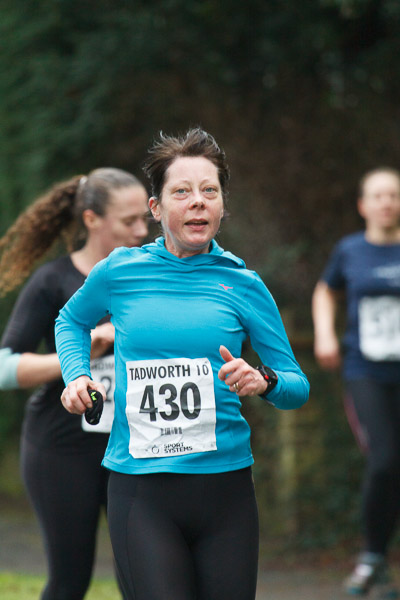 Amanda has a baby gorilla in her hand...

Ok, it's a pair of gloves, but at another race a couple of months back she threw them to me just as I was taking a photo and it ended up looking for all the world like a baby gorilla sitting in a tree!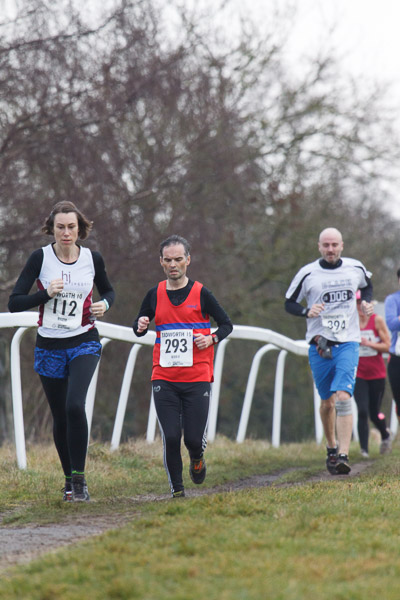 Paul comes over the top of the racecourse at the beginning of his the second lap. On the way here, I did pass the previously mentioned Dulwich Tony well on his way, but there was no point stopping. By the time I could have got off my bike and pulled out a camera, I'd just have had a shot of his rapidly receding back.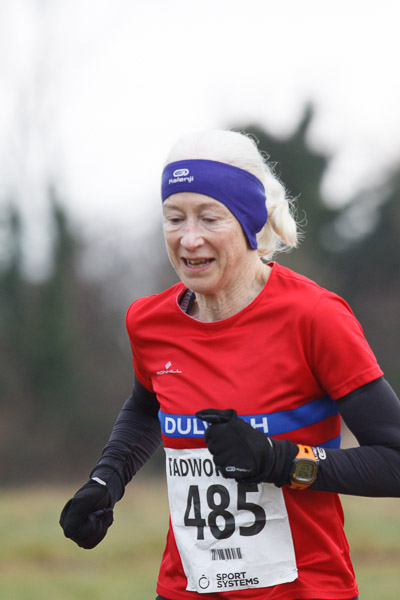 "I'm going to have him soon!" she cries. She means she's going to overtake Paul. What did you think she meant?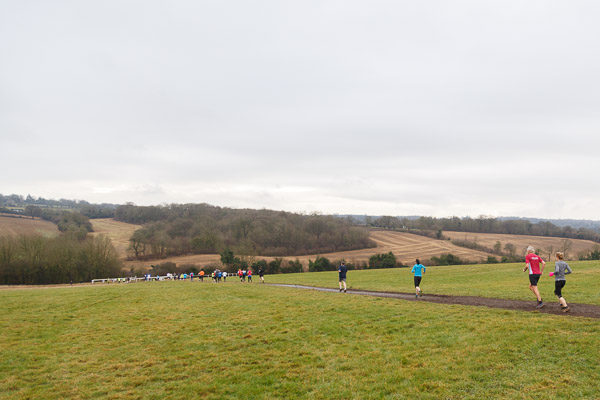 The view from the top of the downs as you start to descend. Of course, what goes down must come up, and via a very muddy and rutted lane at that, far less photogenic.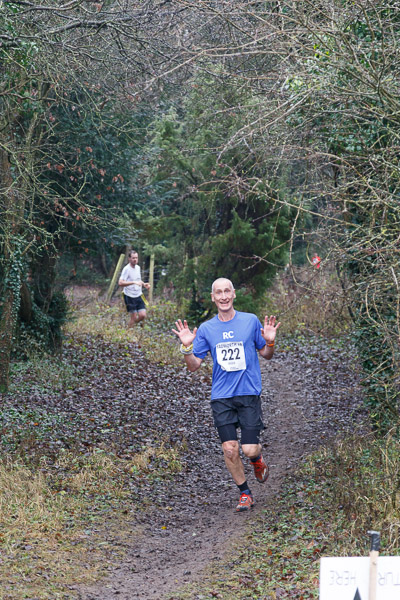 "Thank you, thank you, enough applause already!"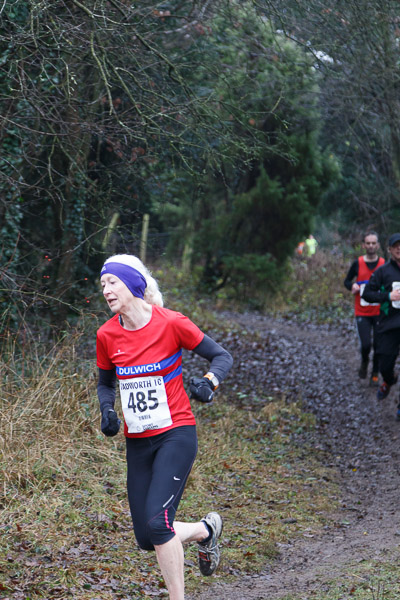 And she's done it! <panto>He's BEHIND you!</panto> Just one mile to go now, can she keep the lead?



Amanda is confused. She's seen my bike off to her left, but not me. This is because I'm half in a ditch to get the angle I want for the photo. The things I do for Art, eh?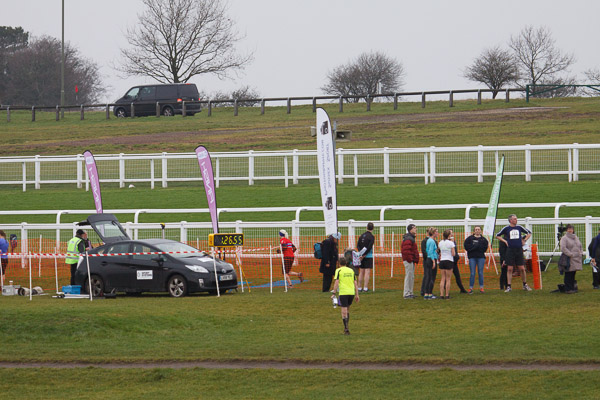 As I come down the hill, I see a distant figure on the home straight. Quick, out with the big lens! Yep, she did it!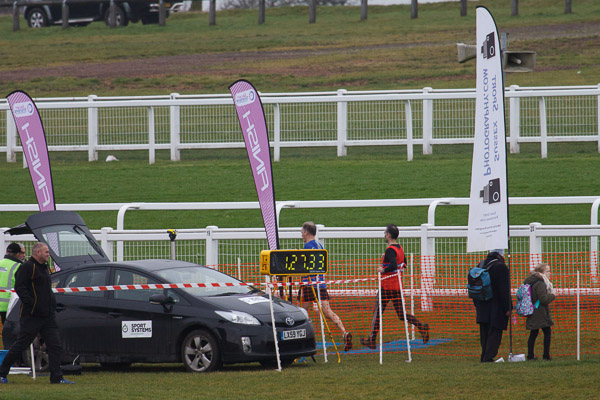 Paul's just over half a minute behind in the end.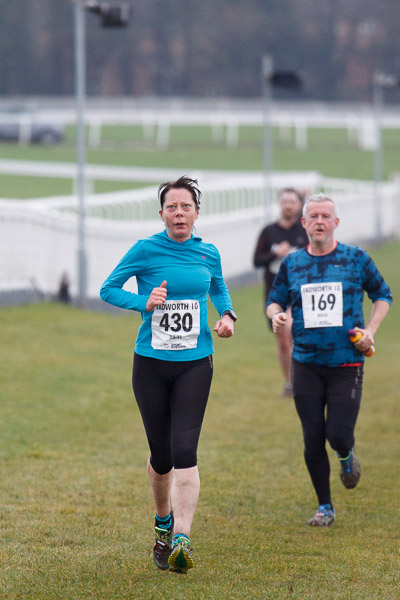 And Amanda comes in. She's a long way off her pre-knee 2015 time, but the statistics will show she's still a fast woman! Not a loose one, of course. [What is a loose woman? Can't you just do them up a bit more tightly?]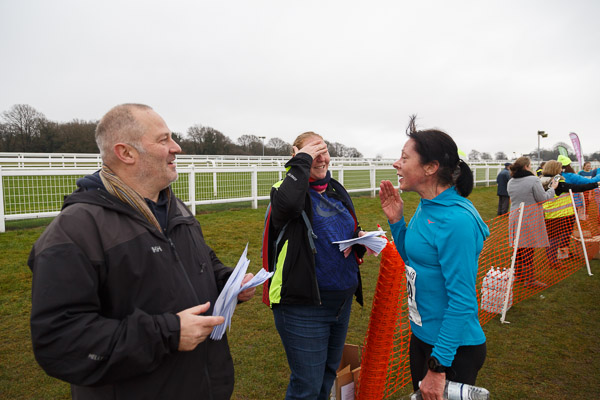 Nicky and Amanda exchange their secret hand signals. Oops, they're not so secret now. Sorry.

Grant, typical man, doesn't even notice!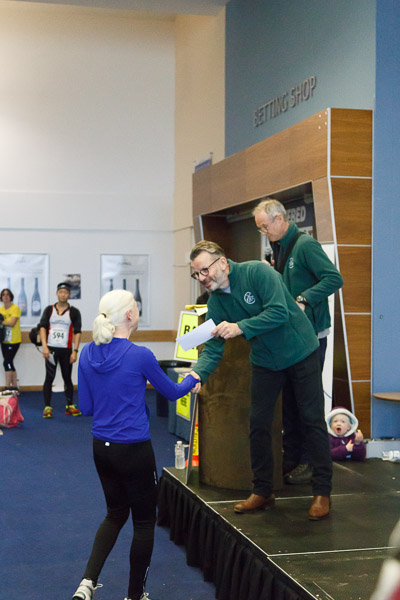 So we're idling away the post-race hours in the slowest coffee queue the world has ever known when it's announced that Claire has won the F60 prize! Well done you, but I'm not losing my place in the queue to get a better picture!

And when we do eventually get our coffees, it's nice of someone to point out that there was no queue at all at the food counter, where coffee was also on offer. Pah.

So on that note of triumph tempered with missed opportunity, I bid you farewell. Next up, the Denbies 10: more of the same only hillier and quite probably muddier!

Love to all,

Steve.