I must stress that the title of this report is strictly metaphorical: you will not see a single chicken at any time in the photographic record.

But this is Dorking, known far and wide for its famous Chicken. I think I mentioned in a previous report how the Dorking Cockerel dates back to Roman times, so I won't repeat myself (and if I didn't actually mention it at all and am suffering from false memory syndrome, sorry. (And if I did mention it, but you personally were not a recipient of that epistle and therefore don't know what I said, then I'm also sorry. (And I'm sorry if I've apologised too much.)))

What? Err? Yes? Oh, back to today...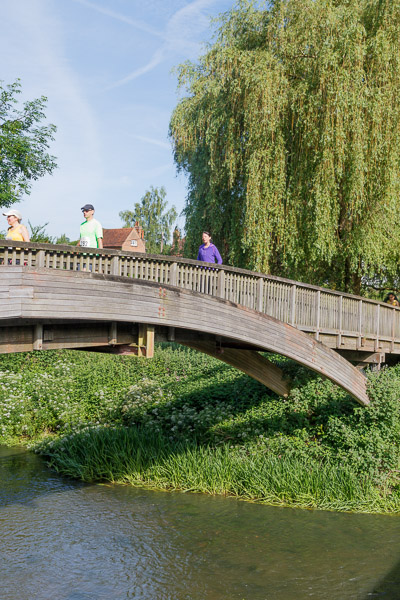 She's come to it so she'd better cross that bridge.

A few moments before, Merilyn crossed it too, but my camera battery chose just that moment to go flat. You'd think that nearly two decades into the 21st Century, when we were supposed to have had flying cars and holidays on the Moon and stuff like that, we'd at least have batteries that didn't go 'phut' at critical moments.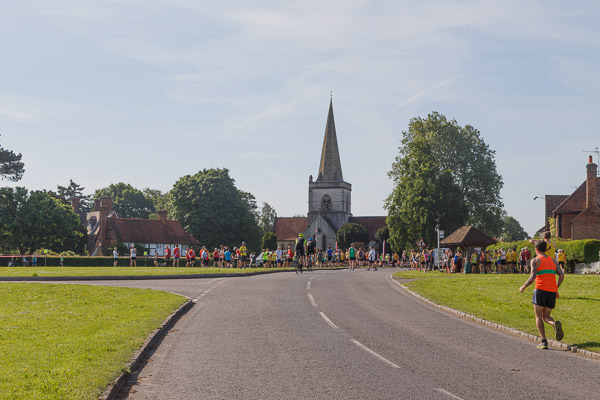 So to our goal, the start line on the village green.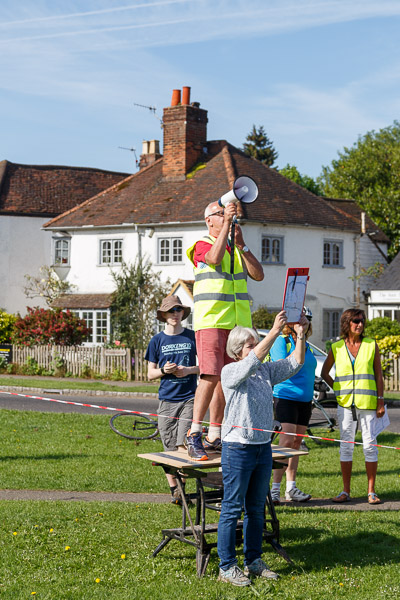 I think this is a low-tech autocue!

As I walk down a moment before he climbs up to make his speech, megaphone man and an associate (not in this shot) cry out to me, "Don't touch the mat!"

Now I don't have a timing chip about my person, so i could dance an Irish Jig on the mat without it being an issue, but I don't actually need to cross it and don't think it's very helpful to cause trouble, so I just shout back, "It's all right, I won't touch it! I have committed many sins in my life, it is true, but I will not touch that mat!"

Sins? The aforementioned associate informs me he's the deacon of the local church!

What can I say, but, "Forgive me Father, for I have almost touched the mat". I'm not sure we have time for a full-fat absolution with all the trimmings, so a quick blessing will have to do.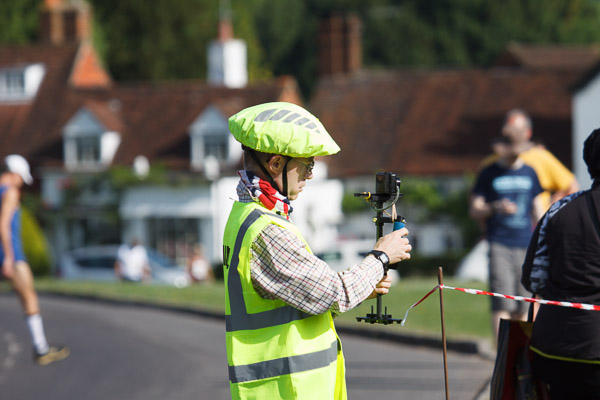 Dr Rob has got himself a Steadicam clone. The big ones they use in Hollywood will set you back a few thousand quid, but then they have rather posher cameras too. Note that his special marshal's helmet cover appears to have blocked all the ventilation holes; that may turn out to be a mistake in hot sun!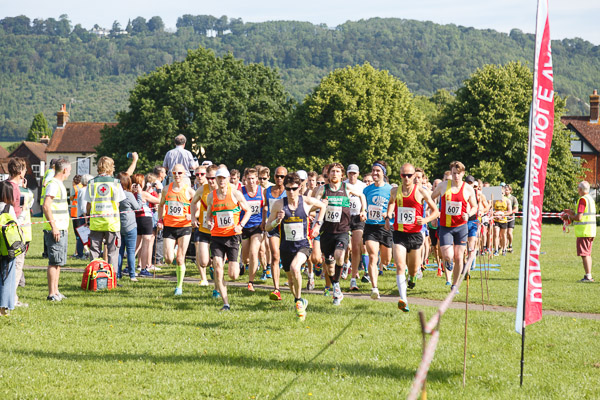 And off they go. Despite intense study, I don't see a single person I know to photograph at the start! They're in there somewhere, but where?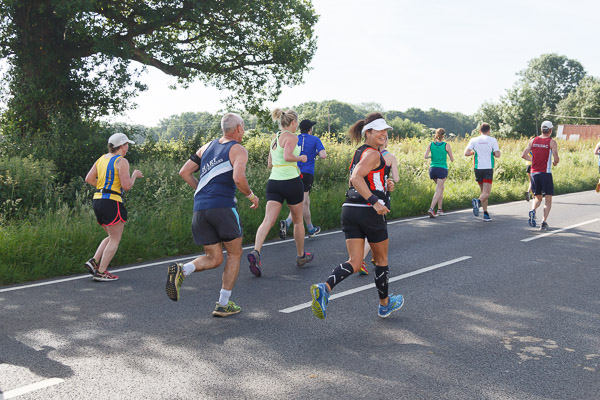 Well well well...

A bit down the road, I stop to take some general shots of the runners and suddenly this voice calls out, "Hello, we met at Dorchester!" Yes, it's Lindsay the Wimbledon Windmiler, and somehow she's managed to spot me. Ok, it's probably not so difficult really: the number of people riding bright yellow bicycles wearing Friesian cow T-shirts and carrying half a ton of camera equipment is probably not great...

[Aside: I was thinking that if anybody asked me if I was one of the official photographers, I was going to say, "No, they're all wearing hi-vis vests, whereas I'm going for the inconspicuous look", but nobody did. I'll have to save that bon mot for another occasion.]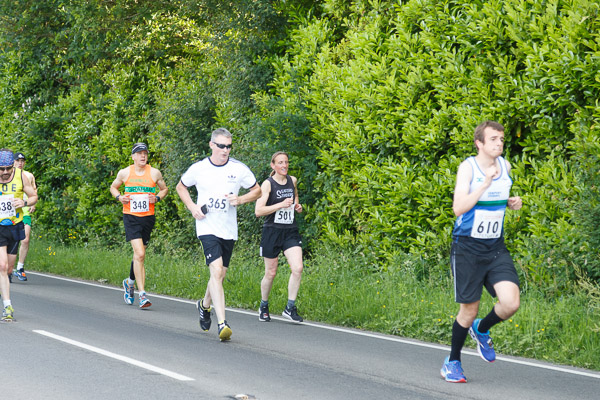 Aha, it's Natasha again, out in front of our merry band for now at least.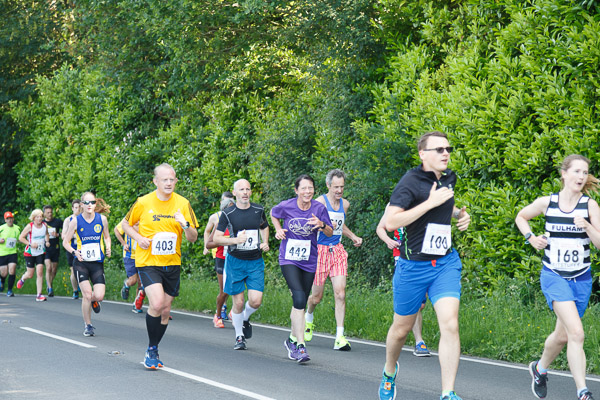 And that's the woman I'm supposed to be looking out for!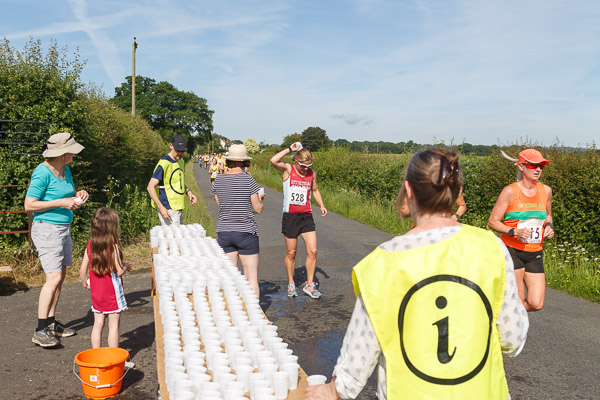 At the first water station, people are already doing the pour it on your head thing.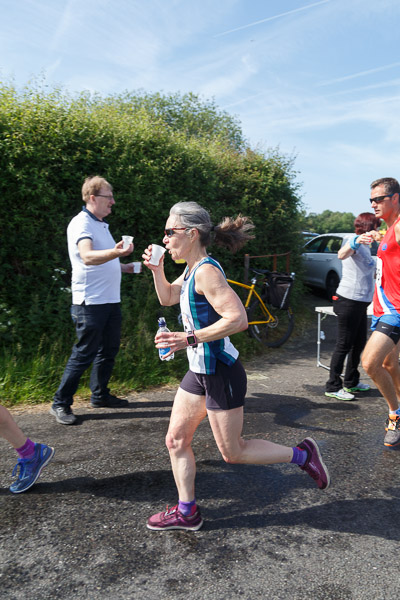 Note that Merilyn has taken a cup from the water station but still carries an entire bottle of her own! Amanda feels off-balance carrying any sort of supplies, but fortunately for her, she has a support team to produce gels/water/whatever her little heart may desire at appropriate times. Usually, anyway.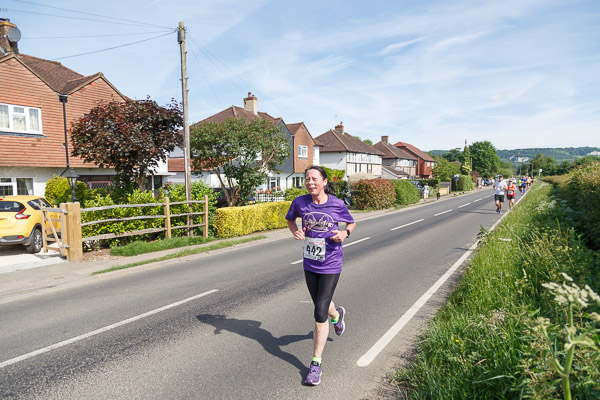 Back on a villagey bit of road for now.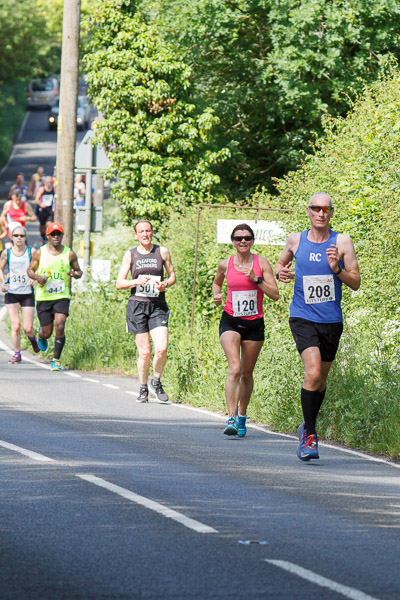 Nigel, Natasha and Merilyn (just) all in shot together. And number 120 looks vaguely familiar: a bit of checking via my time machine (I won't blow anyone's mind by explaining it again) and it turns out she's been in loads of races we've done, not least the Woodman Five just the other week!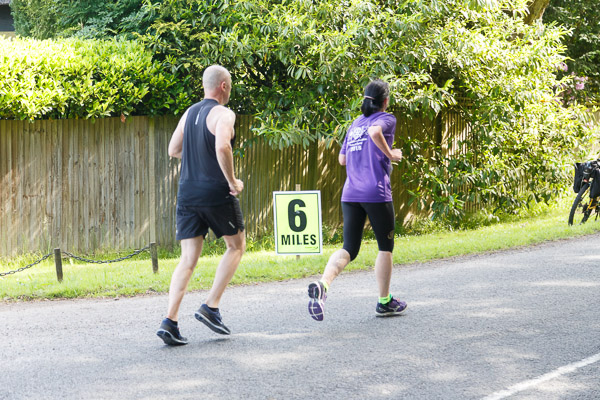 Because the route has some sections you cover twice, and there's also the 10k race using part of it, there are quite a few distance markers that you need to ignore some or all of the time. This, however, really is six miles into the race.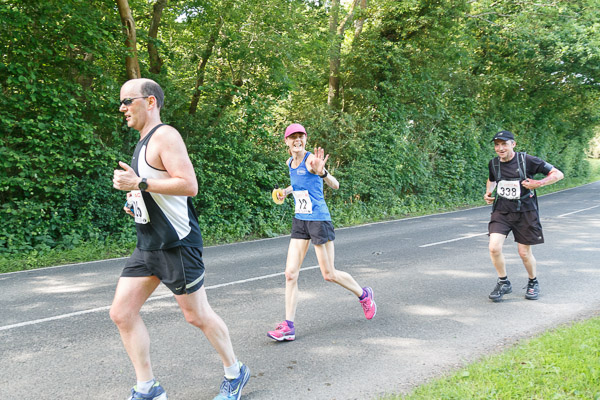 And here's Sara. Nigel earlier asked if we'd seen her, but neither of us had.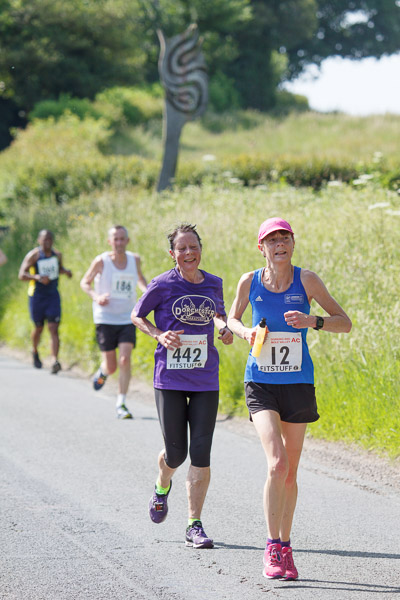 What a cheek! Sara's overtaken Amanda!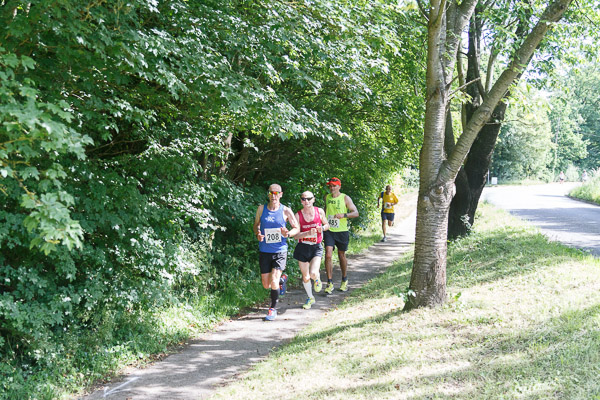 Coming up to the finish with Nigel leading our little clan. He's about to be passed by the guy behind, but he's only a 10k-er, so it doesn't count.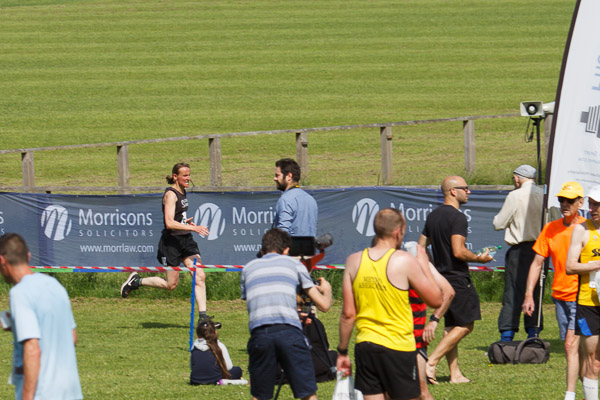 Natasha looks like she's literally got the bit between the teeth as she puts on a real sprint to the finishing line!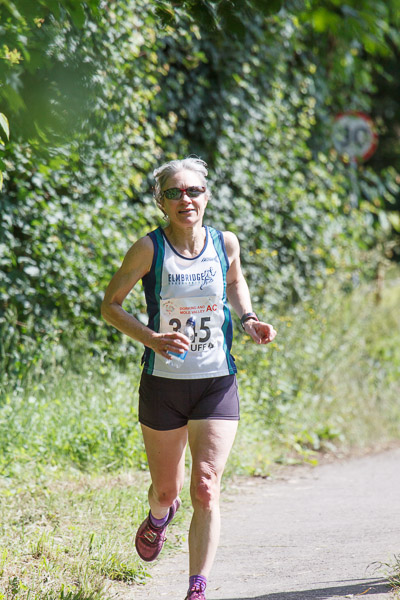 Merilyn next.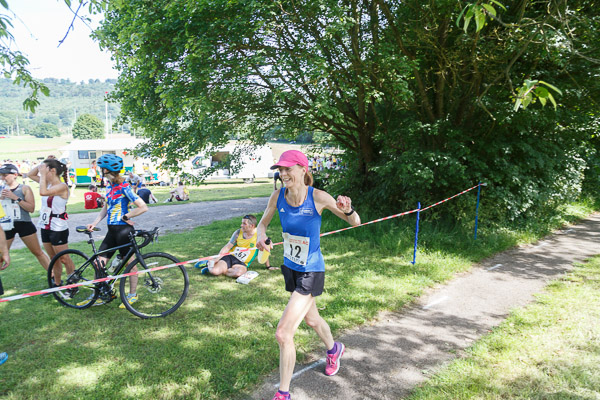 Then Sara, quite well clear of Amanda now.



Here's my girl! I don't actually see as I'm taking the photo, but that's Lindsay just a little further back.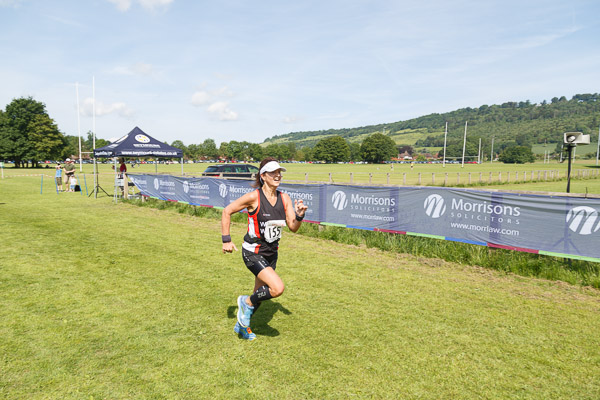 And now she's pipped Amanda at the post too!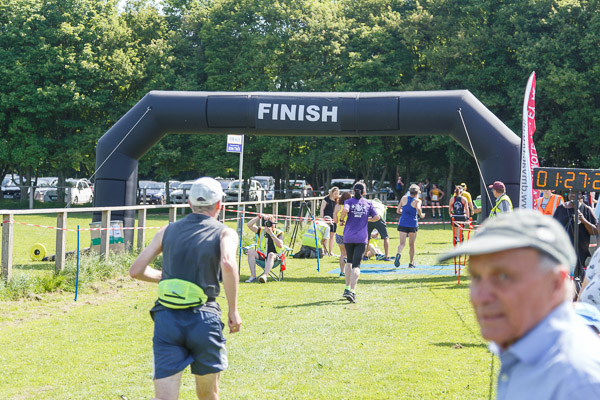 About a minute slower than two years ago, but it's been very hot and humid, not good for the lungs. Indeed, at around the 7 mile mark, I had to stop to help a lady who was having a serious asthma attack. A marshal called in the paramedics and I trust she is now fine, but that's not the sort of thing Amanda wants happening to her.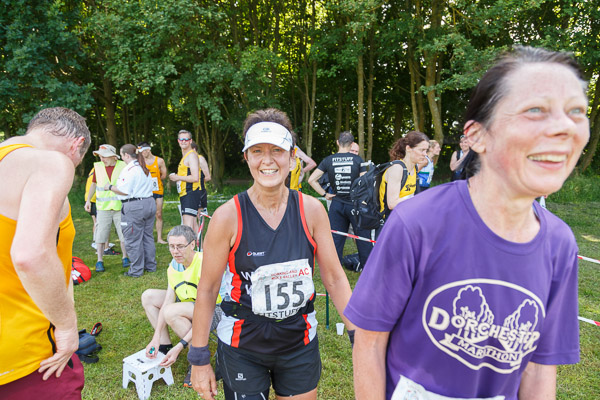 Hmm... I don't think gaining the place back in the finish funnel quite counts.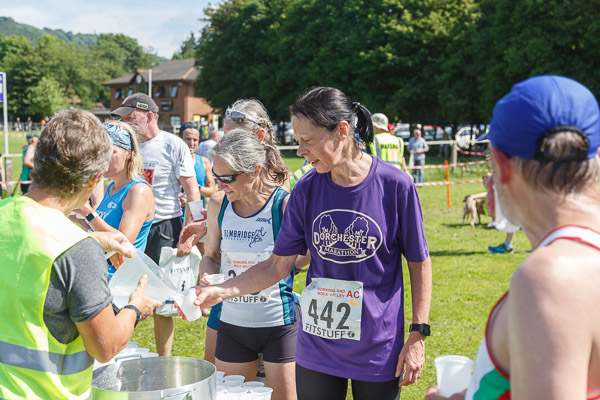 Back to plain old water after the posh watercress and mango smoothies at Dorchester! And no beer either. Of course, I haven't had a prang on the bicycle this time, so swings and roundabouts...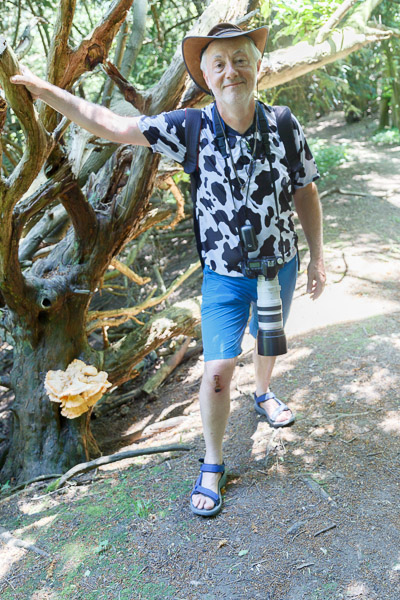 Although the wound doesn't look so impressive now, it's actually much more irritating as it's scabbed over.

I will leave you with a poem that I have composed especially for this occasion:

Here's to the Chicken of Dorking!
He'll help you keep running, not walking.
He'll cluck by your side
And it can't be denied
That it's fine motivational squawking!

Ok, no, I won't give up the day job, then.

Love to all,

Steve.