It seems like the world revolves around London for most of our crew today, but we have chosen the natural world over the city. Come then, join me, as we enter the field opposite The Fox and I will tell you a tale...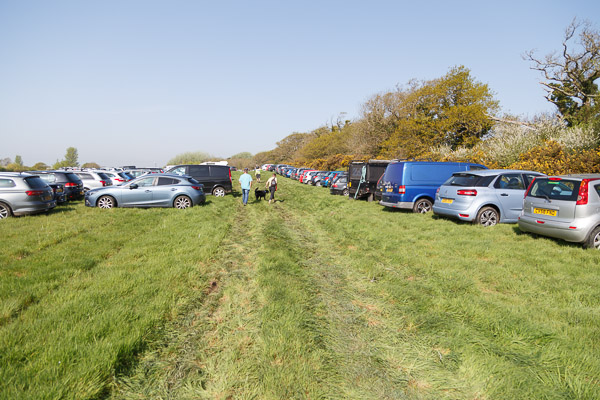 The grass is long and the ground is soft. Two cars have got bogged down just inside the bottom gate, so there's a bit of a queue to enter via the other. Fortunately we're in plenty of time so it's no problem. It may be interesting leaving if other cars chew up the surface between now and then, but we shall see.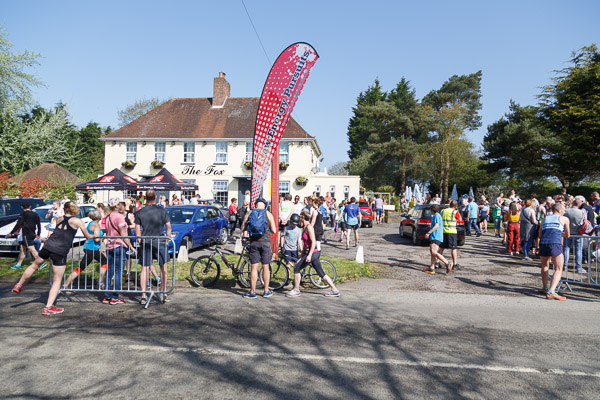 And here is The Fox itself, with the ten-milers generally getting ready. The 10k-ers are assembling just down the road a little, as they start fifteen minutes earlier. And just look at that blue sky and sunshine: Amanda takes her fleece off ages before the start!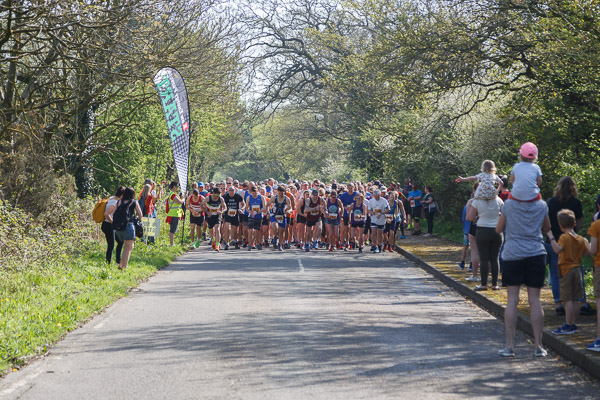 The A27 runs directly parallel to this road only a couple of hundred yards away, so almost anybody who wants to go anywhere other than the pub uses it instead. That gives us a nice quiet place to start, as it's a bit early for most people to be going to the pub if they're not involved in the race.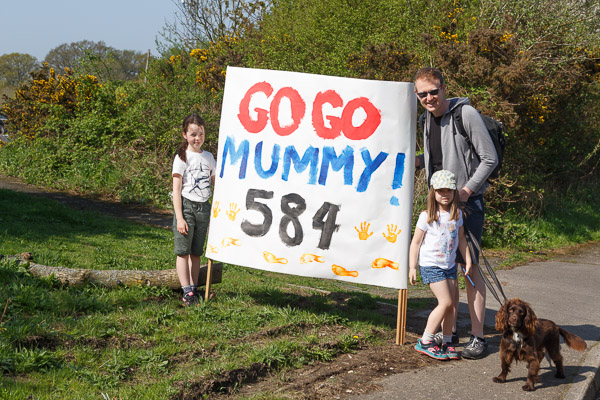 No prizes for guessing who they're supporting, although one suspects that Mummy will still be going strong and not yet needing to dig deep into her reserves at this point, somewhat less than 100 metres from the start line!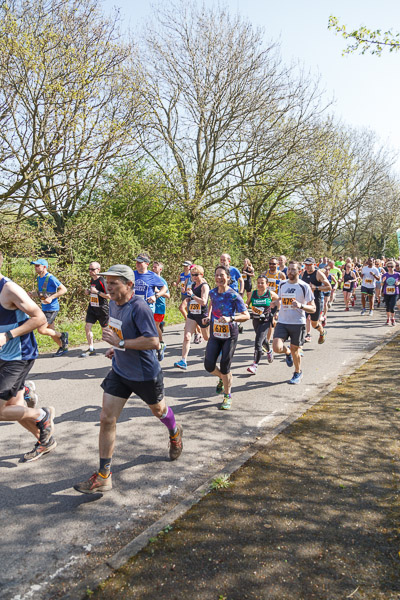 Go Go Amanda! 678

The numbering is slightly misleading, as there are only about 250 runners; London, I understand, has over 40,000. We are a far more exclusive club!

Now, we've never done this race before and don't really know this part of the world at all, so I'm basically winging it and hoping that points I've marked more or less blind on my GPS will actually be reachable by bike. Amanda can manage ten miles without needing me to give her gels at the appropriate points, though, so the fine details of logistics shouldn't actually matter too much.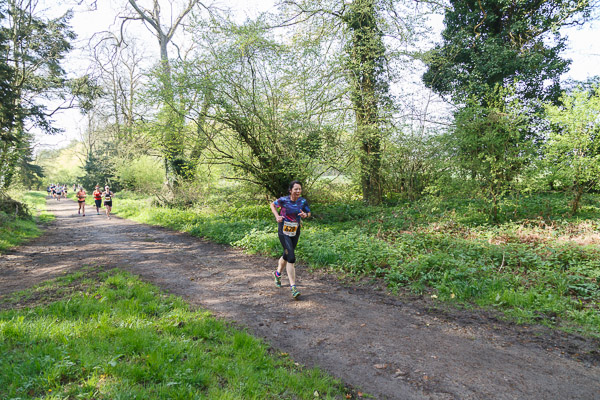 Well, Plan A has worked. I was able to take a road which let me get some speed up before turning into a muddy trail, so I'm here at about a mile and a half just before her.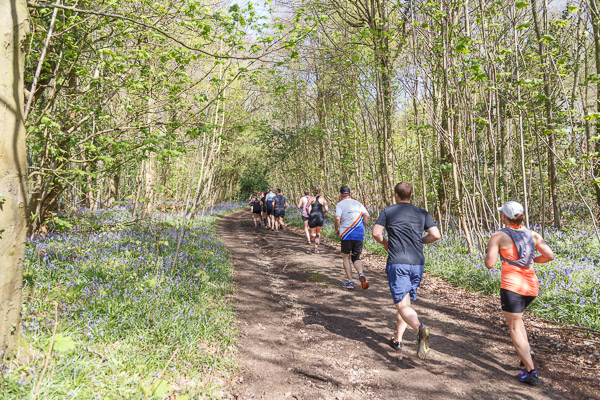 'Bluebell Trail' right enough! The bitter cold earlier in the year has delayed Spring and the bluebells are absolutely at their prime right now. I believe that the Woodland Woggle used to be called the Bluebell Run until somebody noticed the bluebells were almost always over by the time of the race, but this year they could be lucky.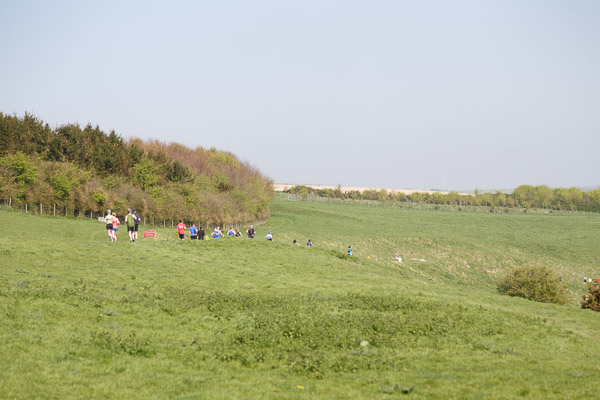 The route breaks out of the woods and into the open South Downs. The runners will go off in a big loop here while I'll cut across to the bit where they come back.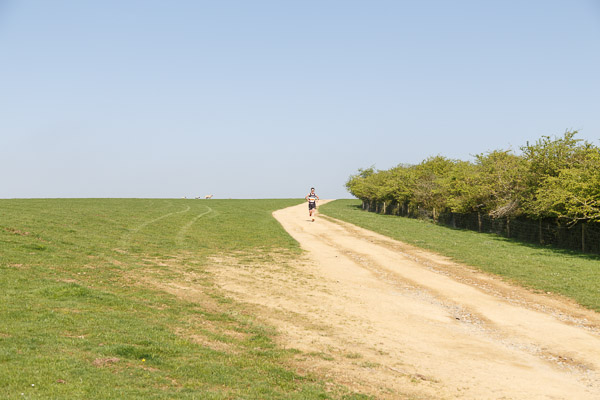 Over the hill (in a good way), here comes the race leader. He's pulled out a fair old gap here, just a little after halfway. Let's see what the view is like from the top.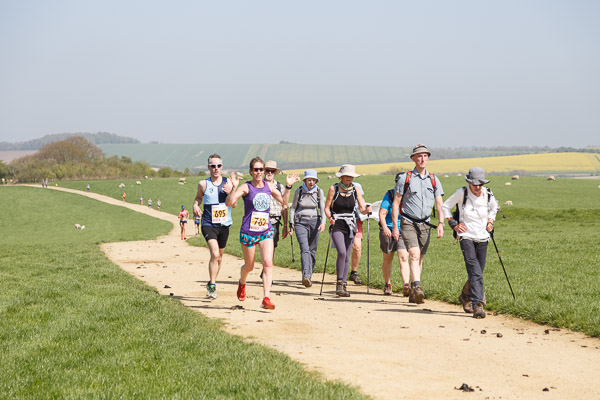 The walkers don't look tempted to join in.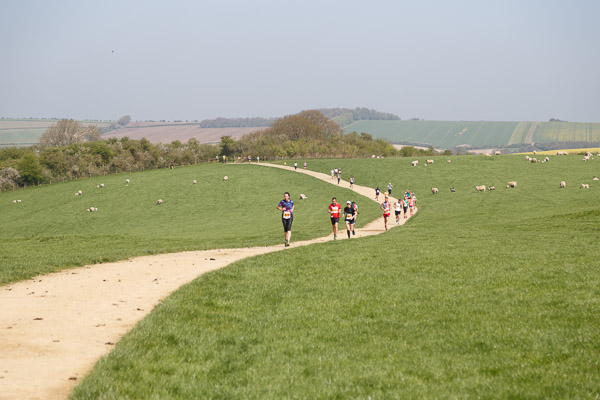 The race notes suggested that there were Highland Cattle in some of the fields, but we will have to be content with sheep. It's not that there's anything wrong with sheep, but we do like a good Heelan Coo.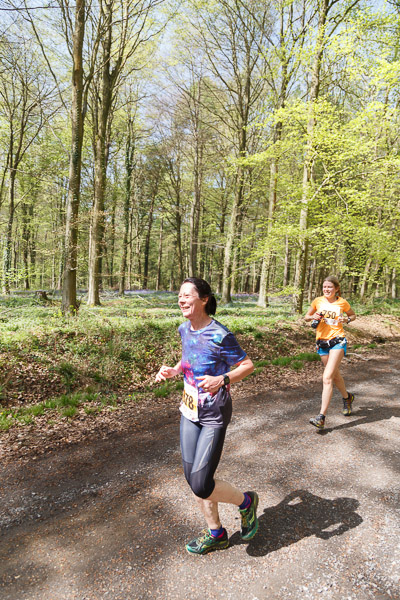 And back again in the bluebell woods with just a couple of miles to go.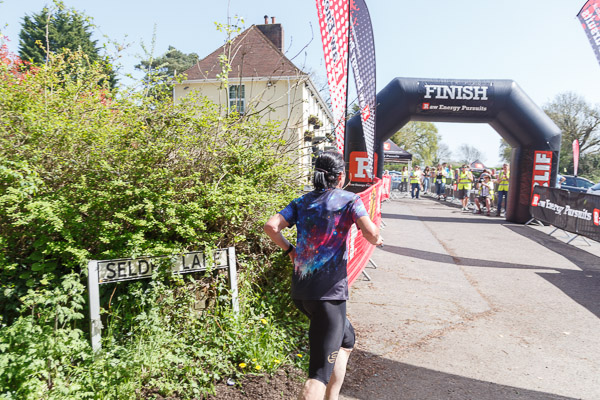 There's a really nasty hill just before the end, and Amanda is proud that she is able to run up it and not have to walk as some do. As I cycled up it shortly before, anyone who was actually running was overtaking me! If you think the bike is cheating, take note. But it's the final bend and the finish is right at the pub. How convenient, somebody has put some proper thought into this.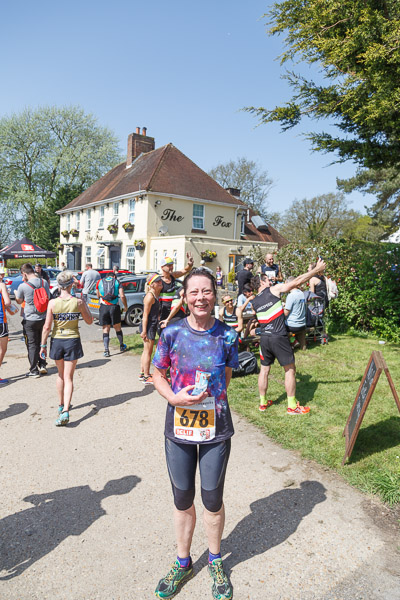 Ah, the bling is a bit lacking. No T-shirt, no medal, no nothing... except a Cliff Bar! Not sure how you put that on display in the trophy cabinet.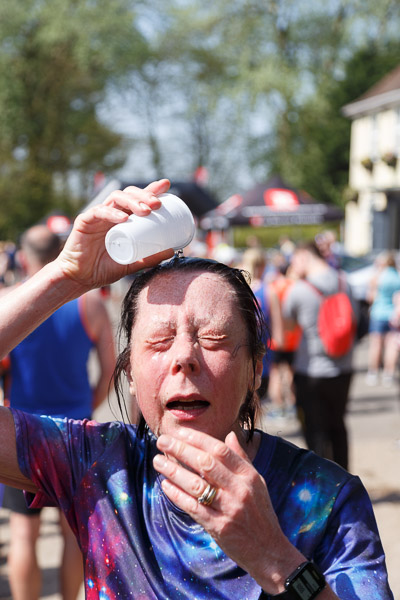 Amanda hasn't needed a cup of water over her head since the Reykjavik Marathon in Iceland! And it's the hottest London Marathon ever, we gather. Finishing at a pub gets to be a better idea by the moment.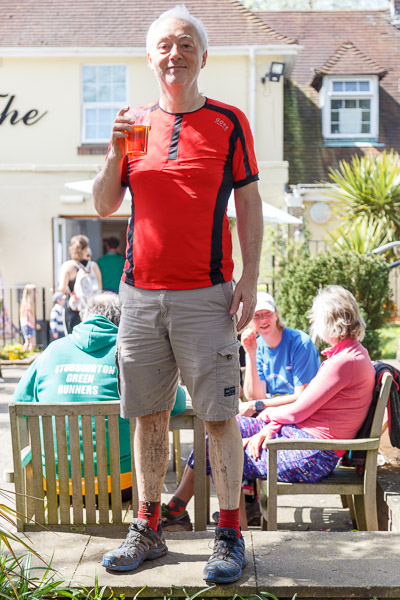 Ahh...!

You may notice I have a few mud spots. It has to be said that while the race route was generally on roads or very good trails, some of my shortcuts were a bit, err, technical on the bike. That's a euphemism for "rivers of mud laced with rocks and tree roots and churned up by horses". By the time this picture is taken, I've actually brushed a fair bit of dried stuff off, so I'm not as bad as I was earlier.

The ankle I twisted at Leith Hill a fortnight ago is fine now, but I don't think I'd've been very happy riding those trails last Sunday.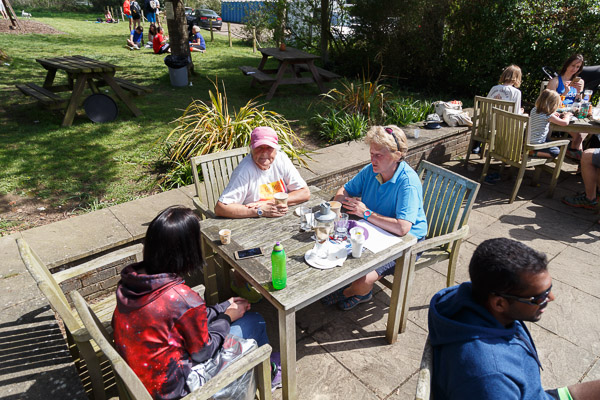 And a couple of friends of ours who live not far away have come to meet up with us, but strictly for sitting outside the pub, not for any of this running nonsense.

The race director comes round with a megaphone telling people that they might like to move their cars now while the farmer with the tractor is still on hand to pull them out if they get stuck. We decide that we'll take our chances, and in the event it turns out absolutely fine. Yes, I could spin the wheels and sink into the mud, but that would be silly, so I don't do it.

And we hear that some chap named Farah or something has done quite well in London... Farah? Wasn't she one of Charlie's Angels...? I must be getting confused...

So well done to all of you who survived the hottest London ever, but you were a bit too close to the madding crowd for us and Angmering definitely gets a gold star.

Love to all,

Steve.