year index
Escape (Not the Pina Colada Song)
---

The Prologue...

(As Lurcio would have said [see here at YouTube - they sure as hell don't make them like that any more!] )

Towards the end of January 2020, we were off to Ethiopia. There had been some news reports of some new disease somewhere in China that we'd never heard of, but unsurprisingly we were not particularly interested. "Small earthquake in Chile, not many dead" as the classic but probably apocryphal dullest-headline competition winner would have it. [Claud Cockburn claimed to have got it into The Times, but it seems there's no actual edition where it appears.]

On the day we flew, 23 January, the World Health Organisation declared the virus to not yet be an official "Public Health Emergency of International Concern" (PHEIC), but warned that was an emergency in China.

By the day of our return, 2 February, the WHO had declared a PHEIC and the very first cases in the UK had been reported.

On 23 March, Lockdown One began. "Thanks goodness", we thought, "that our next big holiday isn't until the end of December when this will all have blown over".

I am so not giving my crystal ball a five-star review on Amazon.

So we got to around the end of October and it was clear that the trip couldn't go ahead. Ok, we still want to do it, and we still want to do it at this time of year, so we'll just roll it forward to the end of 2021 when this will all have blown over.

Wanna try guessing what happened in October 2021? Yep, postponed another year! Hmm... Can I give negative stars?!

It's not quite that international travel is still effectively impossible, it's just that the logistics of this trip are pretty complex and it's all too likely to go completely wrong with the pandemic still not completely under control. But we want to go somewhere other than cold grey Britain in midwinter, so we talk about what options we have. It needs to be warm, not too long-haul or needing multiple flights to get to, and obviously a place that's open to UK tourists and likely to stay that way!

Turns out our best bets are South Africa and the Caribbean. Now we've been to Africa quite a few times, but apart from a business trip I had to Jamaica back in 1994, neither of us have ever been to the Caribbean. We're a touch concerned, though, that it might be a bit Merkin and cruise-linery for our tastes, but Andrew at Audley assures us that there are a lot of islands there, and he thinks he has some options much more suited to us.

And so it is that we plan for one week in St Lucia and a second in Grenada in the middle of January 2022. Now obviously, the mere fact that I'm writing this means that there is no suspense over whether we actually get there in the end, but at the time we can do nothing but hope for the best.

At the point of making our booking, St Lucia requires all visitors to have a negative PCR test taken no earlier than three days before arrival. That makes our timing a bit tricky, as we're flying on a Tuesday so can't get tested until at least Saturday and then have to hope that the weekend doesn't cause any hold-up. As a belt-and-braces measure, I also book us a same-day test (twice the price!) for Monday. There's also the thought that two tests minimises the risk of a false positive, which would be a disaster.

However, a bit nearer the time, they relax the rules to five days. That means we can get a next-day test on Friday, then if that's ok on Saturday, we can cancel for Monday, and that is indeed what happens. So that's two £80 tests plus £40 to courier the samples to the lab, which would pay for quite a few piña coladas if we were that way inclined, but hey, WE CAN ESCAPE!!!

And now, as Lurcio never did, we have reached the end of the prologue and can commence the story itself. Hoorah!

Monday 10 January

We begin the night before the morning after, at the Premier Inn near Heathrow. Our flight was originally sufficiently early that we thought it easier to stay here than come direct from home, and although it then got moved to later in the day, we have stuck with the original plan.

The theory goes that we drive to the hotel, drop our bags, then drive to the Heathrow 'Meet and Greet' parking area, where we'll hand over our car and then make our own way back for the night. In the past when we've used this service, it's always been directly before the flight, so we've simply walked to Departures, but this alternative turns out a bit more tricky. We're thinking there must be a shuttle bus, but we seem to have missed the last one, although the timetable isn't particularly clear. After some faff, we just get a taxi. One thing that does make us think: the Purple Parking off-airport compound is literally next door to the Premier Inn. If we could have taken the car there ourselves, we'd've had a two minute walk back! We must see if that's a viable option for the future.

But anyway, we're all sorted now.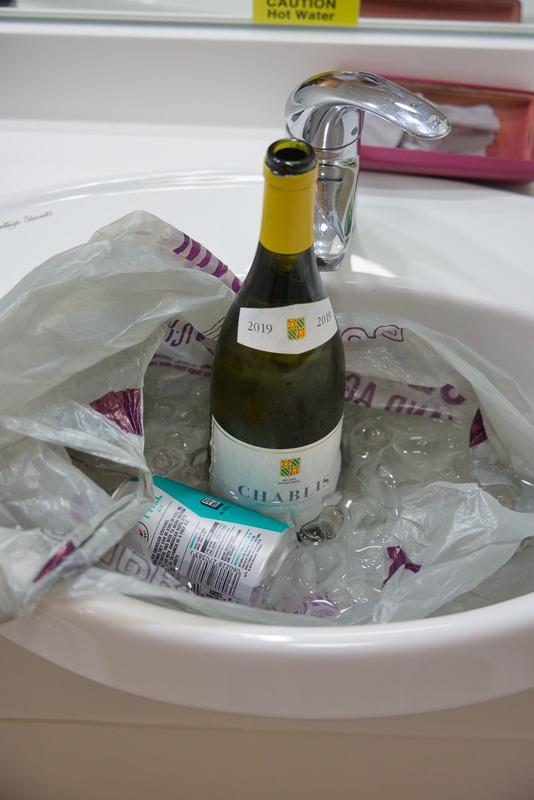 Ah, no fridge in the room; but we can improvise!

Tuesday 11 January

This time we do get the shuttle bus: most convenient, as it's right outside the door ready to go as we are leaving.

Although we were a bit concerned that anti-Covid procedures would make things slower, it seems to be more than made up for by the reduced numbers of people travelling, so we get through all the formalities pretty quickly. And for once, nobody even thinks my backpack full of camera gear and weird bits and bobs needs additional security screening.

And sitting having a coffee in T3 departures, I make my decision about which job offer to accept! My days as an unemployed layabout are now officially numbered, and we can enjoy our holiday without having to think about that any more. I send my "Yes" and my "Thank you but no" emails accordingly. It's slightly ironic that I'm using the Galaxy Tab which was my Christmas present from Perforce, even though I left before Christmas.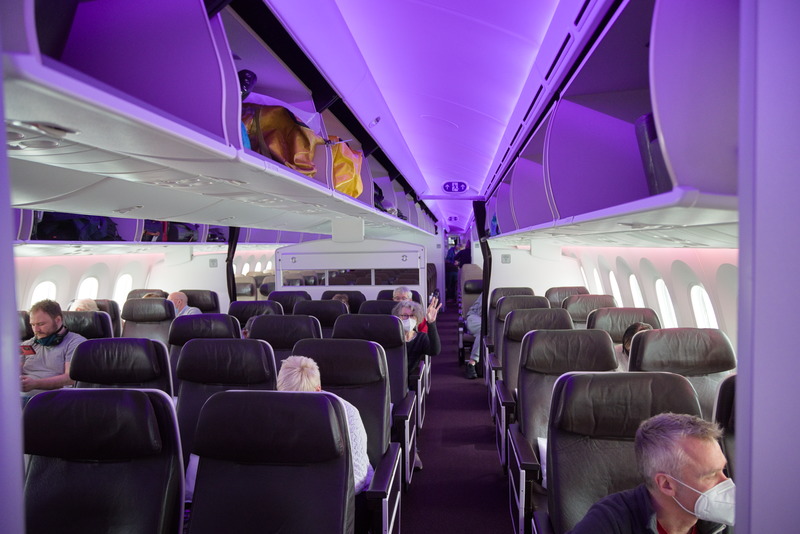 It's a long time since we last saw a plane this empty. Still, many airlines have been flying planes with literally no passengers at all in order to comply with pre-Covid rules, which meant they'd lose airport slots if they didn't use them.

Because of the flight timing change, we arrive in the evening, so our taxi ride from the airport to the resort is in darkness and we don't get to see anything. By the time we arrive, we just want a drink and a bite to eat before bed.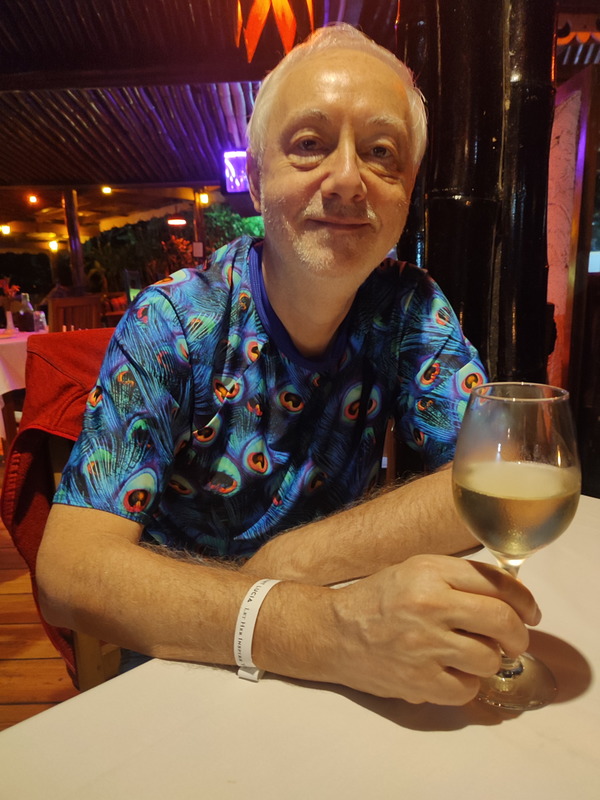 You can see my snazzy wristband. On arrival at the airport, after showing all our forms and test certificates and stuff, we're given these wristbands to demonstrate our status, which can only be removed by cutting them off when we are leaving St Lucia.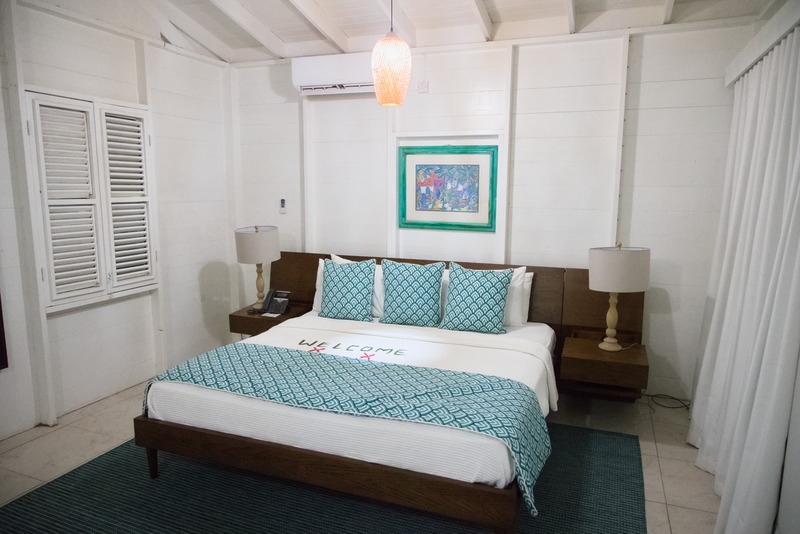 And so to bed, with a little decorative touch made from green leaves and red petals.

Wednesday 12 January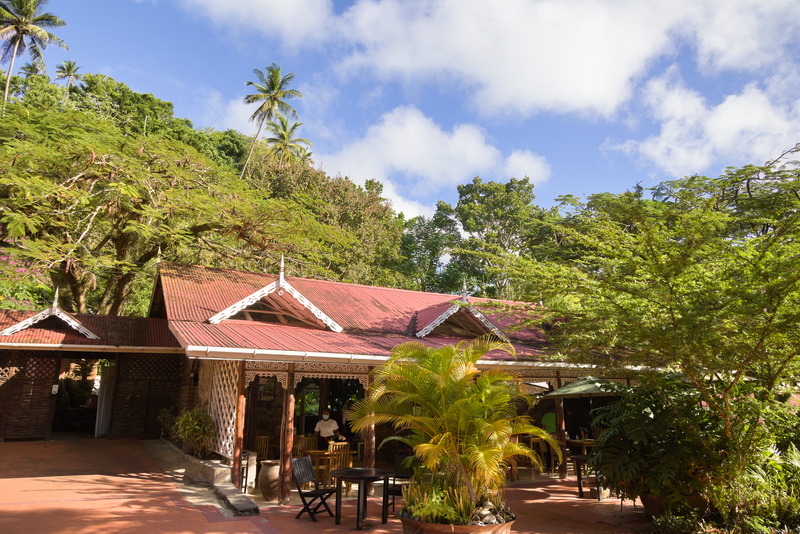 Look! Sunshine! We're really here!

This is Fond Doux, cocoa plantation and eco-resort, where we are spending our first few days.

St Lucia's Covid protocols require visitors to only leave their resort on booked excursions, so we aren't supposed to go wandering into town, but in fact we're not particularly close to town anyway and this is a very pleasant spot.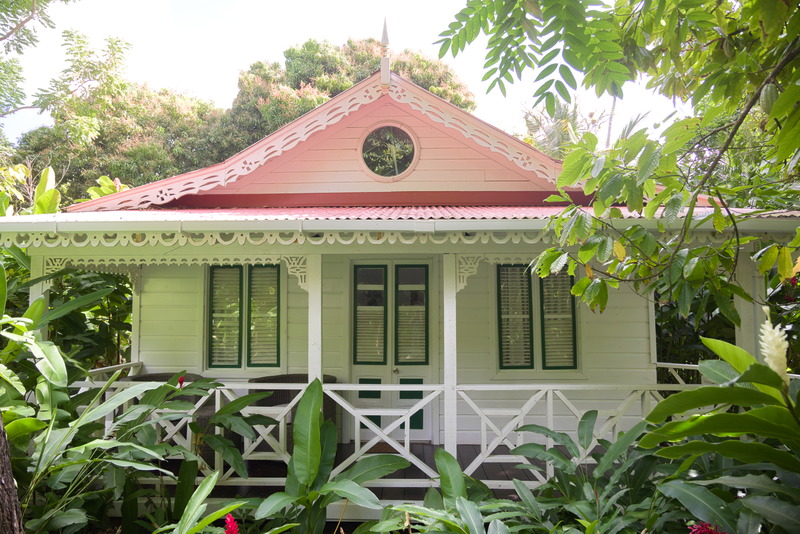 We're staying in this little cottage. The guest rooms are all reclaimed colonial-era buildings from around the island, and none were actually built from scratch. Moreover, they were inserted into the existing plantation landscape, so all the trees around were there already, not planted specially.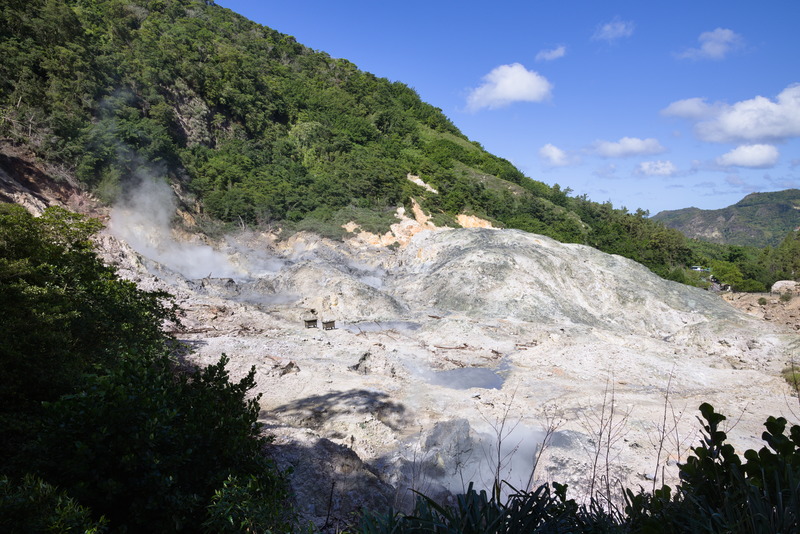 Our first trip is to visit Sulphur Springs. They bill it as "The world's only drive-in volcano", because the whole thing is within the volcano's caldera: the collapsed remnant of an eruption about 300,000 years ago. The volcano is classed as 'dormant', but still emits lots of steam and gas, as well as heating the water from local springs. We take a short walk and the guide explains a bit about the geology and history.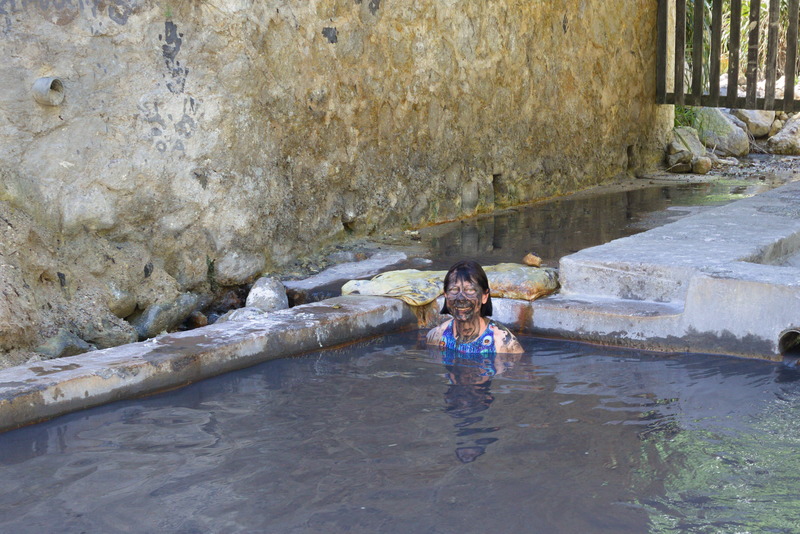 Then it's into the mud bath! A series of artificial pools catch hot water from a small river, and the idea is to smear volcanic mud all over yourself to make you twelve years younger. That's nothing, though: in New Zealand, we saw a waterfall that made you twenty years younger, which must have been a worry for the youngest member of our group at only eighteen.

As I'm putting my own mud on, a strange woman offers to do my back for me! No, not Amanda, a completely different strange woman! As best I can tell, she has no ulterior motive, so maybe that's just what folks do around these parts. Besides, even if Amanda hadn't been just a few yards away, she wasn't really my type anyway.

I put my hat on the side of one of the pools, but forget to pick it up when I get out. I realise while getting showered and dressed, but when I go to find it, I discover that a gust of wind had blown it into the water and one of the staff has fished it out and hosed it down for me! This hat has been through a lot over the years...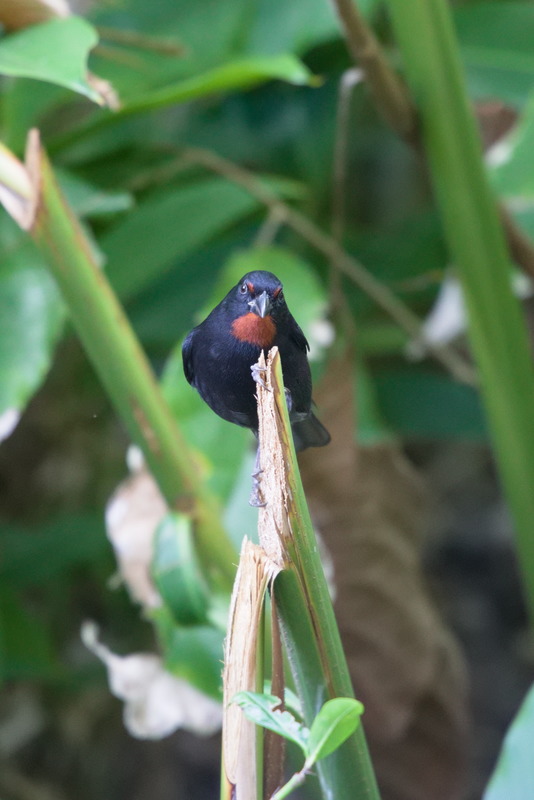 Back at Fond Doux, we have a little walk in the grounds. This is a very common bird here - the Lesser Antillean Bullfinch or Loxigilla noctis as we birdy types like to call it. St Lucia even has its very own subspecies: Loxigilla noctis sclateri. The things we learn from Wikipedia, eh!



Cacao pods ready to be harvested.

The trees like shade, so even on a plantation, they are grown with other trees surrounding them.

Thursday 13 January

Today we're going to trek up Gros Piton, a famous volcanic peak. It should take a few hours there and back, and it's described as "moderate to strenuous". Of course, exactly what that means is anybody's guess...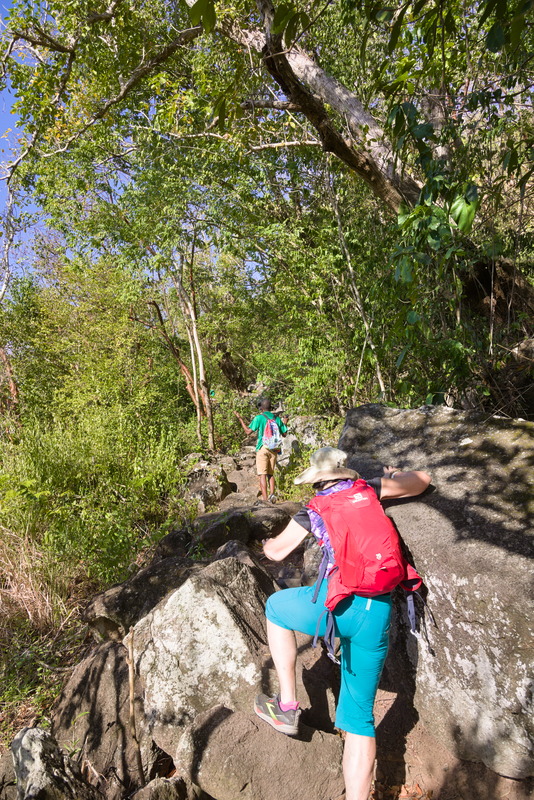 This is part of the 'moderate' section. It's pretty tough even so, and by the time we get to 'strenuous' I'm too knackered even to take pictures!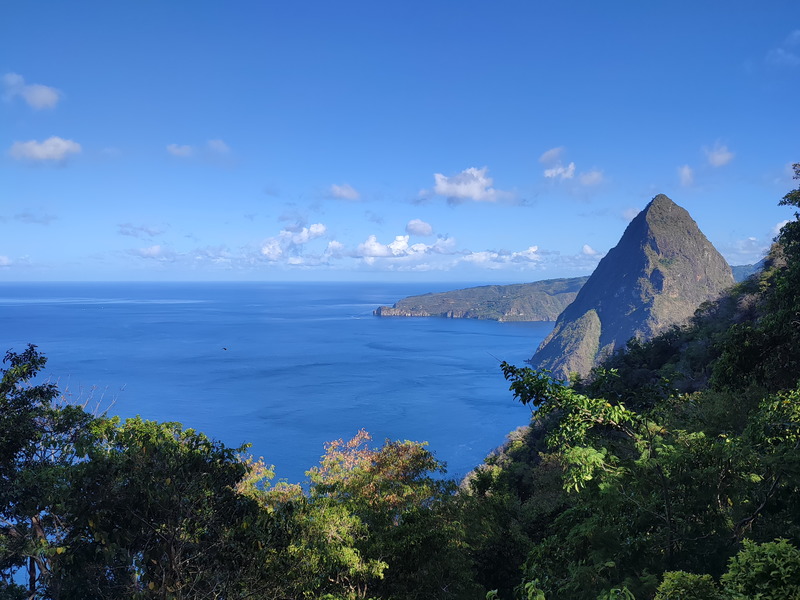 When we finally get to the top, it's quite a view. The smaller peak visible here, "Petit Piton", is apparently a much harder climb than this, which has been quite tough enough.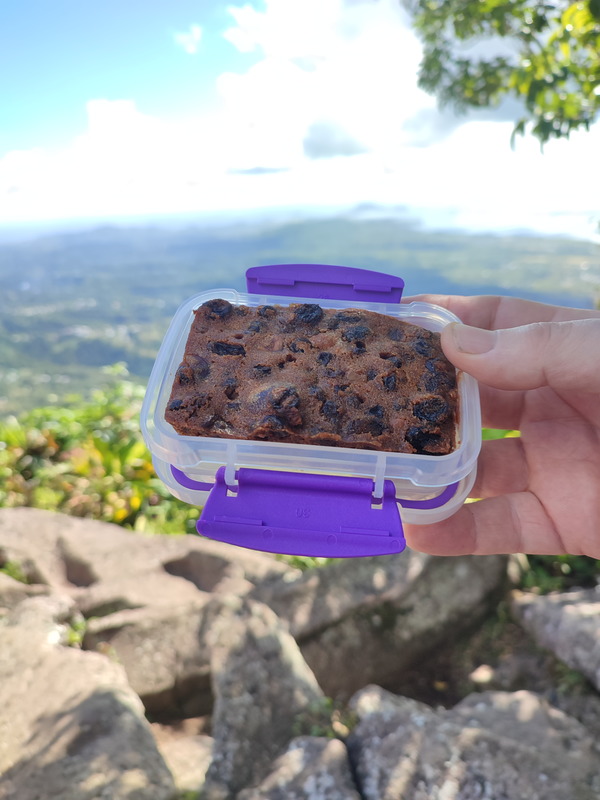 We need sustenance! This is one of the small fruit cakes I made for Christmas, but without marzipan and icing because it's not Christmas any more.

As we start our descent, I'm thinking that it'll be the reverse of the ascent, in that Amanda will find it tough and I'll find it much easier. That's how it's always been: she's much happier going up and I'm happier going down. What I haven't realised is just how much the climb has taken out of my legs and I've got almost no strength left in them at all. Instead of bounding down in my usual mountain goat fashion, I'm desperately struggling to take as much weight as I can on my walking pole and by grabbing hold of branches and safety rails.

It takes me what seems like forever and I'm barely able even to walk by the time I finally make it.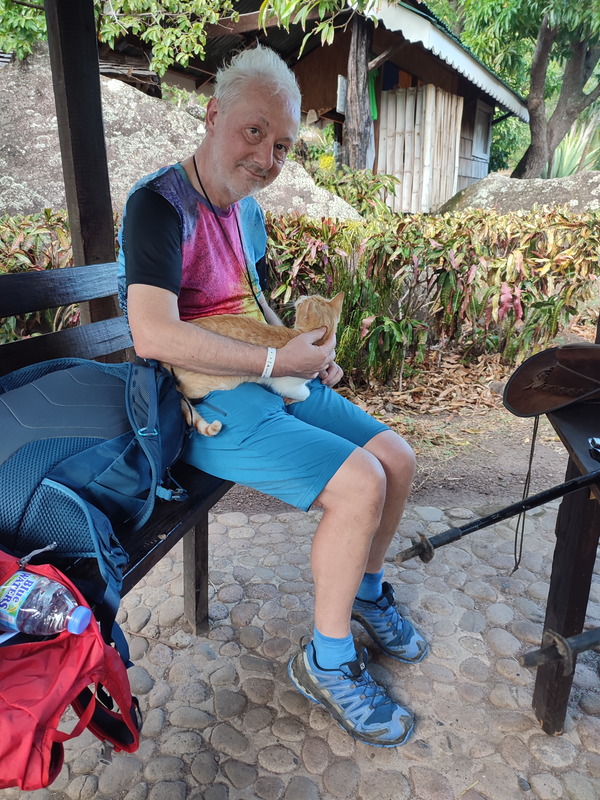 At long last, I can sit down and have a coffee and make friends with a local cat while I recover a bit.

I'm not actually injured or in pain as such, just that my leg muscles have pretty much given up. Even by the time we get back to Fond Doux, I'm still not fully restored, and am walking more than a bit drunkenly.

Amanda's knees have certainly made sure she knows all about the descent, but in the end she's been ok, and not suffering as she had somewhat feared she might.

We both definitely need medicinal alcohol tonight!

Friday 14 January

Today I feel much restored: maybe I wouldn't claim 100%, but certainly a good 95-plus. To breakfast, then...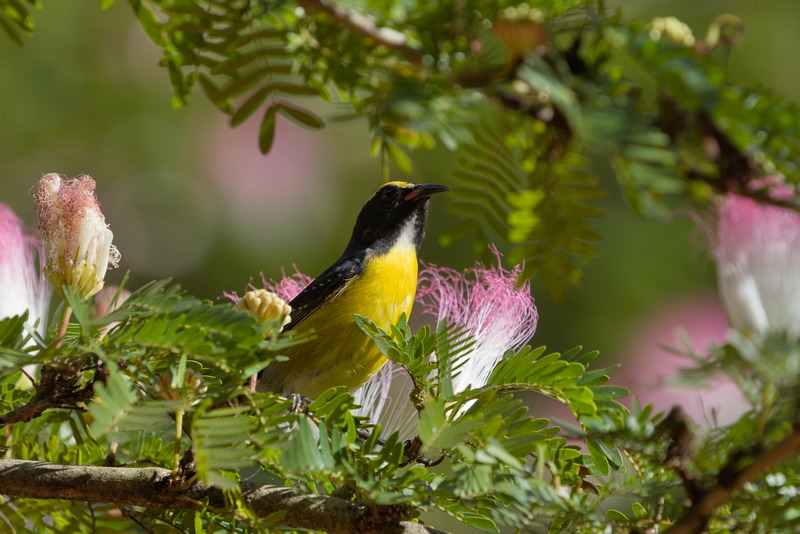 And in a tree right by our table is this rather resplendent fellow, who research tells me goes by the name of "bananaquit". This is apparently from a fondness for eating bananas, and 'quit' is used in the names of various small songbirds found in the Caribbean. We also learn that it "is known for its ability to adjust remarkably to human environments. It often visits gardens and may become very tame."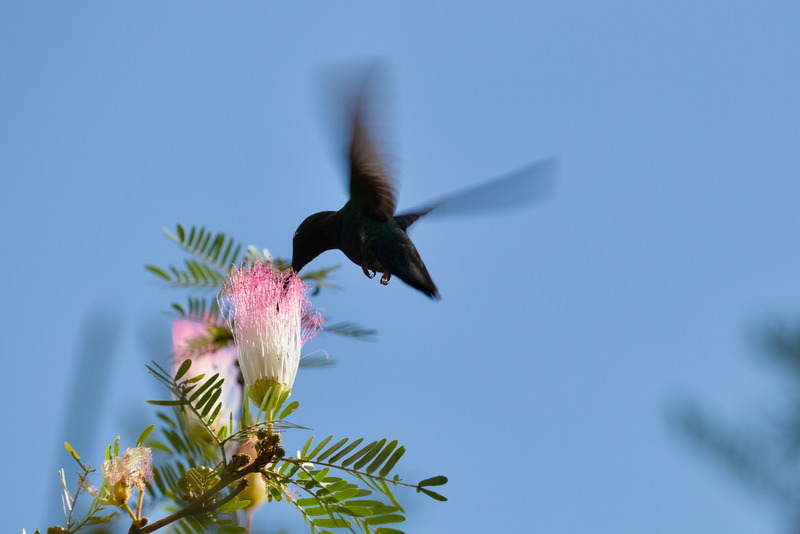 It's a popular tree: hummingbirds too.

After breakfast, we're having a guided walk in the plantation, then we'll be doing some chocolate making ourselves.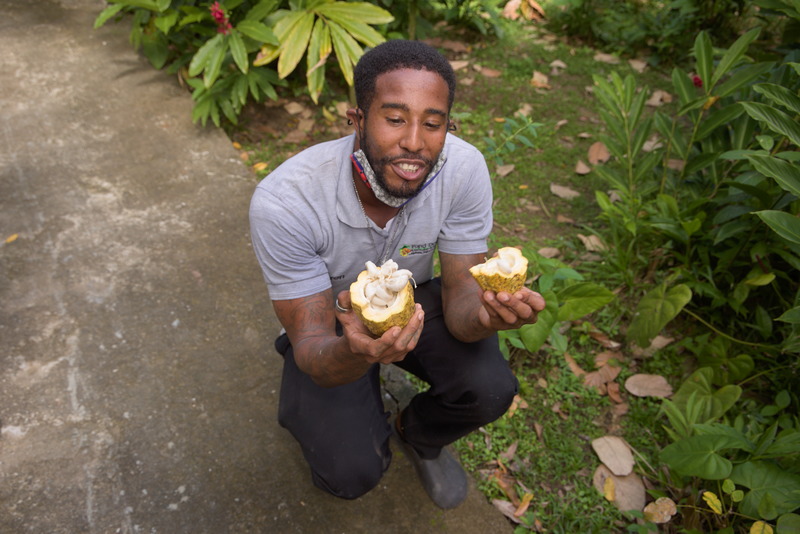 This is what a ripe cacao pod looks like when broken open. The fruits don't all ripen at once, even on the same tree, and harvesting is a skilled job done by hand. The beans themselves are inside the fleshy white pulp sheaths, and going from here to your chocolate bar is a lengthy process.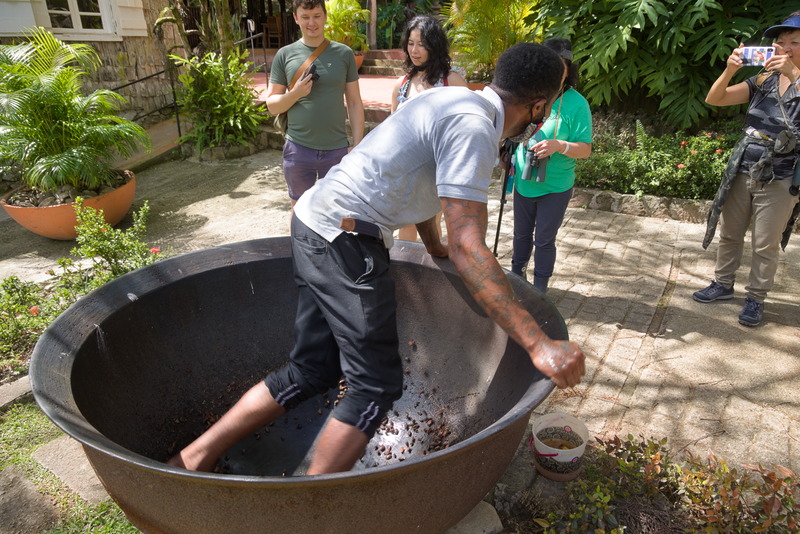 One of the oddest things is what they call 'dancing' the cocoa: a bit like treading grapes, but to polish and aerate the beans. Our guide Clinton is just using a few to demonstrate here.

So having seen where it comes from, we then move on to the chocolate kitchen where we learn a bit more about the process and get to do a bit of DIY.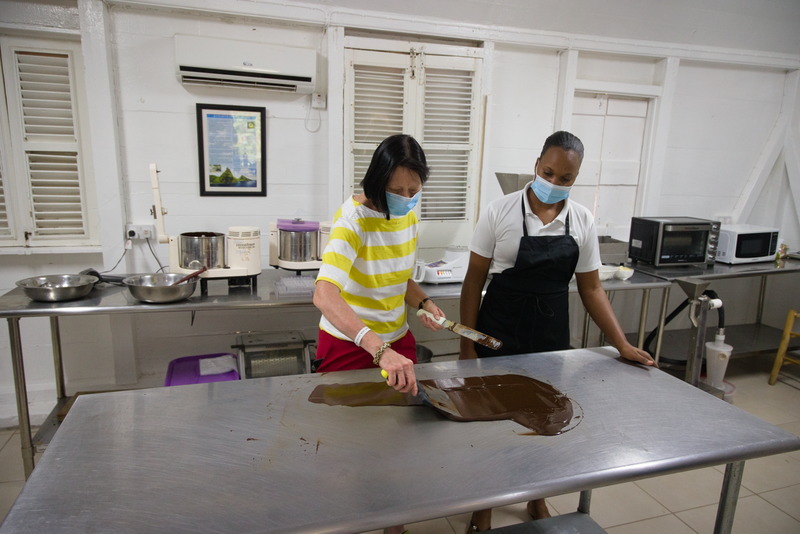 Amanda takes her turn at 'tempering' the molten chocolate, which entails spreading it out on a stainless steel surface with a large palette knife, then scooping it up and folding it over and repeating the process. The different components of cocoa butter solidify at different temperatures, so this process keeps everything well mixed and smooth as it cools. The glossy appearance and 'snap' of a good chocolate bar is entirely down to correct tempering.

Afterwards, we pour the chocolate into moulds, put them in a fridge to cool for a little, then wrap them in foil and a printed outer.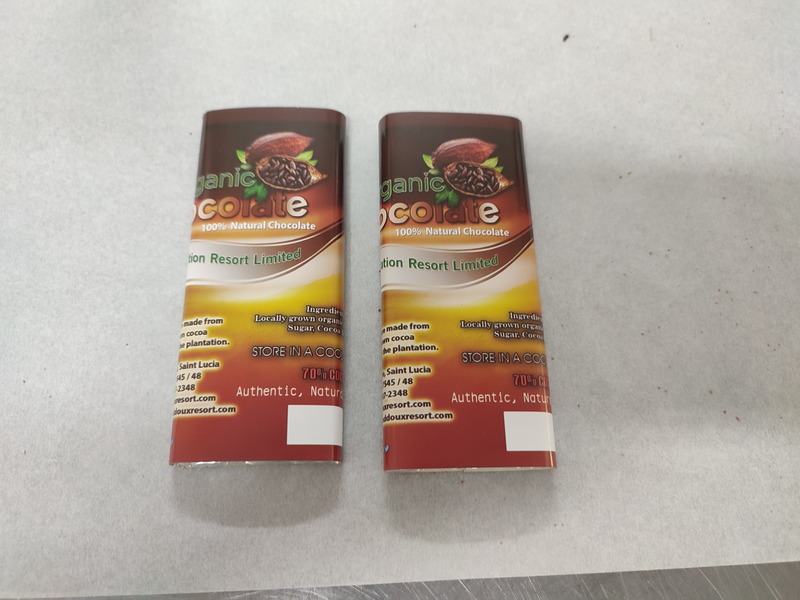 Voilà!

With that, we say farewell to Fond Doux, and take a taxi to our next location: the beach resort of Ti Kaye.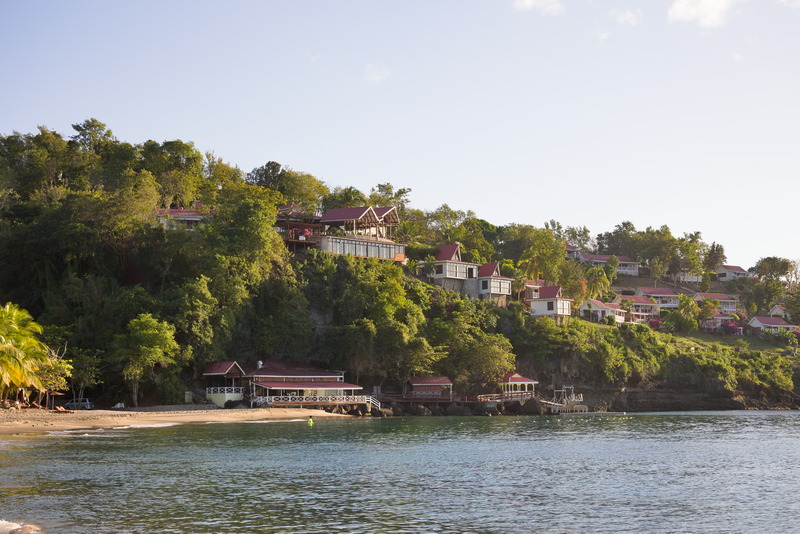 Up from the beach, the buildings are perched on the steep hillside.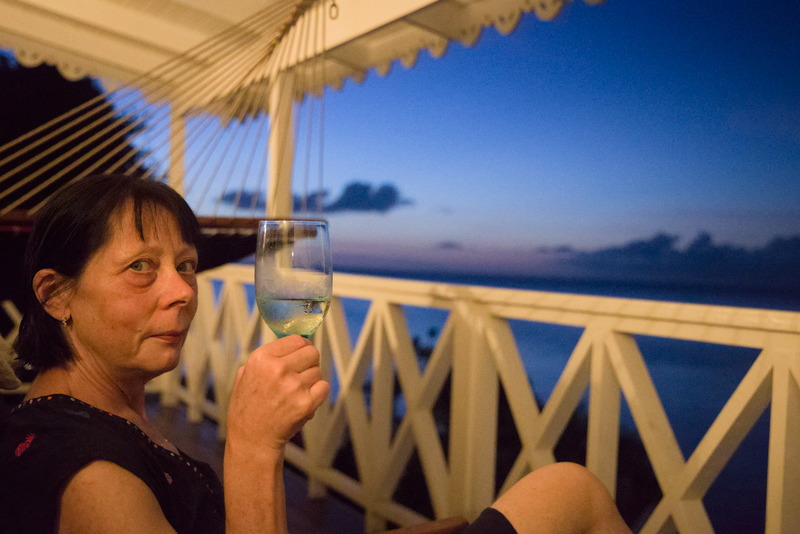 The verandah of our cottage looks out over the sea.

Saturday 15 January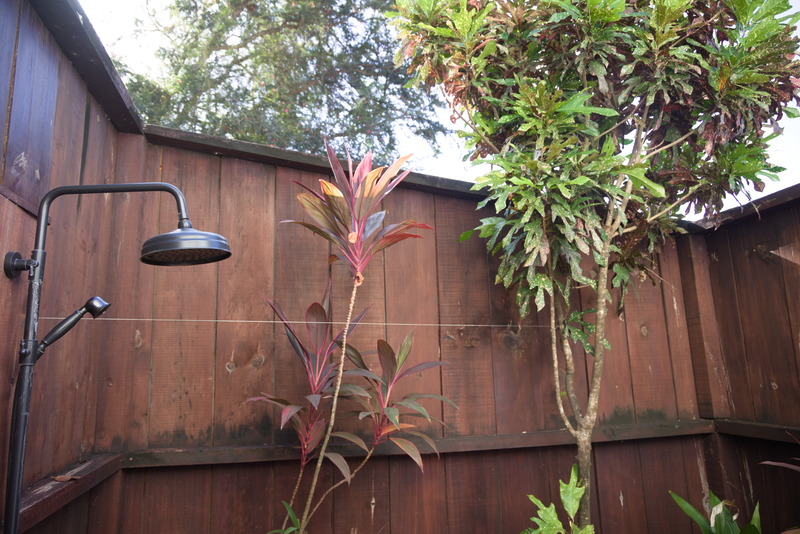 Our outside shower with its own little garden. Interestingly, there is no indoor option, and the same was true at Fond Doux. Clearly St Lucia doesn't expect much bad weather during the tourist season at least!

Now, in order to travel to Grenada in a few days' time, we need to have yet another Covid PCR test, which we've booked for today after breakfast. But our phone rings while we're still getting ready: the nurse is here. Slight crossed wires, it seems, but no big deal. And that's another US $135 each, which ought to be near-as-dammit exactly £100, except that because we didn't want to commit to changing money until we knew we were actually ok to leave the UK, we bought dollars at Heathrow at a dismal 1.21 rate, making it about £223 in total.

Still, after two years without any expensive trips, the holiday piggy bank is pretty flush, so we just take it on the chin.

Now we can fill in all the online forms for entry to Grenada. Oh, and because we'll be changing planes at Barbados, we can fill in all their forms too! And download their special app that will display a magic QR code.

The aforementioned Tab is proving invaluable, being far easier to use than a phone for this sort of thing!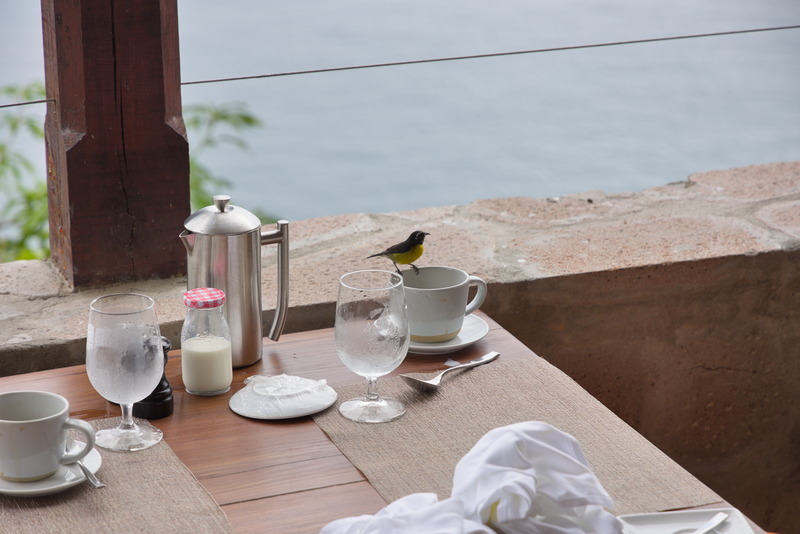 More birds at breakfast.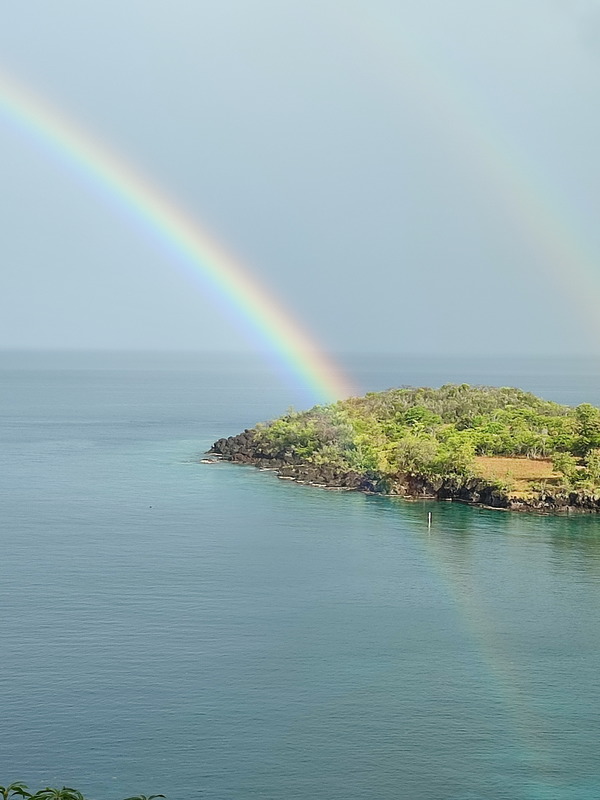 It's mostly dry here during the day, but it can rain quite heavily at night sometimes, and there's a little drizzle as we're having breakfast; but we have a superb rainbow as compensation. Visibly double rainbows like this are not that uncommon, but it turns out that there is in fact no theoretical limit to the number of ever-fainter bows. However, seeing three is very rare and more than that almost impossible. But people love a challenge and the record now stands at five! Learn more here.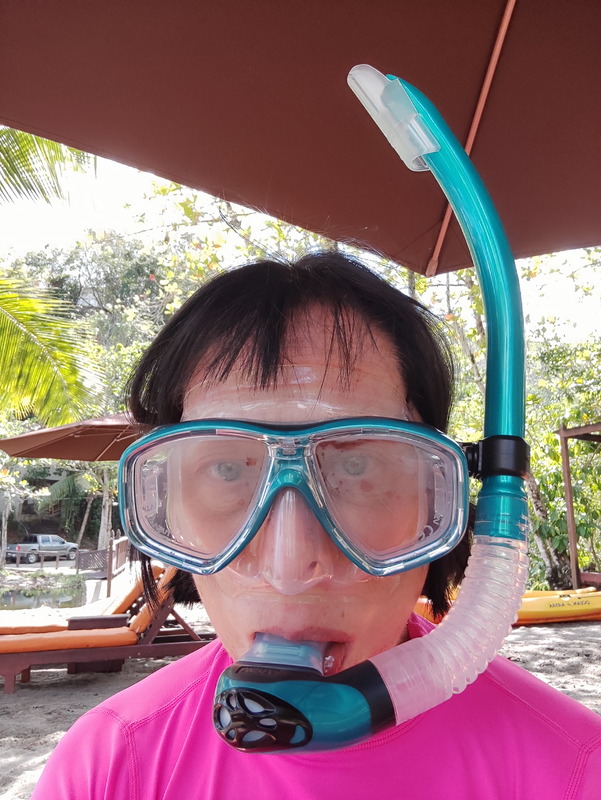 Let's go snorkelling!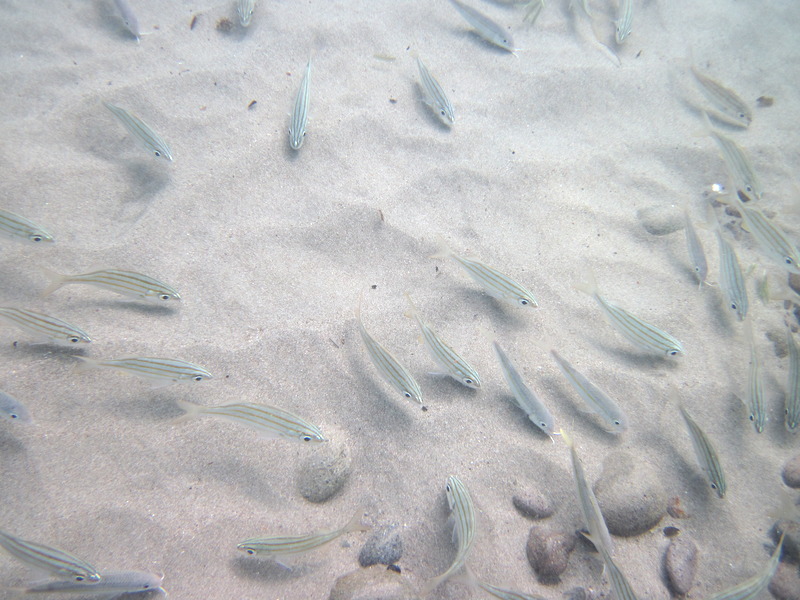 In shallow water just off the beach.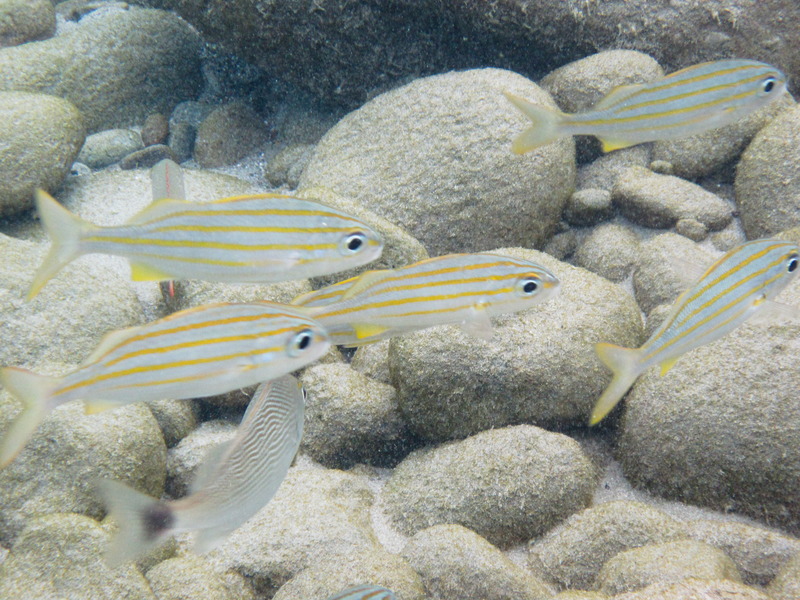 Nearby there are some rocks and small coral reefs with larger fish.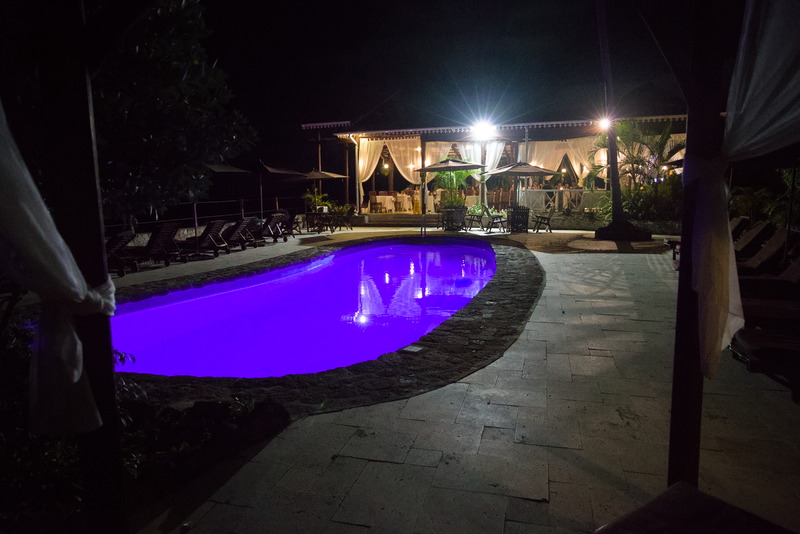 Looking across the pool to the restaurant for dinner.

Now it has to be said that both here and at Fond Doux, the food has tended to offer slightly more quantity than quality, and service can best be described as 'unrushed', but the latter had a lot more rustic charm and personality to help it get away with it. Here they clearly have higher pretensions and unfortunately don't quite live up to them. Our meals are all pre-paid, but the list prices in the menu definitely look a bit steep for what we are getting. Looking at Facebook, Sarah from The French Table (wonderful place!) posts a picture of one of their new dishes and it makes us dead jealous!

Sunday 16 January

Today we're going on a boat trip to see a bit more of the coast and do a bit more snorkelling.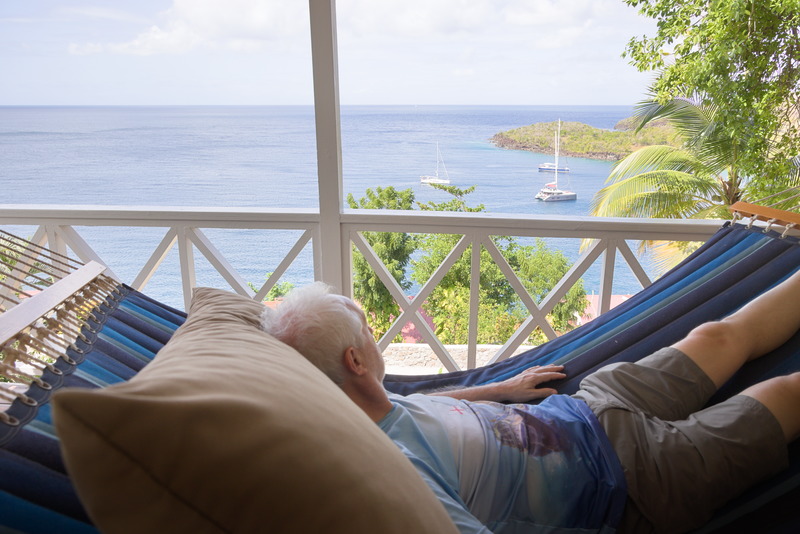 I am preparing for the trip by studying the water.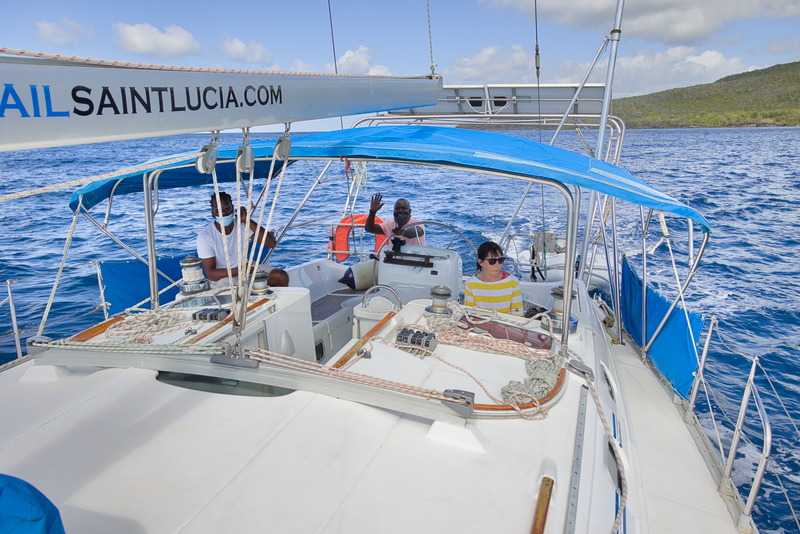 Off we go. The water is pretty calm by sea standards, but Amanda would really prefer it to be calm by bathtub standards, so she's staying in the cabin rather than clambering about on deck.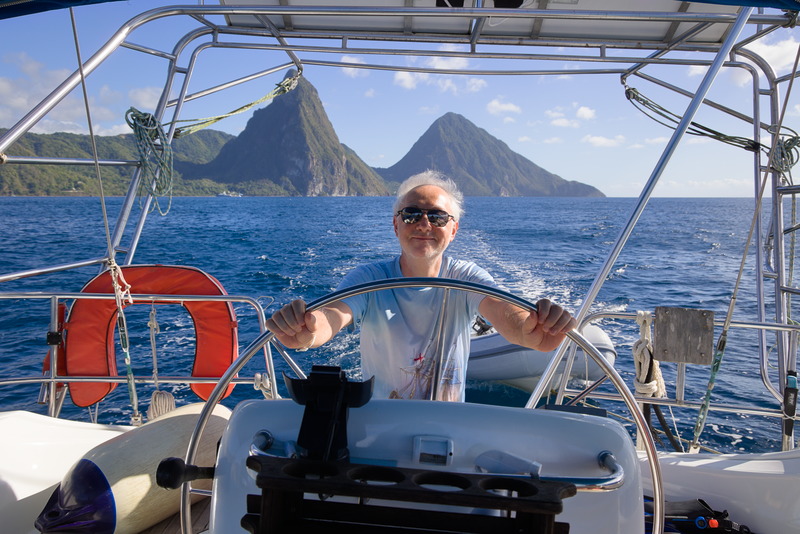 I take the wheel. Ok, I'm not actually doing anything with it, just posing for a photo.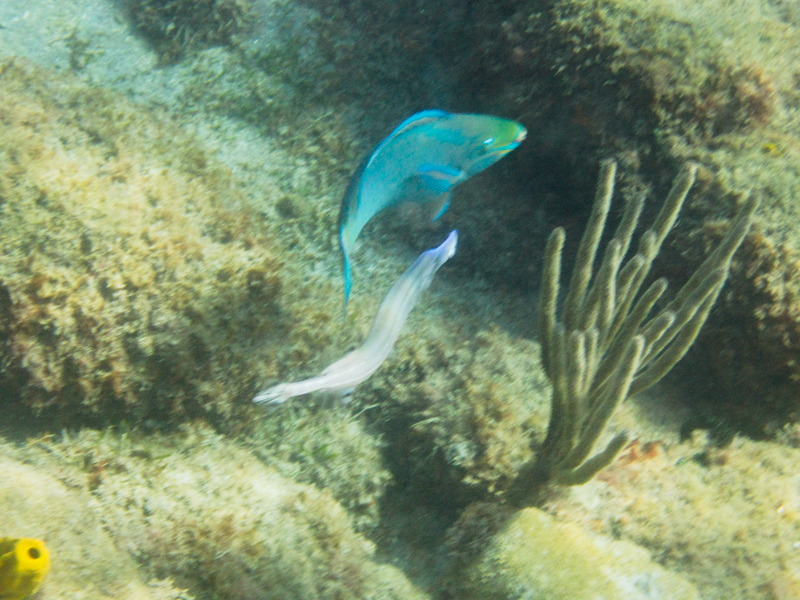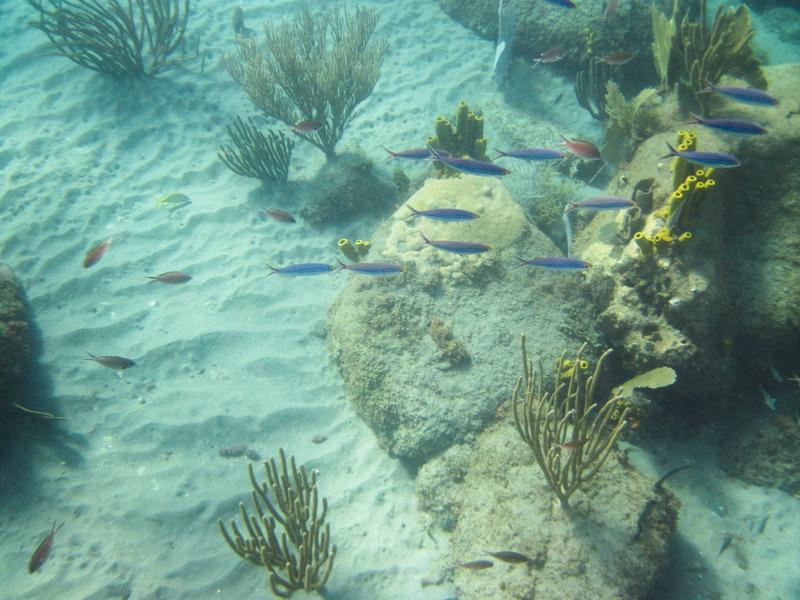 More colourful reef fish.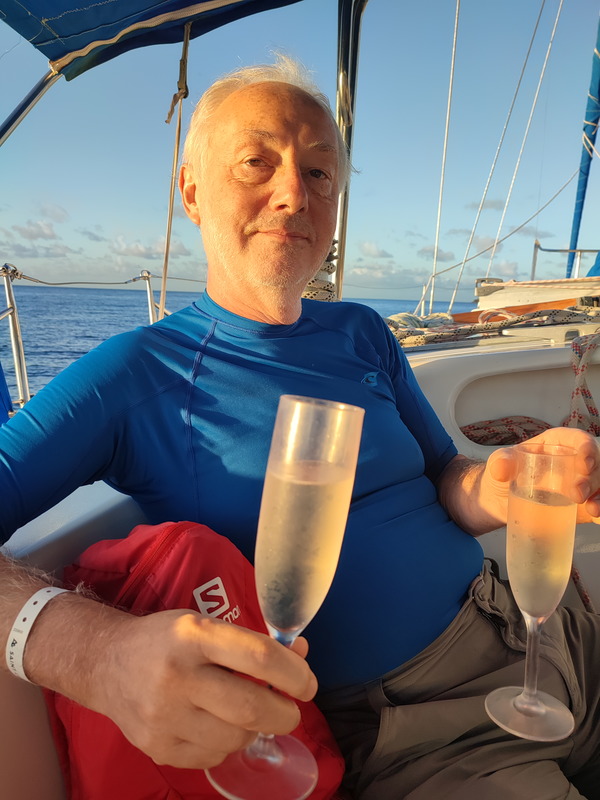 Post-swim champagne, of course. Obviously I'm only holding Amanda's glass so she can take the picture, I'm not that greedy. The crew provide us with some nice snacks as well, and we sail back in the late afternoon sun.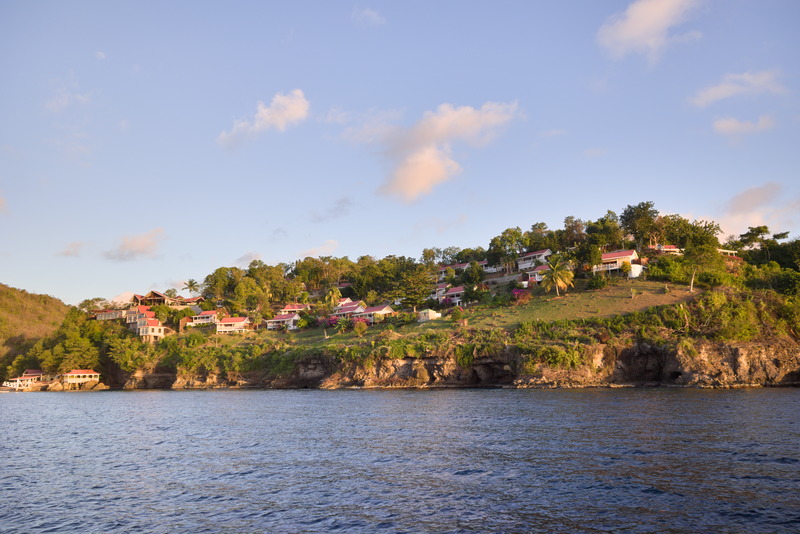 The whole resort as seen from the boat.

Now we have to pack, have dinner, settle our bill and get an early night, as we're leaving at 6am tomorrow, before reception opens.

Monday 17 January

The trip to the airport is straightforward. Just to be sure, we clarify that the driver knows we want what they call the 'domestic' airport, although it's really short-haul international, and not the 'international' which is long-haul. Yep, that's all fine, but apparently he once had a client who absolutely insisted they wanted the international airport because, well, they were travelling internationally.

We don't really understand why they needed us there so long before departure. There's absolutely no check-in queue, so that is pretty instant, but then the departure lounge isn't open and won't be for quite a while it seems. We take a little walk. The airport is right by the beach - and when I say "right by", I mean that we have to walk barely 100m across the road!

We had declined the offer of a hotel packed breakfast, so a spot of brunch is in order. There are several places along the beachfront, but most are not yet open.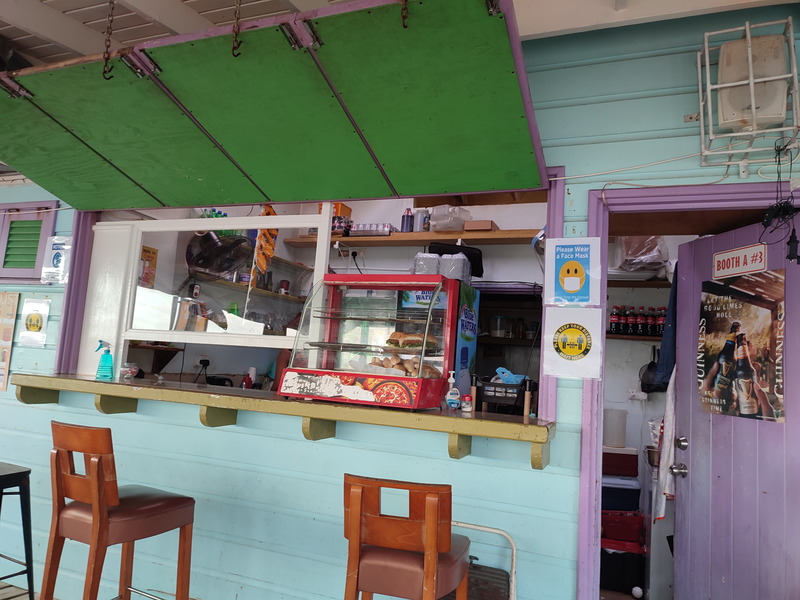 Eugenie's little shack is one exception.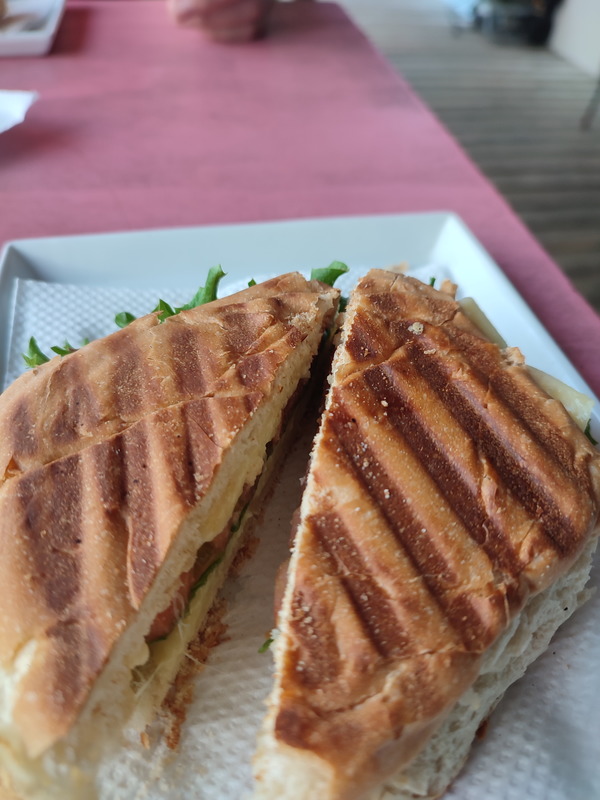 Seriously good toasted sandwiches! Should you ever find yourself at George F. L. Charles Airport and in need of a bite to eat, we can wholeheartedly recommend this place.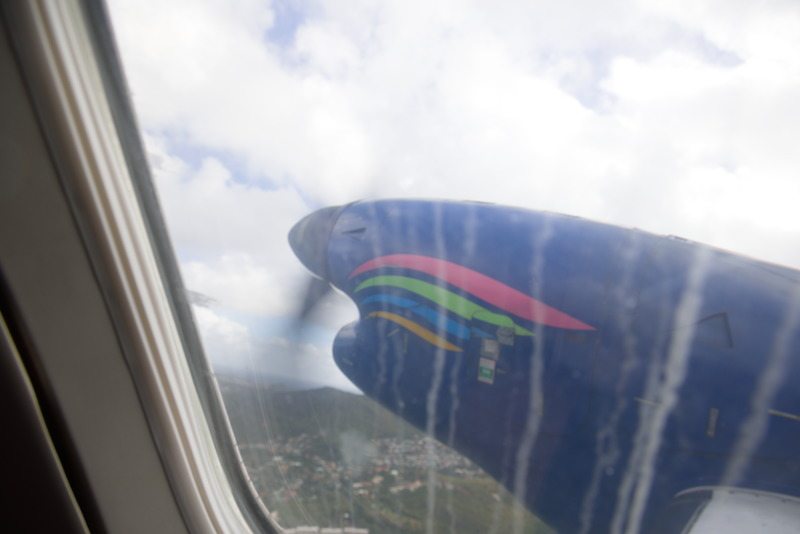 To Barbados we go! Somewhat early, in fact, as it would seem everybody was ready long before schedule. Maybe it's like those buses that leave when they're full.

Although our bags are checked through to Grenada, we ourselves have to pass through all the Barbadan immigration formalities, including showing our vaccination and test status for which we receive another wristband. Then they realise that as transit passengers, we shouldn't have had the green bands they've just given us, instead we should have yellow ones.

There's another flight leaving for Grenada which we could easily have caught with our early arrival, but would have been too tight otherwise, but we're very confused about our actual flight. It's scheduled for 12:10 but the departure board is saying something like "15:30 On Time". WTF??? We go to a customer service desk, and as far as their systems are concerned the flight is unchanged. Ditto when the gate staff check. But come 12:10, there's certainly no plane for Grenada, nor any sign of one, and eventually it seems to be the case that for slightly unclear reasons, the airline have changed the time but not told the airport.

Gradually the story unfolds: something about a technical problem taking one plane out of service so they've had to double up and use the same plane on two different routes. Obviously only one could be the first and it's not ours.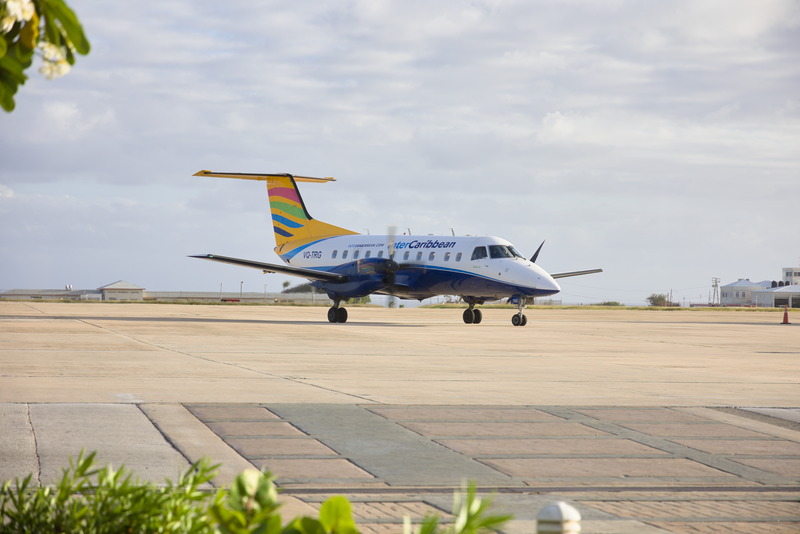 This is our plane. Only it's not ours yet.

Unfortunately 15:30 also comes and goes without anything you could describe as being in the aeronautical way, and we gather there are yet more minor technical problems. Finally the incoming service arrives, but even when they've finished offloading and refueling, we appear to have lost our captain, so there's nobody to fly the thing.

Actual departure time: about 18:10.

Ho hum.

At least the flight itself then takes only the expected 40-ish minutes.

On arrival, as well as showing all our various bits of paper (yes, it's on our phones but paper is way easier!), we are all then given lateral flow tests. The official word on the matter is, "we reserve the right", implying that it's not a universal norm, but it certainly is for all of us on this plane today. No new wristbands, though!

Just like St Lucia, then, we arrive for our first night just in time for dinner and bed.

Tuesday 18 January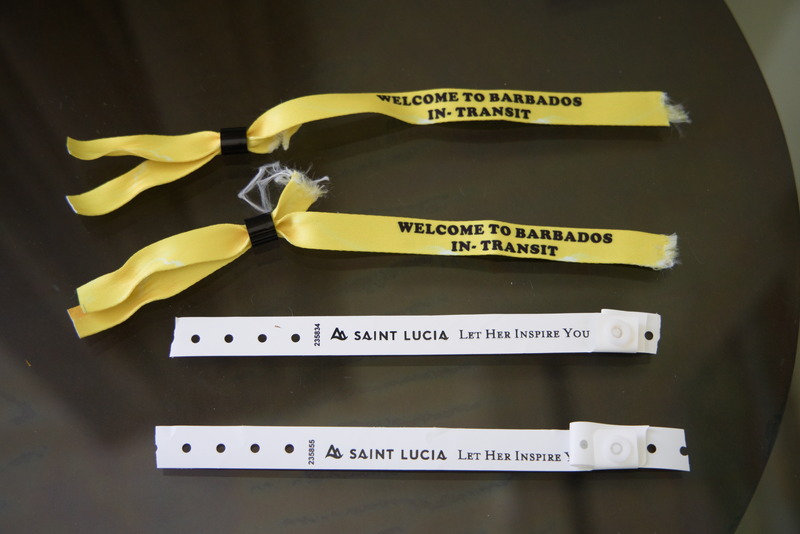 Bye-bye wristbands!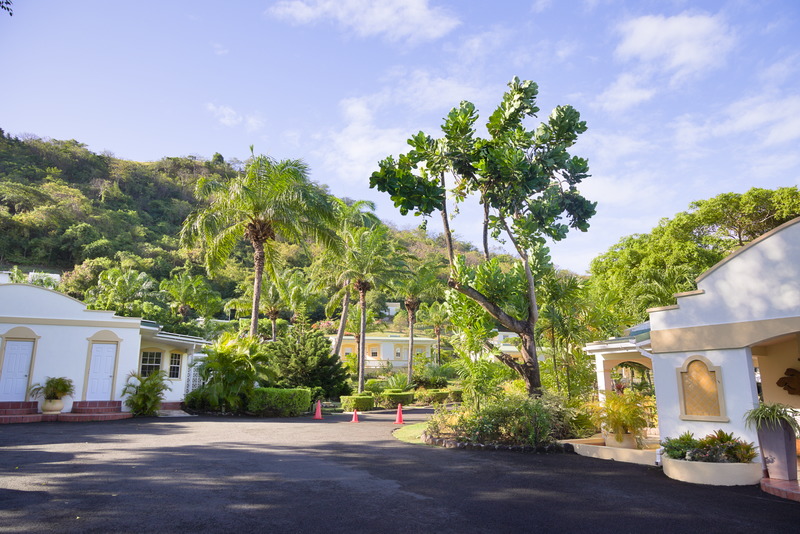 And welcome to Blue Horizons.

The rules for tourists here are different: we're pretty much free to go wherever we want, and there are shops and a small town just a few minutes away. That's good, as we're semi-self-catering here so we'd have trouble if we couldn't buy stuff. Last night we ate at the pool cafe/bar and much as previously, you wouldn't really rate it as a foodie magnet venue. We're on a B&B tariff, but the cottage has a decent kitchen so we should be able to come up with something nice from local ingredients.

Let's go for a little walk in the locality.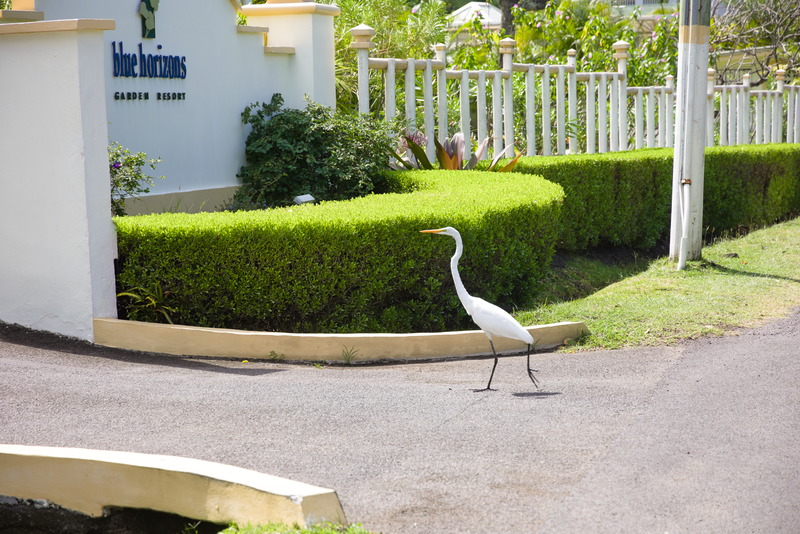 Why did the egret cross the road?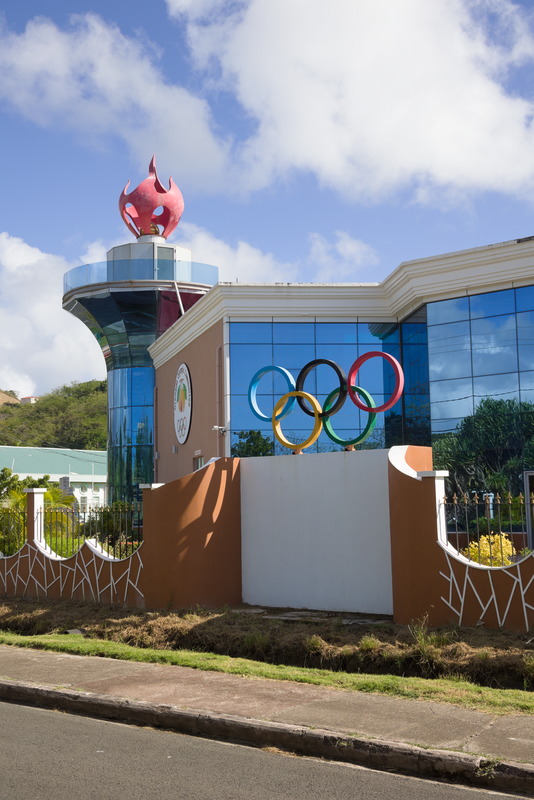 From our room, we can see this strange reddish thing, but it's only when we go to investigate that we find out it's the HQ of the Grenada Olympic Comittee and that the thing is a stylised flame.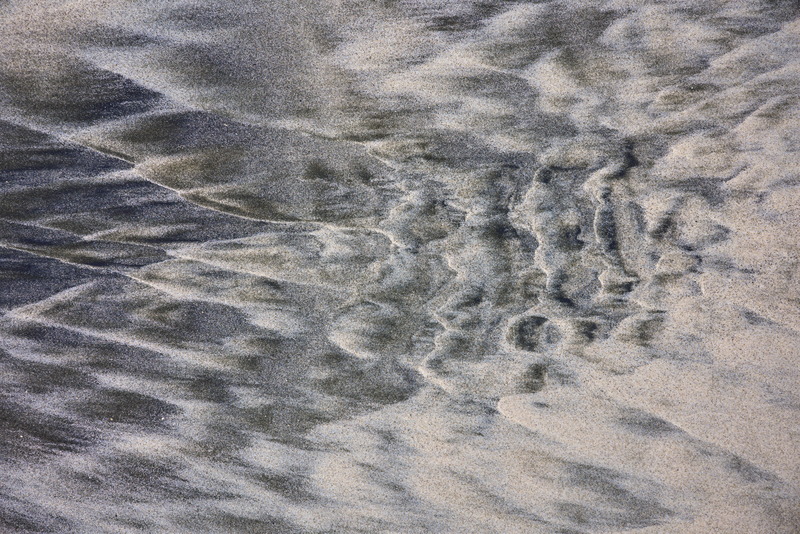 Good sand patterns on the beach. As a volcanic island, although the beaches are mainly sand-coloured sand, there are patches of black stuff too.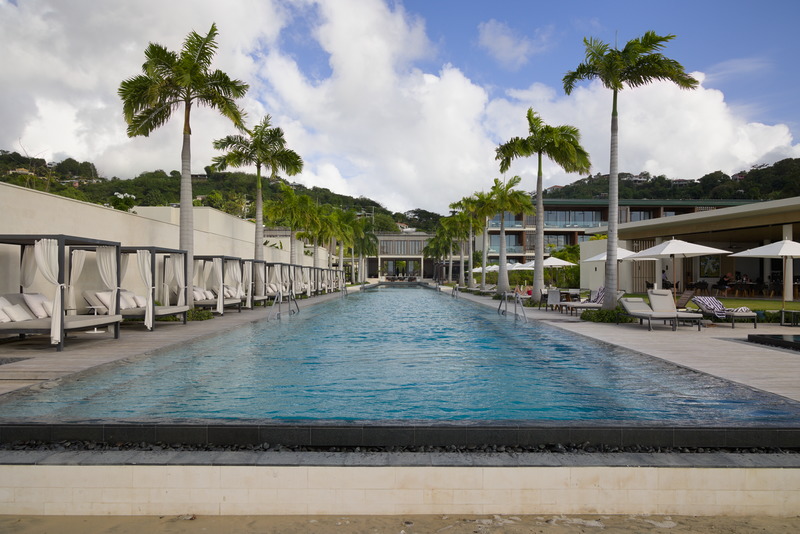 Now this has Amanda dead jealous! That pool looks (and later turns out actually to be) 100m long, and is completely empty of swimmers. We will later find out that it's a seriously pricey joint - think £1000+ per night in season! - so we rather fear they wouldn't just let her pop in for a quick splash.

On our way back, we'll go to the mall where there's a big supermarket and buy some dinner ingredients. But we can't past the gate guard without measuring our temperatures and noting them in a little book along with our names and contact details! This will turn out to be pretty common: basically a bit like NHS Test and Trace QR codes, but that you can't simply ignore if you can't be arsed.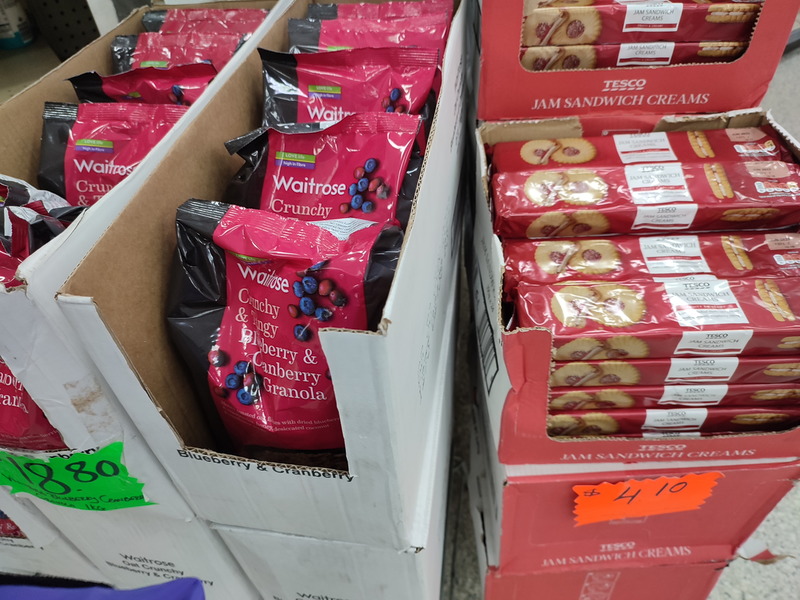 Well this isn't what we expected!

I can't imagine how you would ever see rival supermarkets' products side-by-side like this back home, but here it seems to be pretty common. Presumably these are overstock lines or something that the UK companies flog cheaply to the other side of the world so as not to undermine their home pricing policies. Not out of date, either. (It's not all like that: most of what's on sale is local produce and ordinary brands.)

Now although the kitchen has most of the essentials, the 'knives' are basically blunt instruments suitable for bludgeoning ingredients to death and not much else. I can't find a knife sharpener in the supermarket, but there's a hardware store in the same mall, so in I trot. Oops, sorry Sir, sold out. Hmm... But then I think back to the old traditional way: "Have you got a small whetstone?" Why yes, indeed, Sir!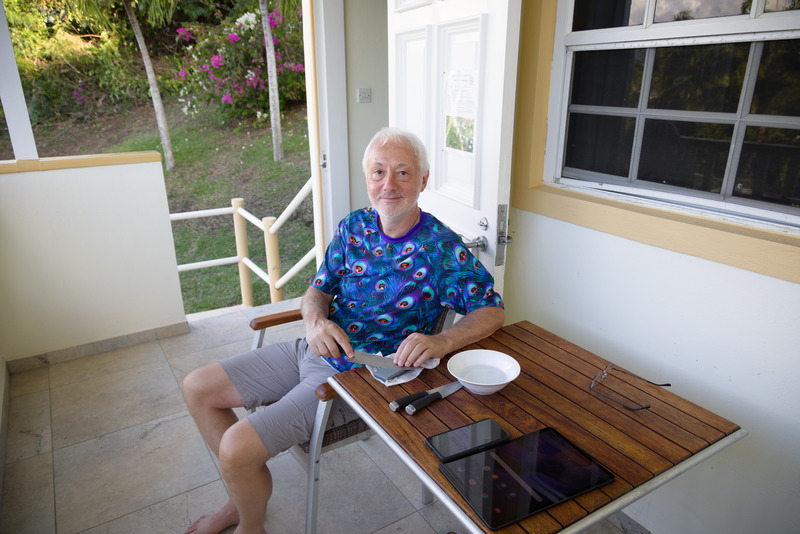 Isn't this what anyone would do?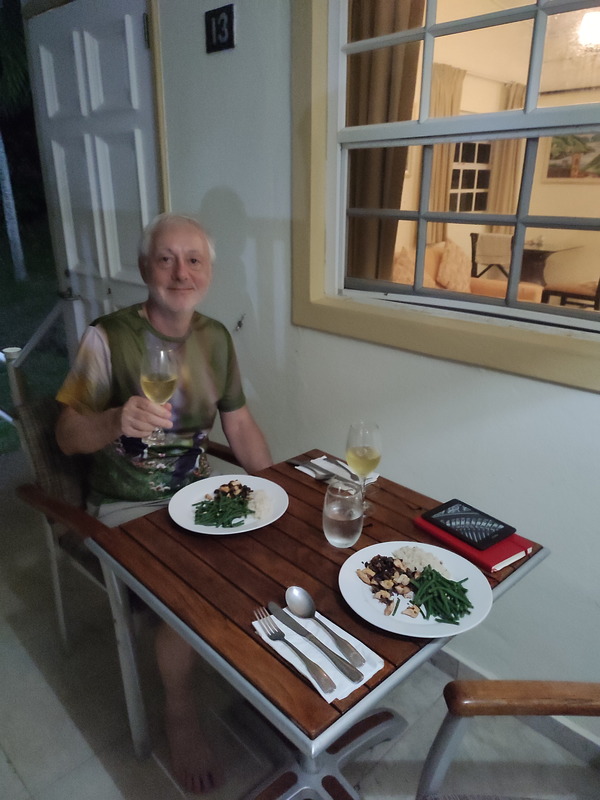 With my new-found ability to cut things, I can at last make dinner.

Wednesday 19 January

Another boat trip today, for more sightseeing and snorkelling. This time it's a group trip, not private, on a much bigger boat, but the overall principle is much the same. It's starting from the marina at St George's, the capital a few miles up the road, and a minibus will be collecting us. We're ready in good time; and so - unusually it seems - is everybody else, so the driver says he'll take us on a bit of a scenic detour through the local hill village where he lives. The biggest surprise is to find the Grenada Golf Club at the top of the hill! According to one TripAdvisor review, "While not Augusta standard, the course is a pleasure to play and with knowledgeable local caddies, the nine or eighteen holes is most enjoyable".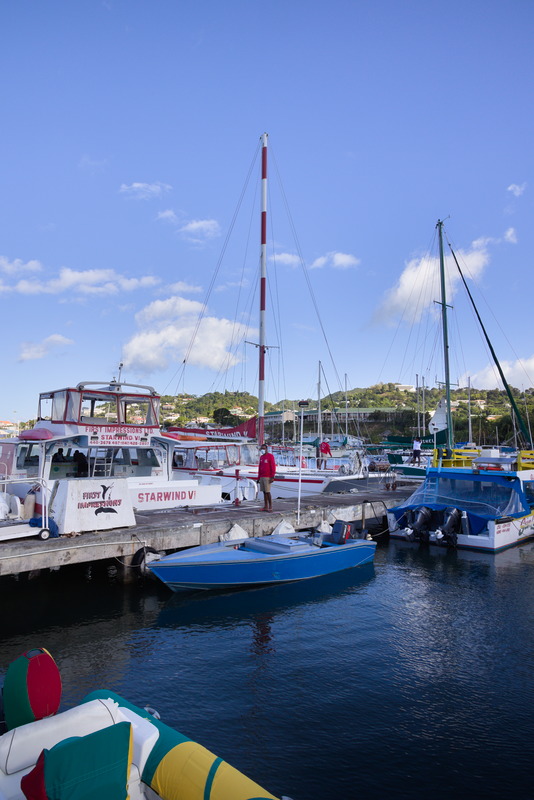 Starwind V awaits.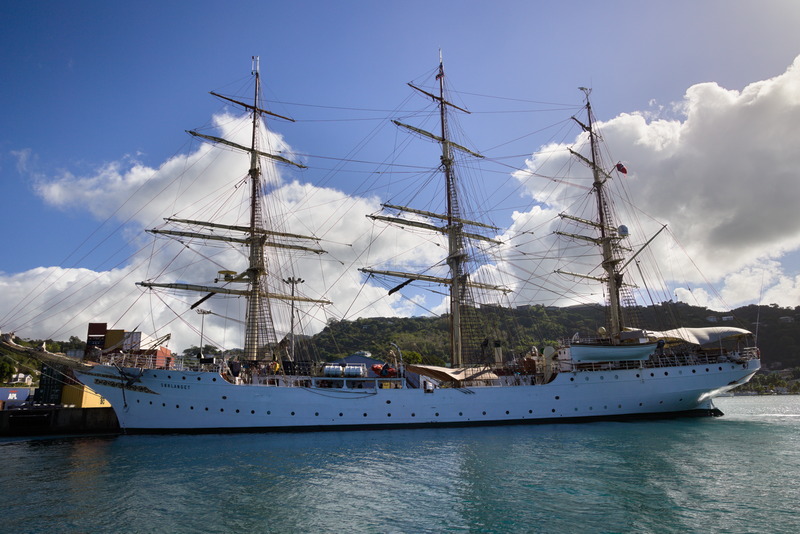 This rather splendid vessel is Norwegian. We're not sure, but we think it's one of these "work your passage and pay for the privilege" type experiences.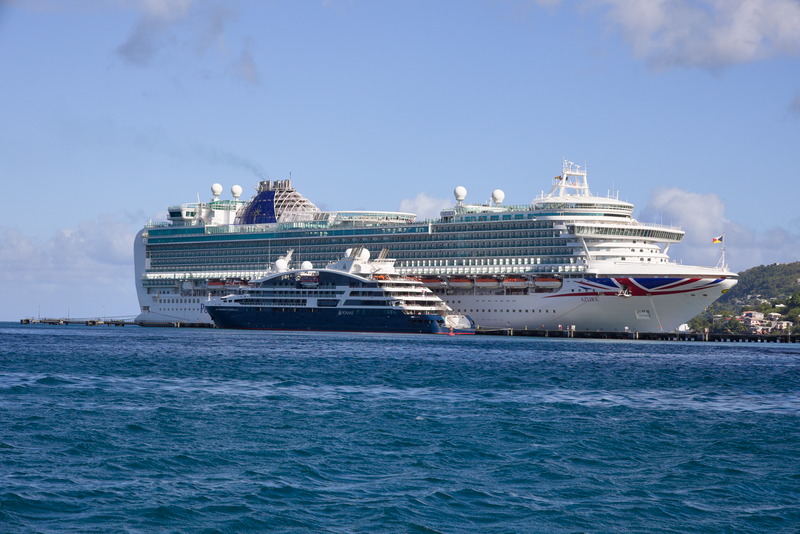 By contrast, a floating city at the main cruise liner terminal. Azura's full complement, according to P&O, is 3,100 passengers and 1,250 crew, and it is, they tell us, "Family Friendly - Azura offers the perfect balance, bringing the opportunity to enjoy quality time together as well as time separately to indulge your passions". We're not sure we're convinced.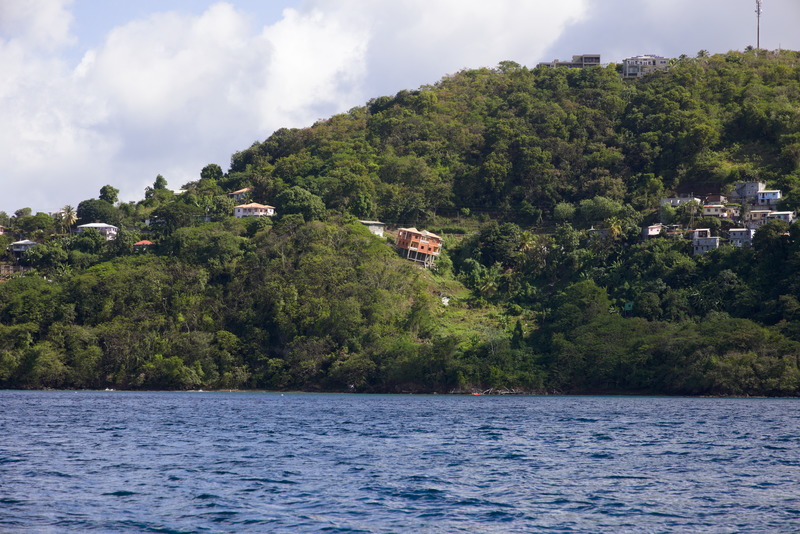 We suppose it's cheaper just to leave it until it falls into the sea than repair or properly demolish it. Hurricane Ivan in 2004 caused catastrophic damage all over Grenada, and its effects linger to this day in many places.

So the place is famous (in a slightly generous use of the word, perhaps) for its underwater sculpture park. I must confess I'd never heard of it previously, but apparently it is one of National Geographic's 25 Wonders of the World. It was originally installed in 2006 as partly a work of art and partly to gradually form artificial reefs to help restore the hurricane damage in Molinere Bay. You can read more about it here.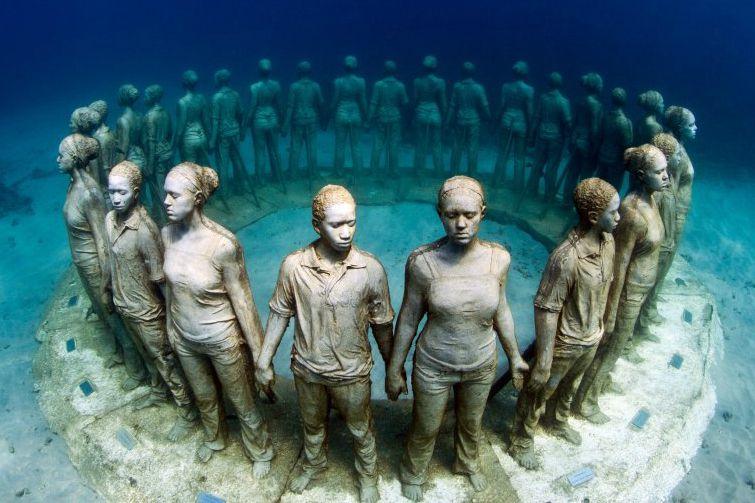 This picture, shamelessly nicked from a Grenadan tourism site, shows how one of the most important works looked shortly after its installation on a clear-water day.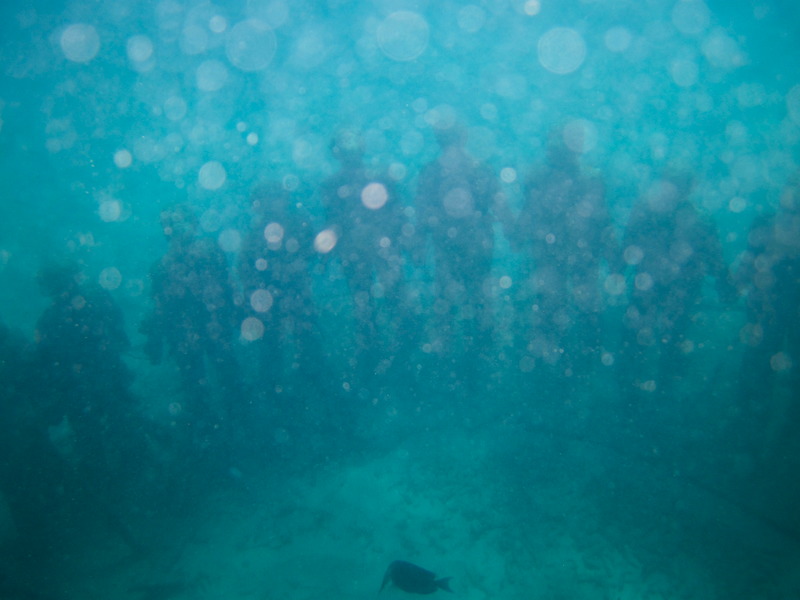 Here's how it looked to me. Yes, well, ok, err...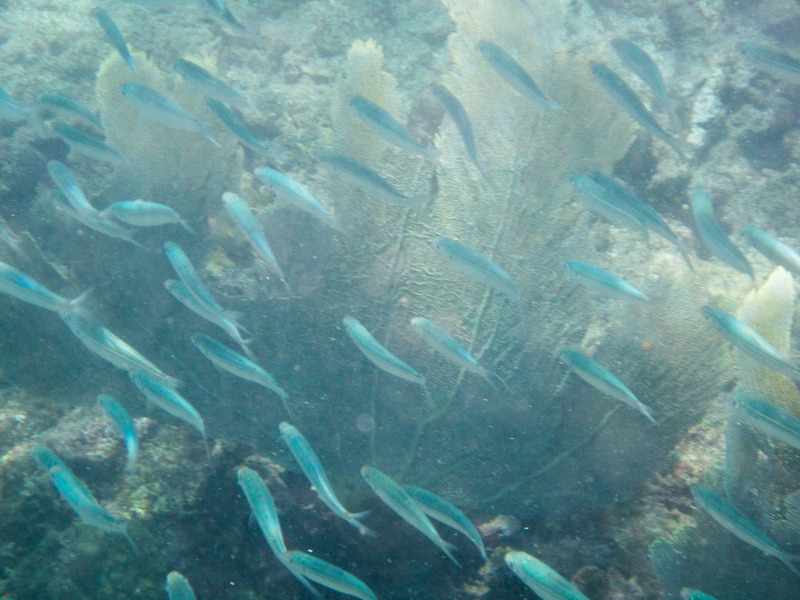 Let's have some more pretty fishies from our second site, Flamingo Bay. This is an area where the natural reefs survived in far better condition. The water's still a bit murky though, probably because there's a fair amount of swell stirring it up.

And on that subject...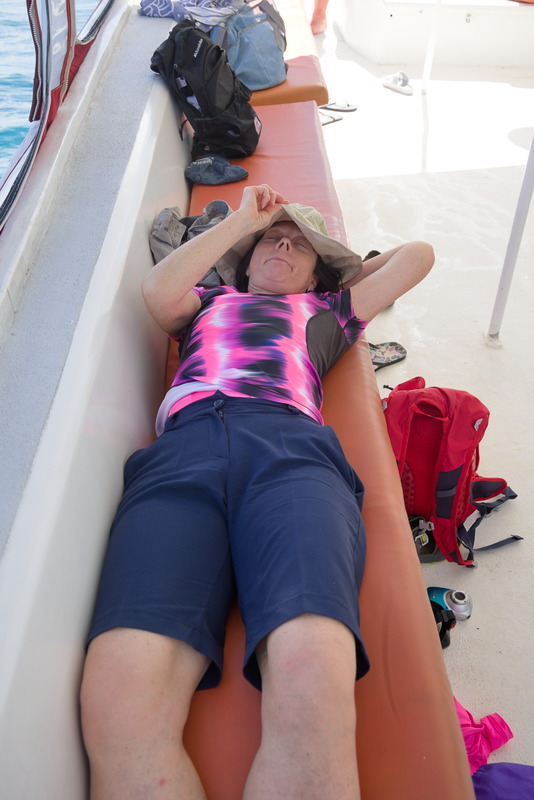 Amanda's not feeling very happy. Lying down is better for her head and stomach, which are both in agreement that they would rather have stayed ashore now. To her surprise and considerable annoyance, even when she was swimming she was feeling sick.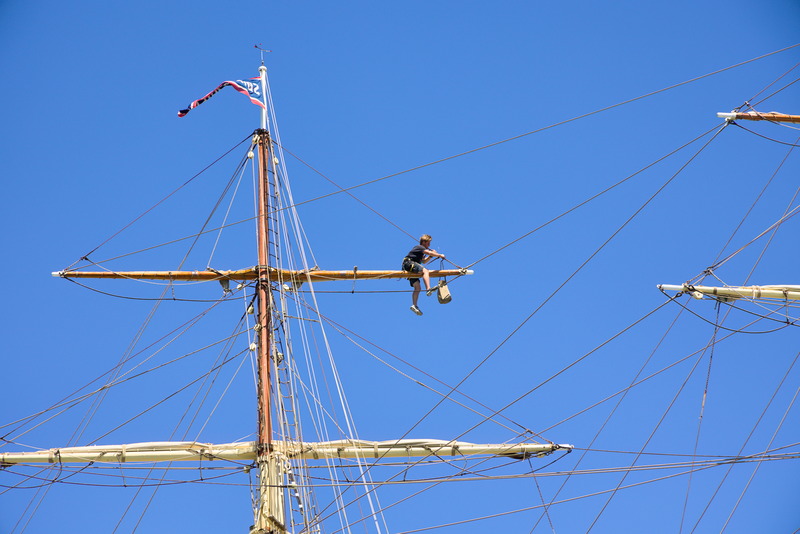 This, though, would make her way beyond merely unhappy! That Norwegian ship we passed on the way out now has somebody working high up in the rigging. It's not entirely clear what he's doing: if you zoom in on the original it looks like he's unhooking a canvas sack from the cable, but what the significance of that might be, I have no idea.

When we return to shore, the minibus is there to take us all back to our hotels, but we decide to walk the mile or so into St George's itself, partly to let Amanda's stomach have a chance to settle.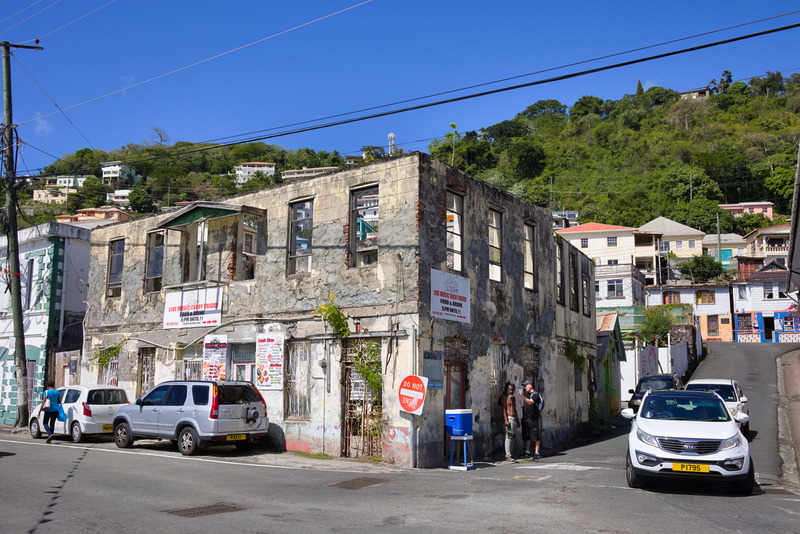 Another example of Hurricane Ivan damage.

Now you might not immediately notice, but there are a couple of figures alongside the building on the road opposite us. I'm certainly not paying any attention to them, but the black Rasta guy most definitely notices me, and accosts me very angrily for taking his picture without permission. What?!! I explain that I was only photographing the building, apologise most profusely if I've offended him, show him the picture and offer to delete it. Clearly abject contrition is the right approach, because after a moment he calms down, thanks me for my apology and says I may keep the picture with his blessing. Phew!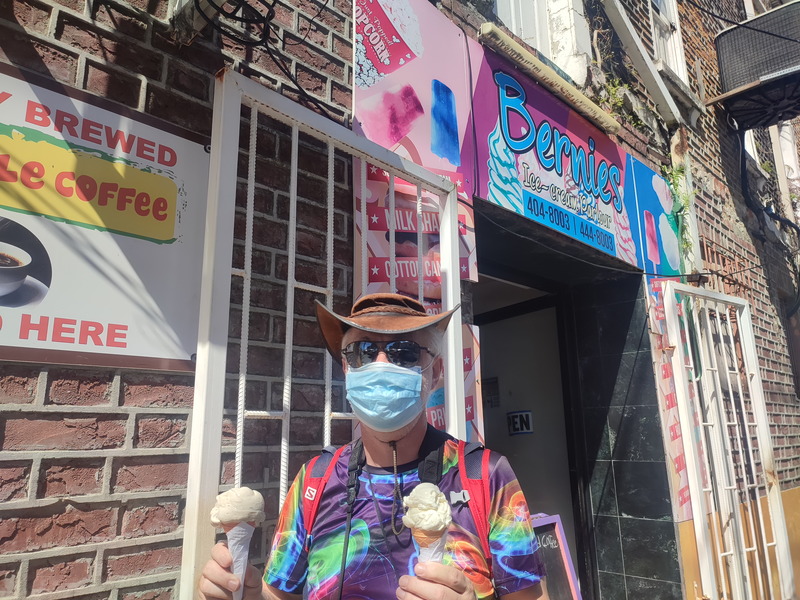 Ice cream: what a fine idea! Must remember to take my mask off, though.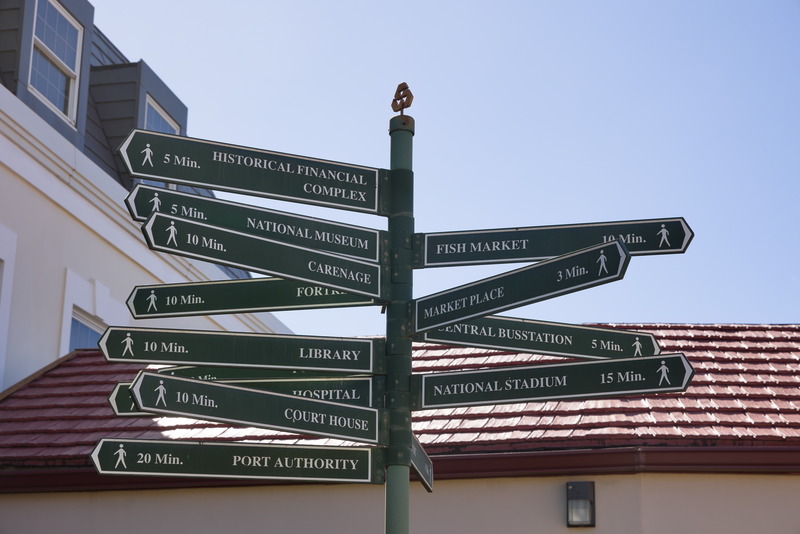 We'll visit the markets in a couple of days.

We get the bus back to Grande Anse for the princely sum of EC$5 - about £1.40 - each.

Thursday 20 January

Back to St George's to see a bit more of some of the sights.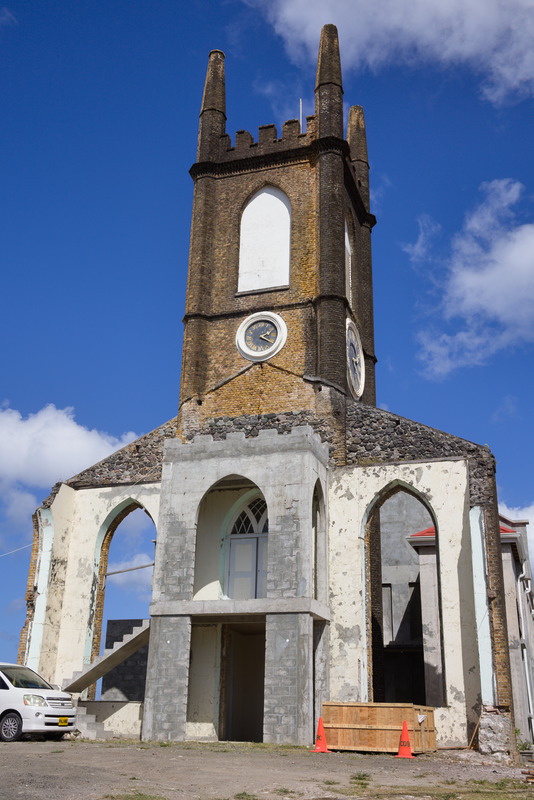 A post-hurricane restoration project that still has quite a way to go.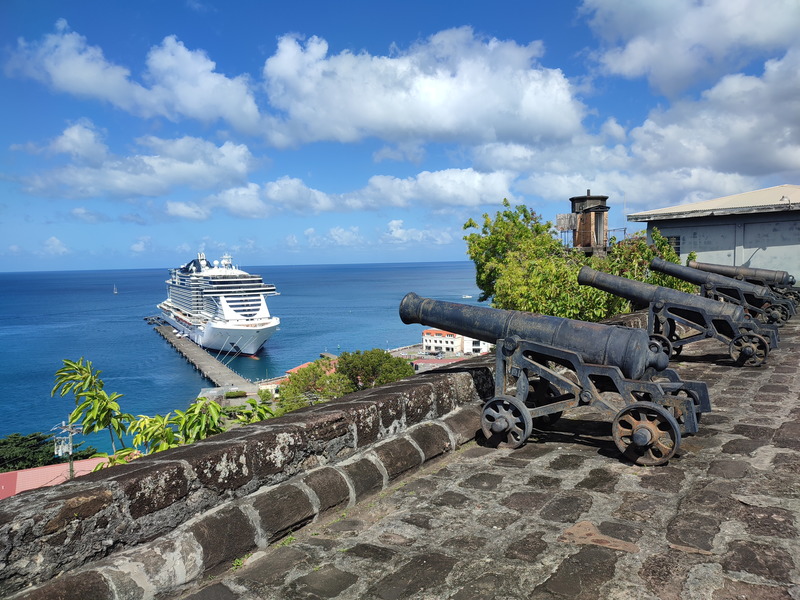 Fort George is at the top of a hill above the town, built by the French to deter British tourists in the early 18th century. It's now partly a tourist attraction and partly the Police HQ.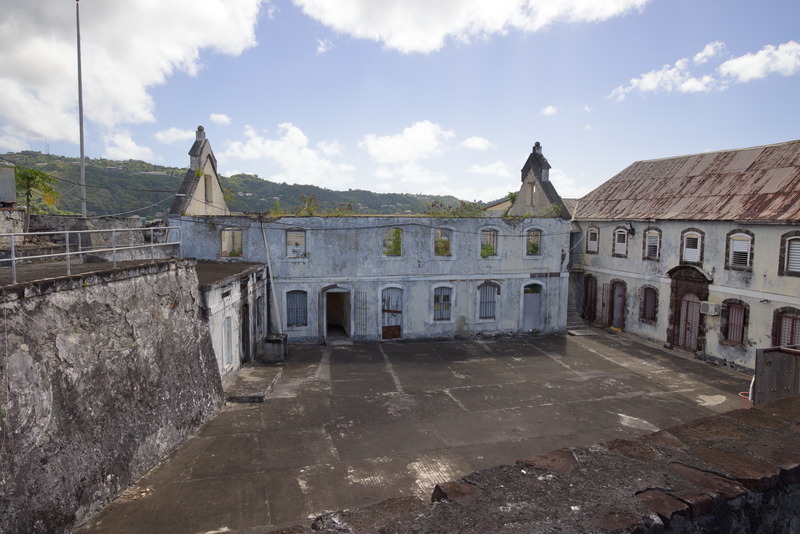 It's a bit dilapidated, though. The building on the right is in active use, but the one in front is just a roofless shell, full of weeds and debris. As 'attractions' go, it's far from being the most attractive we've seen, but interesting in its own right nevertheless.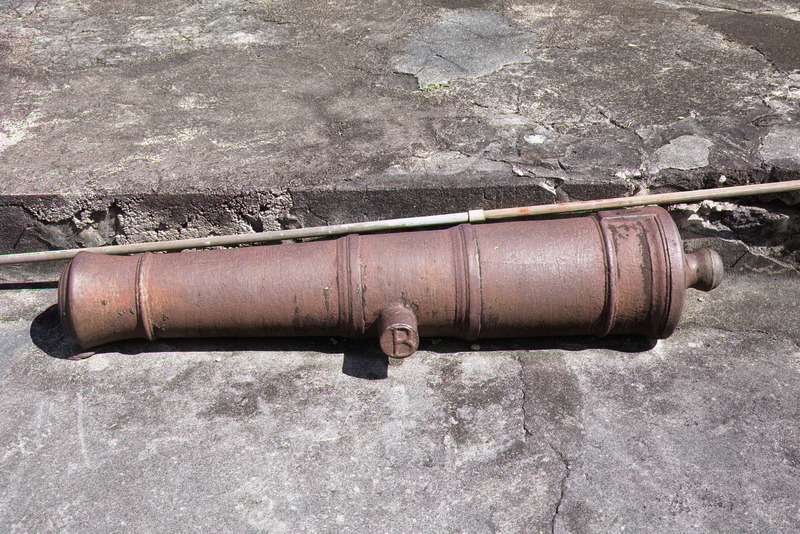 It's not often you need to worry about tripping over a cannon barrel, just lying on the ground like that.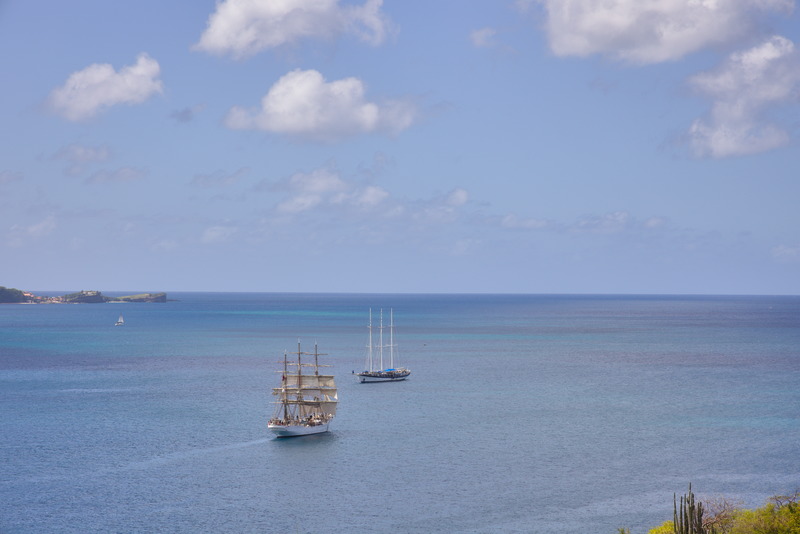 The very fine ship we saw close up as we passed it yesterday appears to be setting out on a voyage.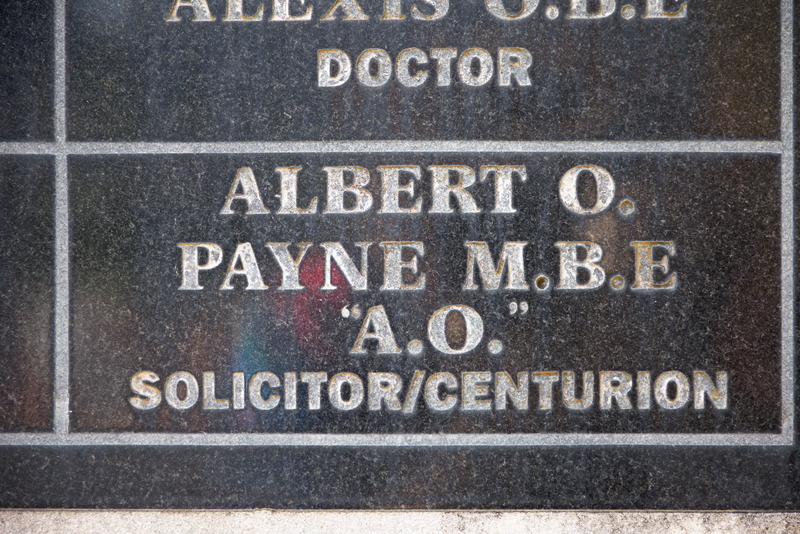 Plaques on a wall celebrate various local worthies. We are curious how one combines being a solicitor with being a commander of Roman legionaries. True, Amanda has managed a version of precisely that, but only in pretend form, and she certainly doesn't have a plaque on a wall announcing it to the world. See here for a reminder.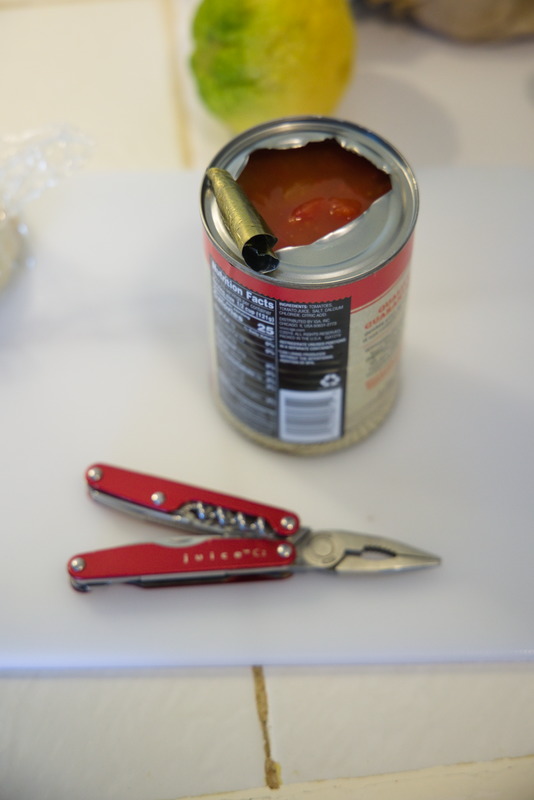 Another thing the kitchen lacks is a can-opener, and while ring-pull cans seem to be very much the norm in the UK now, Grenada mostly holds fast to the old traditions. But hey, I can improvise!

Friday 21 January

We're getting out of town today, visiting a waterfall and taking a little rainforest trek.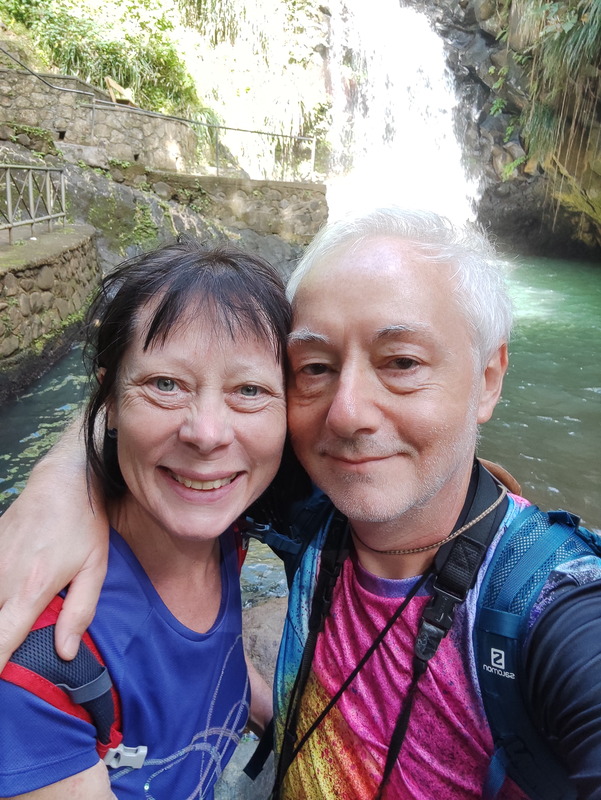 The waterfall, it must be admitted, is not really all that exciting.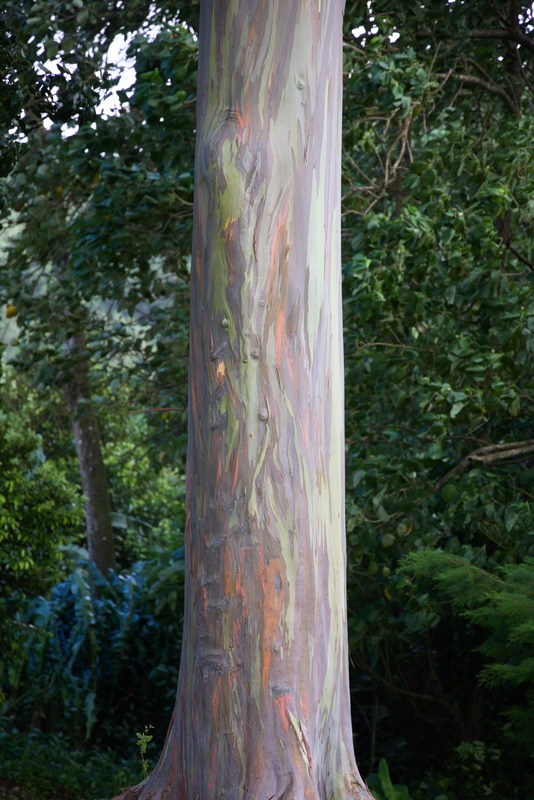 This tree is a bit of a local landmark with its strange multicolour bark. It's called 'Rainbow' Eucalyptus for fairly obvious reasons. This must be a relatively young tree as a bit of web searching shows older ones becoming more intense in colour.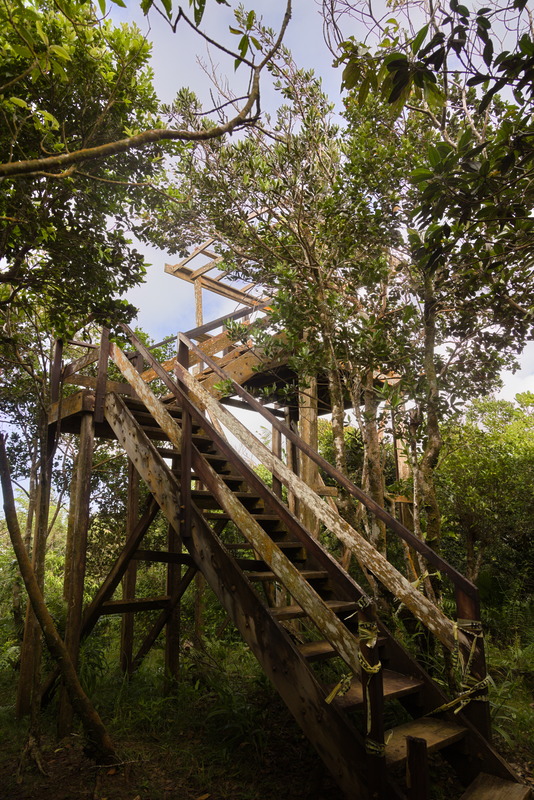 That looks nice and dangerous. Let's climb up and see what we can see from it.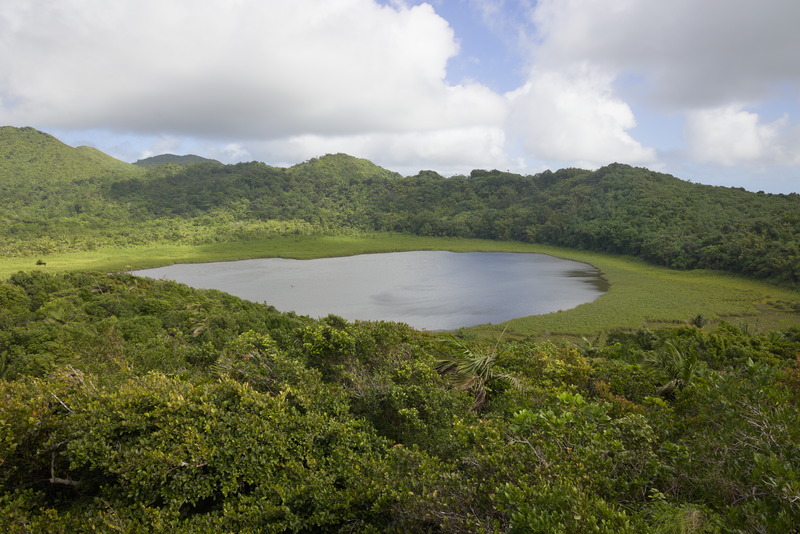 Aha! We're in the Grand Etang Forest Reserve, and that there is the Grand Etang. The name is derived from a French word for a body of water that doesn't seem to translate directly into English, because it's used to mean both a pond or small lake, as here, and also a large coastal lagoon such as the Étang de Thau in France.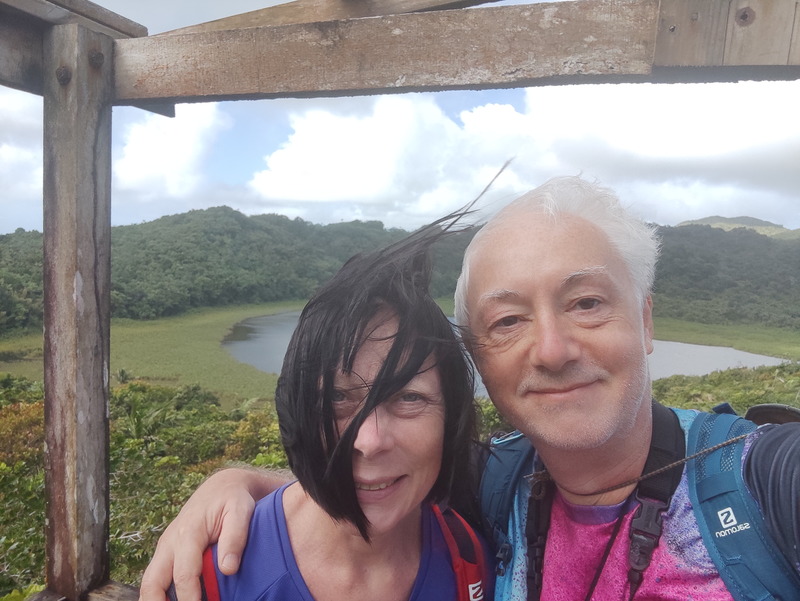 The platform is quite rickety and the wind is blowing strongly, but if it hasn't fallen down yet, it's probably not going to do so just at this precise moment.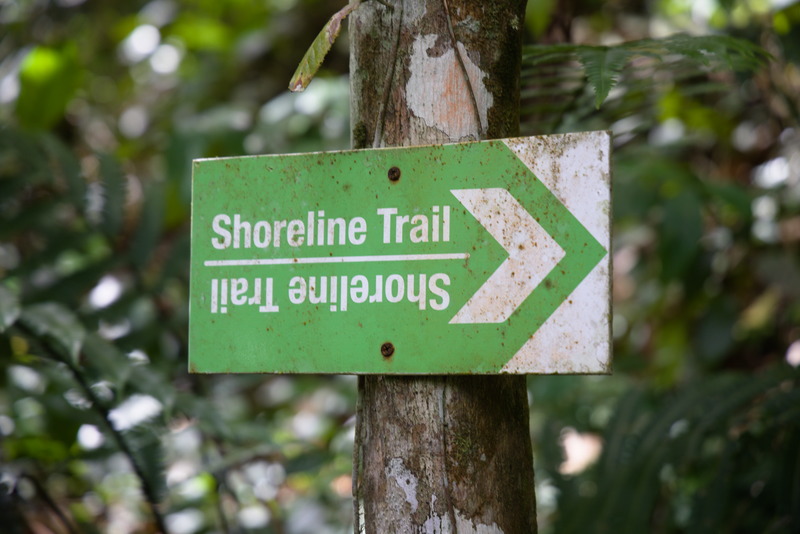 There's a well marked trail alongside the lake.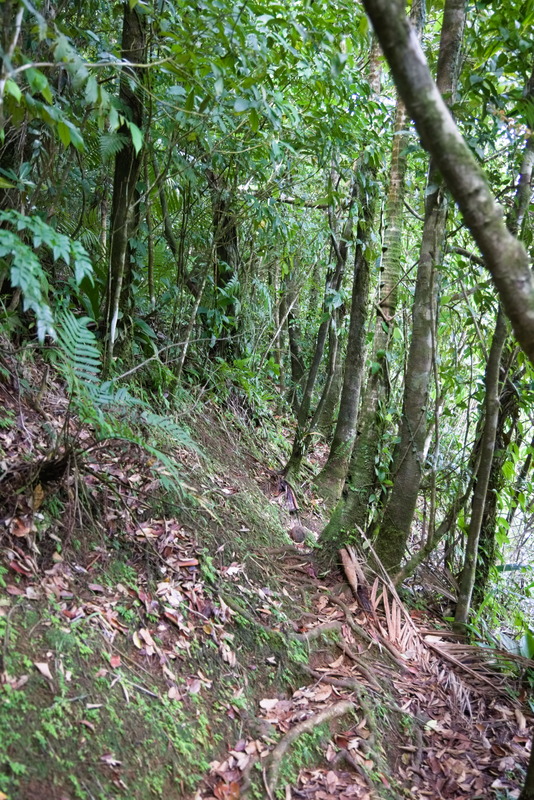 The trail itself is less clear.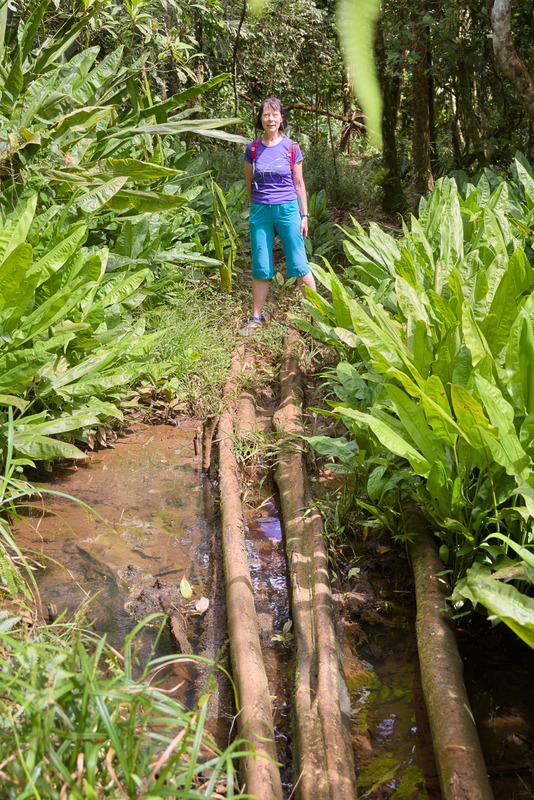 It's a bit lacking in civil engineering infrastructure too.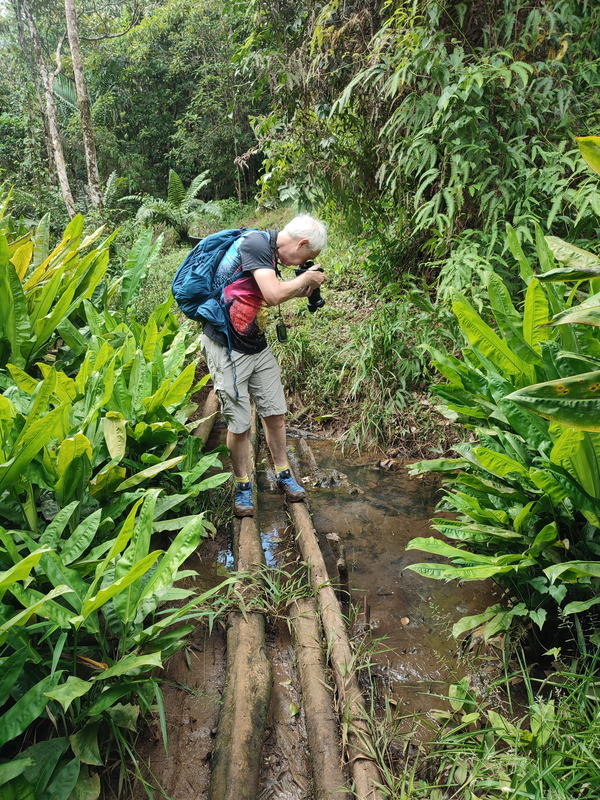 I will examine the view from the bridge.

Saturday 22 January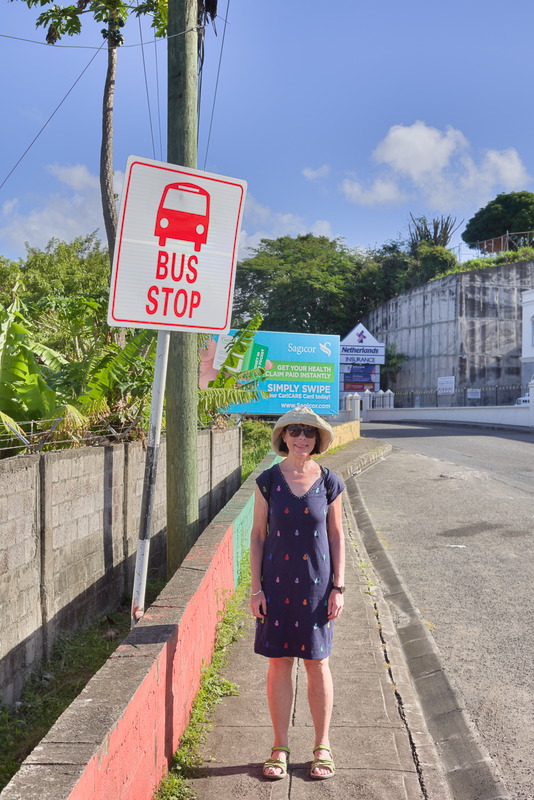 We're going to get the bus into St Georges's to visit the markets and hopefully buy something nice for dinner.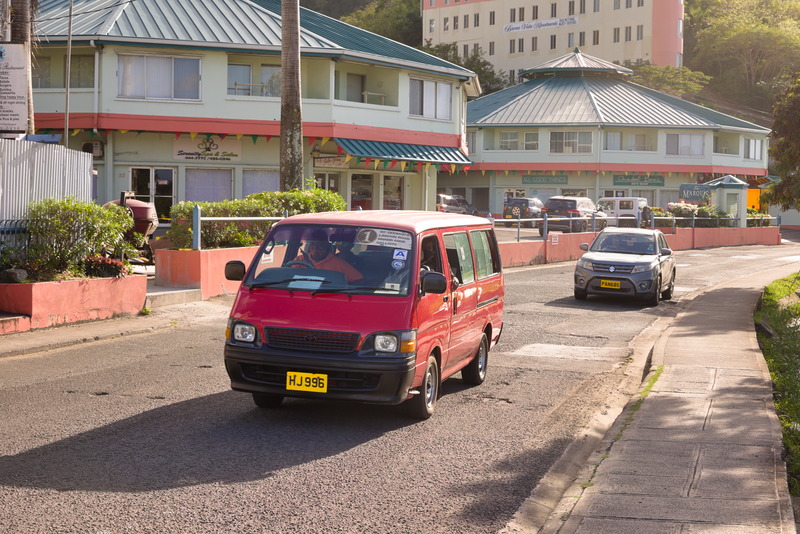 A red bus, just like London! Actually, most of them are white, but they are all these little vans. They are pretty frequent and we never have to wait long.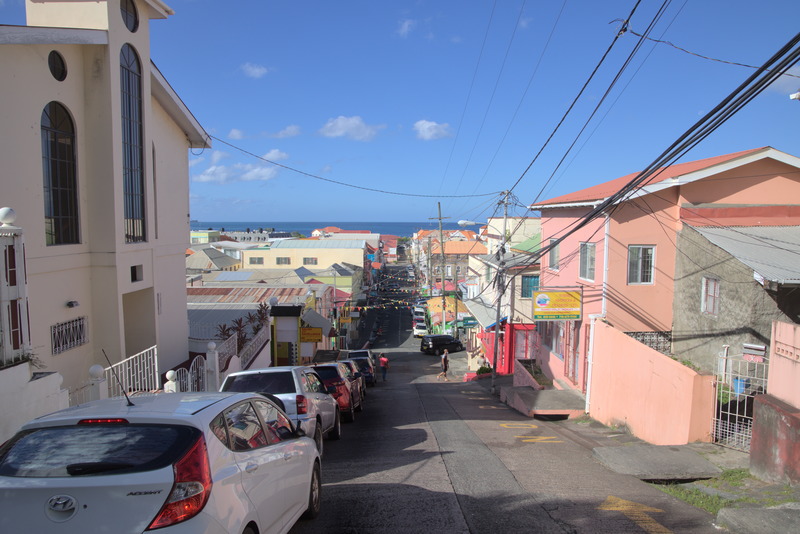 We're not quite sure where the best place to get off might be, but the top of the hill seems as good as anywhere, with a fine view down and out to sea.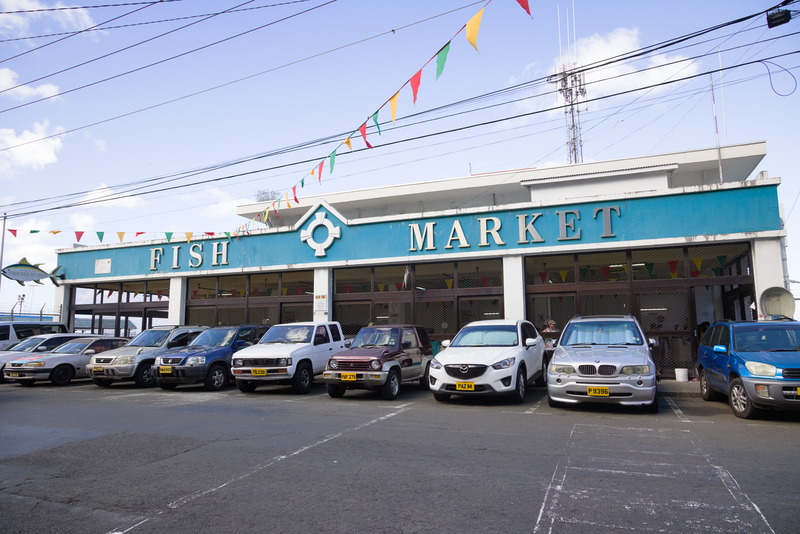 Here we are. It's mid-morning now, and we suspect that it would have been much busier earlier, but there are still plenty of fish to be had. I pick a woman more or less at random - a fish-selling woman, that is - and ask about what I think is red snapper, but is something else. She says that it's ok, but a bit tough, and that the barracuda she's also selling is better eating.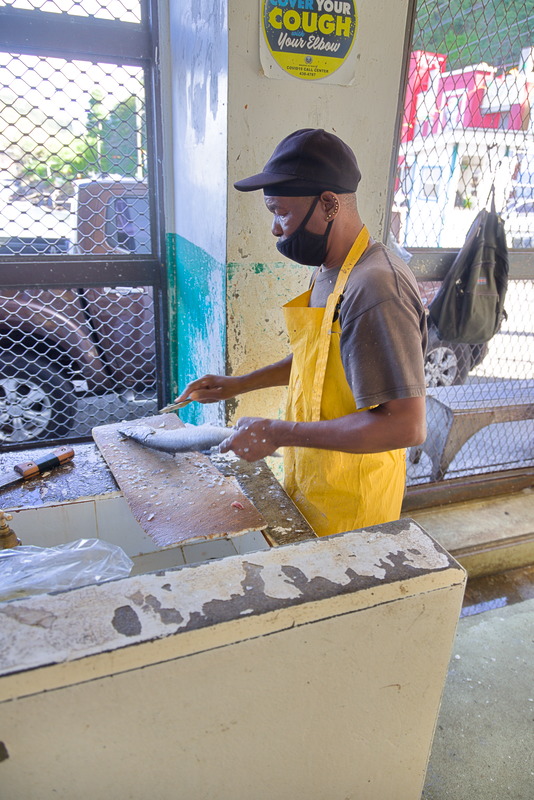 I pay her for the fish, then about a quid (EC$4) to the man who cleans and fillets it for us. He asks if I want the trimmings, and normally I'd say yes please, but I don't think I'm going to be making fish stock today.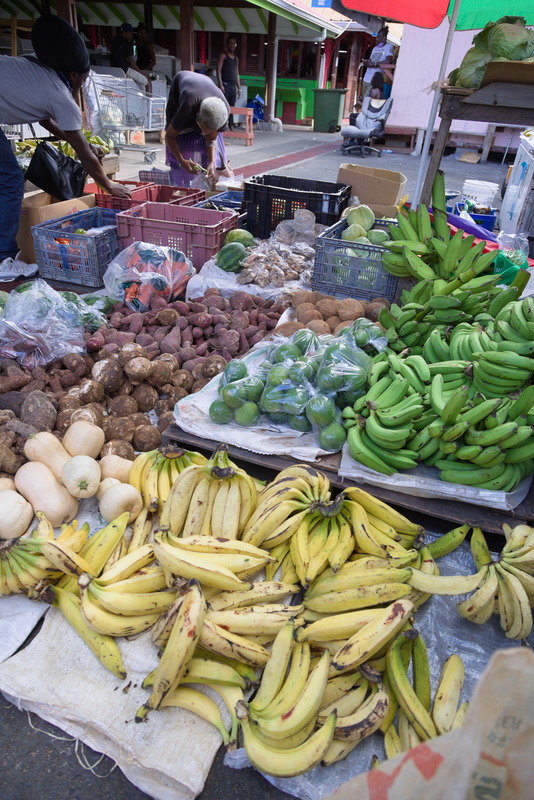 Then some fruit and veg from another market stall.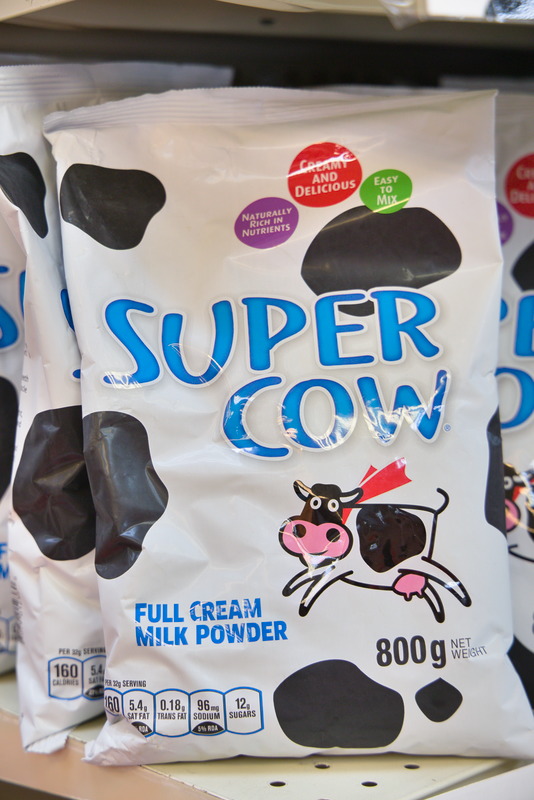 And something we don't buy, but I can't resist a picture!

After we get back from our shopping expedition and put it all away, we go for a walk to the curiously named "Quarantine Park".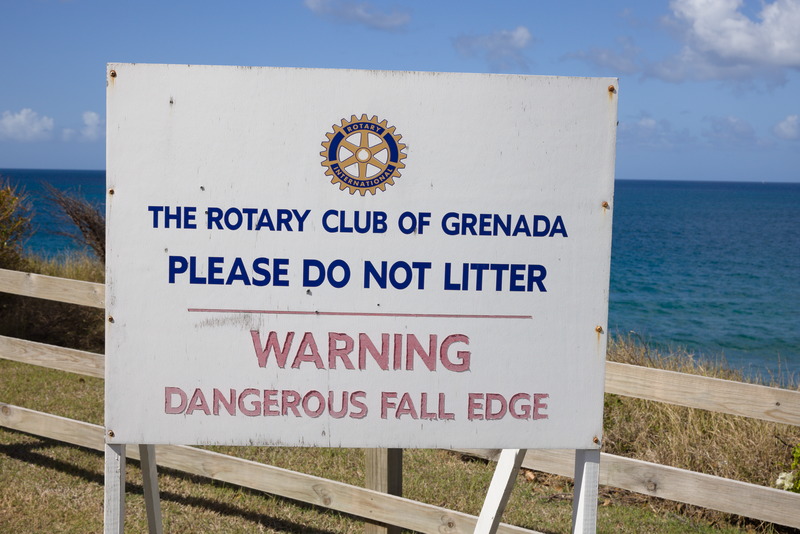 It's so called because from 1892, victims of the many communicable diseases common at the time would be isolated there, well away from any then populated areas. After modern medicine removed the need for quarantine and isolation, the buildings were used for various other purposes, but then pretty much abandoned, and by the late 1980s, little more than the foundations remained. It became a popular picnic spot and in 2002, the government leased the area to the local Rotary Club for 33 years for the development of a public park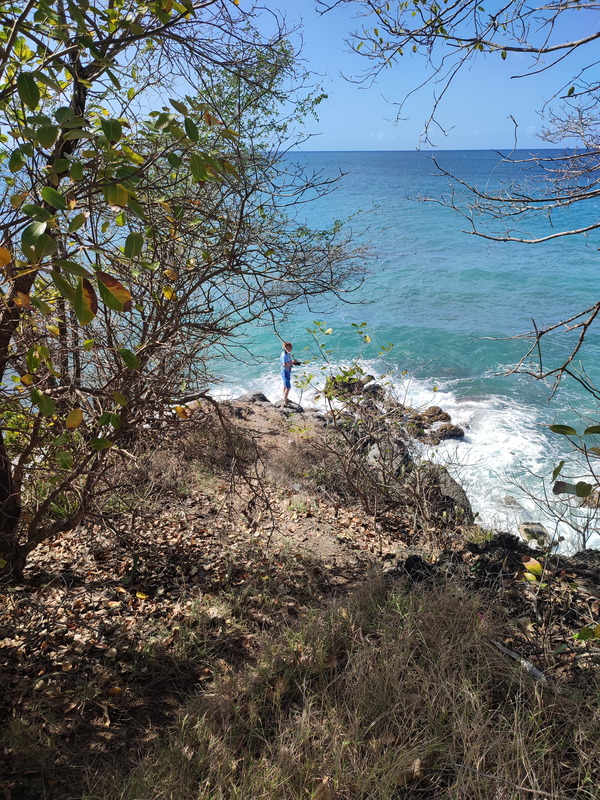 This isn't the dangerous edge, but Amanda still keeps back a nice safe distance while I'm taking some pictures of the rocks and surf.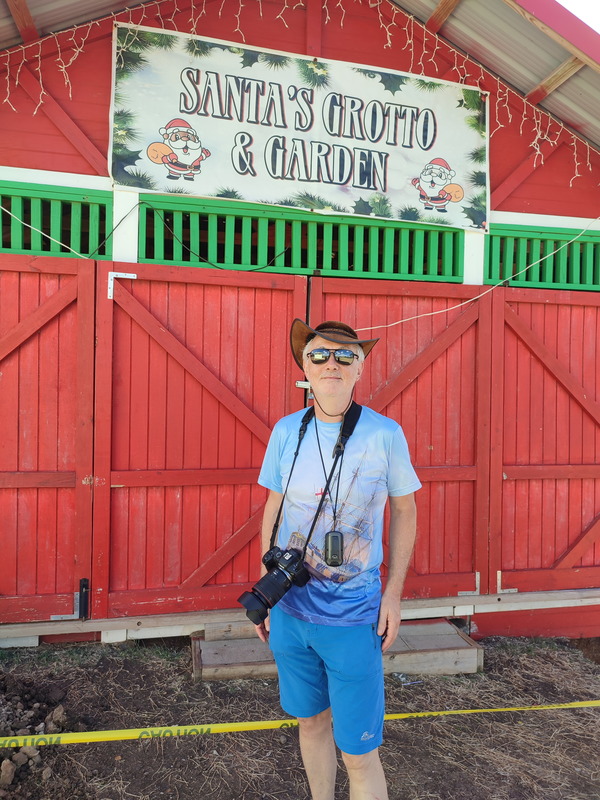 Twelfth Night seems to come late in some parts. [Mind: flash-forward to the time I'm writing this - 6 Feb - and yesterday we drove past a somewhat grotty-looking pub in Streatham that still had "Merry Christmas" banners hung outside.]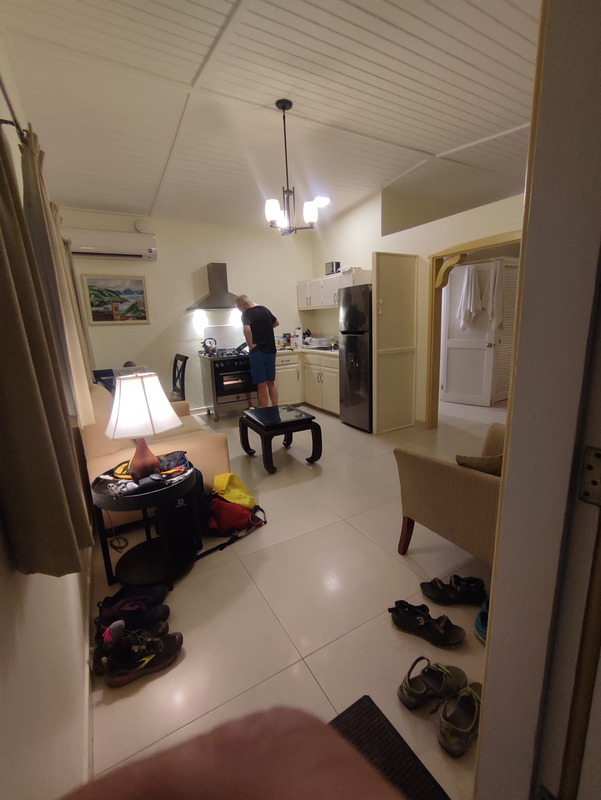 To work!

The fish looked really fresh and nice, so I'm not doing anything fancy or fussy with it: just grilling it and and serving it with a little salt and some lime to squeeze over it. Simple sautéed veg and roast breadfruit to accompany it and it's every bit as good as I'd hoped it would be. I don't like to boast [what's that expression on your face supposed to mean?!] but I'm a better cook than any of the hotels here seem to employ!

Sunday 23 January

Back to the Grand Etang region, this time to visit some waterfalls called the Seven Sisters where we can even have a little swim. Amanda is initially slightly miffed that we have to have a guide, and can't just do it on our own, but it will soon prove to be a good thing.

We start by trekking some remarkably muddy trails; the soil here is very sticky clay for the most part. Then our guide takes us off the poorly defined path onto an almost totally undefined one!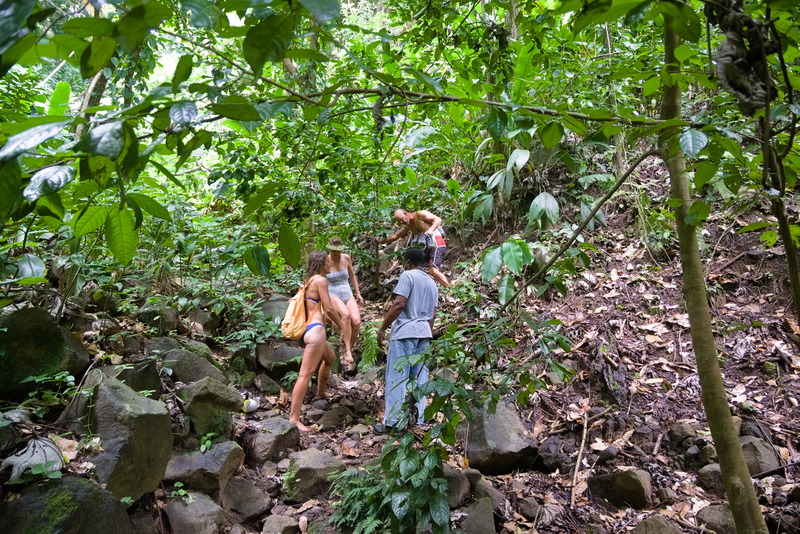 Suddenly we bump into some people who don't have a guide, and have pretty much no idea where the path is. They had found their way up to the waterfall, but are having some trouble finding the way down again.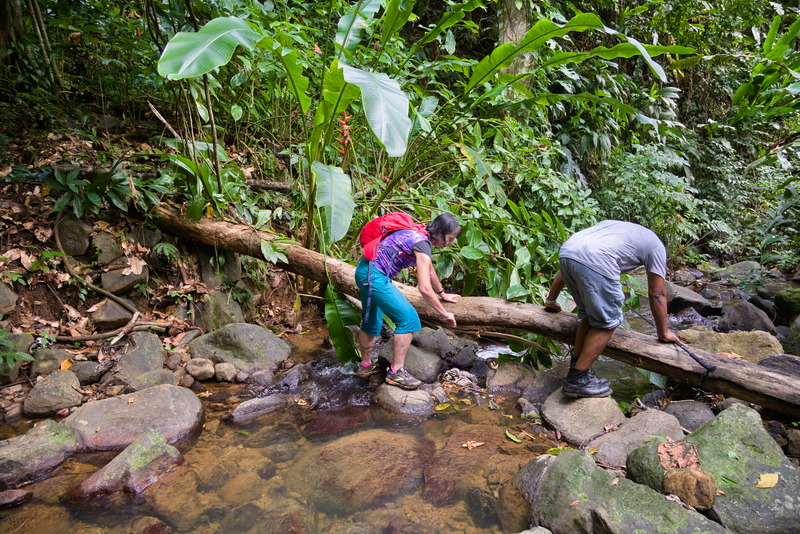 We have to cross rivers.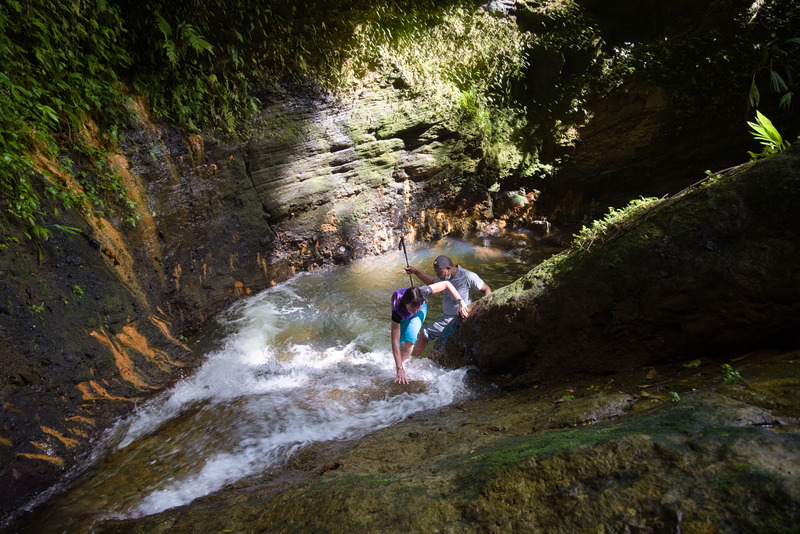 And sometimes wade through them!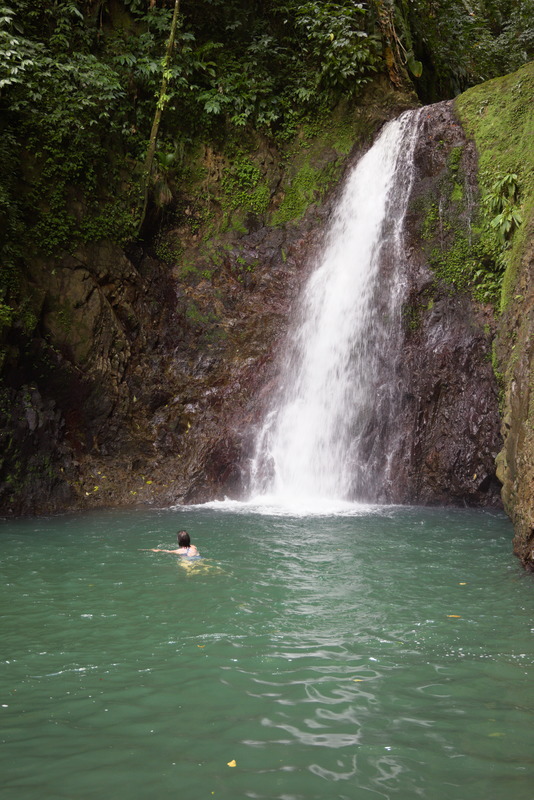 But finally we get to have a swim.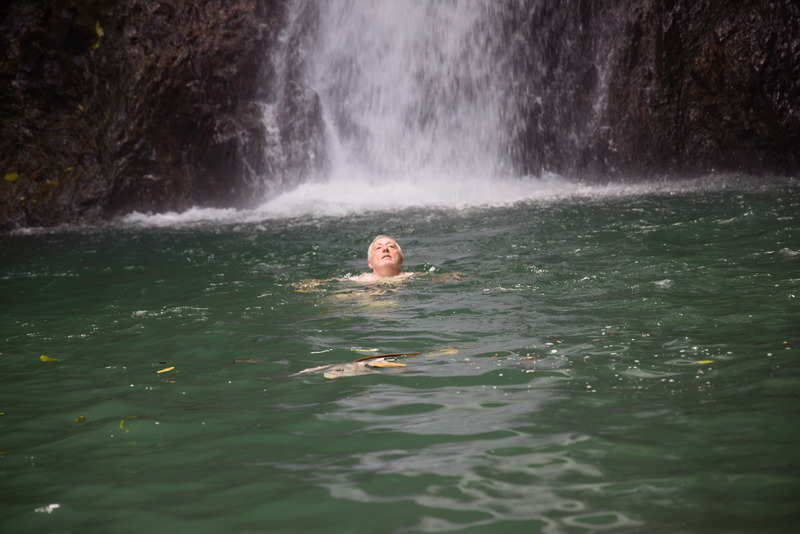 Definitely a bit chilly for my taste, but I am bold and brave!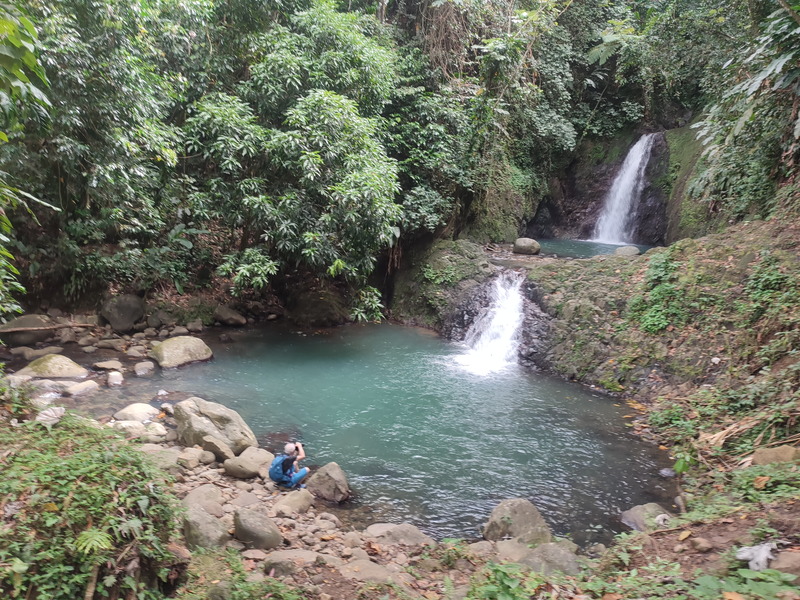 Enough swimming, let's take some more pictures.

Monday 24 January

Today we fly home, but we aren't leaving until mid-afternoon, so we'll have a morning walk in a direction we've not yet tried and just see where it takes us.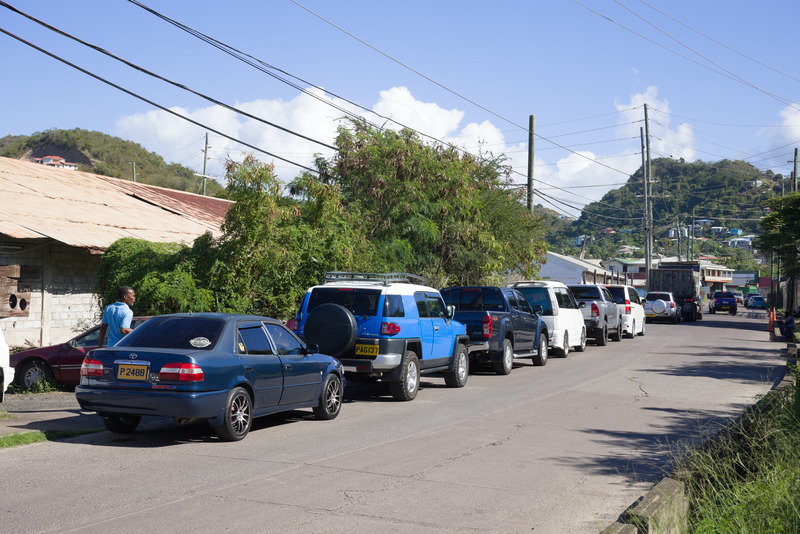 Well this isn't a tourist area! That huge long line of cars and trucks is a queue for the driving test centre down the road. We don't quite understand what they're actually queueing for: maybe it's just first-come-first-served for driving licence applications or something.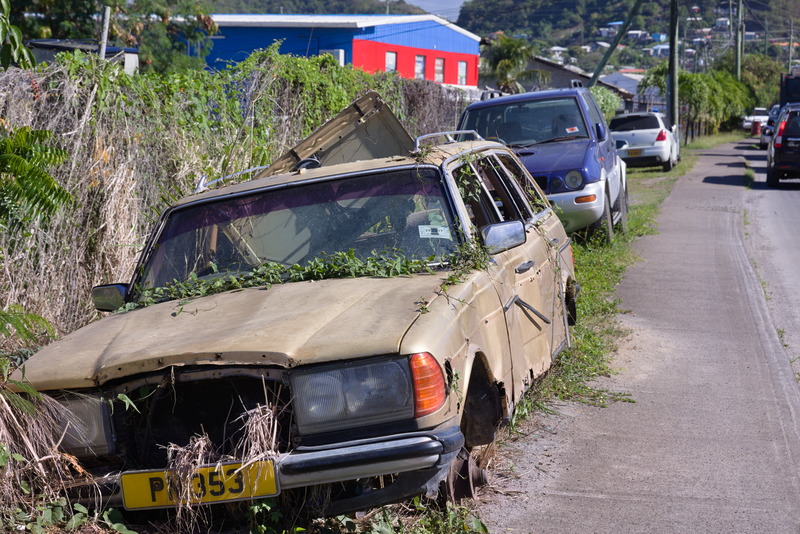 Looks like somebody died waiting?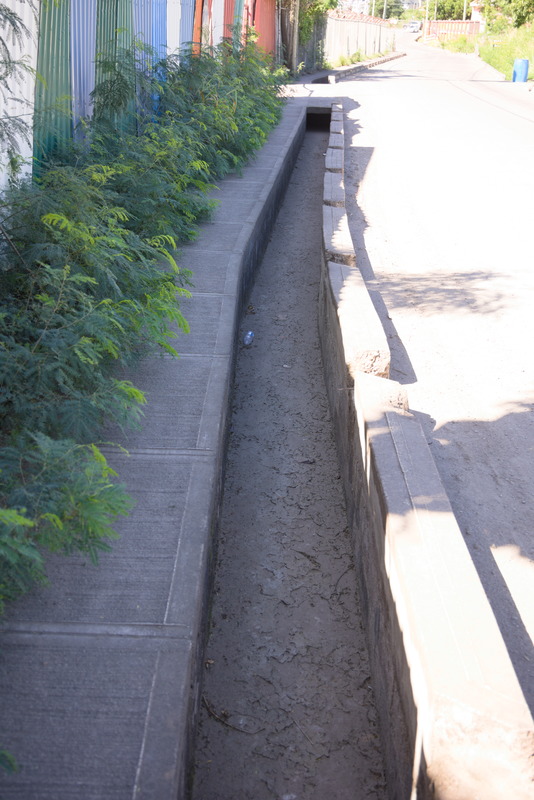 When the gutter looks like this, you get the idea that the rain can be quite heavy at times!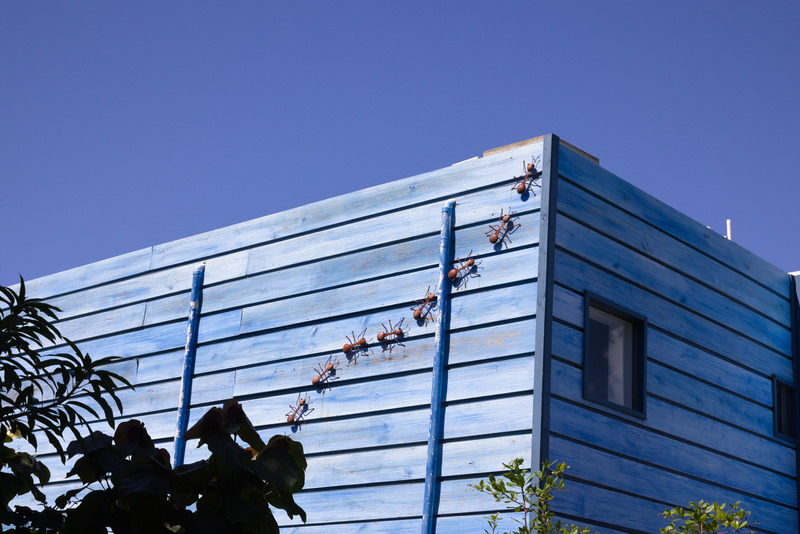 We rather like this building, though I'm not quite sure if everybody would want giant ants climbing up their walls. In fact, Hilary, if you're reading this, I do hope you don't get flashbacks to being attacked in the Peruvian jungle all those years ago. If you do, err, sorry!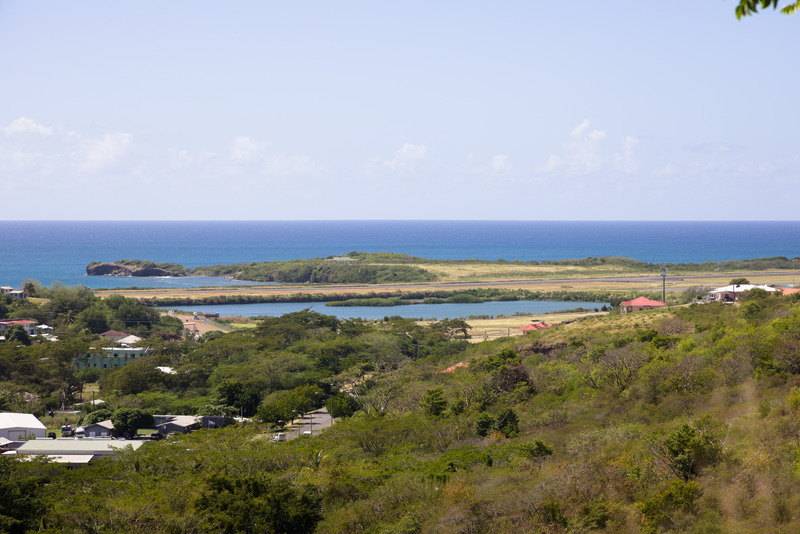 From the top of a hill, we can see the airport runway. No planes that we can see, but we trust that will change.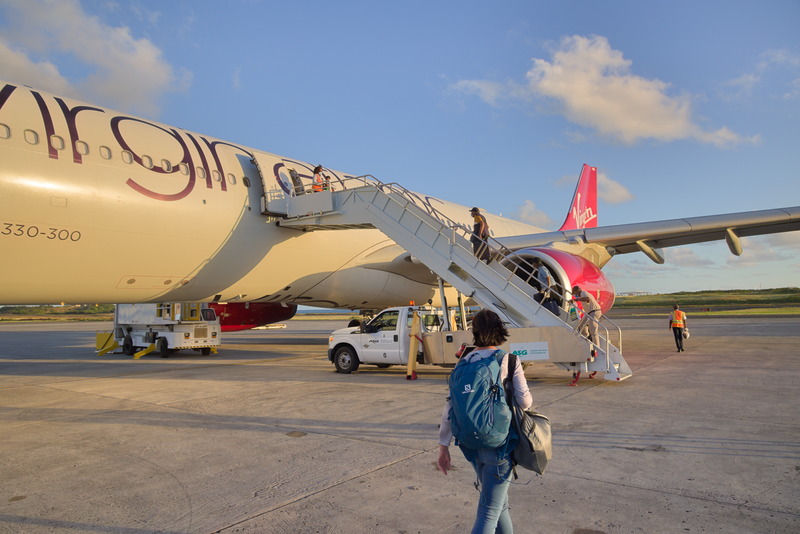 As indeed it does. No delays or dramas this time.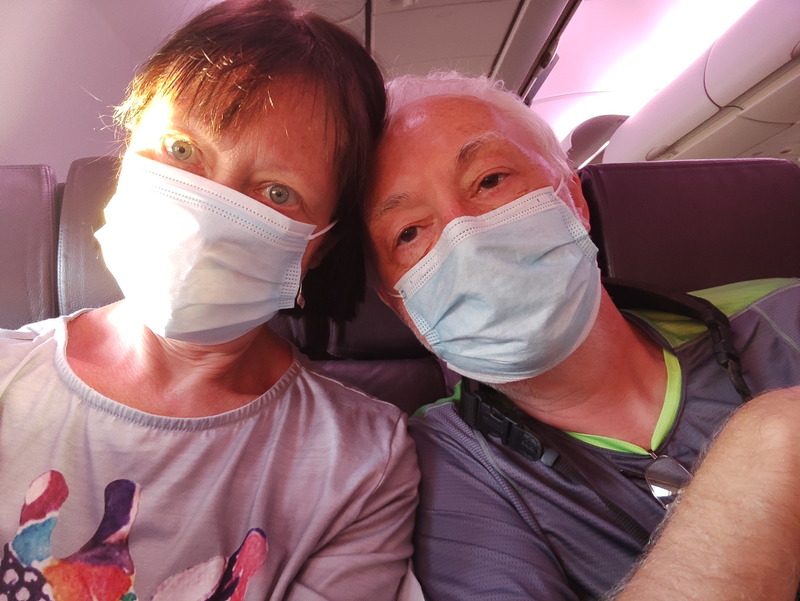 And it's goodbye from us!

Now some of you may be wondering at the absence of some of the more normal features of our holidays: natural disasters, terrorist atrocities, deadly terrain, wild animals, life-threatening situations of all sorts... It does seem kind of odd to have a trip that most normal folks would recognise as a holiday, but hey, we wouldn't want to be stereotyped!

Love to all,

Steve.


---
year index