As some of you will know, we were in France recently, running the Marathon du Médoc (well, one of us was running it), so I thought I'd show off my mind-broadening travel experience by getting Google to translate "Hard As Snails" for me. So if you ever wondered, now you know...

Admittedly, it doesn't seem to be much of a pun in French.

But anyway, the race report: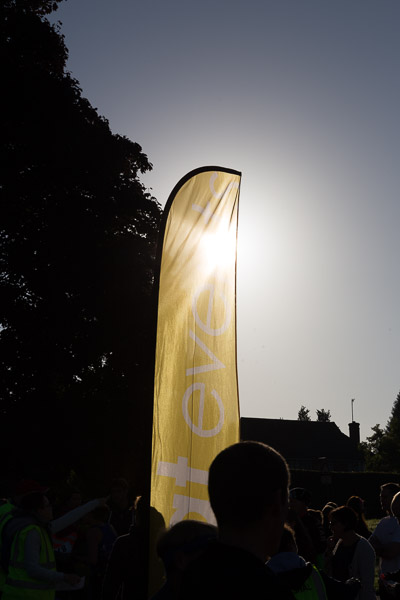 The day dawns bright in Guildford!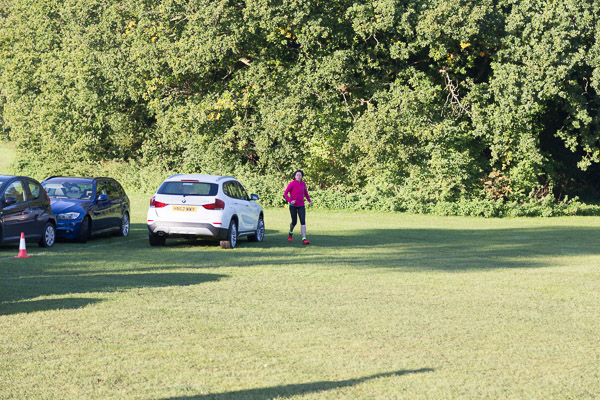 Of course, autumn+no cloud+first thing = brrr! Amanda starts running well before the race to keep warm.



She can't believe what Toby's just told her... But he promises he'll prove it after the race! Amanda's more blasé - she knows all about silver-tongued rogues...



The start is a bit narrow and congested, but knowing this, Amanda has got herself near the front of the pack. Further back, it's pretty much a walk to begin with.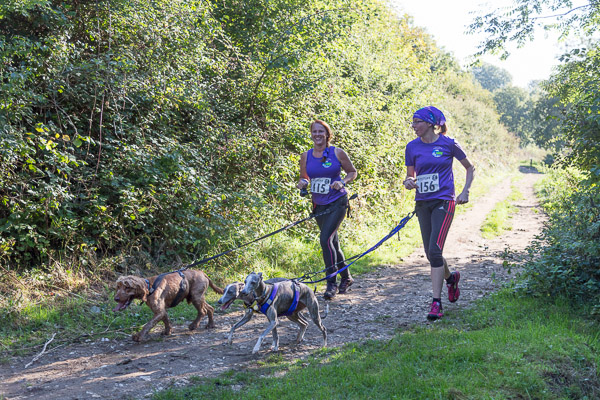 This seems to be quite a big event for cani-crossers. They started separately before the plain runners, so I don't know how many of them there are in total, but it's certainly a good number. Some other events we've done have occasionally had a few, but nothing like this.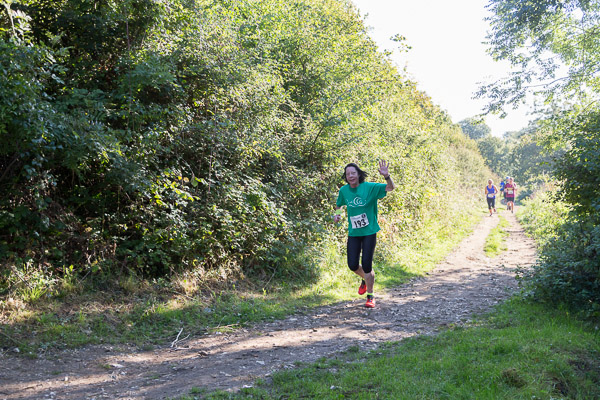 Amanda and I are more cat people really; no dogs in sight.



"I turned down Cru Classé Bordeaux a couple of weeks ago! Your poxy Thames Water holds nothing for me!"

She probably should drink some water, but she's got the bit between her teeth and she's not stopping.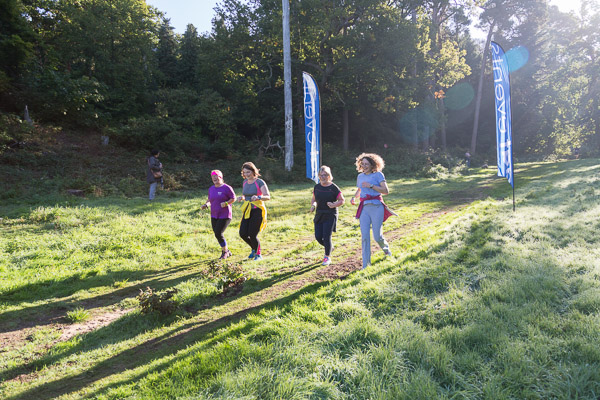 No, this four are not faster than Amanda, they're just 5k runners rather than 10k. Still going for a photo-finish, though :-)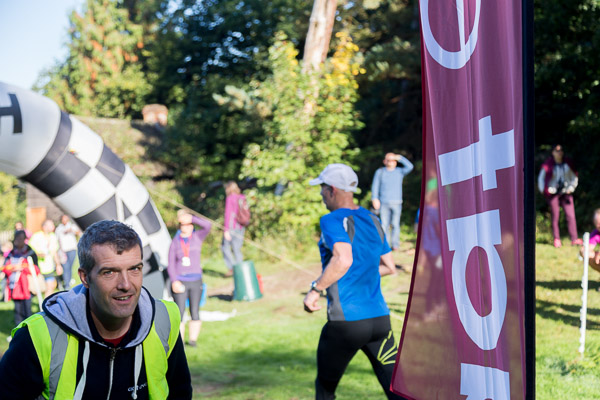 Toby tries to sneak up behind me, but I'm too quick for him!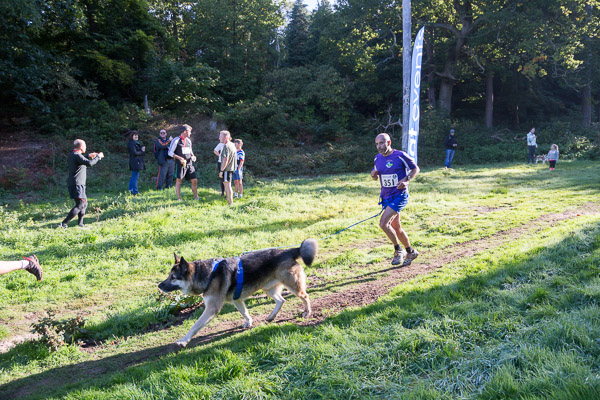 Another cani-crosser comes home. I'm not sure if it really is a trick of perspective, perhaps that dog is truly bigger than he is! it's a big fluffy wolf/pony cross or something, and even if you're a cat person, he (or she - can't tell) is still very cute.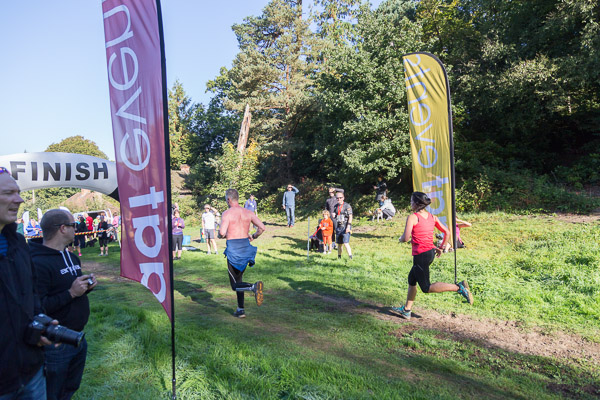 She could probably have overtaken him if she didn't quite like a good view of a half-naked man...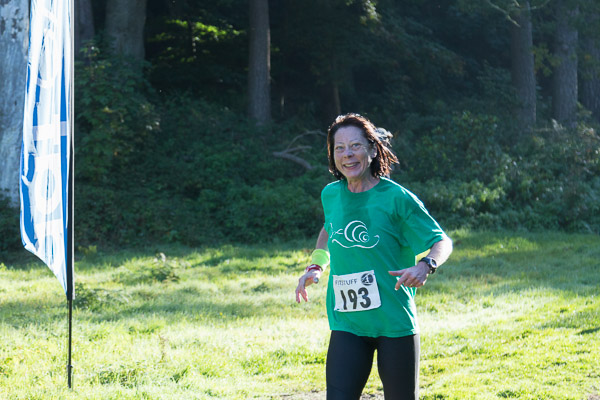 I'm not even a quarter naked, but Amanda still seems pleased to see me.

Note, by the way, the T-Shirt with the stylised snail on it. She actually bought it for me to wear when she did this race last year, but thought she'd appropriate it herself this time. I shall want it washed before I wear it again!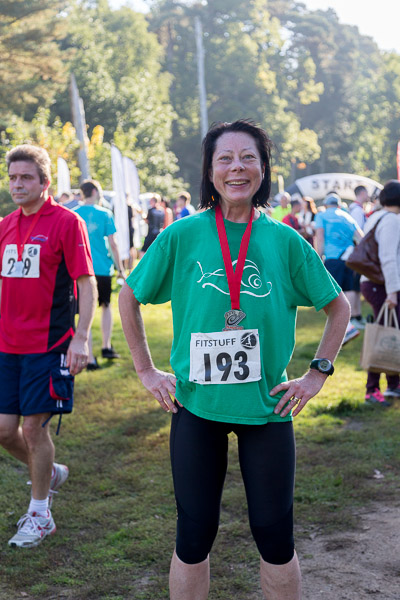 As Charles Dickens might have said (though he didn't), not the best of times, not the worst of times.But she's happy :-)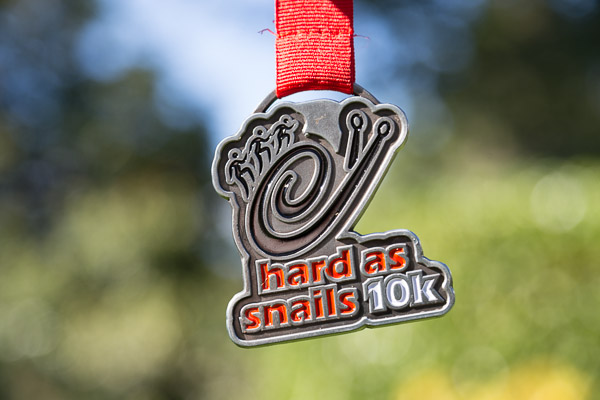 Close-up of the bling!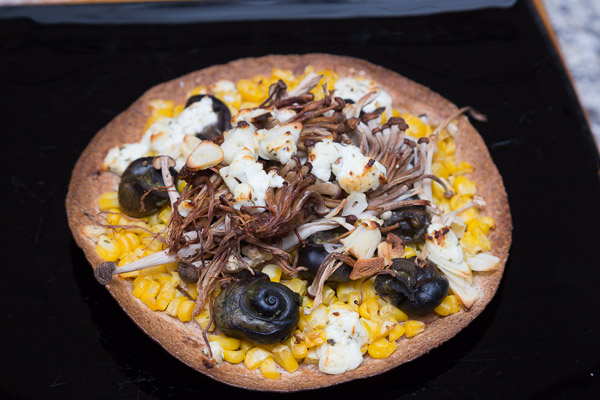 And finally, dinner continues the theme! The black things are Dorset Snails - http://www.dorsetsnails.co.uk/ - in a kind of Franco-Italiano-Sino-Hispano-Stevie fusion dish.

Recipe (serves 2):

Prepare one pack of Dorset Snails according to the instructions;

Cut the kernels of a sweetcorn cob and microwave for three minutes;

Take one pack of exotic fungi (enoki and suchlike), trimmed;

Thinly slice a few cloves of garlic;

Spread them all out on two wholemeal tortillas, top with some crumbled goat's cheese;

Drizzle generously with truffle-infused olive oil;

Grind a little sea salt on top; (if a little grind of sea salt isn't enough for you, then you're probably consuming too much sodium and your blood pressure is unhealthily high and you're not tasting your food properly anyway. Oops, sorry, rant over.)

Preheat the oven to nice and hot - 220C fan, more if it's a non-fan - and bake for 10-15 minutes, until everything is nicely browned but not burned!

Eat! (With a nice glass of wine. You've got a fair range of choice here, but go for a not too bone-dry white or a fruity red. I would wholeheartedly recommend this: https://www.majestic.co.uk/Vinas-del-Vero-Gewuerztraminer-zid14469)

Steve.