[A slightly tardy race report, I must confess. This is partly because Amanda has been insisting that we go out on our bicycles and enjoy healthy exercise and some sightseeing, after which I then have to cook dinner; and that barely leaves time for a little glass or three of something (obviously, I can hardly insult our hosts by spurning the fruits of all their hard work!) before bed.]


---
"A jug of wine, a loaf of bread", wrote Omar Khayyam, which is undeniably a good start; but as he wasn't French, and particularly not Médocain, he forgot the cheese, the foie gras, the oysters, the ice creams - and of course the forty-two-and-a-bit (mustn't forget the bit!) kilometre run that supposedly justifies it all.

So it's the 31st Marathon du Médoc, and if you're a francophone, the theme is a no-brainer - "il se met sur son 31!" This doesn't make much sense literally, but we Brits don't have any linguistic moral high ground here, because the idiomatic translation is "dressed up to the nines".

But as we shall see, different people dress up to different numbers...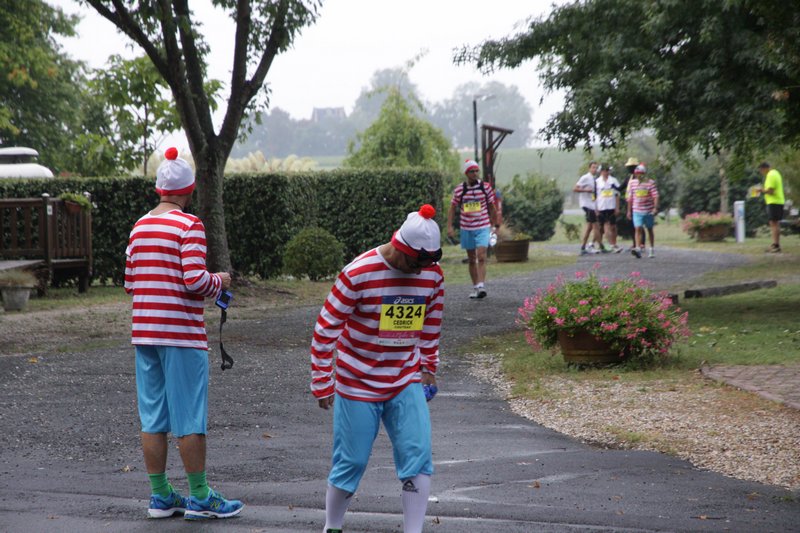 Now, we've never hired a campervan before, so we can't absolutely rule out the possibility that this is a perfectly normal early morning scene at a campsite. We do hope it's not, though.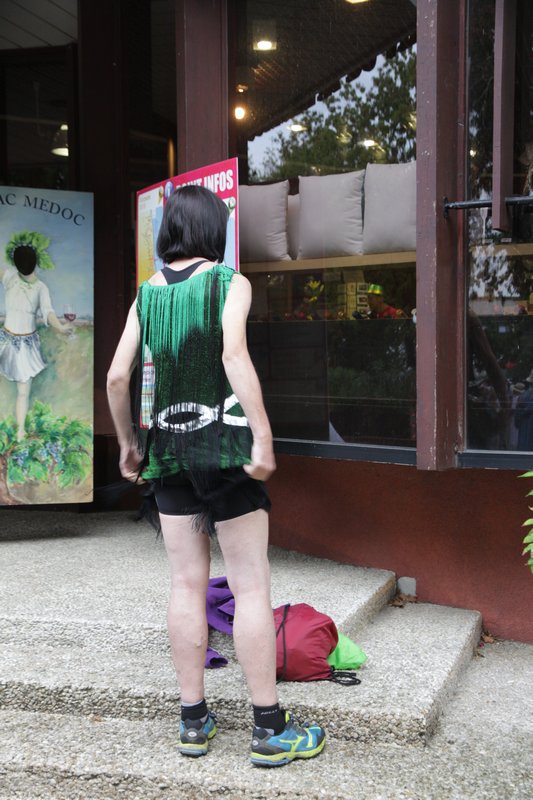 Amanda uses the tourist information office window as a makeshift mirror to get changed.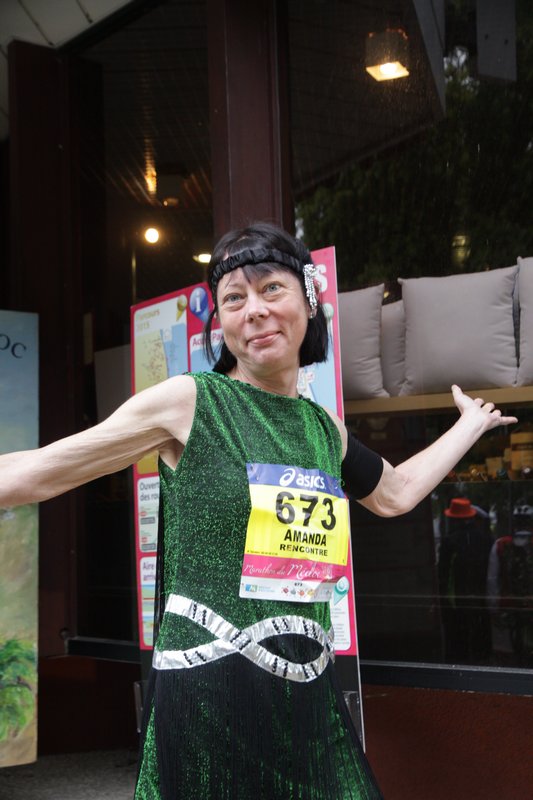 Well it's not really something she could have cycled in...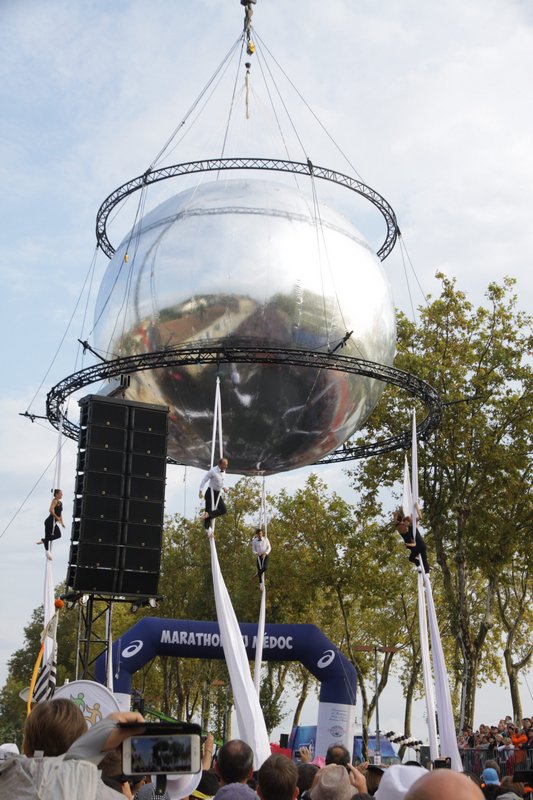 Above the start, people hang from a giant silver ball on long silk scarves, as people do. The start isn't really the start, though; they've decided on what you might call a rolling start where the actual 0km point is 700m down the road. It makes some kind of sense to allow people to spread out a little before getting into the race proper, as it's completely chocker with 8500 people all jammed together on a fairly narrow road. Still a bit tiresome, though.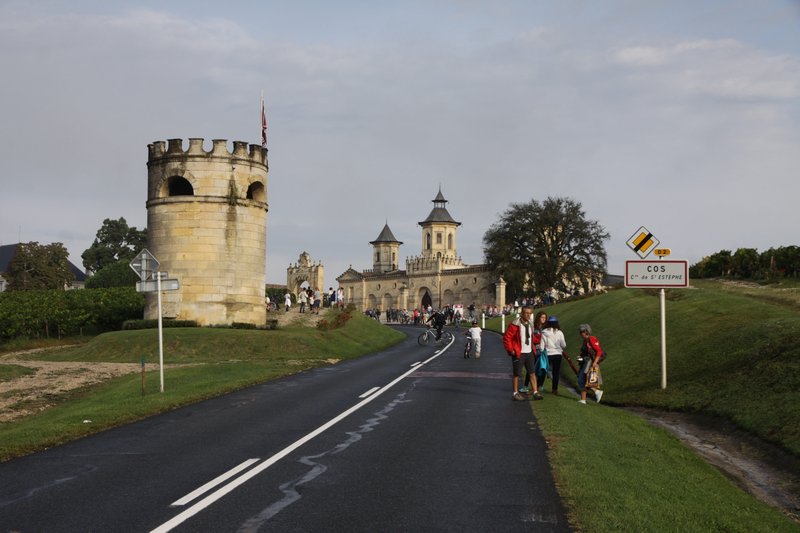 At Cos d'Estournel, spectators are getting ready. This is Amanda's favourite château on purely visual grounds, but whether the wine is any good, who knows? [It'll cost you two hundred quid for a bottle, so it should be!]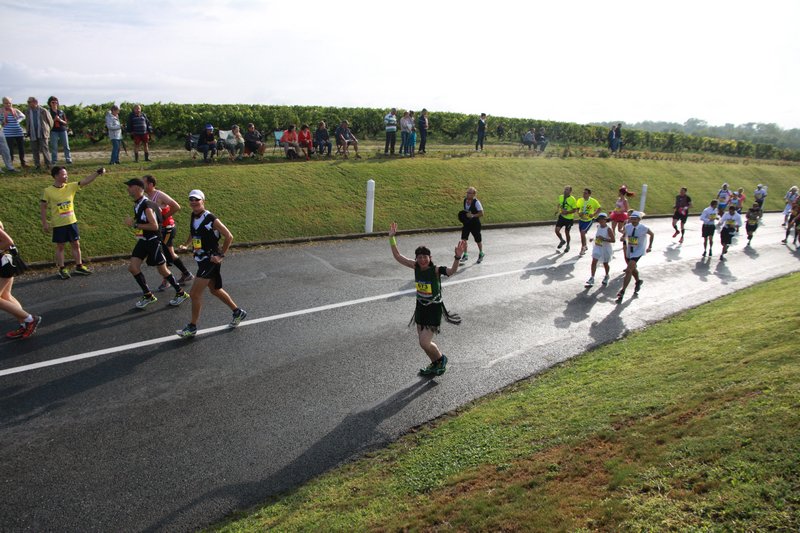 And here she is. Note the minimal amount of dressing-up around her: many, perhaps most, of the faster runners have limited themselves to some token gesture rather than a proper costume.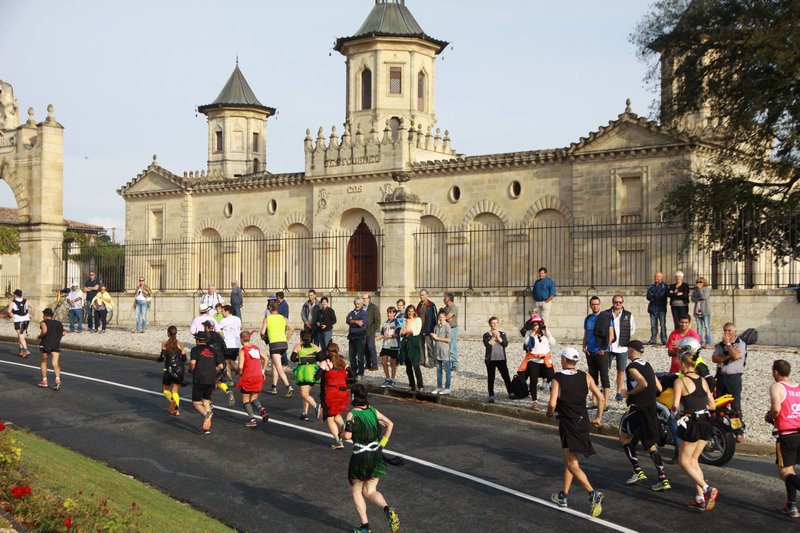 You could be forgiven for not realising this is essentially the middle of nowhere from the number of people who magically appear as supporters.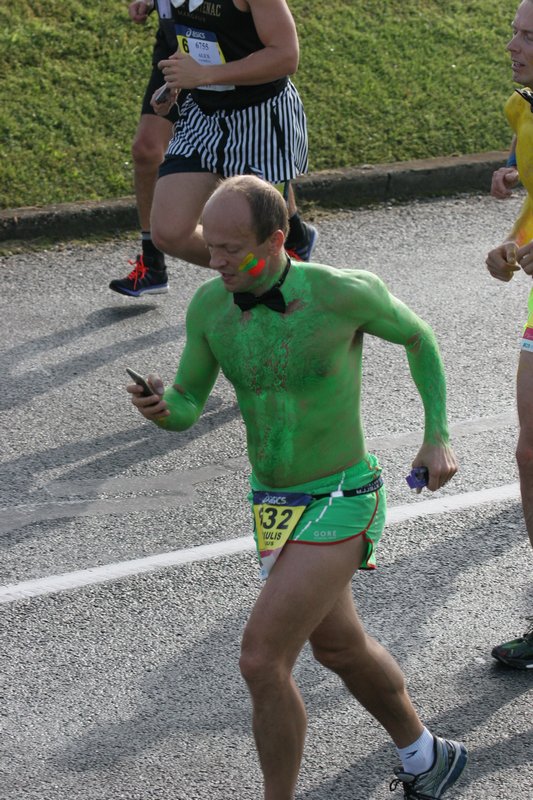 "Earth to Agent X! Your cover is blown! The Martians have sussed that you're not green all over!"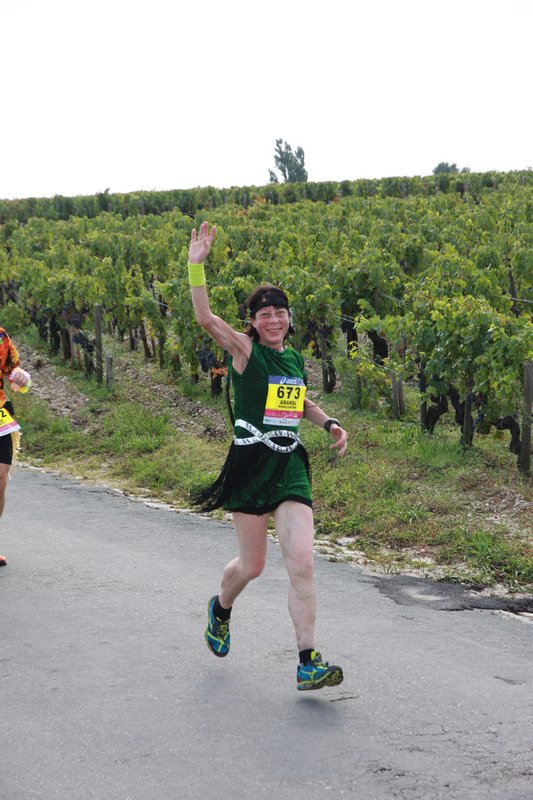 She waves to her husband while flirting with the photographer. Or is it vice versa?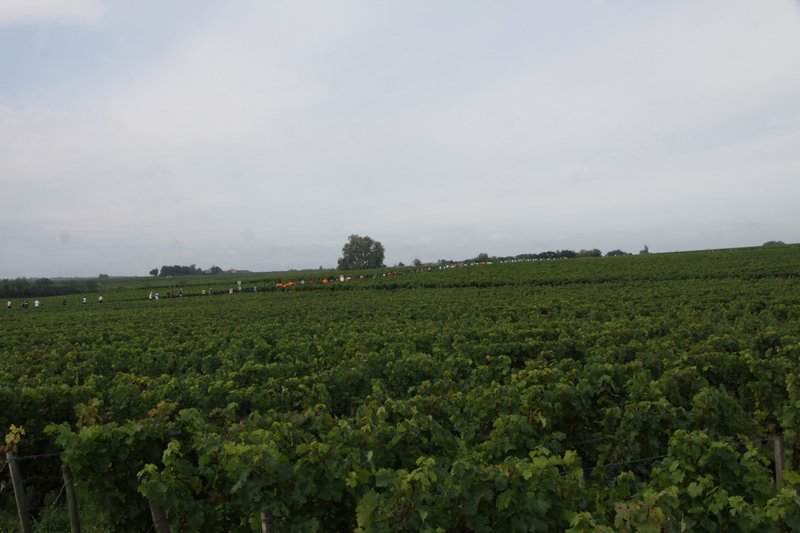 They race through the vineyards with gusto. Have they been told there's free wine or something?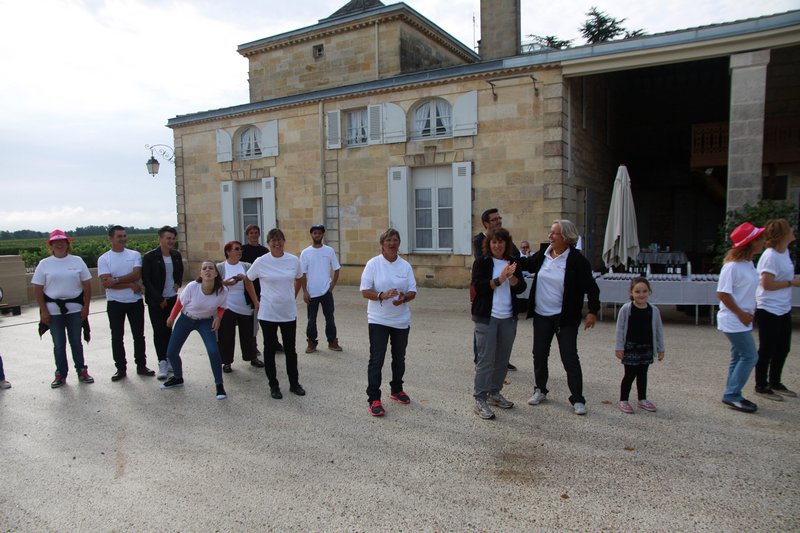 Ch Montrose show their appreciation as I run through. And I've obviously pulled with the one on the left! A pity for her that I am faithful to Amanda in thought, word and deed. Well, definitely deed, which is the important one, don't you think?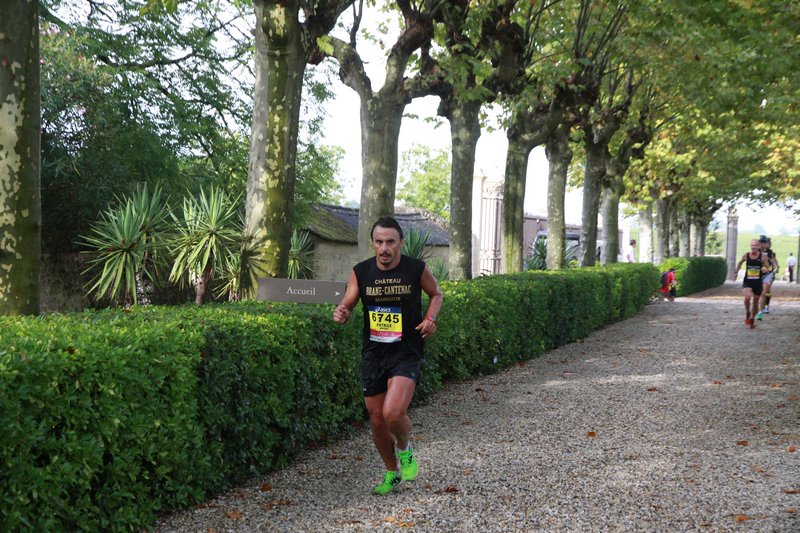 Not the leader but nearly; Brane-Cantenac have a big team entry and are taking it very seriously.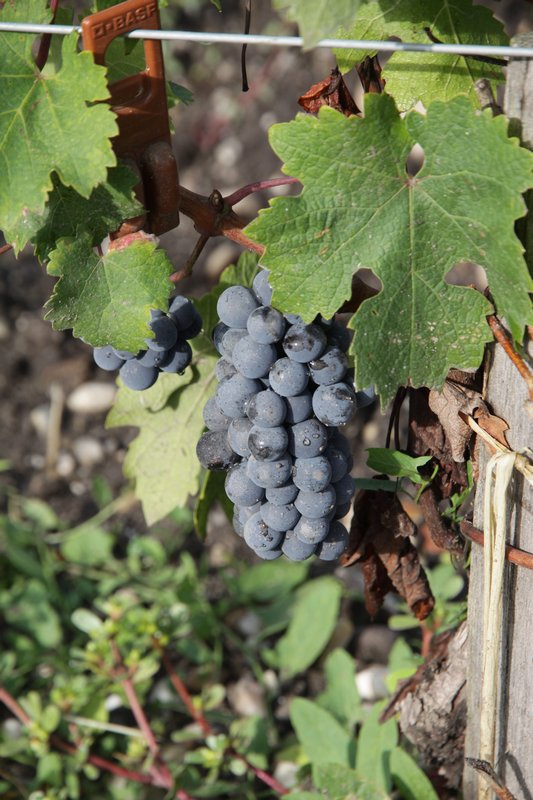 Just a reminder of what it's all about...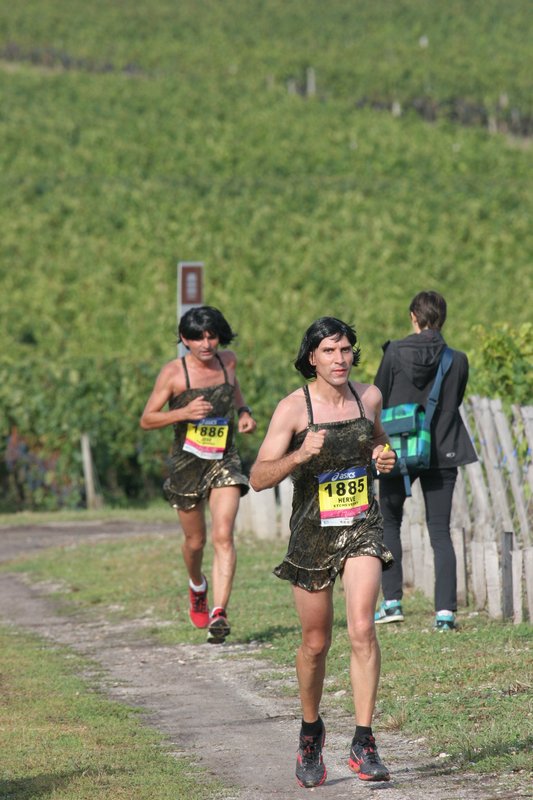 Amanda isn't the only one running in a pretty dress.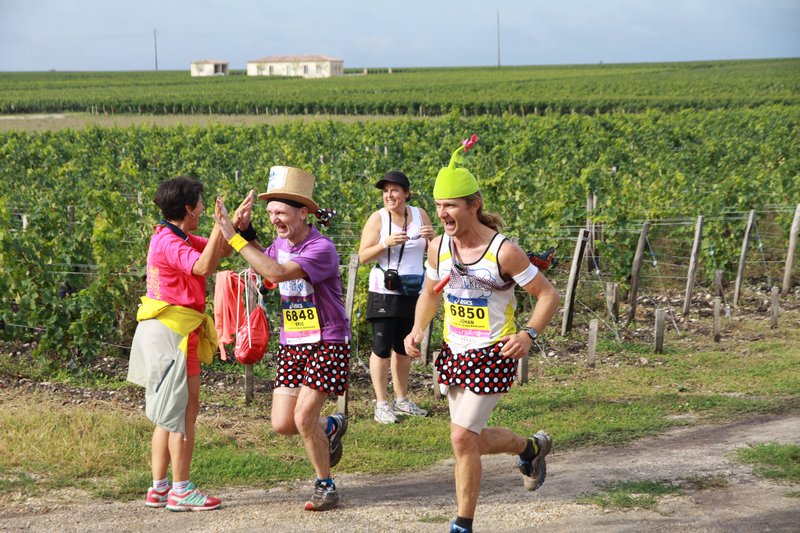 She was supporting quite a number of runners, and some got rather more than a couple of high fives!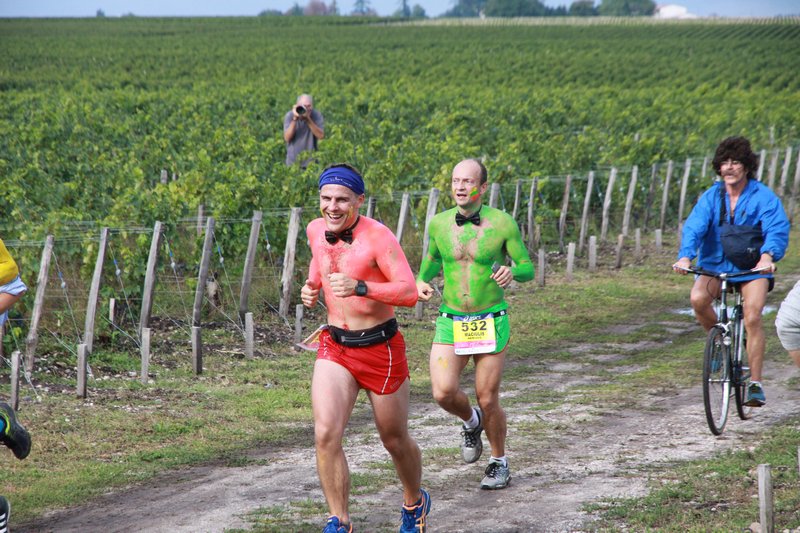 Red and green men are from Mars [so Edgar Rice Burroughs tells us], bicycling Smurfs with comedy 70's wig and moustache are from Venus [so nobody tells us]. I think that's all I need to write a pop psychology bestseller and start coining it in, but don't worry: when I'm filthy rich I'll still remember I could once only afford runners as friends.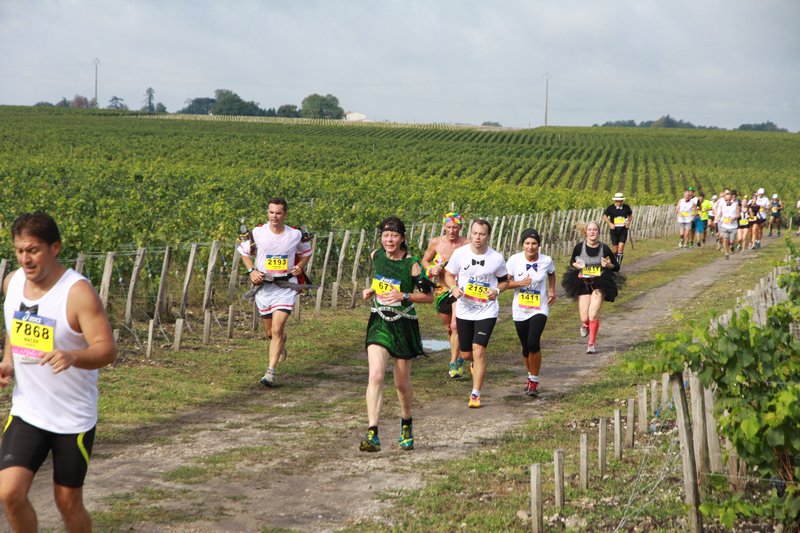 And here's our green woman! It's funny: up close, that dress is dazzlingly shiny and you'd think it would stand out like a beacon for miles, but I keep not seeing Amanda until she's almost upon me, because at a distance it's actually quite dark and difficult to spot if she's in a group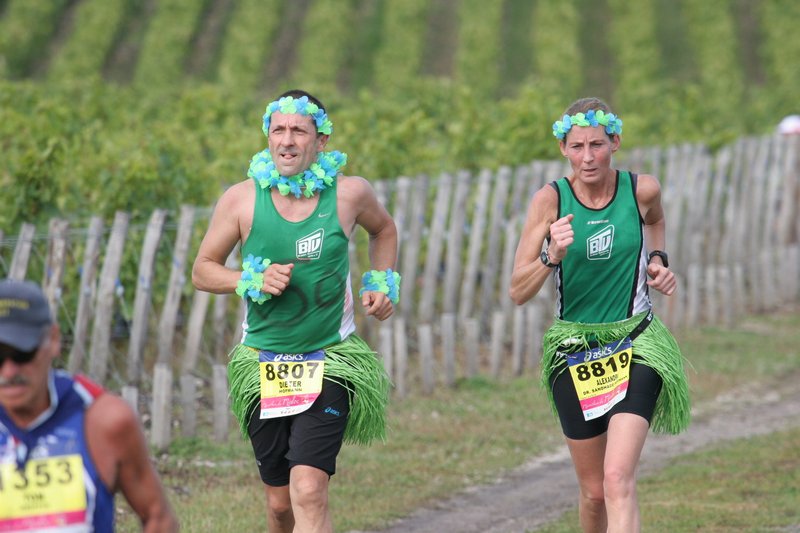 This pair, for example, don't look a bit like Amanda even if there was only one of them, but at long range, their green does show up and I start thinking, "There she is!" until I realise; which is fortunately before I say anything embarrassing, especially to the man.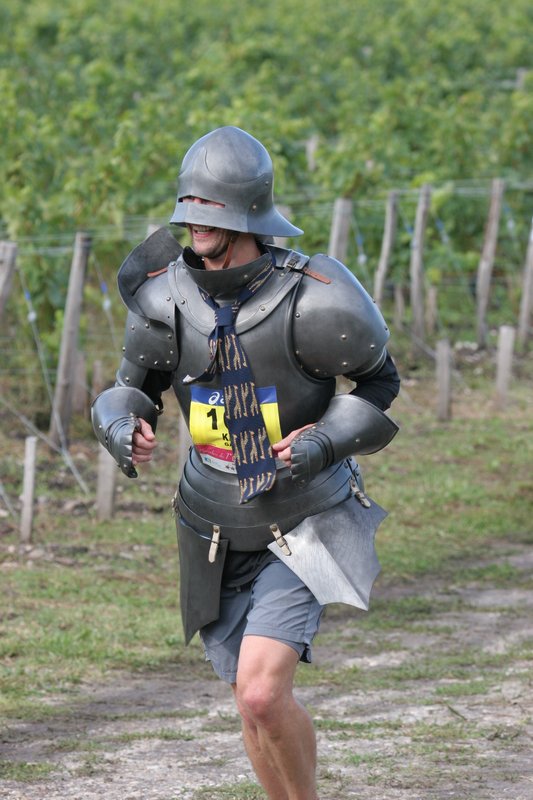 The armour is plastic, but even so, it can't be easy to run in! Inevitably everyone has their own interpretation of "the nines" (or the thirty-one), but mine not to ask why, mine just to observe and perhaps raise the slightest hint of a quizzical eyebrow...



The sweeper cart has real brooms!

There are still a good many people behind, and as I retrace my route on the way to my next planned point, I find surprisingly many more of them. The official cutoff time is 6h 30m, and it's most definitely not a walking event, but that doesn't seem to have stopped some people from entering with the intention of walking, and not fast walking at that.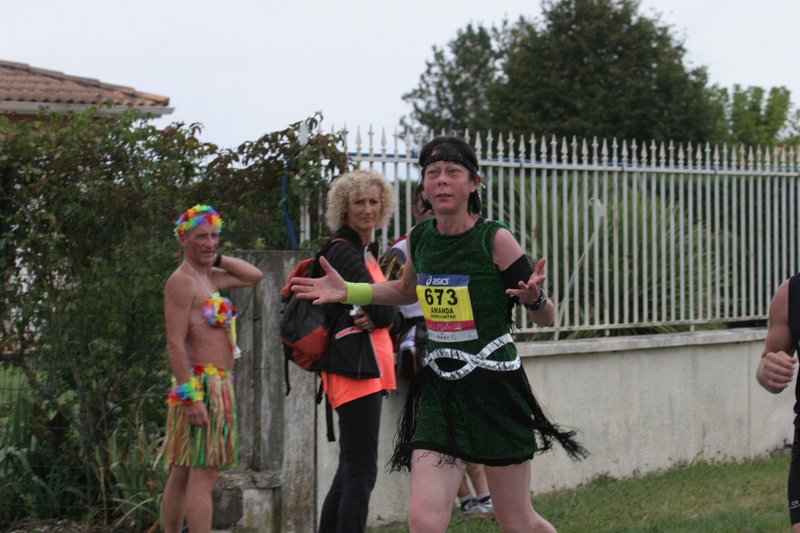 "Where's my gel?!!!"

"It's here, on the back of my bike, along with a bottle of water. I know it takes you half an hour to open the damn things, but I will simply pick it up, rip it open and hand it to you all in a single movement, because I am rough and tough and able to tear a plastic tab off with my bare hands!"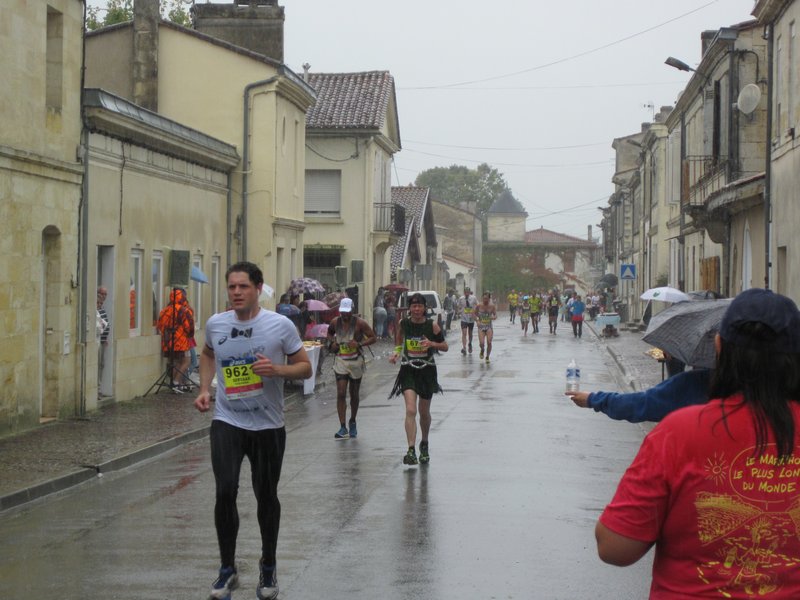 The weather has seriously turned now. It's pissing down and I've switched to the waterproof camera. In all fairness, we've had far better weather for most of the race than the forecast had predicted, so we can't complain too much.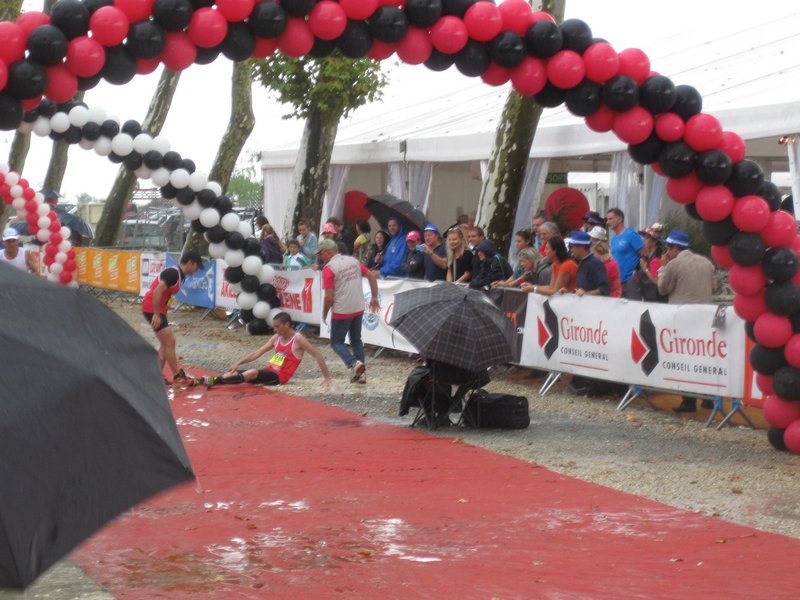 50m from the finish, this poor guy seizes up with cramp! Whether the runner next to him is a friend or is just being sympathetic, I don't know, but he and the paramedic who's rushing to assist pick him up and all but carry him over the line.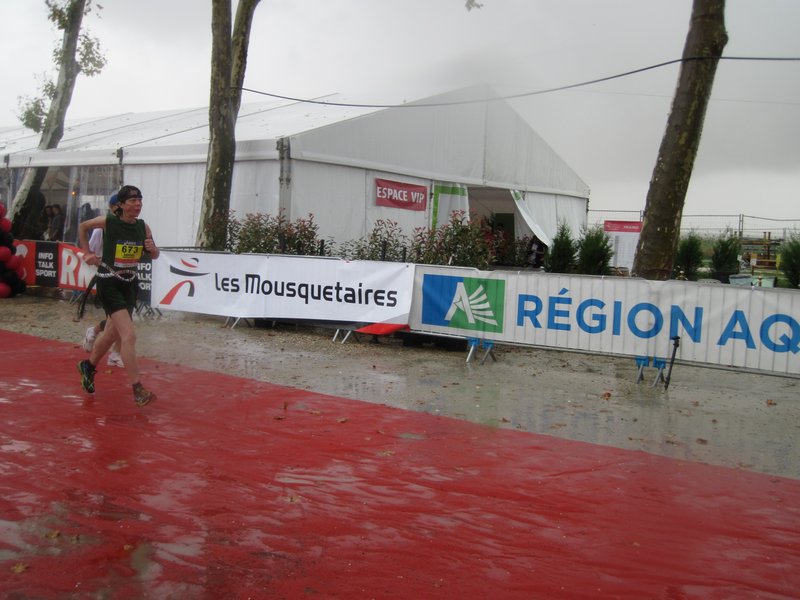 I shout out congratulations to Amanda, but she doesn't see me - she's too busy concentrating on pipping someone at the post!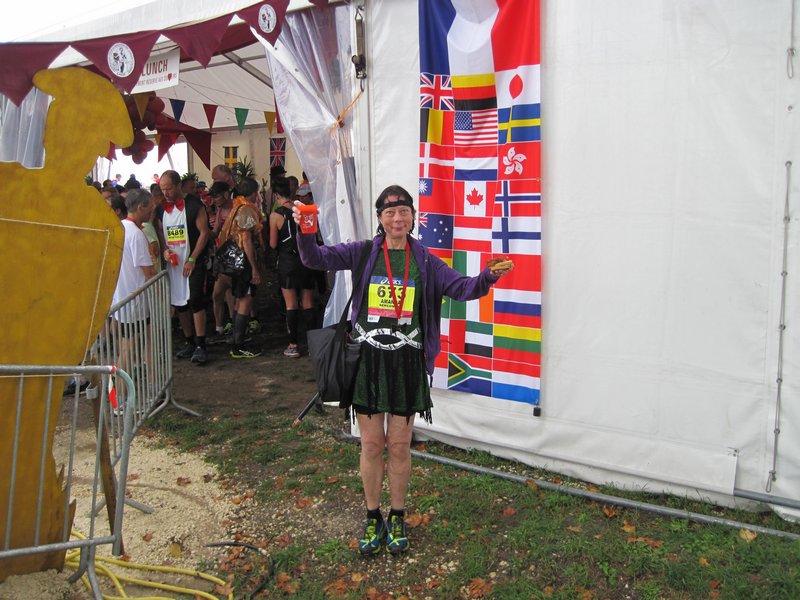 Just outside the runners-only tent.

The MdM goodies have got to be the absolute best in the business. Around her neck she has her medal; over her shoulder is a bag of food and wine; in her right hand her commemorative mug full of beer (later wine); and in her left, some bread and foie gras, or is it cake...?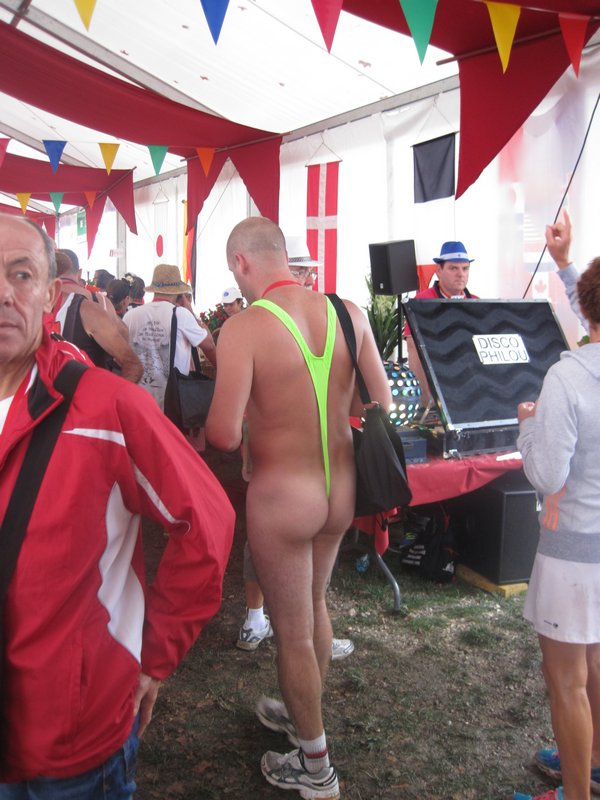 Apparently nothing wobbles.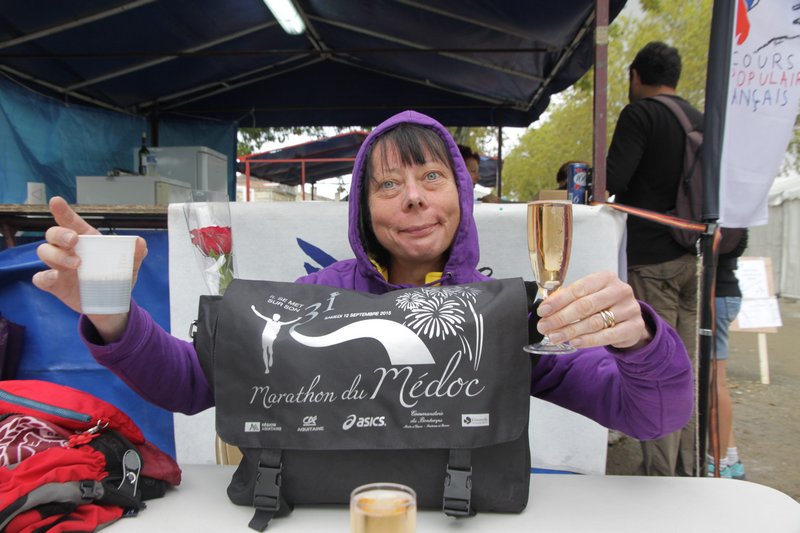 Although most of the stalls are offering local produce, one cheekie chappie is promoting his champagne, so a glass each of pink fizz seems a fine way to cap off the day. But we find ourselves sitting at another stall's table, so buy a couple of coffees to legitimise our presence. Quite honestly, a hot coffee is nice too!

Well, if I had wifi here, I would now press 'send', but €3 for an hour is just taking the piss, so even more delay. But what's one more day now?

Love to you all,

Steve.