Well, today is the day of the last-ever Greensand Marathon, and Amanda is sad to be missing it, but her knee and her physio know that she's made the right decision to run the Royal Parks Half instead.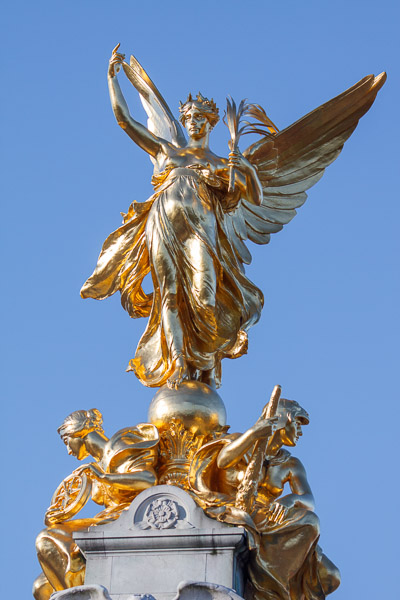 The Victoria Memorial shines brightly in the sun. Despite a somewhat iffy forecast, the sky is a cloudless blue. Huh, the Greensanders won't be getting the proper 2013 experience of freezing rain and rivers of mud!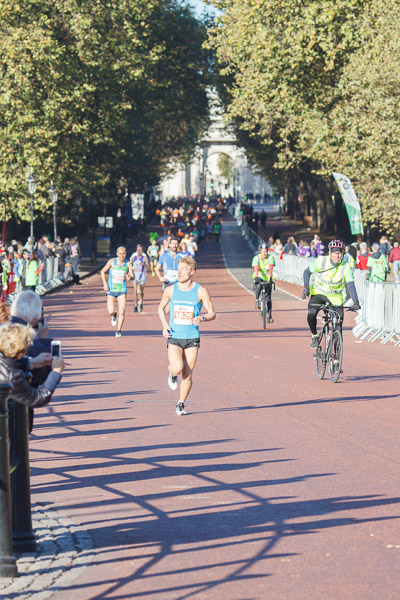 Here they come! The race this year has 16,000 entrants, four times the number of the first year it was run and we thought that was big!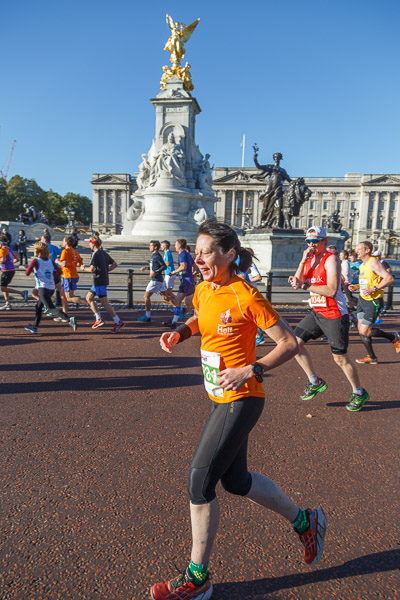 The flag is flying over the Palace, so 'Er Maj is probably checking out the action from her balcony. That's if she's not running, of course.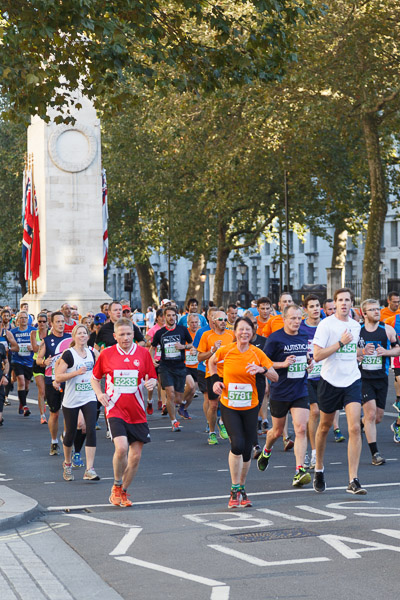 Around the Cenotaph. If I were a dead warrior, I'd want a shiny memorial like Vicky's.

Just getting here is an adventure, as I have to cross the runners' flow at one point and they're still pretty tightly packed. Fortunately it's a place where there are no actual barriers preventing me, so I just join in the race for fifty yards and angle across from left to right, cameras dangling round my neck. I manage to dodge everyone successfully and I get a small cheer on completing my mission!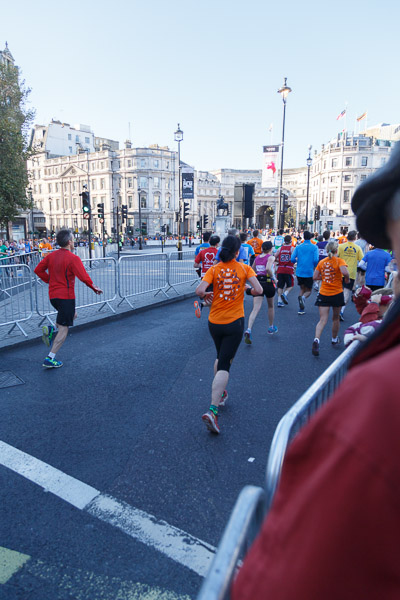 My original plan was to be closer to Admiralty Arch or Nelson's Column to get some more iconic London architecture in shot, but the logistics are far trickier than I'd expected from previous years and this is the best I can manage.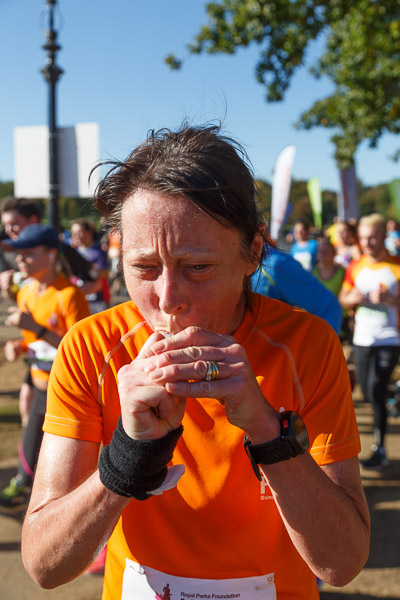 Ooh! Yummy gel!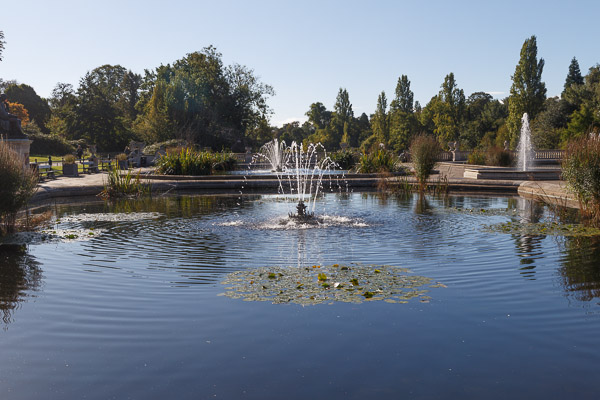 The Italian Gardens at the end of the Serpentine. No runners here, but nobody else either. Clearly peaceful and pretty doesn't cut it today.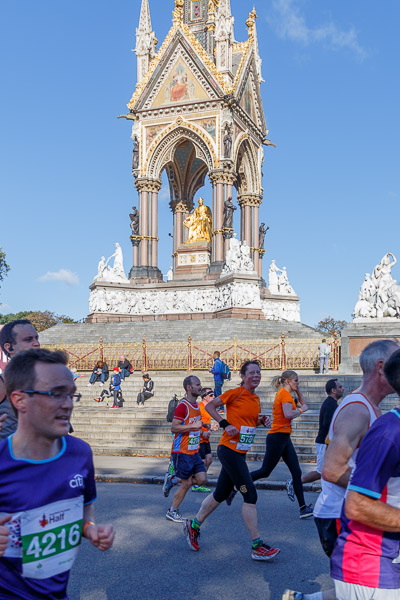 More shiny. We've had Vicky so it's only right we have Bertie too!

Afterwards, Amanda asks me if I saw the Dulwich runner here and heard him calling out "Hi Steve!". No, not at all. Hmm... Let's do a little post-race digging...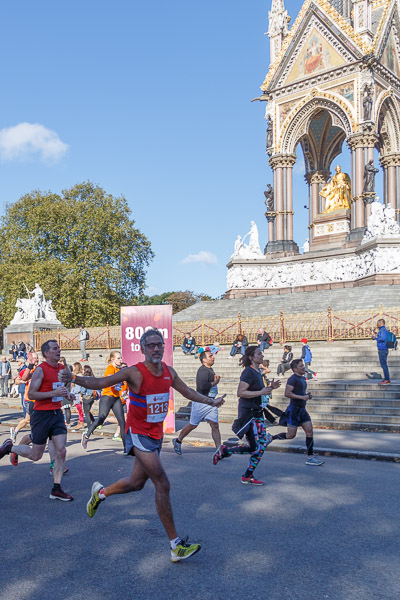 Well goodness me!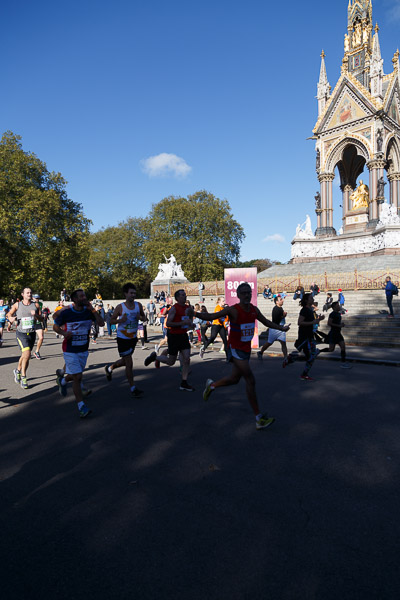 Mind, that was the enhanced version. This is the original photo as it came out of the camera!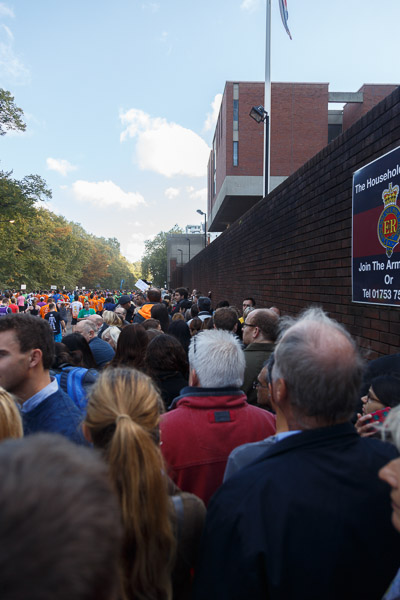 Bugger! In 2012, the last time Amanda ran this race, it was easy to scurry down the outside of the finish funnel and meet up at the end. This is total gridlock! Amanda phones: "Help! I need my fleece!" Sorry, darling, I'm completely stuck here and GOK how long it's going to take. She's getting very cold and shivery. This is not fun.

Eventually I manage to get through and find her, but it's been ages and she's frozen. Out of the sun, the air isn't at all warm, and unfortunately the sun is starting to go. I give her my fleece as well as her own, but it's still not enough. We were intending to walk back to her office after the race, but we need to get her somewhere warmer quickly so we leave the park and find ourselves opposite Harvey Nichols on Knightsbridge. They're bound to have somewhere we can get some nice hot coffee and a bite to eat, so in we go.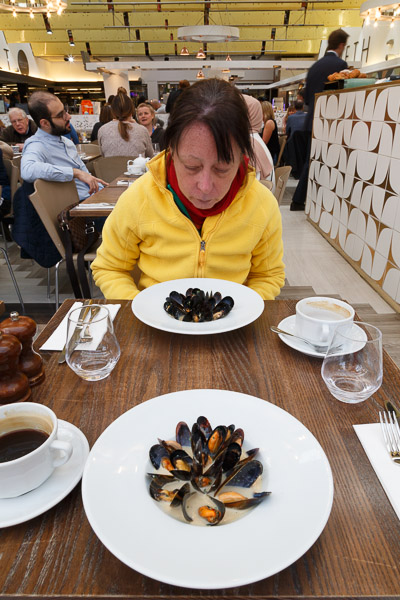 A small bowl of mussels in coconut broth and a coffee each, plus some water and a rocket and parmesan salad. It's very good, but it damn well should be for over forty quid!!!

In for a penny, in for a pound, so we'll get the Tube instead of walking. That's great except that a dog on the line - blimey! - causes delays on the District Line and we have to wait nearly twenty minutes on the cold platform at South Ken where the Underground is not actually underground.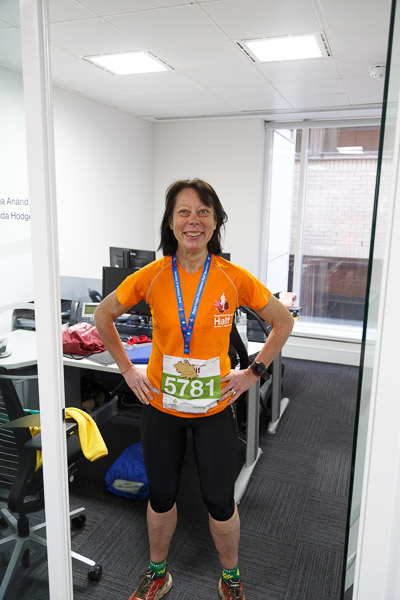 Finally, made it back to the office which is now an unofficial changing room! Clean dry clothes and no wind makes for a much happier Amanda!

So why were we not going straight home? Because we'd booked onto one of the London Transport Museum's "Hidden London" tours, visiting 55 Broadway, built in the late 1920s as the new HQ for the Underground Electric Railways Company of London, later to become London Underground. Since Amanda works at 50 Broadway, almost directly opposite, that works out rather conveniently.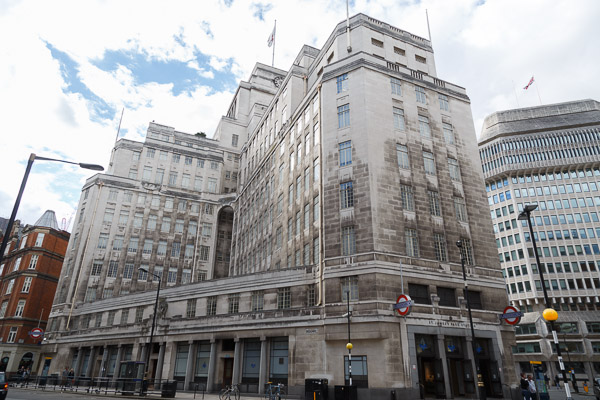 It's quite a splendid building, Grade I listed. It was due to have been sold for conversion to luxury flats but that seems to have been put on hold for the moment.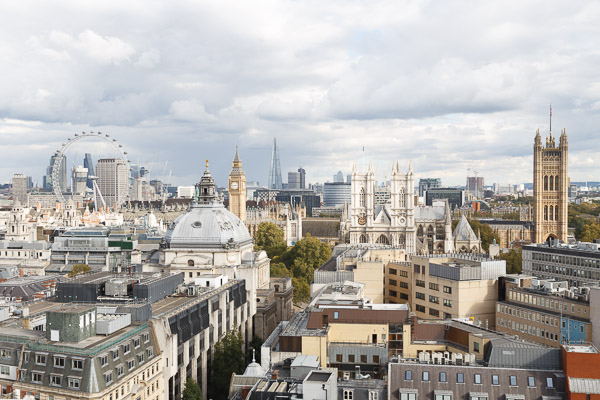 How many London landmarks can you spot?! The view from the roof is quite something, and we've not seen the skyline from this angle before.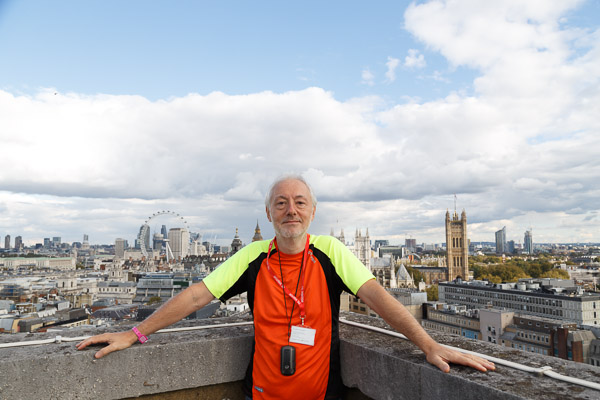 And I leave you with another fascinating fact about the Royal Parks Half: the official race shirts are by Crewroom and one of their key principles is sustainability. Making the shirts inevitably meant producing fabric offcuts that would otherwise be wasted, so they had the cunning idea to make more shirts from the leftovers and I'm wearing one of them! I'm not sure about the black, but the other colours are from two of the previous years Amanda ran the race: 2010 orange, 2012 yellow :-)

In all honesty, we think the RPH has become too big and too charity-orientated to be as much fun as it was in the early days, so it's probably goodbye to this as well as Greensand. We'll have to think of something else for next year...

Anyway, next up, the Cabbage Patch 10-miler. The main sponsors are Lofts & Extensions: hmm, not sure about that; Fuller's Brewery: now you're talking; and Danieli Ice Cream and Chocolates: ok, that's our post-run sorted!

Love to all,

Steve.