Now how did that Lou Reed song go...?
But she never lost her head
Even when she was giving Beachy Head
No, I'm sure that's not right...

Oh well. Let's start with the night before the morning after: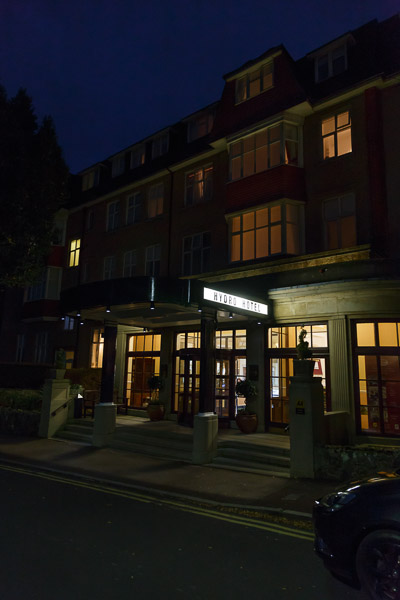 The Hydro Hotel, Eastbourne. Just over half a mile from the start, so not quite as close as we had for Reykjavik, still less Malta where the start was just across the square from our apartment, but Claire and her Dulwich mates are over the other side of town and apparently are going to share a taxi to the race.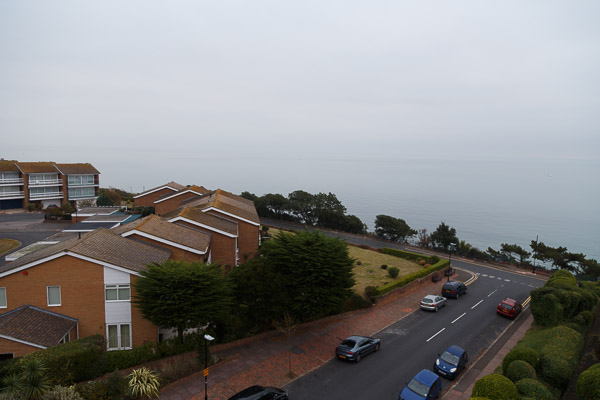 We have a sea view room. Can you see the sea? The day dawns very murkily, but it's not too cold and there's no wind, which always has to be a worry on the coast.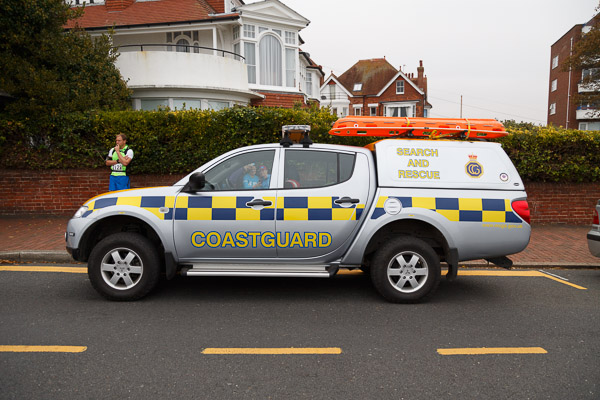 We do hope this isn't an omen! Ok, I gather that they're helping with marshalling, not getting ready to scoop bodies from the water as marathoneers tumble from the cliffs like lemmings.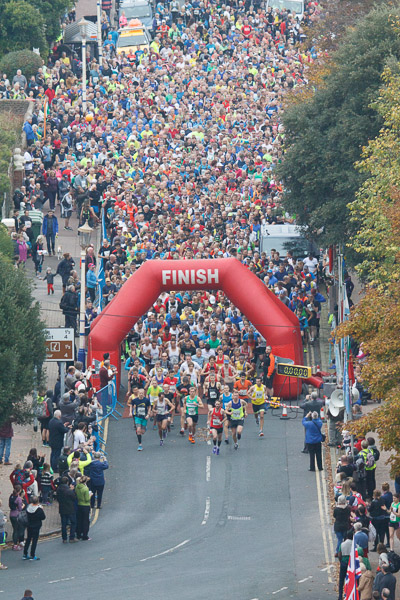 And so the race commences. Earlier the race director had opined that the initial hill was probably the steepest marathon start in the UK, but Trionium's Burford Slope starts - before the NT got shirty - would certainly give it a run for its money: maybe not quite as steep as the steepest part here, but similar and a lot longer.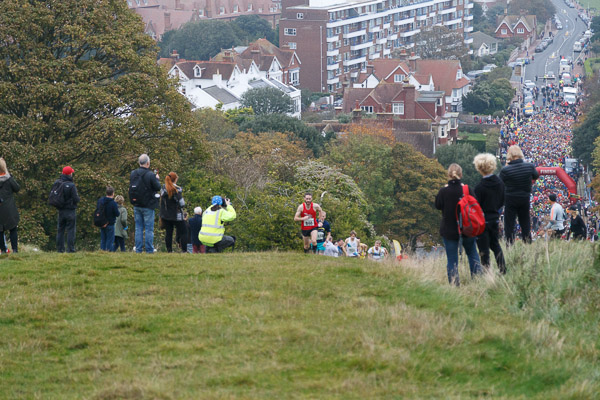 The first runner nears the top as Sally busily snaps away. I don't make the mistake of thinking she's Anthony this time! He's out by Beachy Head, she tells, so maybe I'll see him later.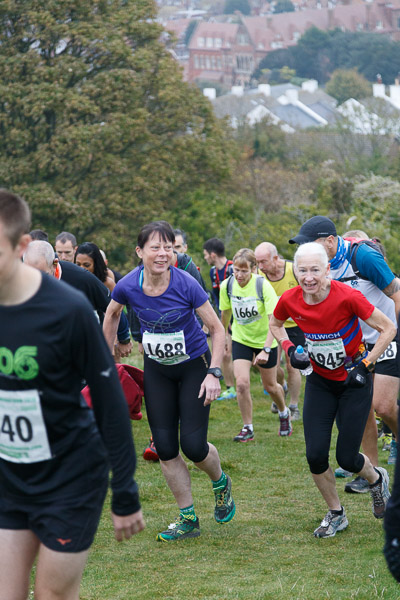 Aha, here's our girls. I had to leave to take up position before we could find Claire or any of the Dulwich mob, but obviously Amanda found her in the crowd before the start.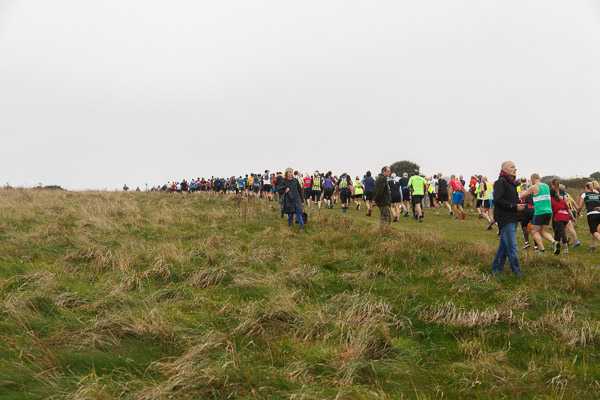 And over the hills and far away they go. Time to jump on the bike to head 'em off at the pass.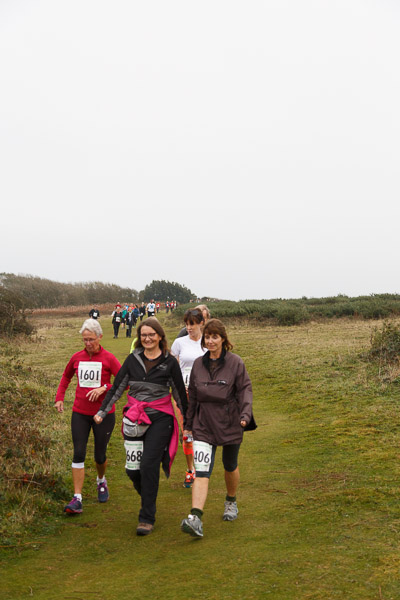 Hmm... My plan doesn't seem to be working. My short cut appears to have kept me ahead of a few of the faster walkers while the runners are long gone :-(

Of course, never having done this race before, and not actually knowing this part of the world at all, in fact, the plan has always been pretty vague. It turns out that off-roading is really slow on the bike, because even when the hills are going down, the terrain is still too rough to gain much speed without risking life and limb. I gain a little on the runners when I cut through the woods, but I'm still pretty certain I'm behind Amanda and Claire, so I cut my losses and head for another point that I'm much more confident about reaching in time.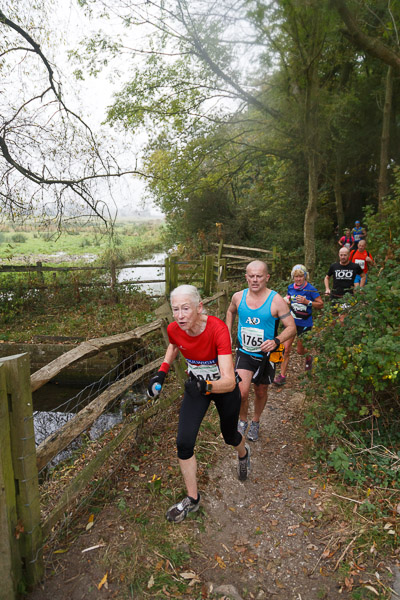 Success! Mind, this is around the 15k mark, so we're something like an hour and a half into the race and I didn't get here that long before Claire.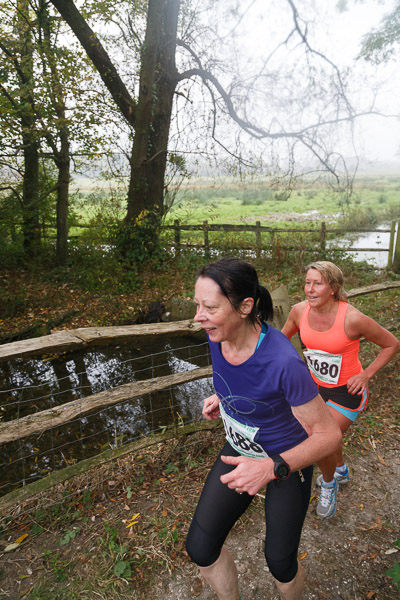 Amanda's dropped back a bit now, but the knee's holding up well so far.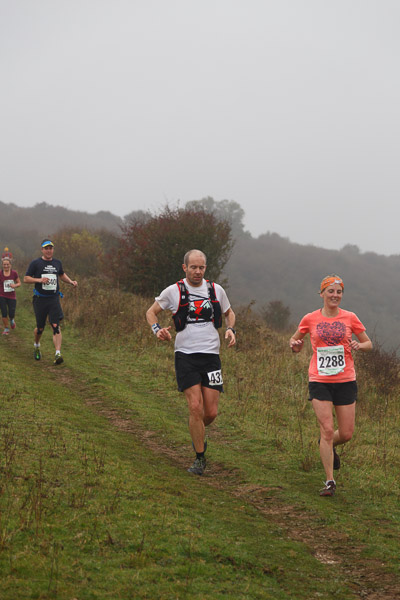 I spy a Greensander!

The weather has deteriorated a bit, with a moderate amount of drizzle, but it's nothing to compare with the Greensand nightmare of a few years back. Still no wind, at least.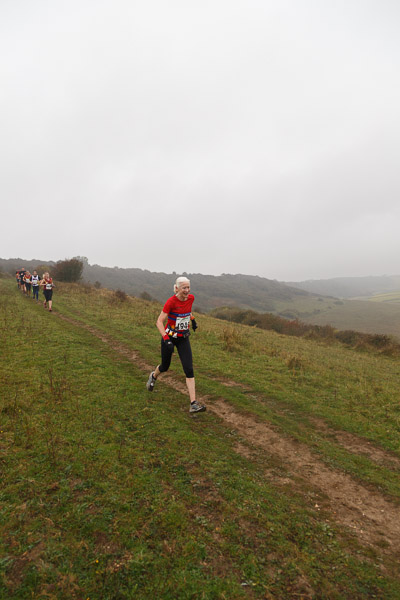 This locality is called "Up and Over", and allegedly has glorious views.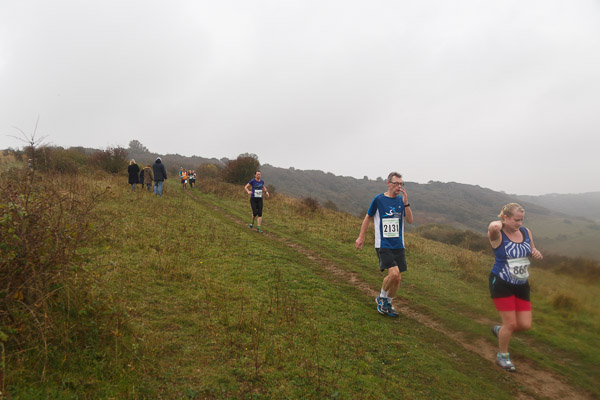 Hmm, it's not obvious in this small picture, but the bottom left is a bit blurry from drizzle on the lens. Amanda is feeling a lot less happy about the conditions now, and later tells me that in places the mist had been so bad you could barely see the other runners. By this time, the worst seems to be over, though.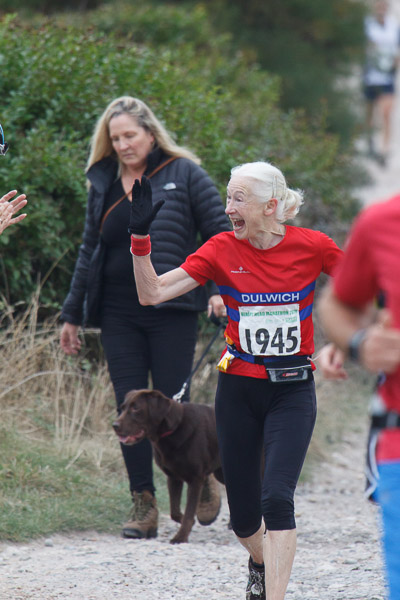 Looks like Claire's spotted somebody else she knows :-)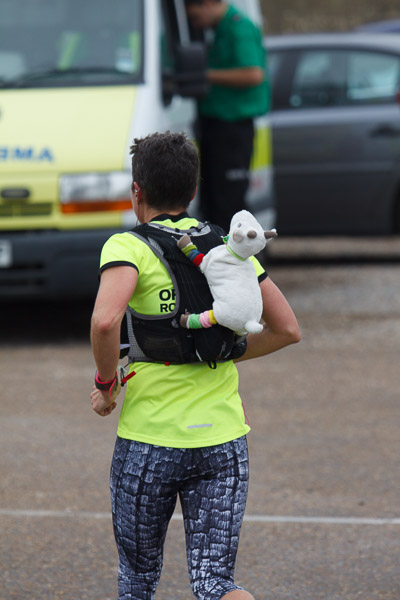 Quite a number of people are running with dogs, but not like this.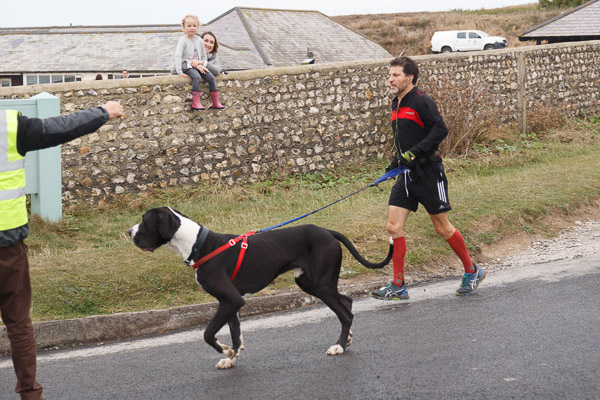 Actually, not many like this! Is that a dog or a small horse? At this point he's a little ahead of Amanda, but they've chatted on other parts of the course and it seems the dog runs only on sausage rolls!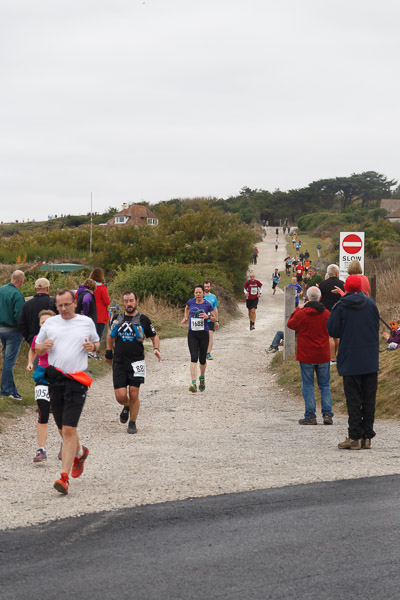 Here she is, running on SiS gels now mainly. She's not the world's greatest sausage roll fan anyway.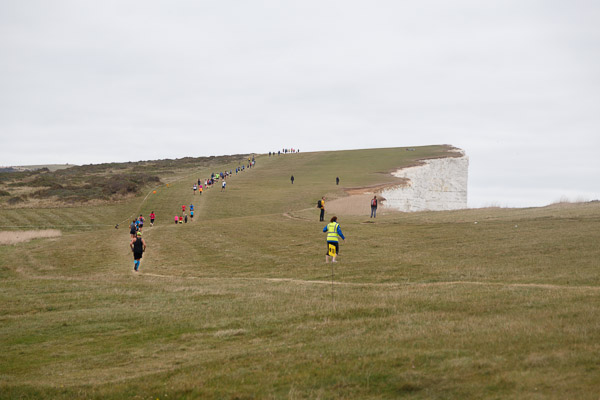 I took this photo purely for its scenic value, not thinking there was anybody in it that I knew. However, if you look closely (and I grant you that it's easier zoomed in on the original), you can see a dark reddish figure in a slight gap in the gaggle. That's Joanne, Claire's friend, who had been behind Amanda most of the way but passed her at one of the Seven Sisters.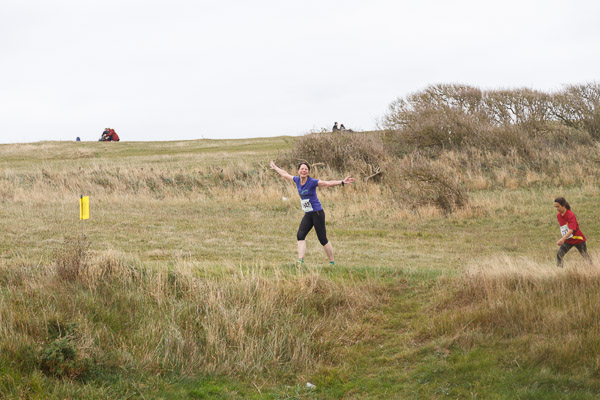 She's happier now! A flat bit, and the weather may not be great but at least it's dry again.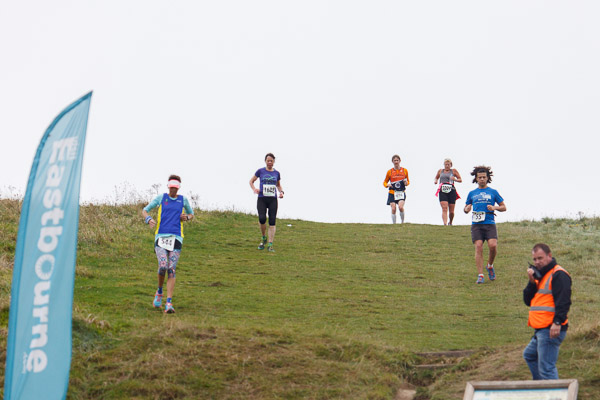 Coming over the top of the final hill and into the finishing straight. Two other people of interest in the picture: on the left, although we don't actually know her, we recognise her as the woman we saw after Brighton wearing a top blazoned "Never mess with a woman who runs 26.2 miles for fun!", and were so impressed I had to have one custom-made for Amanda. The lad on the right with the ...err.. coiffure... Well, he and Amanda were chatting as they ran and discussing what they were looking forward to afterwards. "Beer?" asked Amanda. "Wine!" he said. "What sort?" she asked. "Cold!" he said. "Meursault or Montrachet?" "Blimey, now you're talking! I hadn't expected that, I thought you'd probably say pinot gris or sauvignon blanc or something!" and given wings by the thought of fine Burgundy, he suddenly shot off ahead of her!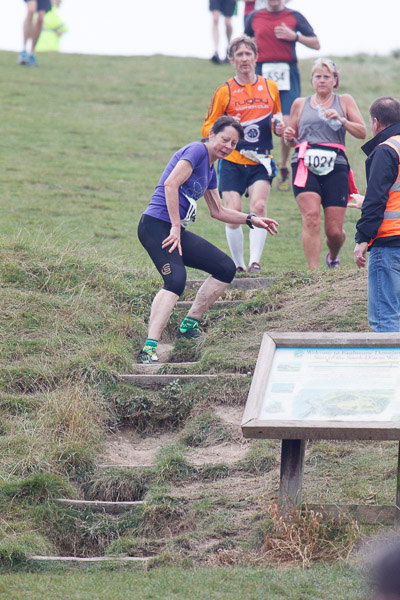 Bit of a struggle coming down those steps. Fortunately, all the other steps were going up, which was far less of a strain on the knee.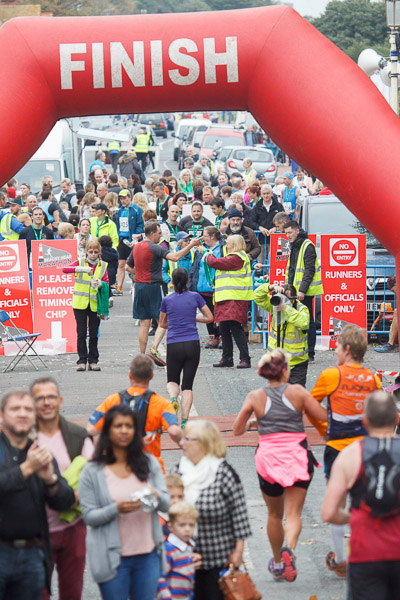 And across the finish line, with Sally still hard at work. As it happens, I didn't get to Beachy Head itself, so I didn't see Anthony and obviously haven't got any pictures from there. I guess that means we're going to have to buy some of SSP's pictures after all!

I don't know... I mean, I have all this fancy camera gear, I knacker myself hauling it around the hills (remember, a bicycle is a machine for turning an almost imperceptible rise into a near-vertical climb) and I still have to contribute to Anthony and Sally's next Ferrari! (Ok, I know, they wish!)

Mind, they're about the only professional pictures we do buy, because most of the people doing the job seem to be actively striving to minimise the risk we might feel compelled to give them money. Excellent case in point, the Royal Parks Half a few weeks ago. You have all these amazing iconic London landmarks to photograph runners against and yet the pictures might as well have been taken in the high street or local recreation ground of some anonymous suburb. Such a pity.

Anyway, mini-rant over, a happy Diwali to you all!

Steve.