The Prince's Trust have organised a charity bike ride: the Palace to Palace 45 Mile Classic. Well we don't normally do that sort of thing, but our friend Katie works for Capgemini and they have a corporate team entry open to friends and family of employees too. They will pay the entry fee, provide lunch and general support, you only have to raise the sponsorship money. Katie wants to do it and would love some moral support as she's never ridden anything like that far, so, well, we'll just treat it as a slightly expensive social event. We don't like hassling people for charideeeee, so we will just sponsor ourselves :-)

Palace to Palace? That's because we start in The Mall and wave to Liz as we pass her London gaff, and finish in Windsor, waving again as we pass the castle but actually continuing on to the racecourse, which is probably one of her spiritual homes anyway. It's chip timed and everything, but not a race. Actually, we'll also ride past Hampton Court Palace, but "Palace to Palace and then another Palace" would be a silly name.

So now you know what we're doing and why we're doing it, on with the story!

Saturday: we drive down to Windsor with our bikes so we can leave the car at the finish point, inside Windsor racecourse. Then we'll take the bikes back up to London ready for the morning.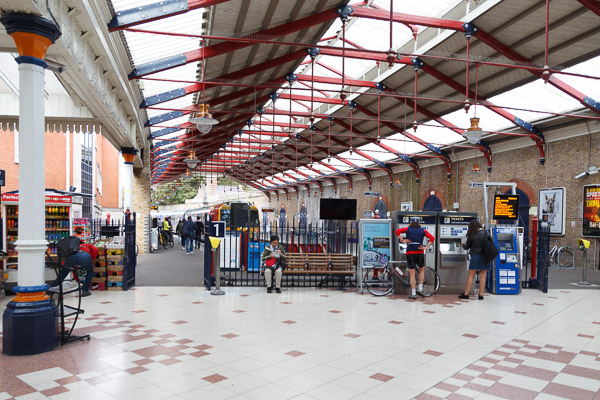 It's a five-minute ride to Windsor and Eton Riverside station for a direct train to Waterloo; nice and bike-friendly with everything at ground-level. However, do beware the kiosk just out-of-shot to the left, which sells some very nice-looking choc-chip cookies: cookies which contain essentially no chocolate, but do contain palm oil and taste horrible; and yoghurt-coated cereal bars that taste a bit better but which are 51% - fifty-one percent! - sugar :-(

It's quite a slow journey, taking longer than the alternative of W&E Central to Paddington even though the latter includes changing at Slough, but it is convenient and changing trains with bikes is always a bit of a faff even when you don't have to negotiate steps.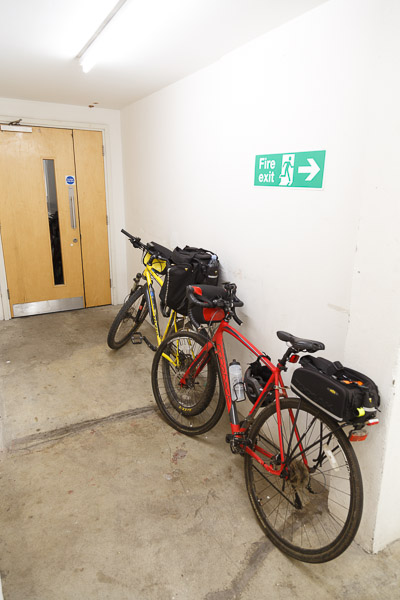 The bikes spend the night in the basement of Amanda's office, which is only just the other side of St James's Park from the start.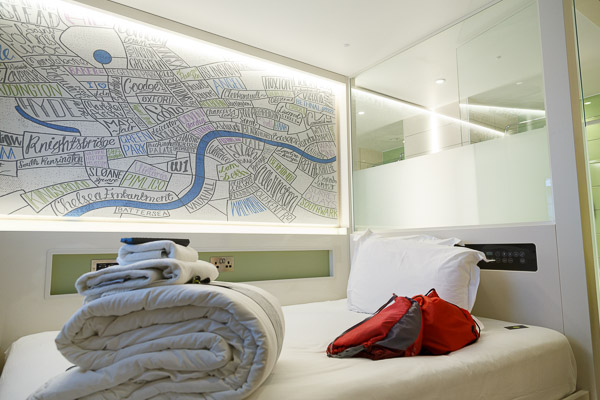 And we spend the night in "The Hub by Premier Inn" nearby, in a room which is big enough for a double bed and a modest but fully functional bathroom, and that's about it!

The first train from home in the morning is right on the limit for the Capgemini group starting time, and it's far from uncommon for engineering works to disrupt the Sunday service anyway, so we are going for the no-stress alternative.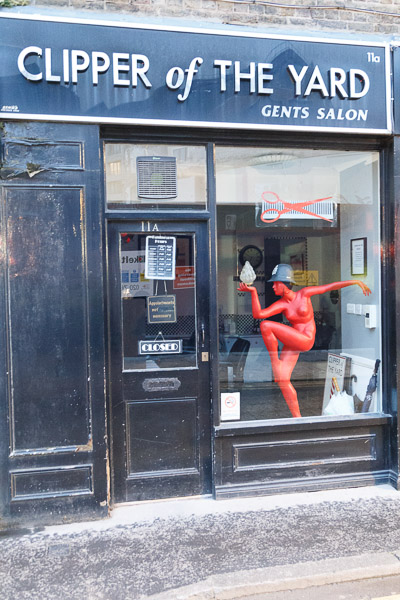 We take a little stroll to find somewhere to eat (pizza at Jamie's Italian in the end), but right next to the hotel is this most curious trichotomological emporium.

Sunday: the big day itself!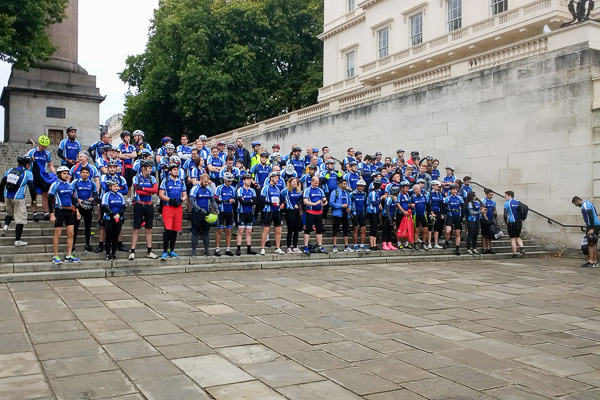 The Capgemini group is assembled for a group photo.

The event start is a lot less formal than the information pack had led us to expect. There's none of the promised bike inspection before we're permitted to depart, none of the timed wave starts, we just get on our bikes and go to the start line along with whoever else happens to feel like doing the same right now. We're paused briefly to divide us into small groups of half a dozen riders or so, and that's it, we're off!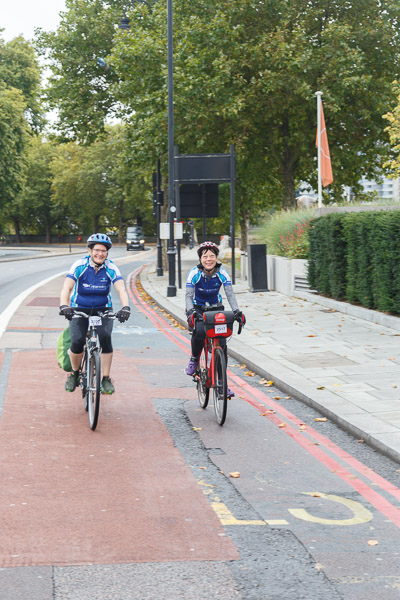 It's still early, so there's very little traffic around yet, but apart from The Mall itself, none of the roads we'll be riding on are closed.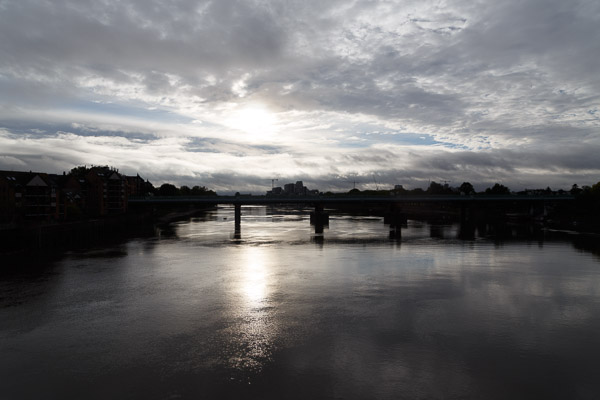 We cross the river at Putney Bridge. It really doesn't look anything like as pretty to the naked eye and the camera does indeed lie. Or as we now can say, it offers alternative facts.

We're back into terra cognita now, after passing through places like Chelsea and Fulham where we don't often venture. We'll now head through Barnes and into Richmond Park by the Roehampton gate, very close to where we've met with Patrick and Katie for cycling lessons. (Patrick never learnt to cycle as a child and is only now picking it up as a (very!) mature student. No way is he ready to do this ride with us!)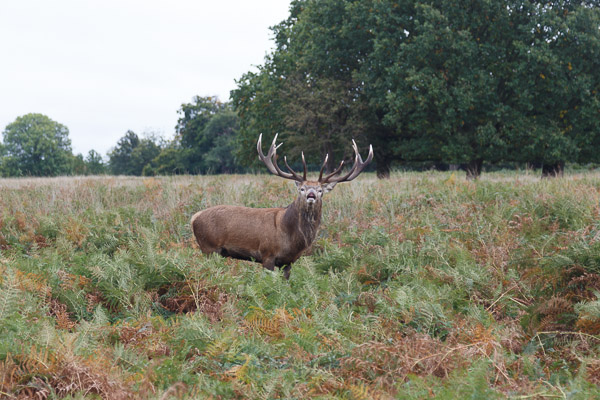 A mighty fine stag doing his best Monarch of the Glen impression! Nearly all the other deer we see are a long way off in the distance, but this chap has just crossed the road right in front of us.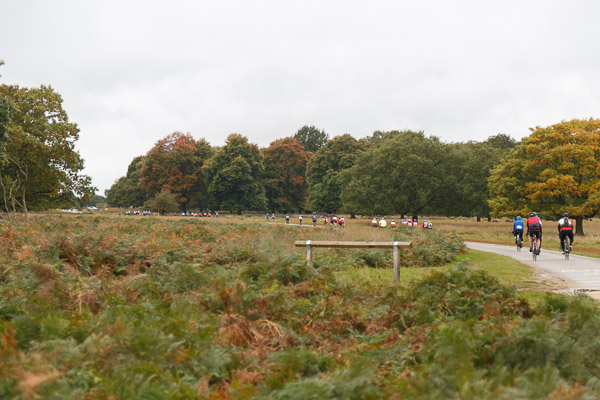 Not sure what he makes of all these cyclists. However, some other park users know exactly what they make of it, and are vocally unhappy at the bad behaviour of a few riders, filling the road as a group and going too fast. We're a bit disappointed to see it.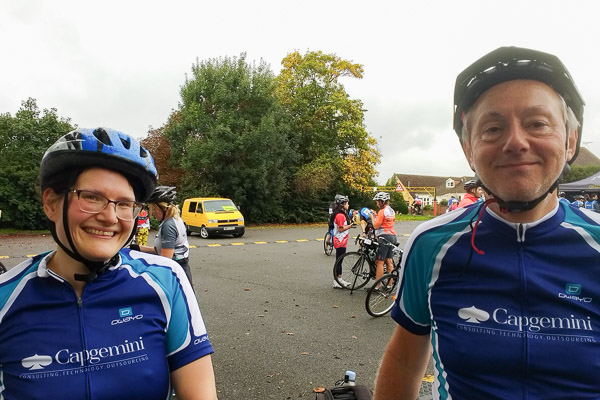 So here we are in Sunbury at the second refreshment stop, roughly halfway. Perhaps Katie and I should have stood closer together for the picture...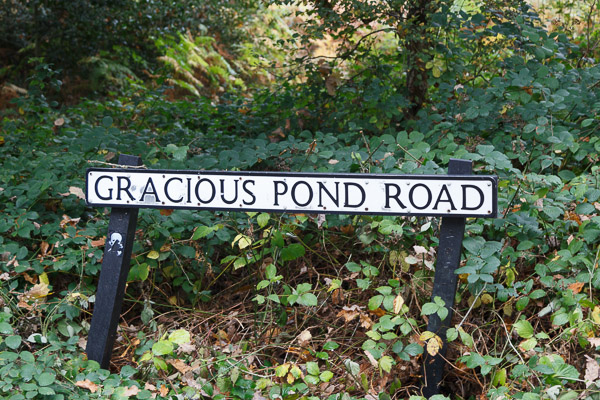 Goodness gracious! I just had to stop for a picture of that road name on the edge of Chobham Common. However, I saw no actual pond, gracious or otherwise, and subsequent research shows it now to be an ex-pond. Read all about it at http://www.chobham.info/gracious_pond.htm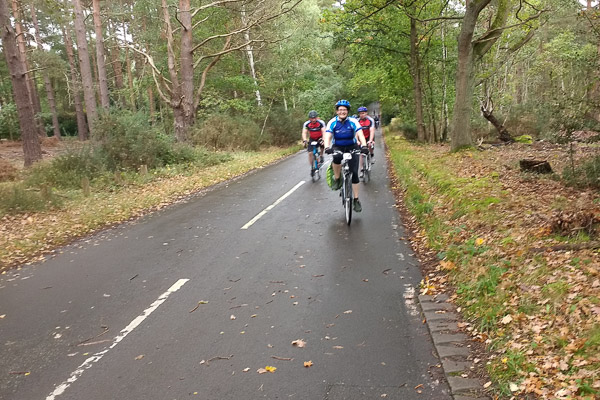 Amanda lurks in wait for those who travel the Way of the Gracious Pond: here comes Katie.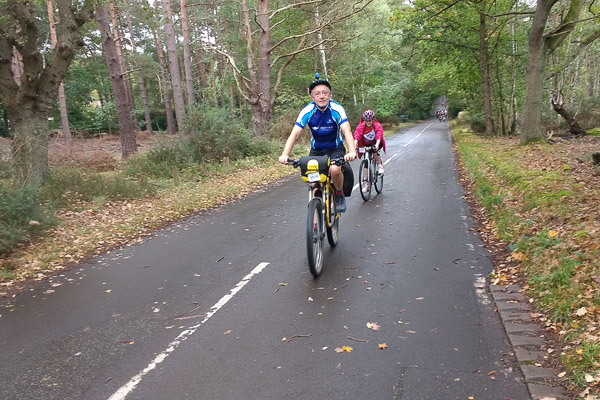 And me.

We know very little about Chobham Common apart from its existence, but we should definitely check it out. Surrey Wildlife Trust says, "Chobham Common is the largest National Nature Reserve in the south-east of England and one of the finest remaining examples of lowland heath in the world." So there!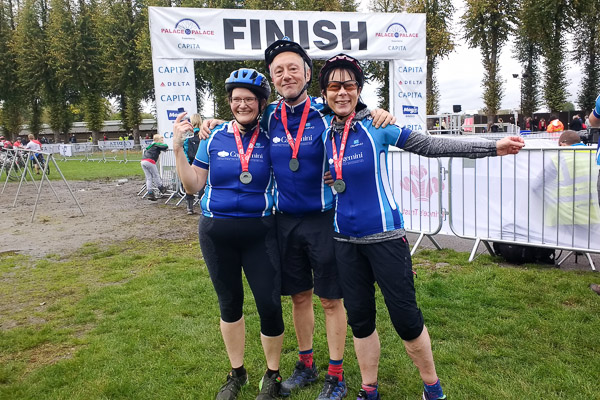 Windsor! 45 miles done and here we all are at the finish!

A trifle disappointingly, the ride doesn't actually end at Windsor Castle, but I don't think that would have been realistically possible. Amanda asks if I'd stopped to take pictures of the castle, but no, I didn't. The road through the town centre was busy with cars and pedestrians as well as cyclists, so I was more concentrating on where I was going than the scenery. However, reviewing my helmet-cam footage, I think that there weren't really any good places to get a decent photo even if I'd stopped: the castle was too close and the street scene too cluttered.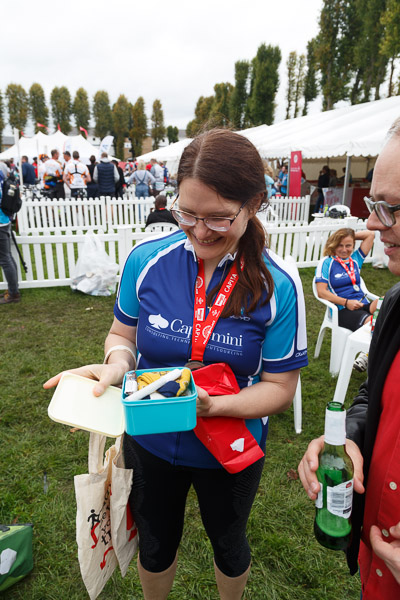 We've got Katie a small cycling-themed birthday present. That sliver of a person on the right is Patrick who's presumably not spent the whole day drinking free beer in the Capgemini marquee.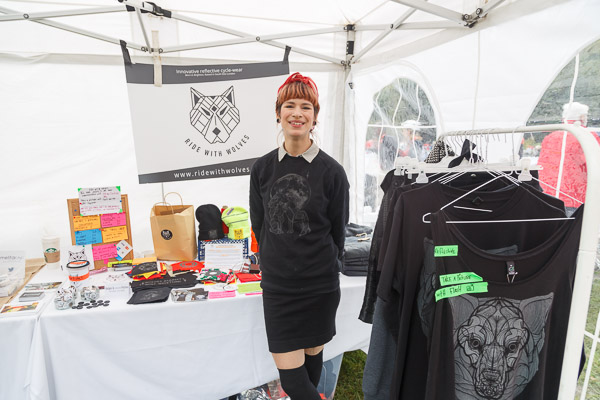 And I buy a T-shirt from what we think is the only interesting stall in the event village. The wolf's head is printed partly from reflective ink so when a light shines on it, it looks like a glowing skull! I hope I'm not too shallow: "A fiercely progressive philosophy underpins everything we create. Our products are gender neutral, body positive and have a feminist and inclusive outlook." Well I can't argue with that, but, but.. I mean, just how cool is a glowing reflective skull T-shirt?!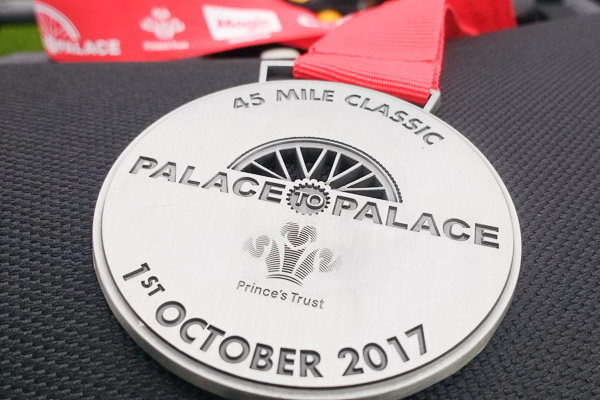 And here's the bling!

Not quite on the level of some of the more outrageous running medals, but hey, I get one this time as a participant rather than just an observer :-)

Running service will be resumed shortly.

Love to all,

Steve.