It is, Wikipedia tells us, possible that Æthelwulf of Wessex defeated the Danes on Leith Hill in 851 AD. Presumably therefore, it's also possible that it was somewhere else entirely. I doubt that many will have been pondering this conundrum recently: I know I certainly haven't.

No matter: here we are for the Leith Hill Half-Marathon, but we can't start with that. No, we have other courses for our horses and different fish to fry in the boiling oil of mixed metaphors first...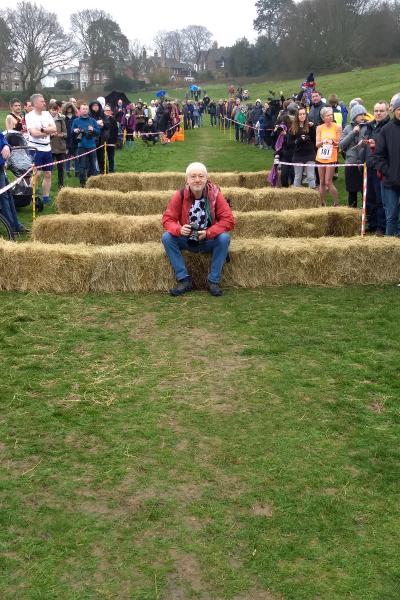 In a couple of minutes, the 11th UK Wife-Carrying Race field will be thundering towards where I'm sitting. (I shall have moved by then.)

This gets to be more of a media event every year now. It will be on the front page of the BBC News website barely a couple of hours after it happens!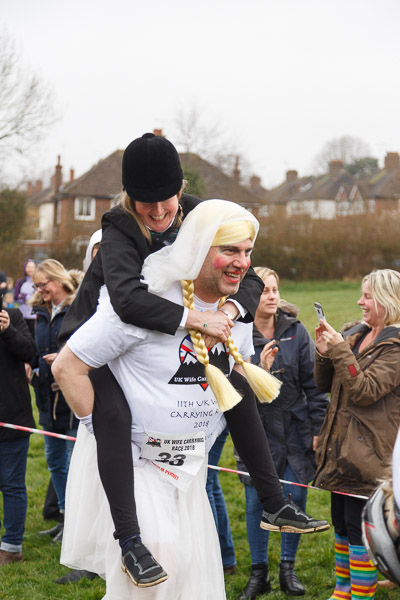 Not quite like Joel and 'Tiny' a few years back, but it's definitely more sensible this way round.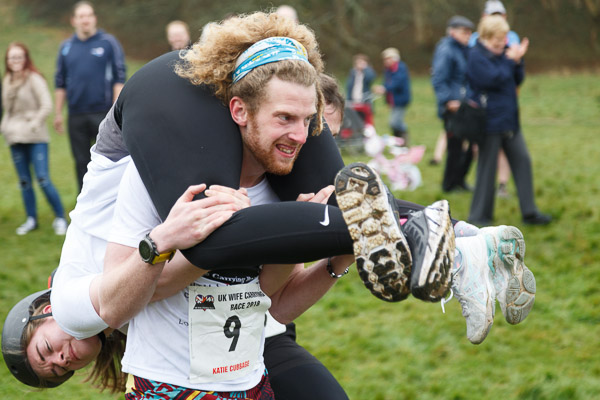 Observe his determination and her desperation!

A couple of people suffer injuries this year; I think for the first time, despite the dire warnings on the event web page! Nothing too serious or permanent, but very unfortunate.

And the winning wife-carrier accidentally hurls himself flat on his face in the mud crossing the line, but gets up with nothing more than a challenge for the washing machine.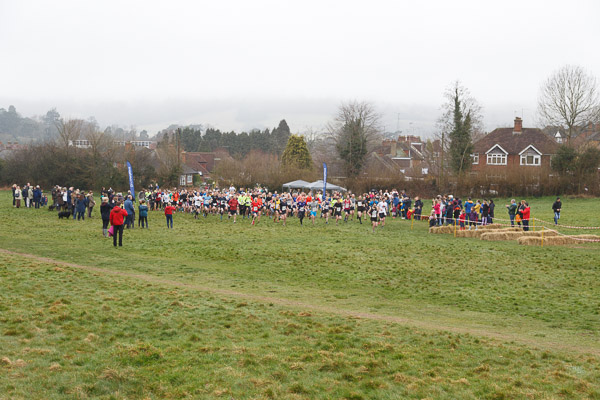 And so the event we've all been waiting for. Except the media people, of course, who've all gone off to the pub now.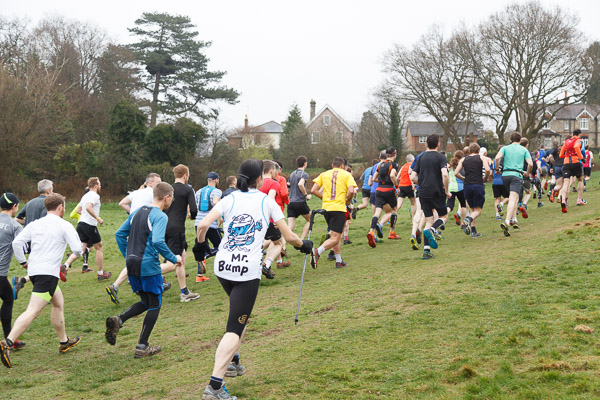 Look closely and you can just see the trekking pole I've handed to Amanda as she runs past. It's a cunning plan to help with the steps down from the Nower.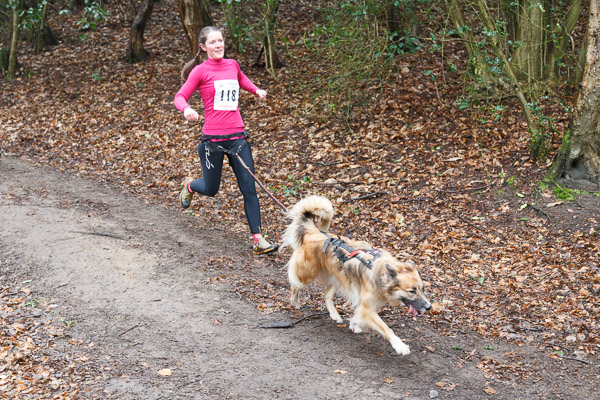 This is a very clean dog now. It won't be later!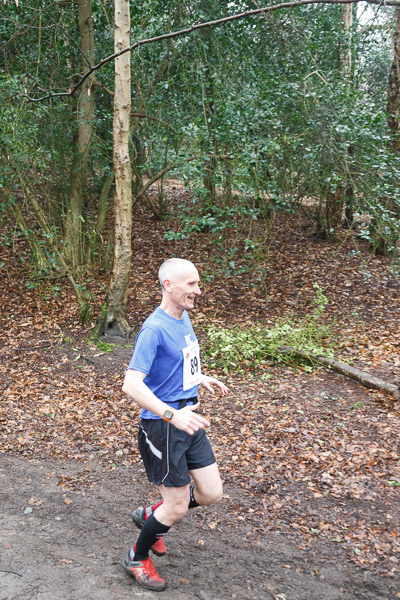 Haven't seen Nigel in a race for a little while, but he's looking on good form.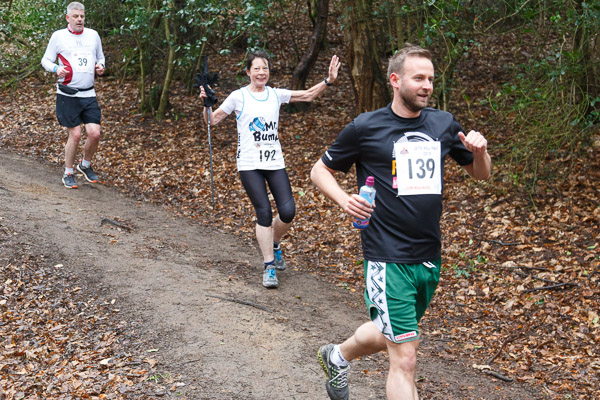 And here's Amanda about to give me the pole back. It's been a very successful experiment. Now I must dash to The Plough, not to see the media types for a pint, but to get to my next photo stop.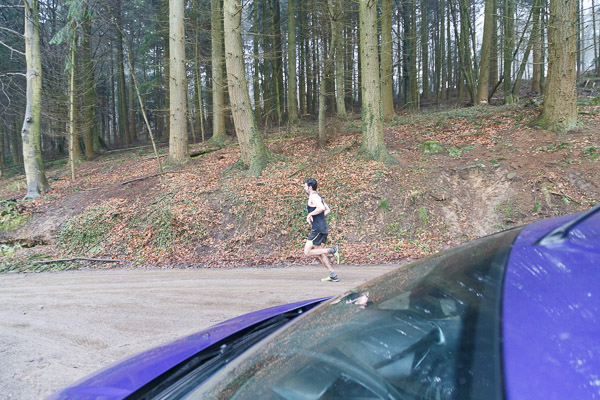 I'm just getting my bits out of the car when - WHAT?!!!! - that's the first runner coming through!

The car in question is a Fiesta ST, and if you know about cars, you'll know that it's very well suited to making rapid progress along narrow woodland lanes. Moreover, without a passenger to scream in terror (or get carsick) I wasn't hanging about. He cannot have got here this quickly, he just can't!

It will come as no surprise later to learn that he's smashed the course record by three minutes. Indeed, it would have come as quite a surprise if he hadn't.

I start walking along the track in the direction the runners are coming from and it's a long time before I see the second-place man.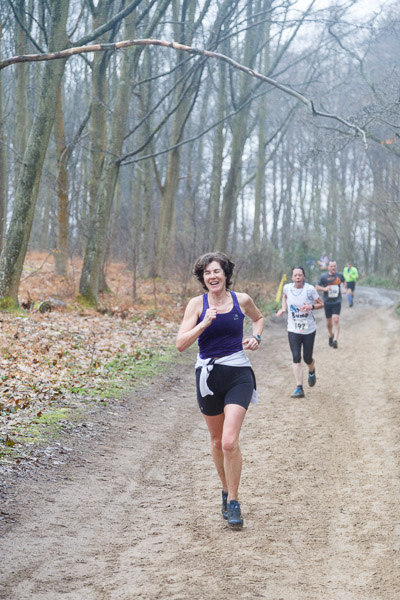 This is Jeanne, whom to the best of our knowledge we don't actually know, although we've seen her around at a few races; but she obviously knows us because she calls out, "Hi Steve, she's just coming. I overtook her by going straight through a puddle when she went round it."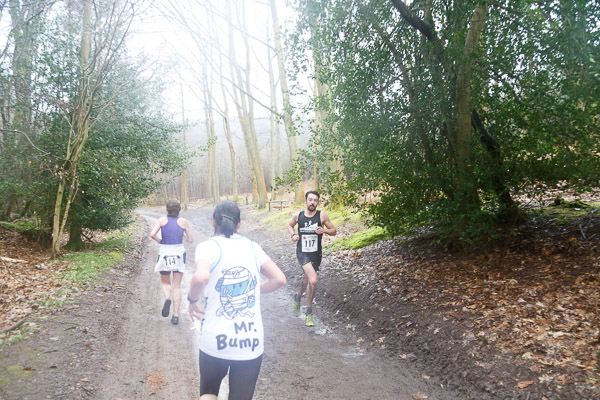 And just as they pass me, what do we see but Lee (Superman) Kemp on his way back already. Amanda thinks it's demoralising when you don't even get to The Plough before meeting the race leader, but really it's only happened once before, last year, when the winner was... err... a certain Mr Lee Kemp.

Note also the hazy, 'atmospheric' quality of the picture. The rain held off for the Wife-Carrying Race, doubtless because the media types are all in league with Satan and he looks after his own, but it's thoroughly dull and drizzly now.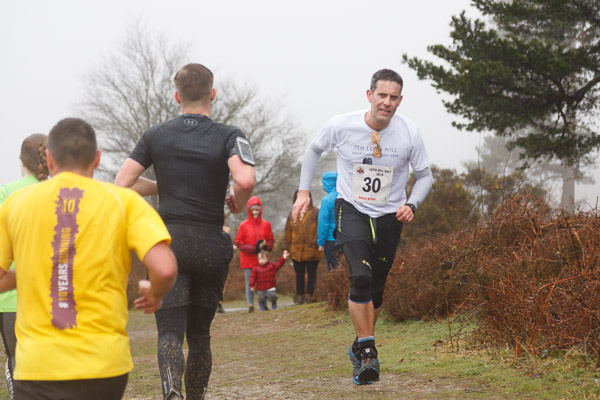 And so to Leith Hill, where the sun isn't shining but one optimist has brought his sunglasses just in case!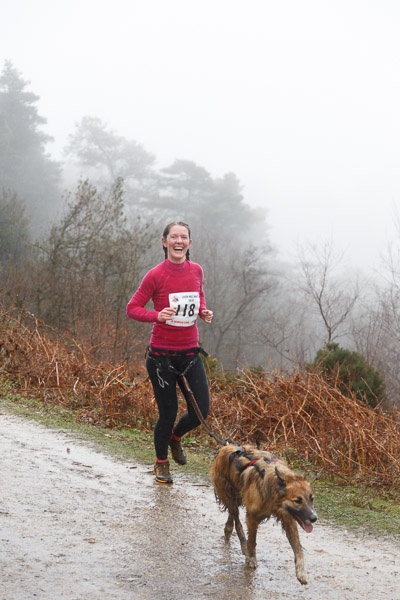 Remember that dog? Absolutely filthy now, but both of them are happy.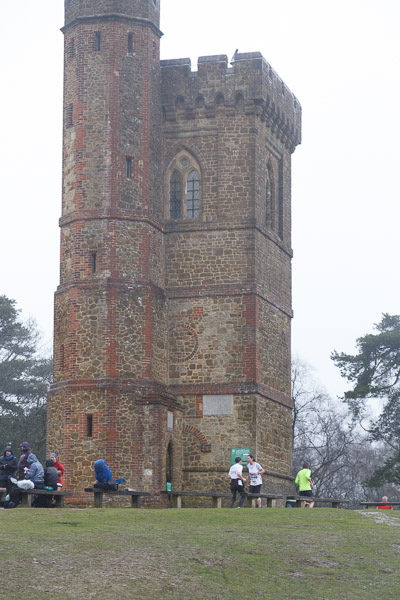 Here's Amanda at the tower.

"Where's my gel?"

"Oops - it's still in the car! Err, Coldharbour if I'm quick!"

Nearby runners are not impressed by the incompetence of the support team.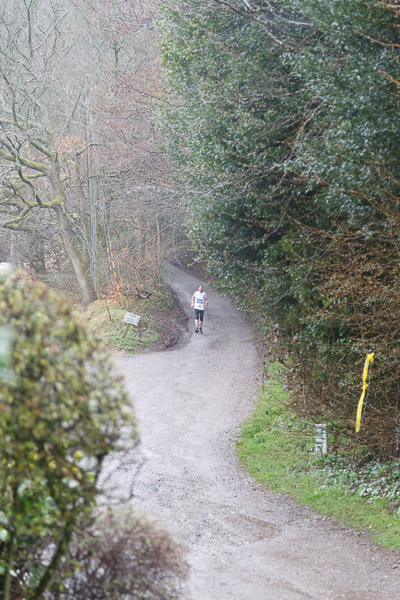 Fortunately I make it back to Coldharbour in good time, despite twisting my ankle slightly just at the top of the Leith Hill steps.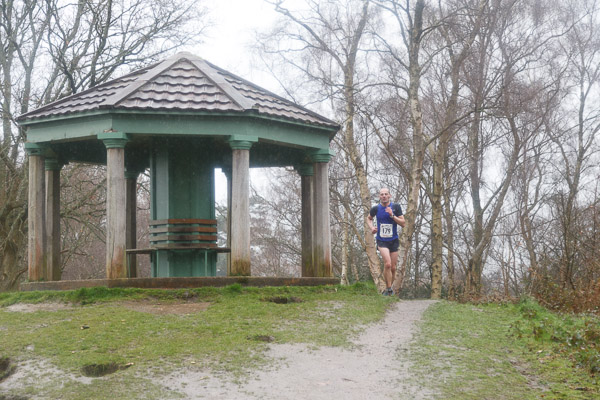 I return to the race finish and start walking back up the route. My ankle is a little sore but not debilitating. I take a few pictures in the dry under the shelter of the summerhouse thingy, but I must suffer further for my art, so back out into the rain I go.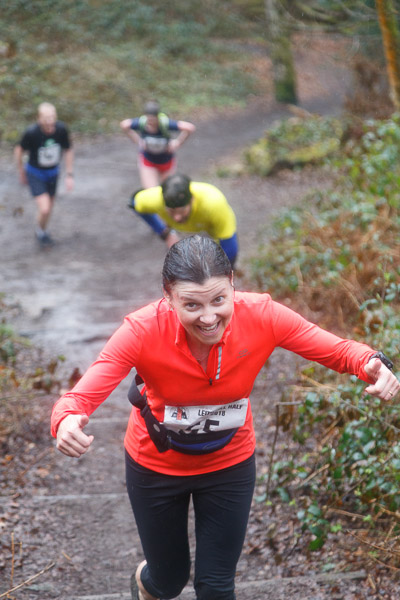 I want, of course, to be near the top of the steps as everybody staggers up on pretty much their last legs.

One chap says he doesn't think I'll sell many pictures here; good job I'm not trying to.

It's not sadism, honest, it's vicarious masochism. That's my story and I'm sticking to it.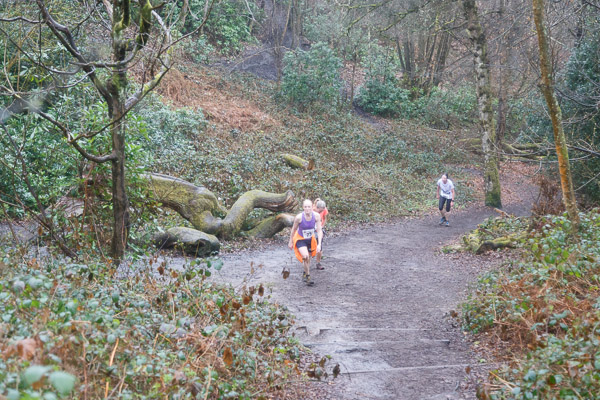 "Hello Darling!" I cry out, and am slightly surprised when all three reply. The strain is clearly getting to them.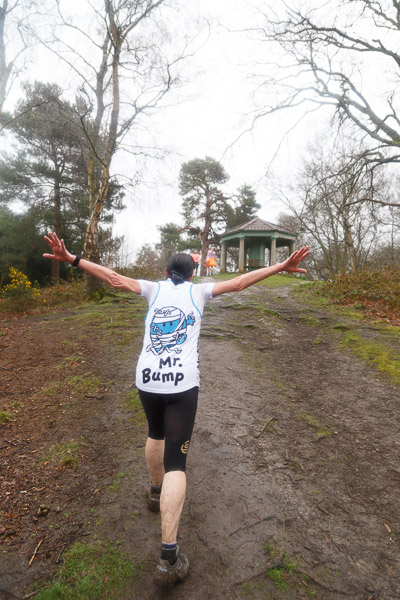 Up, up and away! I had intended to follow quite closely behind then take a short-cut to the finish, but it turns out that while I can walk without much pain, I definitely can't run. Amanda doesn't know this as she disappears into the distance.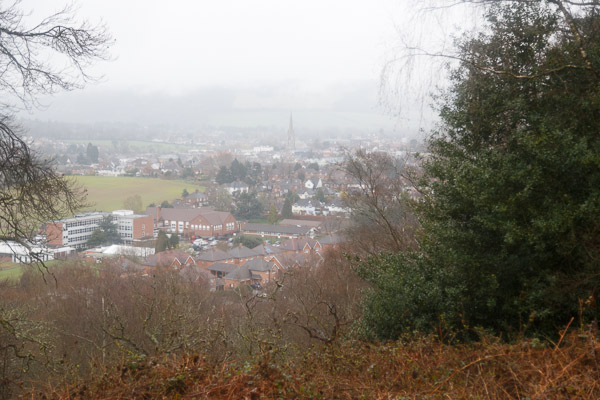 Never mind, let's have some more atmosphere...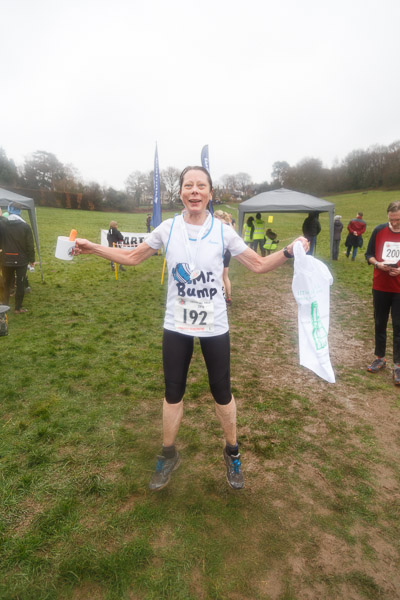 Good job it's Amanda's habit to do a victory star jump, not mine!

Learning of my injury, she's concerned that neither of us are in much of a state to drive home, but I'm not that bad and I can press a couple of pedals on the car easily enough. I will, however, need plenty of anaesthetic this evening... Yes, a good drop of medicinal claret is definitely called for!

Love to all,

Steve.