To the Médoc for my birthday, so I can enjoy some of the world's finest wines as a fitting tribute to my longevity.

Well, ish...

You see, my birthday is on the Friday, but the Saturday is the day of the Marathon du Médoc, so we're in lockdown mode, nothing but sensible food and drink and an early night! Ok, technically only Amanda is, but the things I do for love, eh?

This is her third MdM, so we're old hands now. First time, we bought an expensive and poor-value package with an uninspiring hotel in Bordeaux and a long shuttle bus ride there and back. Second time we DIY'd, and rented a motorhome which we could park at the municipal campsite just around the corner only minutes from all the action. This time, though, we'd only want a motorhome for the weekend, but with a minimum of a week's rental we can't take that route.

Accommodation in Pauillac itself is all but nonexistent and sells out more or less instantly, but we have a cunning plan. We have found a place to stay some 20km away, then we'll drive in to near the race start, park the car and ride our bikes the last two or three km. Apart from my digital floozy (aka satnav) being a bit stroppy and trying to take us on the heavily congested 'obvious' route until forced to accept we aren't going that way, this plan works beautifully.

This year's theme is Fête Foraine, or 'Funfair' to us monoglots (well, those whose only glot is English, of course: to French monoglots it's still Fête Foraine). As usual, while not everyone's interpretation will be entirely clear, most people make a good effort.



Ok, obviously the few available rooms have to be taken by somebody, and these resplendent butterflies are waving down from their balcony right above the crowd. The hotel, incidentally, is called the Hotel de France et d'Angleterre, which may possibly be a reference to the glorious days in the Middle Ages when the French crown was held by a Brit. Of course, then we had to go and lose the Hundred Years War, and I'm sure much of the support for Brexit is based on still-simmering resentment for that 15th-century humiliation.

But everybody in town seems very nice to us and nobody says the B-word in our presence.

Now, who else can we find to provide a bit of colour...?



It's Daddy Bear, Mummy Bear and Baby Bear (not the children's edition, of course). Obviously the question marks after Trop du vin??? point out the existential question of whether such a thing is in fact possible. Philosophers like to debate the difference between 'necessary' truths and 'contingent' truths, and certainly quite a lot of du vin is necessary for this.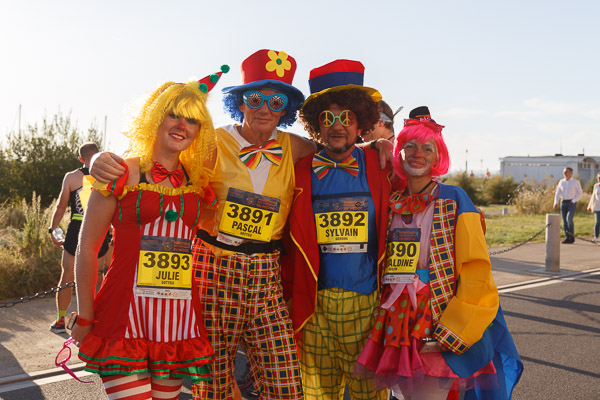 One for the aging hippies among us. Nobody we know, just people who can't resist a camera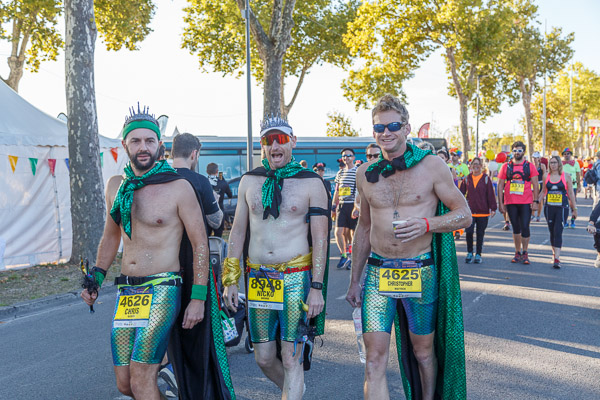 And one for the ladies!



One for, err, I'm not exactly sure who...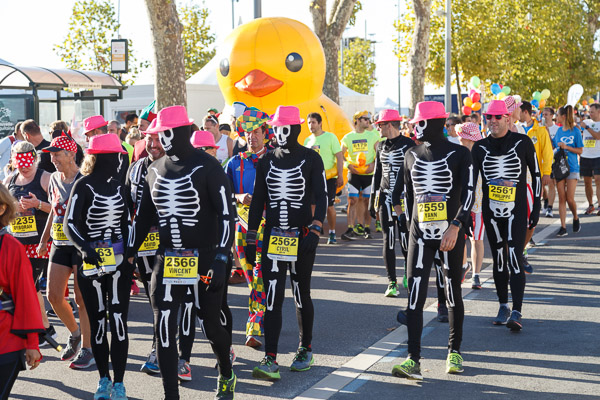 One for the thanataesthetes perhaps (yes, that is a word I've just made up, but I think it's quite a good one). Just because you're dead, that doesn't mean you can't wear a pink hat.

Ok, enough of this frivolity, we've got a race to run!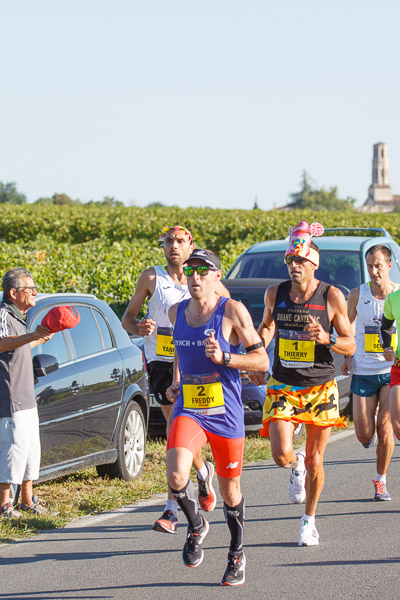 Even right at the front, where the serious runners tend not to go overboard on the dressing up, it's good to see Brane-Cantenac is showing some proper team spirit. They've been up among the top teams every year we've been here: deuxième cru perhaps, but they have aspirations towards premier courant (which is my best guess at "top run" in French, and Google Translate is of no help here at all!)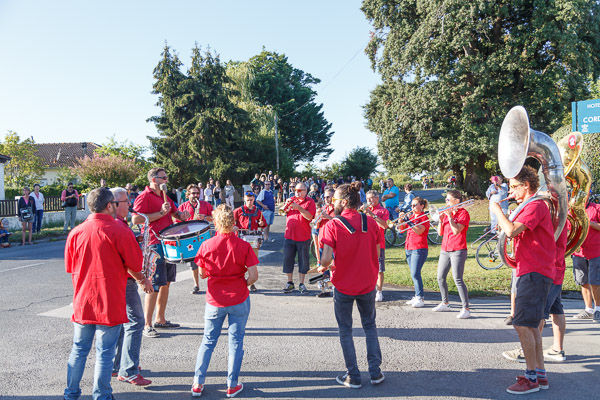 They're encouraged on their way by cheering spectators and random brass bands.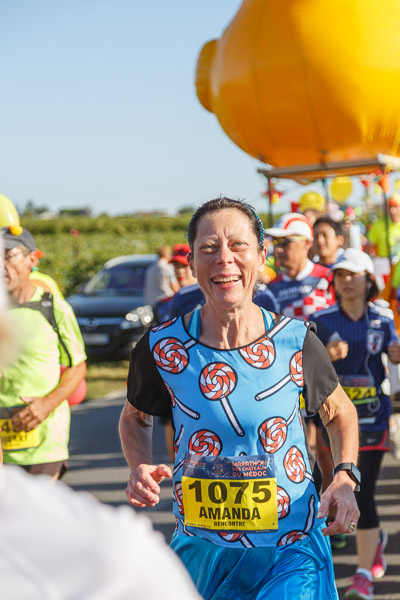 "Allez Amanda!"

That's another nice thing about this race, the names printed on your bib number so that everyone can cheer you on, not just your friends or family. Not unique, but rare in events of this size.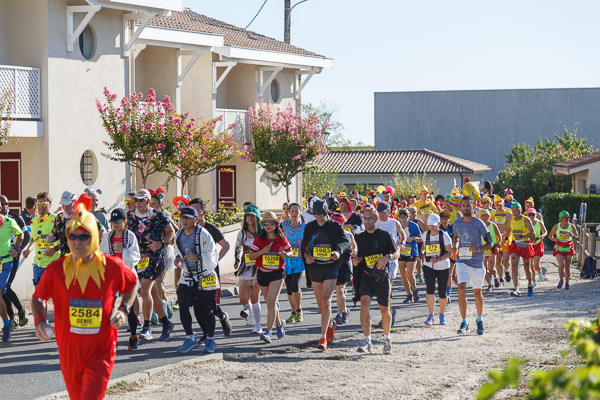 The route passes through vineyards and villages, and in many places it's only a narrow bit of road separating the two.

Not a cloud in the sky, and it's predicted to reach 28C today, perhaps the hottest MdM ever.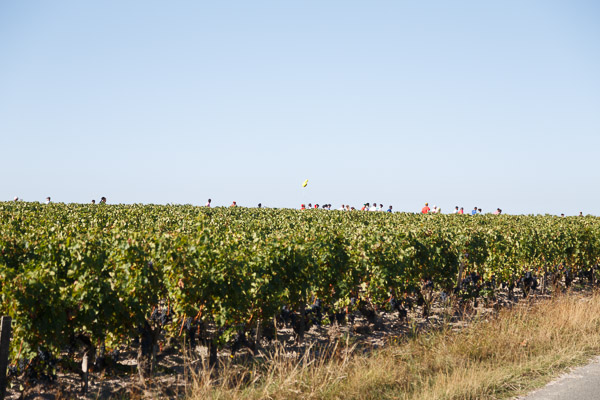 They go thataway, I'll go thisaway and head 'em off at another château..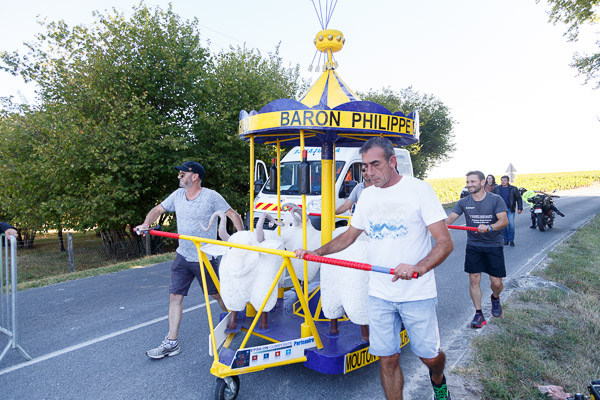 "Vive les moutons!" - not runners, but supporters, taking the Baron Philippe Merry-go-Sheep along the road to where the running route crosses it.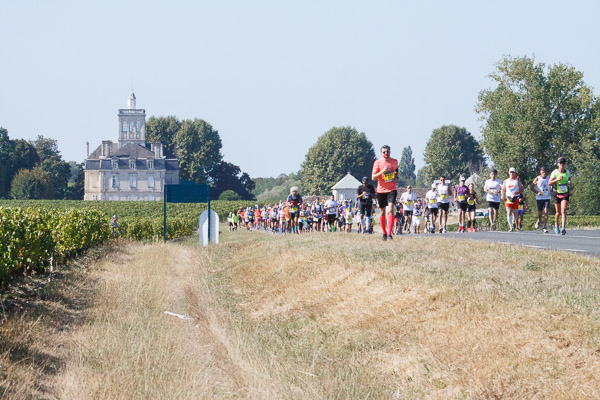 Even the (relatively!) humble crus bourgeois can have some classic architecture. This is Larose Trintaudon, which I confess is not a name that trips off my tongue. However they tell us that the domain is "now one of the largest vineyards in the Medoc both in terms of size and production,  based on the great potential of its 'terroir'" It does slightly spoil the romance to learn that the family who created it in the early 18th century sold out long ago and it's now owned by the insurance company Allianz!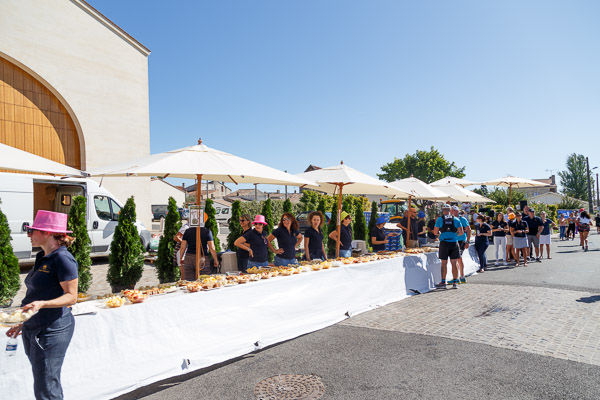 Yes, that is cake stretching almost as far as the eye can see! Strangely, there doesn't seem to be any wine here, although that's definitely a winery building just behind the stalls.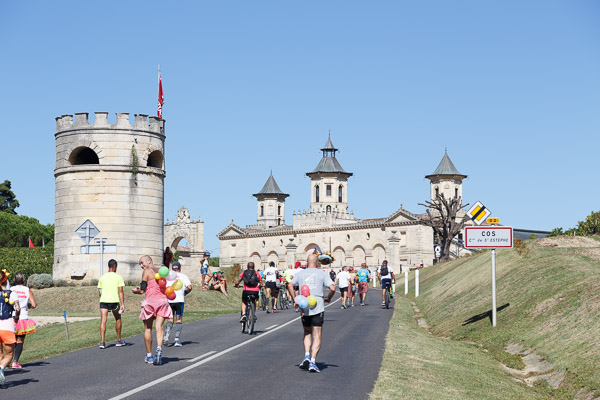 Heading up to Cos d'Estournel now, which is Amanda's definite favourite château architecturally speaking. Sadly they're not joining in this year, nor were they in 2015 for our previous outing. In 2011, I didn't have my bike, so I was much more limited in what I could see, and obviously Sod's Law would suggest that that was the year when Cos was pulling out all the stops.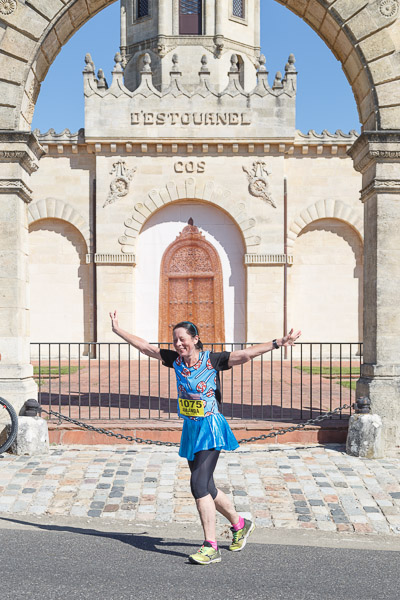 Never mind, we'll still have a little pose by the gate.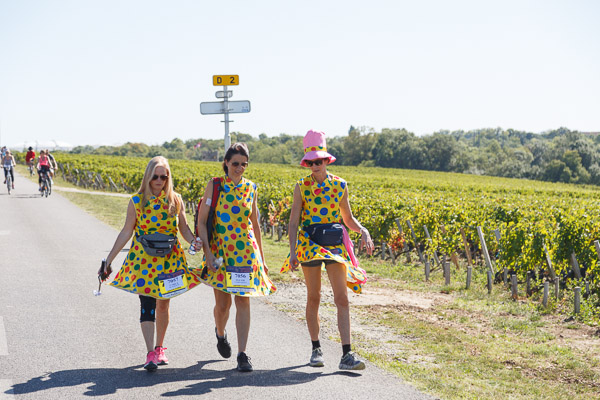 Did I mention it was hot? A lot of people are walking even though we've still a long way to go.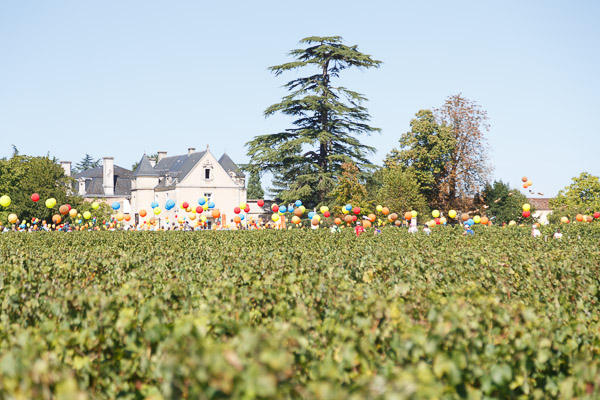 Some châteaux let bicycle riders through their grounds with the runners, some don't. Château La Haye are one of the ones that don't, but Amanda had told me that it was a real pity I'd missed their wonderful balloon display last time and I'd been hoping to get a bit closer.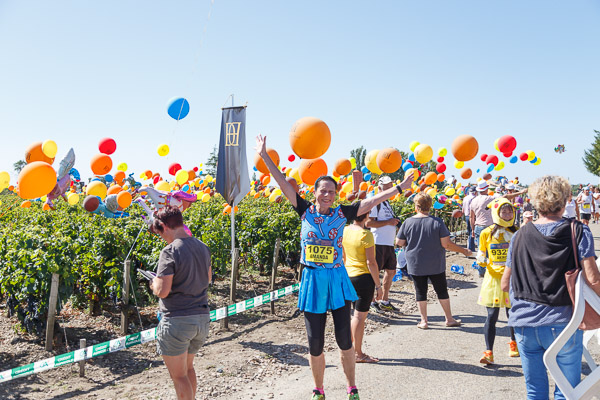 But they only stop you going in through the in door; ride around and you can enter via the exit! La Haye's balloons have become something of a tradition I gather. Oh, and they are giving out wine samples. Naturally I do my duty and take Amanda's for her.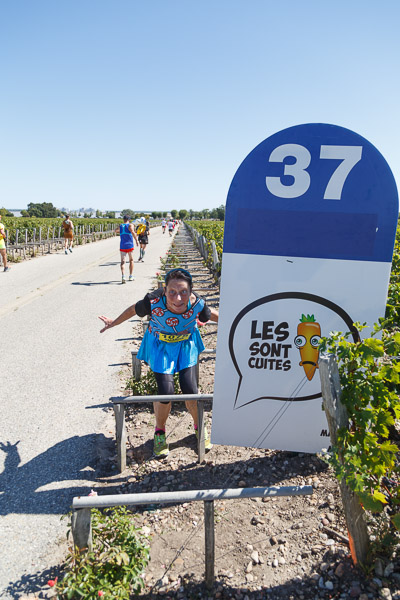 This year the carrots might well be cooked; in 2015 they had just been covered with water and no heat applied at all. I had to use my little waterproof camera at that point that year.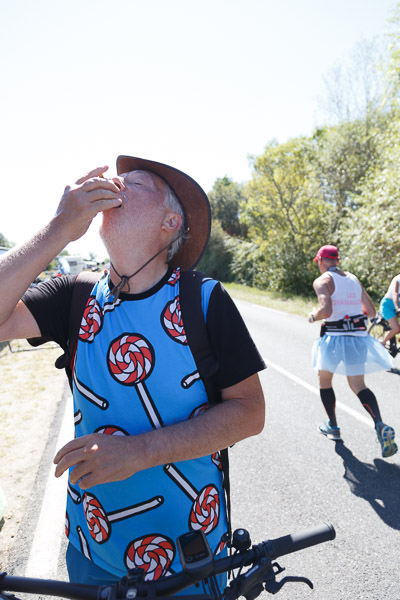 It's not just wine I have to consume on Amanda's behalf: oysters too! And note my matching top (although I haven't got the skirt).



So to the finish line, and if she's really run the whole race in an inflatable allosaurus I'm most impressed!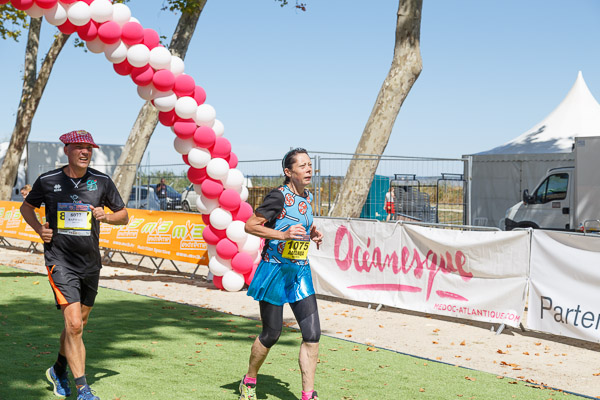 Despite me shouting at her (and not being altogether inconspicuous, I would have thought), Amanda still doesn't see me as she concentrates on the finish.

She's been suffering badly with cramp in the last quarter of the race and has had to stop and walk several times. Consequently I am under strict instructions not to take a picture of her showing the finish clock with what she expects to be a horrendous time. It will come as a great and pleasant surprise to her (not such a surprise to me!) to find when the results are in that everyone was slow in today's conditions and she's well up there in the top 10%.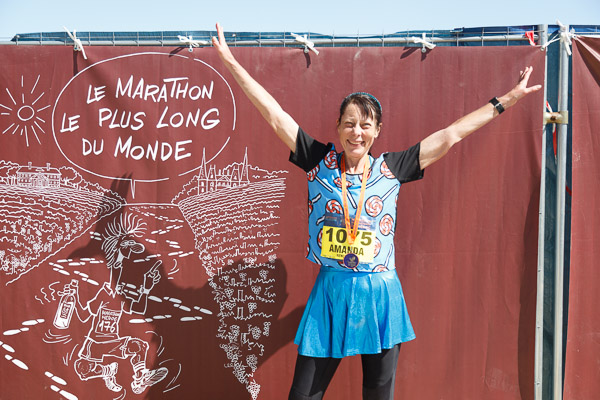 The longest marathon in the world is over for another year, and much fun it has been. Now we'll have a little refreshment and check out the many food stalls and maybe (well, ok, definitely!) have an ice cream before reversing the morning plan and riding the short distance back to the car and then on to the B&B.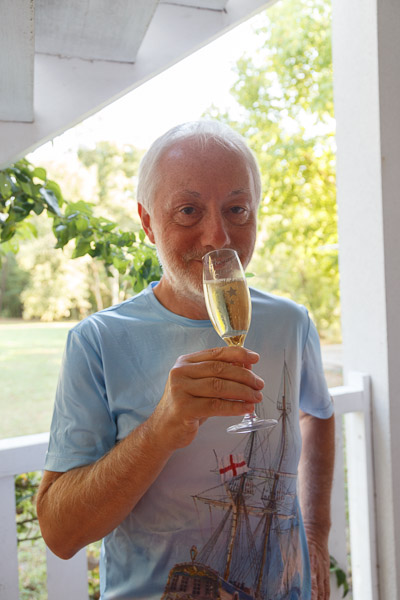 And hey, it's a day late maybe, but time now for a birthday glass of champers!

Today the Médoc, tomorrow the Loire; but that's the running done for now.

Love to all,

Steve.