However did we manage before Wikipedia?

Thanks to that mighty oracle, I can share with you some interesting facts about what is now Denbies Wine Estate that they (perhaps understandably) omit to mention on their own website.

In the mid-18th century, it was owned by a gentleman named Jonathan Tyers, also owner of the Vauxhall Pleasure Gardens, and if you know your history, you will know that the latter was the venue for all manner of things that would shock the good burghers of Dorking. His Denbies garden was rather different, though, and offers a surprising synchronicity with our Halloween theme.

It bore the perhaps slightly worrying title of "The Valley of the Shadow of Death", and here are some of the highlights of which Wikipedia tells...


Just outside the entrance to the wood was a small hermitage known as The Temple of Death.

[A sculpture] depicted an angel blowing the last trump, causing a stone pyramid to crumble and revealing the corpse within to be rising from the dead.

Visitors were met at the entrance to the wood by the Latin inscription Procul este, profani, which translates as "Away, all you who are unhallowed". The iron entrance gate was mounted between two upended stone coffins supporting the portico, each one topped by a human skull, one male, one female.

 Two life-sized pictures by Francis Hayman, depicting a Christian and an Unbeliever as they died, [were] set into compartments in the wall.


So obviously, then, the perfect place to take the whole family for some healthy exercise.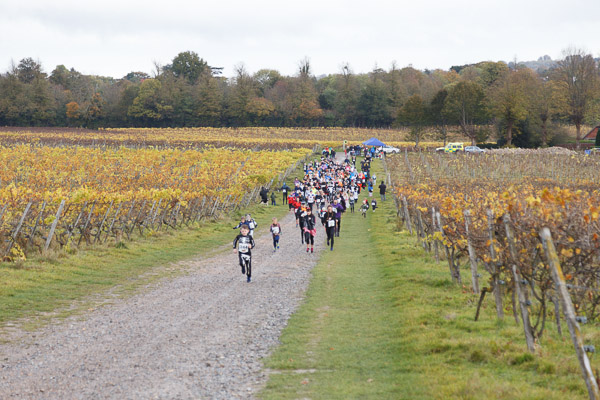 We have a 2k Fun Run for the kids, and a 10k for the adults. They all start together and the kids are well in the lead as they come up the hill.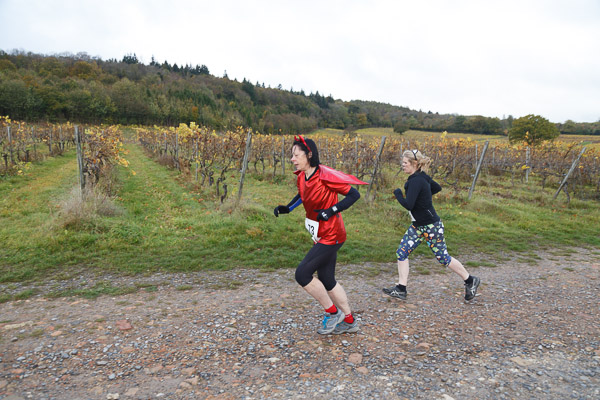 Dressing up is de rigueur, and Amanda has chosen a shiny Red Devil outfit. While her wings are, it is true, more aerodynamically sound than your average Raphaelesque cherub, that is not a high bar to clear and it is unlikely that they will give her any speed advantage.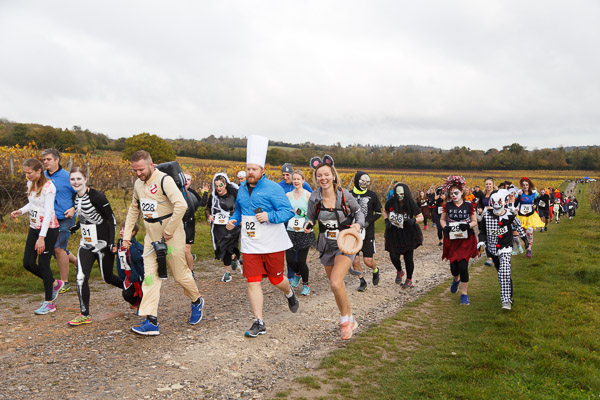 So I asked this chap beforehand if he's something like Sweeney Todd's brother, the Demon Baker of Fleet Street, but no, he's actually channelling Ratatouille, and beside him is his rat - although she's wearing more of a mouse outfit I think. I'm not quite clear how this relates to Halloween, but I guess we must accept some artistic licence.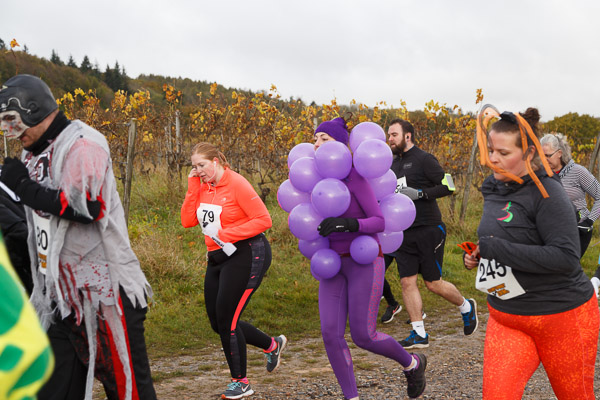 And a refugee from Bacchus?

This race is in fact organised by the same people who took over Bacchus after Nicky shut up shop at ETL, so although this is an altogether different event, we're definitely curious as to how well they run it. They've already lost one star for not having a route map available, so I'm going to have to try and work out where to re-cross the runners' path by observation and guesswork.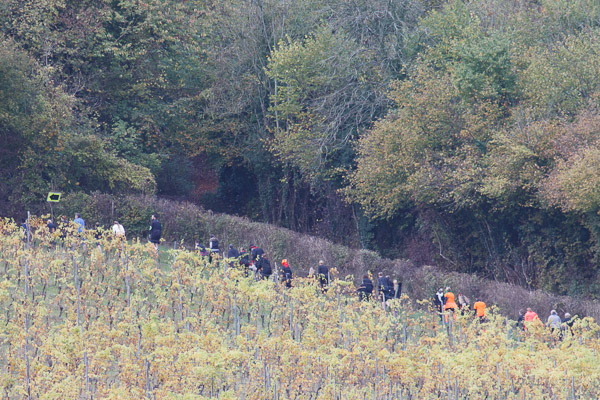 Hopefully they won't totally disappear in the distance, so I'll have some idea of where they'll come out next.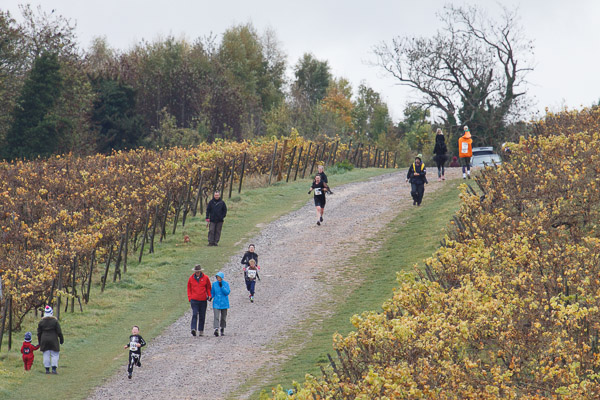 Ah, right, after a bit of a loop, they're back down the start/finish straight in the opposite direction. My understanding is that the 2k will finish at the bottom while the 10k runners carry on, with the idea that family groups can keep together even if they're ultimately doing different distances.

Not that the young lad at the front seems interested in hanging around for any adults!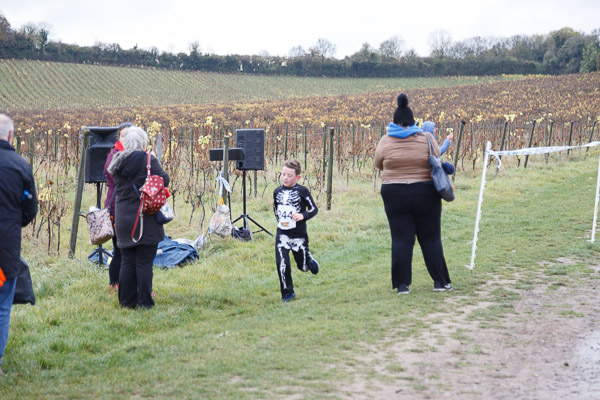 Remember the name: Number 244. Ok, that's probably not his name.

Now I've seen a few of the 10k front-runners also come through, so Amanda should be here before too long...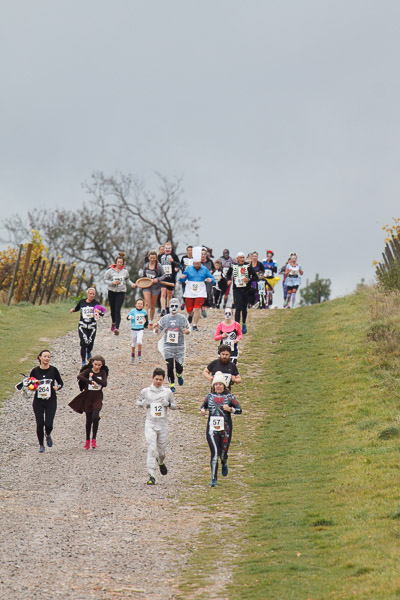 But hang on, I'm sure these people are slower than her and should be behind her...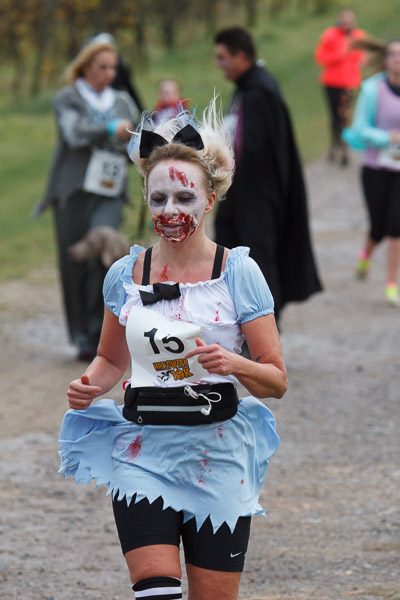 No, that's not her after an accident...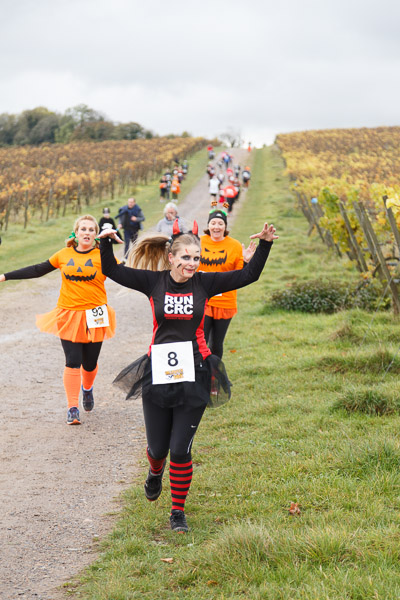 And as for this one, does she want to kiss me or eat me?!

This is weird though. I can't have missed Amanda, can I? But I don't see an ambulance rushing off and I don't get a phone call to say "Help, I'm injured", so I'm really not sure what's happening.

We saw some route markers on the way in, so I know that there's a loop around the other side of the vineyard and I walk over that way to see if I can find her. No joy. I recognise several people even in the distance by their distinctive costumes, and there is absolutely no way Amanda should not be ahead of them. I reckon my best bet now is to slowly make my way back to the top of the first hill, in sight of the finish line which would be the obvious rendezvous point if she has come unstuck somehow.

There's a marshal point here with a good view in most directions, and as I peer out over the hills I tell the marshal that I appear to have lost my wife, which is a bit careless of me.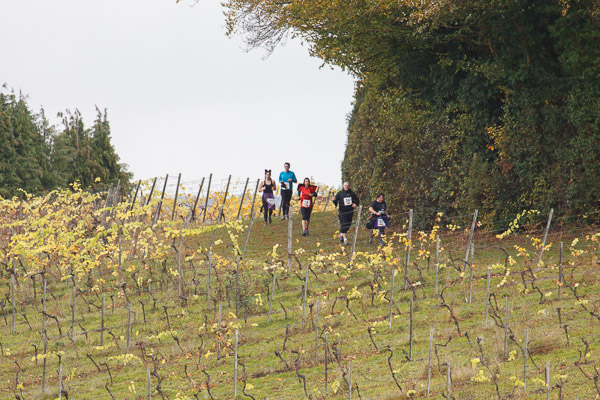 And there in the distance I see her! She's a long way off but seems to be overtaking slower people.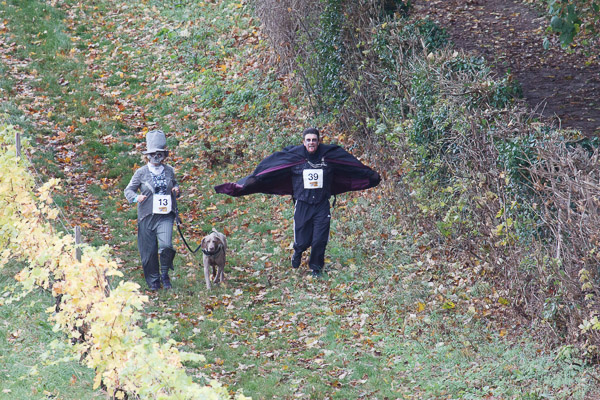 She's behind these two!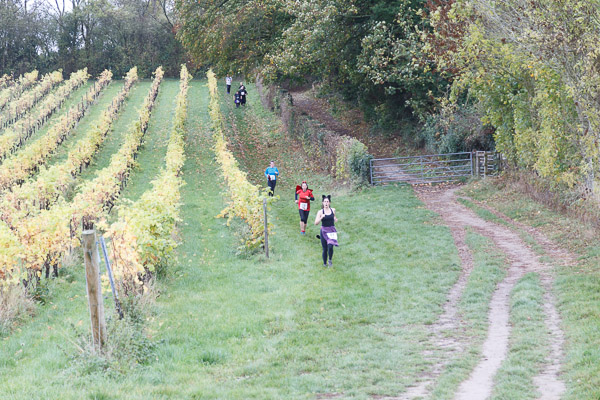 At last! It seems there has been an earlier marshalling error and she's ended up going the wrong way, along with the lady just ahead of her and a number of others.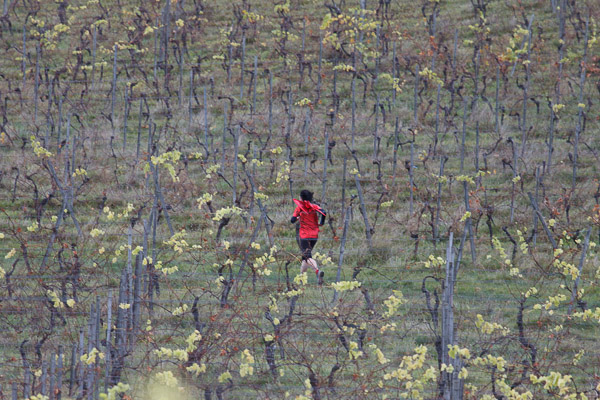 She now does two sides of a triangle while I take the direct route back to the marshall point and tell the chap there that I've now found my wife and the reason why. Fortunately, he quickly realises that the misdirected people have taken what would have been the final loop prematurely, and if they simply turn right and run down the hill to the finish, they will have completed the correct distance in the end!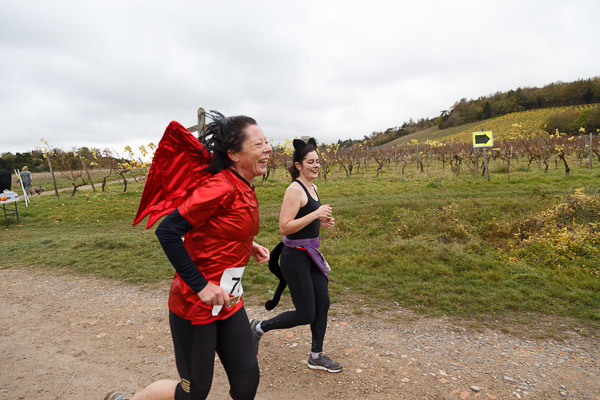 Hurrah!

Now, of course, I have the problem that I'm the same distance from the finish line as Amanda, and though she's run about 9.5km more than me, I'm not sure I can beat her. I do at first, and perhaps if I wasn't carrying all my gear I'd be able to keep up enough speed, but I start to run out of puff and slow down and she passes me.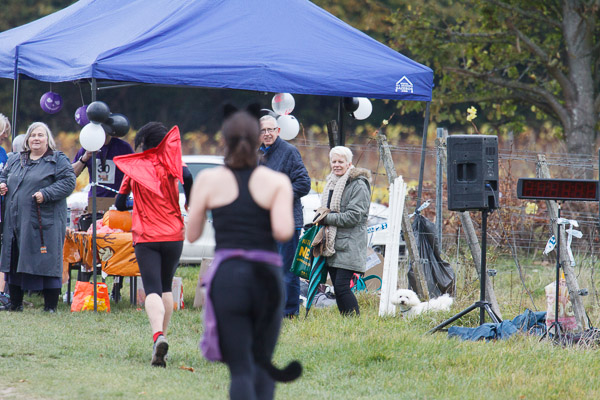 Note the timing clock on the right-hand edge of the picture. Yes, the one that doesn't appear to be showing any time. Even if you zoom in on the high-resolution original you will not see a time.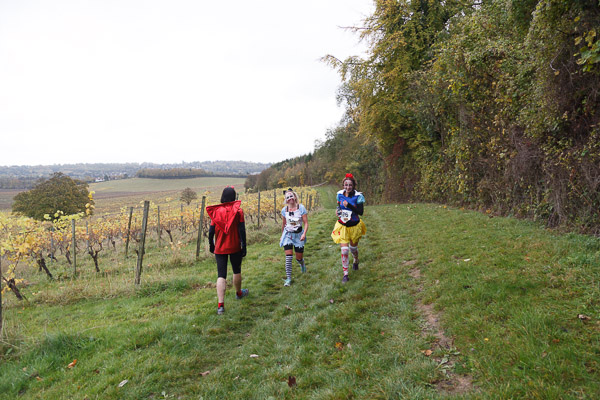 We're now going to see a point on the course where there are a few ghosts... On the way, we pass some runners who've not yet finished but I've seen a lot more times than Amanda.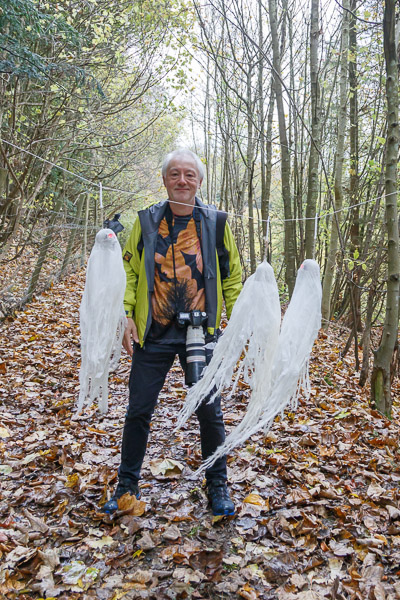 Not all that obvious in the picture, but their eyes glow red when you shake them. They also make strange wailing sounds, but then you wouldn't see that even in a clearer picture. When Amanda came through here, she was with somebody else who ducked and didn't touch them at all, but Amanda did and they both almost jumped out of their skins at the unexpected noise behind them. I think that was the intention.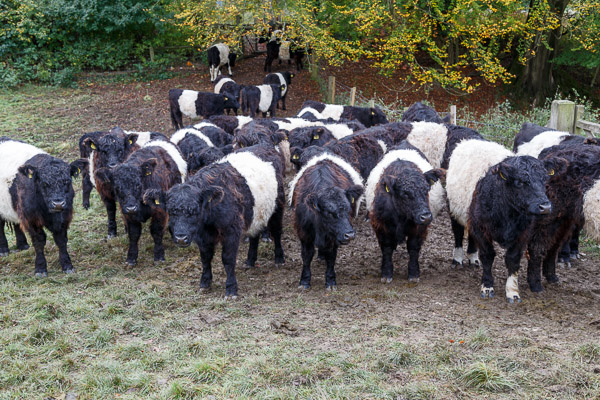 A change of scene: nearby on Ranmore Common, a flock of young Belted Galloway cattle. They have nothing to do with the race, of course, but we just haven't seen any Belted Galloways for a while, so we thought we'd go on a post-race cow hunt.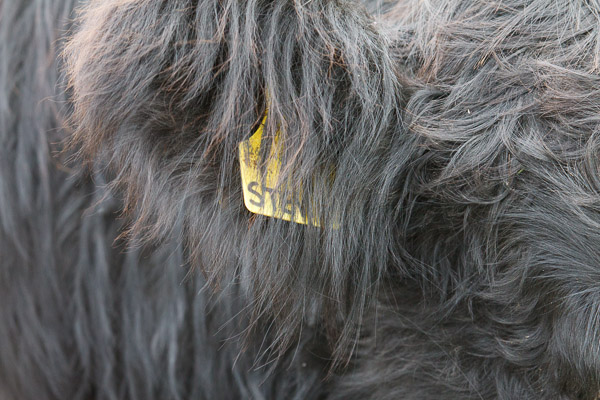 And one of them is even named after me!

So, getting back to the race. Verdict? Well, undeniably a bit lacking in organisation, but everyone seemed to have fun. We presume that it has to be an aberration because there is simply no way in the universe that they could run Bacchus like that! We'll give them the benefit of the doubt for now.

Love to all,

Steve.