There is an old proverb regarding things which are better for being beaten, which is so politically incorrect that in 2018 I suspect I risk jail merely for being aware of its existence. But today, laughing in the very face of mercy and compassion, we are going to Beat the Boat!

How so? Well, the boat leaves Richmond at 11am and docks at Hampton Court an hour and forty-five minutes later, having travelled about seven and a half miles. This corresponds to a pace of just over 13.5 minutes/mile, slightly faster than a brisk walk. So decide on a pace that you'd like to achieve over that distance and count backwards from 12:45 and that gives you your start time. Start running from Richmond and see if you can get to Hampton Court before the boat does.

Well that sounds like a silly enough idea, let's go for it!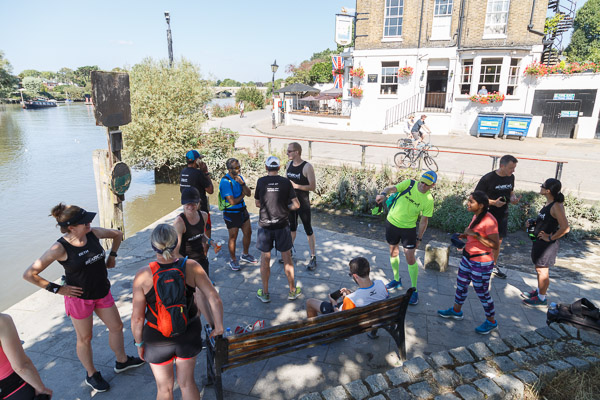 The beaters start to assemble. A couple of dozen or so have signed on, aiming for paces between 20 min/mile - a genuine walk - to sub-7:30, which is really quite quick! However, it's hot and getting hotter, and as a wholly unofficial bit of fun, there are no marshals or water stations or anything, so some caution is advised.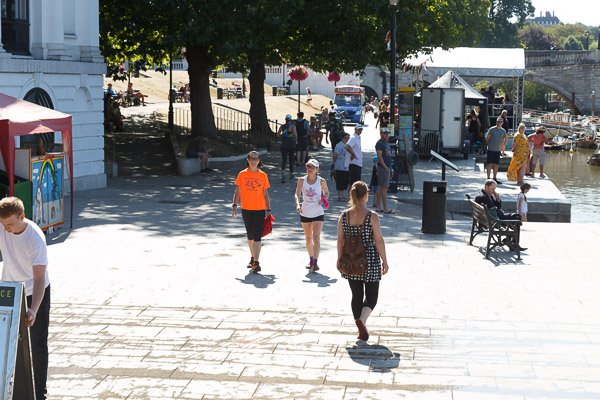 Amanda and Merilyn arrive, dropped off by Merilyn's husband. As an A-to-B run, there are logistical issues if you don't fancy running back again to make an ultra-half, so it's good that he's been able to help out.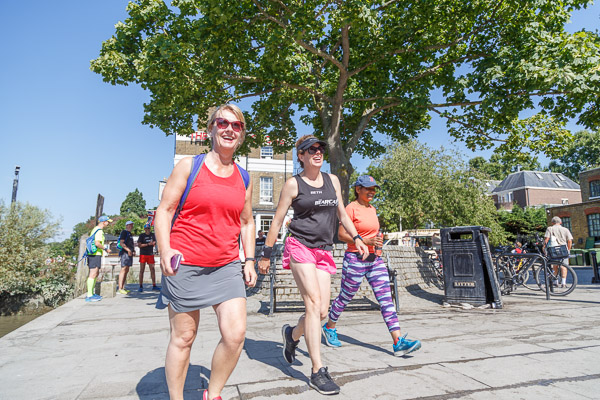 The walking team sets out. They're the only ones who'll start before the boat does.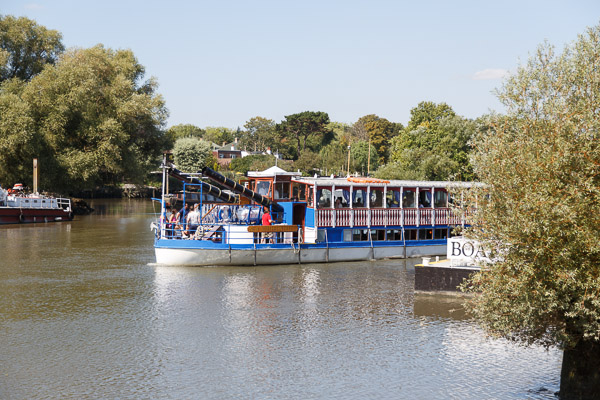 The boat departs!

Everyone else just stands around chatting for now. The 11min runners won't start for another ten minutes, and our girls are planning to do 8:30 so they have a fair old wait yet. Except that lots of people are thinking maybe they'll drop down slightly in the conditions, so 9 minute pace it is. Still, Merilyn's friend Michelle is apparently still gung-ho for sub-7:30!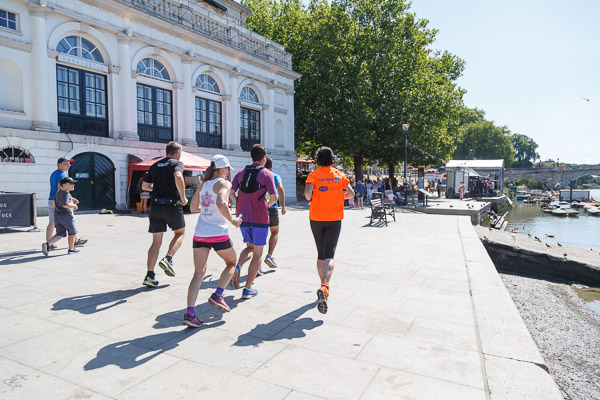 And off they go in hot (literally) pursuit of the boat. There are three other chaps running with them making the 9-minute group one of if not the largest. The smallest group consists of just one person.

Right, time to jump on the bike to beat the beat-the-boaters.

I'm planning to stay roughly synchronised to Amanda, but get ahead and behind at times to catch other participants, and of course the theory is that everyone arrives more or less simultaneously. Let's see how it works out....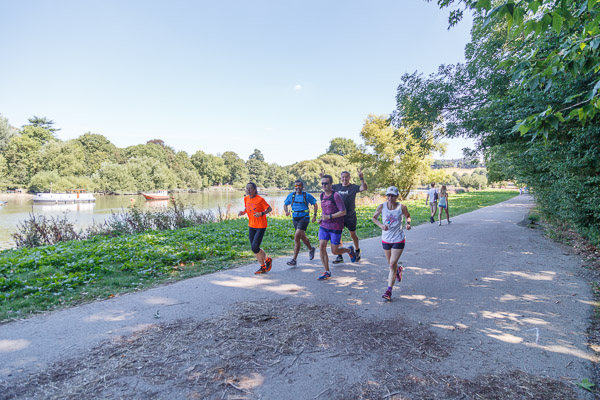 They're all sticking together for now at least.



And at Teddington, where I've seen that earlier groups are already dispersing. Seems like a nice little social club is forming.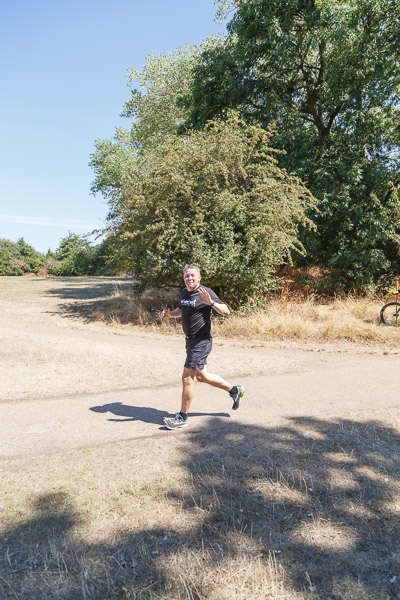 Ah, but a little further along and one member has turned round and started heading back. This is entirely planned though: his wife is in hospital about to have a baby, so he's on emergency standby and always intended to turn back halfway.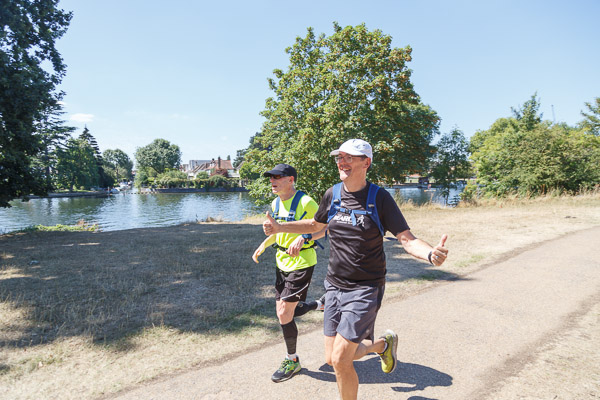 And here's the next group. I left before them so I don't know for sure what pace they are running, but based on their arrival time here, I'd guess they are real 8:30s.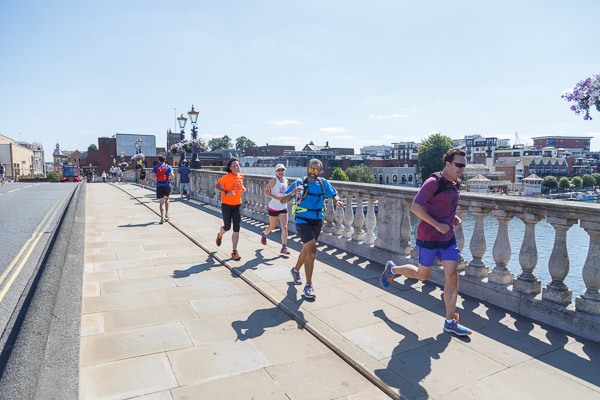 They've all taken the route Amanda and I would normally use to cross the river here, but at the Hampton Court Half the other month, we learnt that there's another way. Come up the steps by John Lewis, cross Kingston Bridge on the other pavement, then do a little loop to the right and back under the bridge to return to the towpath. I think it's slightly longer but you're less likely to be impeded by the pedestrian horde so it may balance out.

But we will later find there's a third way we hadn't considered. If you are not familiar with the area, you can go up the steps, then stop and wait for the lights to change so you can cross the road. Whoops.

And from the bridge, we can see the boat!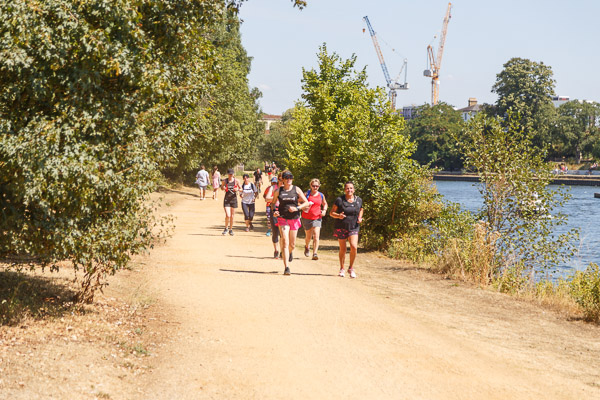 Getting close now, we have some of the 11-minuters mixing with walkers.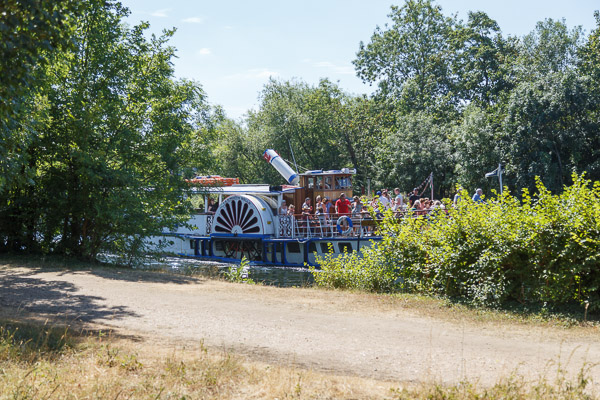 Aha! The boat! Observant readers may notice that it's not the same boat as in the earlier picture. Correct. The service sometimes requires a change of boat at Kingston, but I'm not completely certain why. I'd guess it's something like one of the boats can't get under the bridge if the water is too high or risks running aground if the water is too low, but the operating company doesn't say.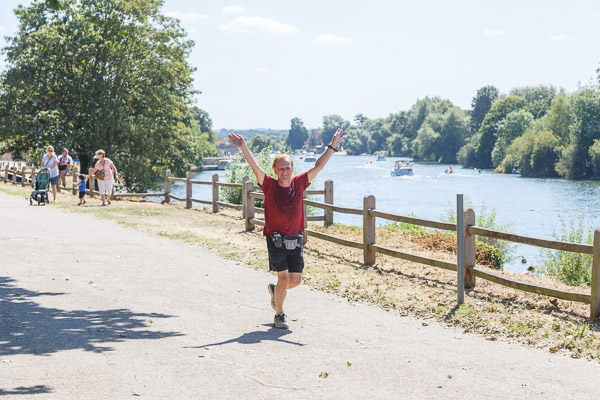 And here's the first boat beater!

You may wonder why you can't see the boat behind him if he's beaten it. Well that's because technically it's in front of him, but it's still in the process of turning around before it can come in to dock.

However, it most definitely should be behind him: the boat has arrived well ahead of schedule!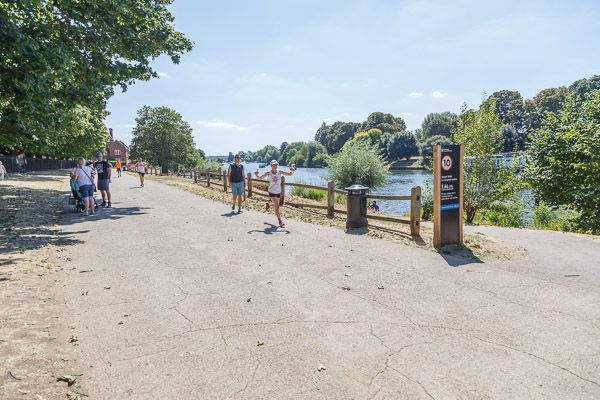 Merilyn puts on a little finishing spurt and she's beaten it too.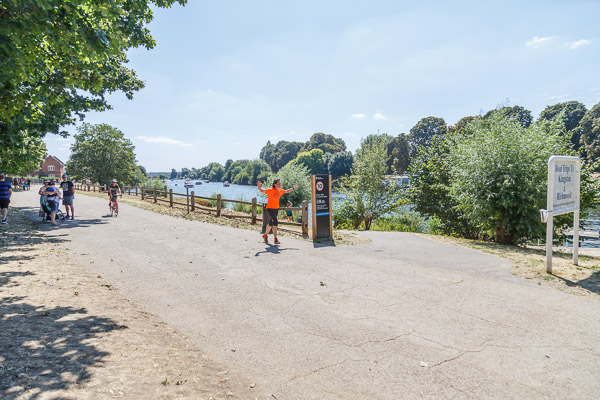 And it's Amanda's turn a moment later.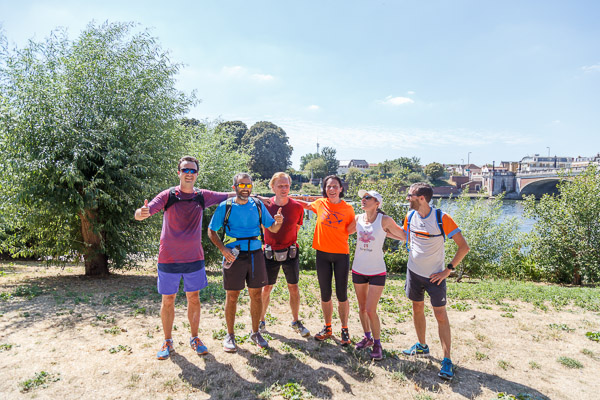 The heat hasn't slowed them quite as much as expected, perhaps, because our 9-minuters have actually achieved 8:37 or so by Amanda's GPS, and obviously the other two guys must have been ahead of their own estimates too.

After them, there's a little bit of a gap, which is why we have time for this group photo.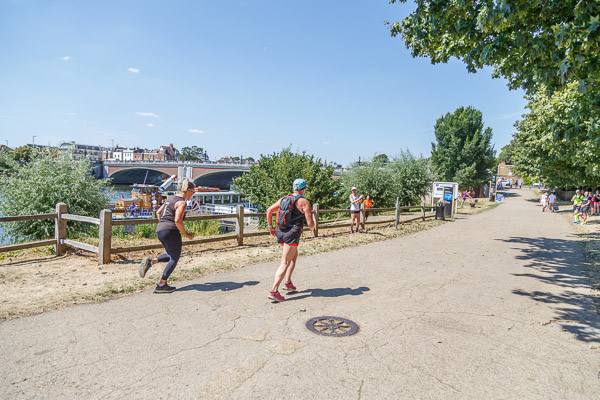 "You can still make it! The boat cheated! It's early!"

Having seen the boat, they had naturally assumed they were simply too late, but no: they still have time to beat the boat's schedule if they're quick. And they do, hurrah!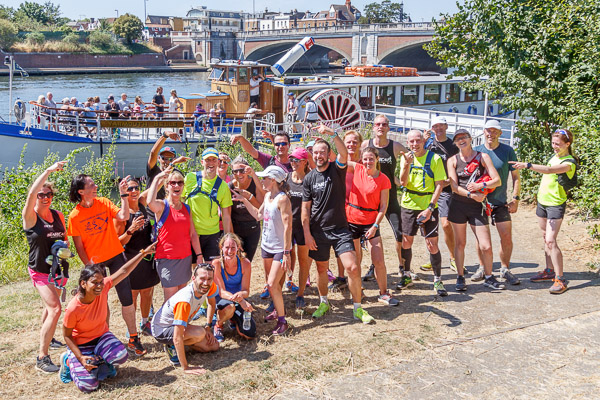 12:44 pm, the target time, and everyone is here to point a finger at the man responsible for it all.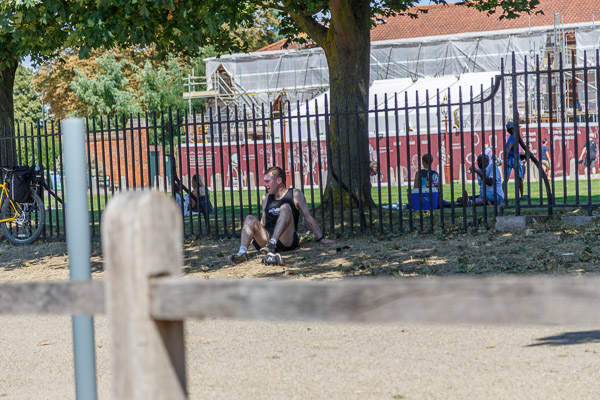 One guy is suffering a bit, but I believe he'll be fine later, just overheated.

We all definitely need to take on some liquid now: oh, look, there's a pub across the road!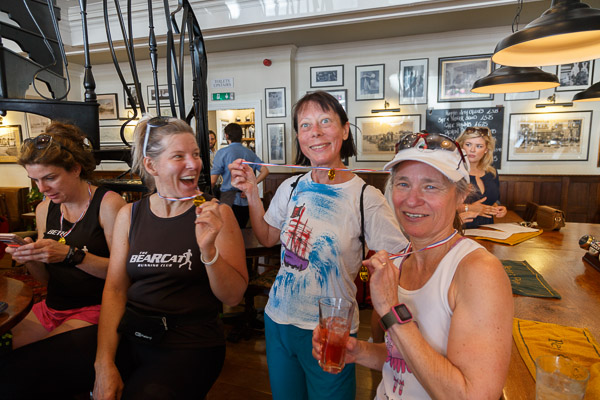 Gosh, medals too!

They are, it is true, not the grandest medals the world has ever seen, but who cares! They are special medals for special people!

Well that was a lark, we beat the boat. We must do it again.

Love to all,

Steve.