Well it seemed like a good idea at the time, I gather.

Back in April or something, Amanda and Pat thought that it would be fun to sign up for an Autumn half, and Kempton Park appeared to fit the bill. But since then, the idea of four loops of a pretty featureless course has been losing some of its attractiveness. Still, the sun is shining and it's not far to go, so on with the plan!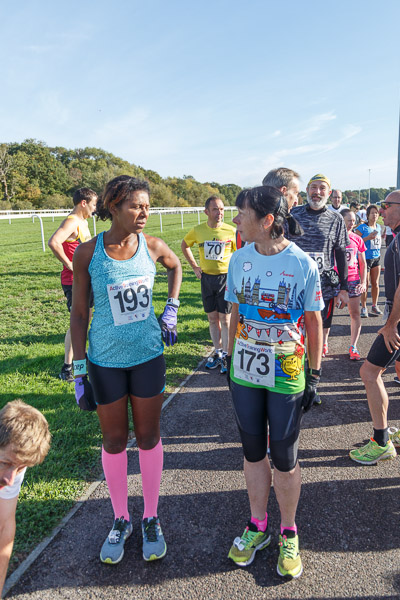 "Why did we think we wanted to do this?"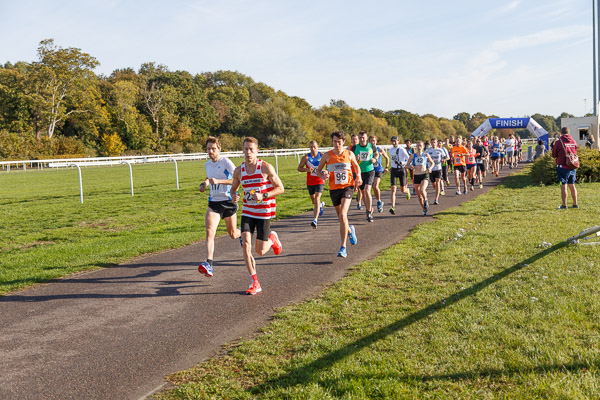 It's not what you'd call a massive event: this is the entire field.

The results will show a grand total of fifty starters and forty-three finishers. There are also 10k and 5k events taking place, but between them they only amount to another 150-ish runners.



Neck and neck with the female winner at this point! She's obviously taking it easy to start.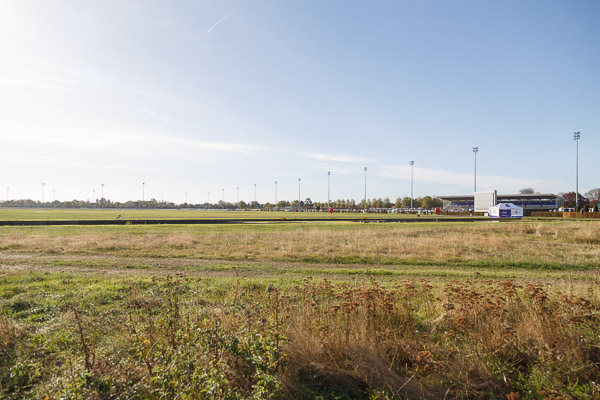 And they disappear off into the distance.

As you can see, it's pretty flat. I believe that in horse-racing terms, a 'flat' race is simply one that doesn't have jumps, but a jump race here is probably flatter than a flat race most other places. The organisers reckon that everybody should get a PB!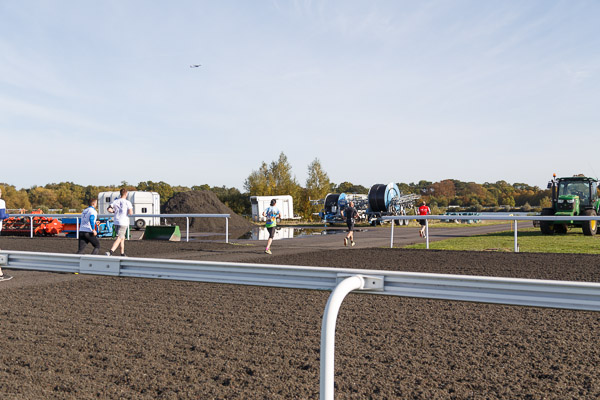 You get to cross the odd river of mud by the scenic agricultural machinery. There is absolutely no grass here whatsoever and the soil is completely even, so it's clearly deliberate rather than just churned up by the horses.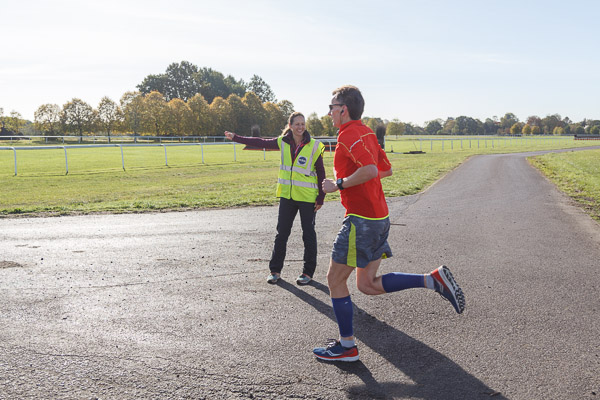 A couple of the marshals know how to marshal and give the runners a bit of a cheer, but it seems to be very much the exception rather than the rule.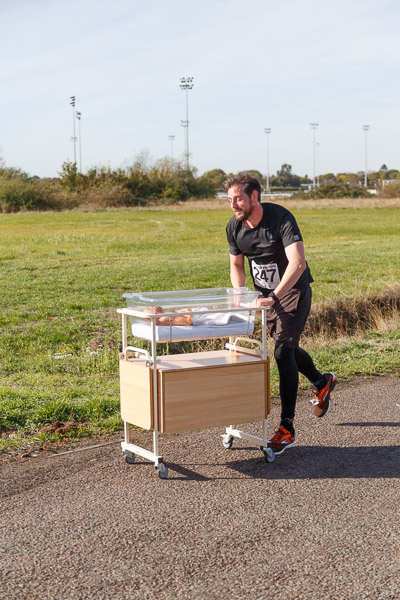 Well there's a thing: a man delivering a baby? He's presumably raising money for neonatal care or something, but that's just a plausible guess.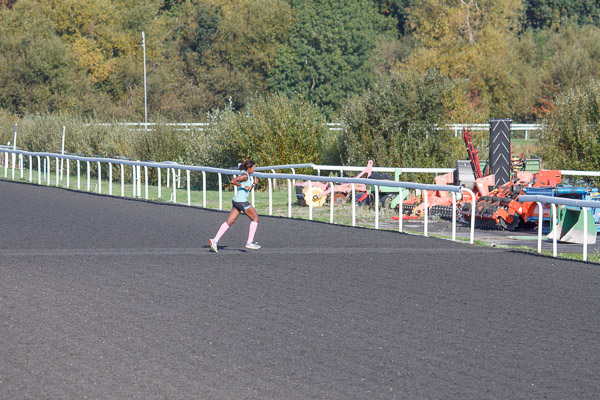 More mud, more machinery. We are definitely struggling to see through the eyes of the person who wrote, "A beautiful, picturesque course" on the event website.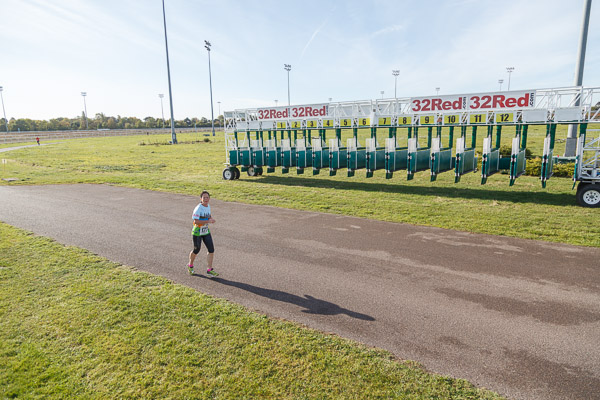 They should have started the runners from this device!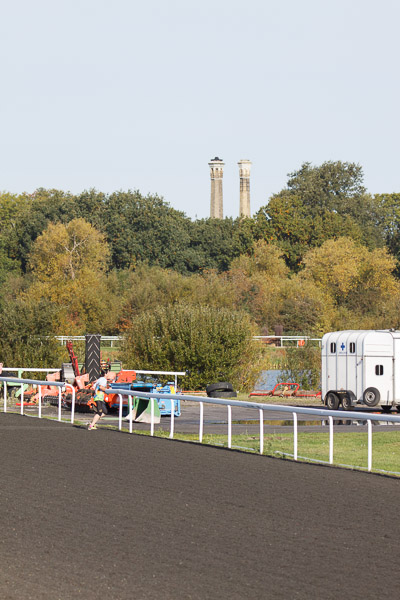 The towers in the distance are chimneys from the old water pumping station which is now the Kempton Steam Museum. We visited it almost exactly a year ago, and would wholeheartedly recommend it. As Amanda will tell you, you don't have to be a techy nerd to be impressed by the sheer size of the steam engine (your house is probably smaller!), or just to admire the shininess of the brasswork.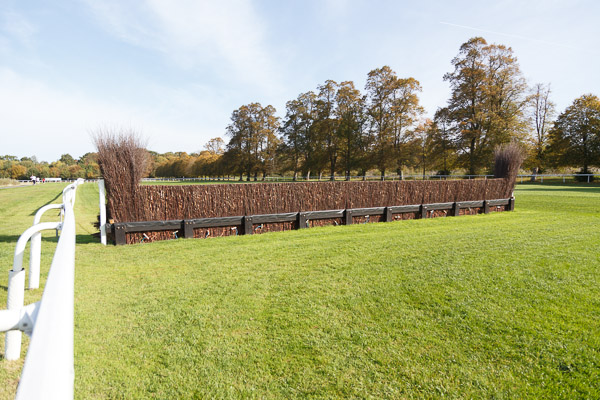 Ah, something for the horses to jump, and some nice green grass.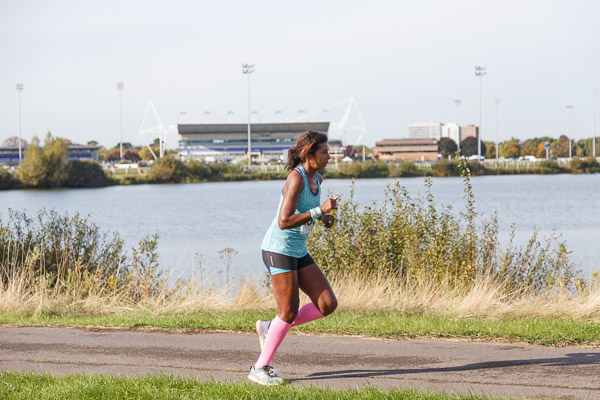 And the beautiful lake.

To be fair, this probably isn't its best angle.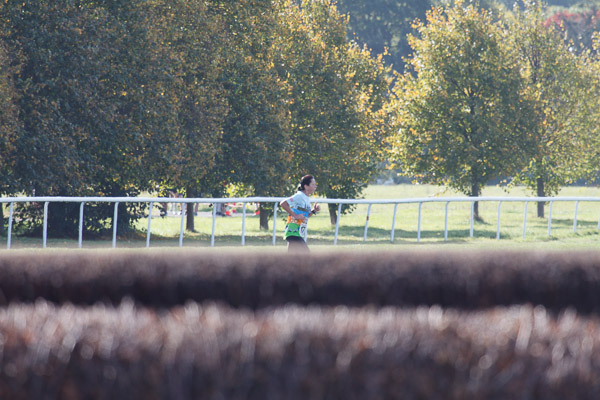 Amanda appears behind the jump fences. She's just come out from the wilderness, or at least a place where there's a few trees.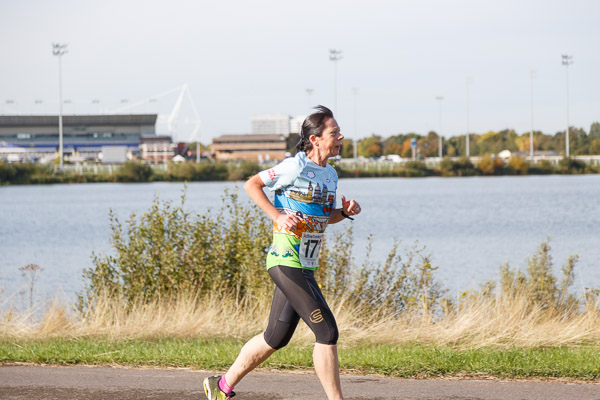 She'll ask me a bit later if I've seen the lake. "Yes, I photographed you running past it!"

Hmm... I guess you don't see it if you're concentrating on running and looking straight ahead.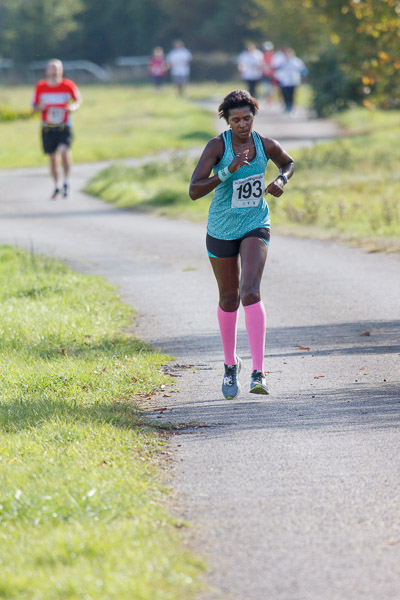 Third lap, and Pat's not really enjoying it. She's slowed down a bit and is suffering psychologically from the repetitive course, lacklustre marshalling and a lack of general bonhomie among the runners.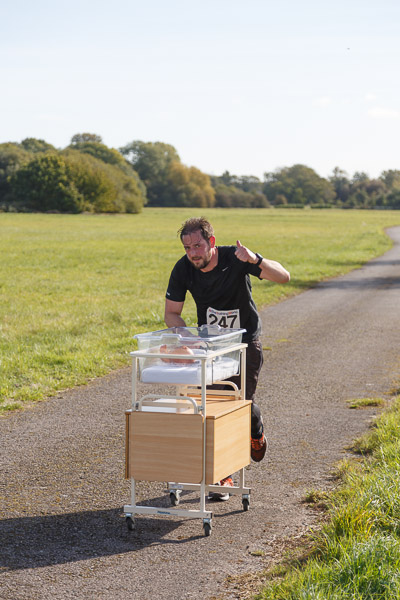 Mind, Mr Incubator looks like he's really struggling.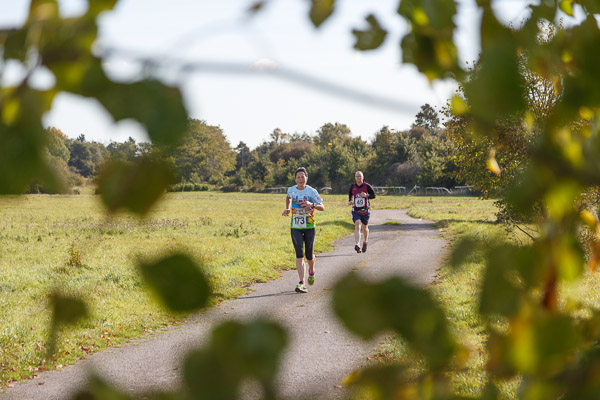 The camera isn't actually lying here, but it is, shall we say, "accentuating the positive". This is about the furthest point of the route from the start, and it's a little more interesting than running around the empty fields.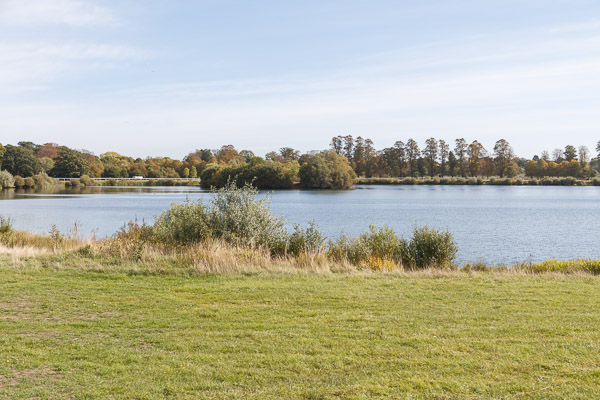 And here's what the lake looks like from the other side without the grandstand in the background. This is not an angle that runners see it from, at least not unless they leave the race route and climb on some more of the idle machinery we saw earlier.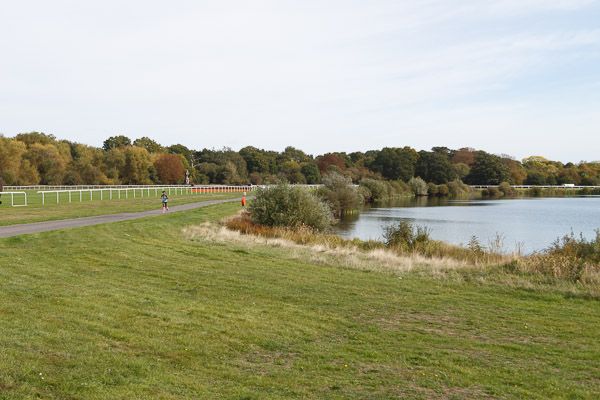 Pat comes around for the last time. The lake isn't really something that you're going to notice when running.



This is one of the other marshals who manages to show some enthusiasm.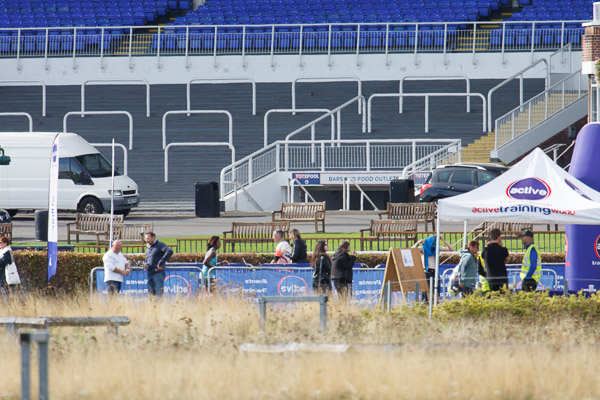 Pat finishes as I'm still making my way to the line, but I see her in time to get a few long shots.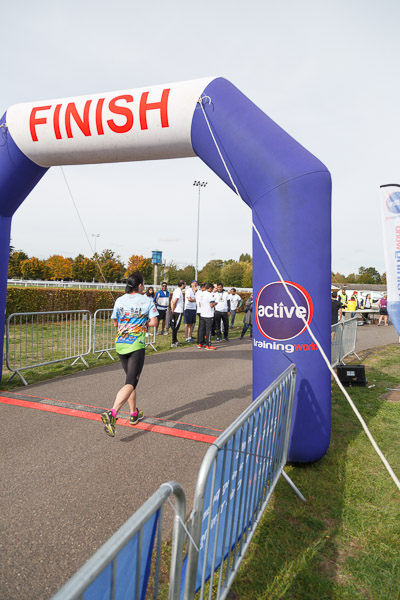 And here's Amanda now.

Time for a good bitch about the most boring race ever!

And then I go to the van to buy some coffees. "Two americanos and one cappucino, please", I request of the friendly barista, as one does. "We've got tea or coffee" comes the surly reply! Ok, three Nescafes, one with a bit of milk, it is. Are we really still in Surrey?!

Oh, and you know I mentioned that bit about "everybody should get a PB" earlier? Not on your proverbial! The course may be flat but it's not fast, whether because of all the twists and turns or just because it's hard to maintain pace and enthusiasm.



Still, a bit of a moan and a Portuguese custard tart apiece soon restores the spirits!

No, the pastéis de nata didn't come from the van!

The other day, Amanda presents me with this recipe she's found online and 'suggests' that I make it for our friend Hilary who's a bit of a custard-loving woman... Turns out the recipe quantity makes way too many for our requirements, so it's a tray for Hilary to take home, a tray for my office, and still we have enough left to take some to parkrun yesterday and here today.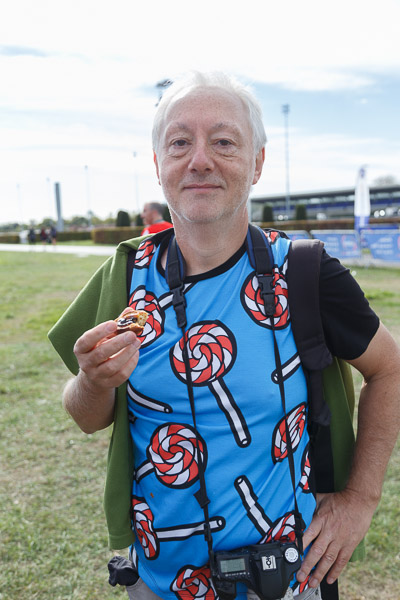 One last one for me.

We will not be rushing to sign up for this race again, but at least it's been decent weather and we've caught up on a bit of gossip. And to be fair, the medal is a good one, although it does contain a small technical error. They have engraved "104.89 furlongs" on it, but the exact official marathon distance is 42.195 km and that makes a half work out to a tiny fraction over 104.875 f, or 104.88 to two decimal places. The difference is about three metres, but you know, the principle and all that...

Anyway, next week, we shift gears (literally) and are off cycling the Gridiron 100 in the New Forest. The forecast is presently looking decent, but we all know what weather forecasting in UK is like. Wish us luck!

Love to all,

Steve.