Ok, Amanda's done her first triathlon, but before the biggie - Leeds Castle - she wants another practice run. There's an organisation called "IntoTri" whose aim is more or less to offer the parkrun experience in triathlon form, and they have a free event starting from the Walton Leisure Centre that she's signed up to do.

When I say "free", it's free per-event, but you are expected to buy a timing chip kit for £15 as a one-off. Strictly speaking, you don't have to, but I get the definite impression it would be unusual.

So Amanda's bought her kit - or at least paid for it - online, and expects to pick it up at registration.

Pity registration have never heard of her :-(((

They look at the printout of the email she shows them and agree that, yes, it does say that she's bought her kit and signed up to this event, but there have been a few glitches with the system and it looks like she's one of them, sorry. She can take part, but they don't have a timing chip for her, so... err.. sorry.

But then it turns out that the timing system isn't working anyway!

They've got some potential stars of the future to lead the way, but as they complete their swim they don't move into transition but get told to wait a bit. And wait a bit more. And more. They wont have to dry themselves at this rate. Eventually the Chinese Whisper Tannoy provides the story/rumour that the timing system is completely <ahem> and nobody knows why or how, let alone how to fix it.

Eventually it's decided  - as much by the competitors as the organisers - that they'll just get on with it and do without the timing. They'll manually take start times so it should be possible to get overall figures at the end if nothing else.

But some competitors have come with their own technical support team: I can take pictures of Amanda at appropriate points and work out the detailed splits from the timestamps.

So, let's begin...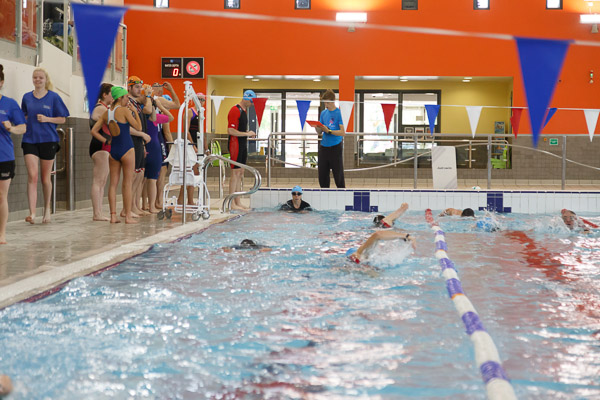 Swim start.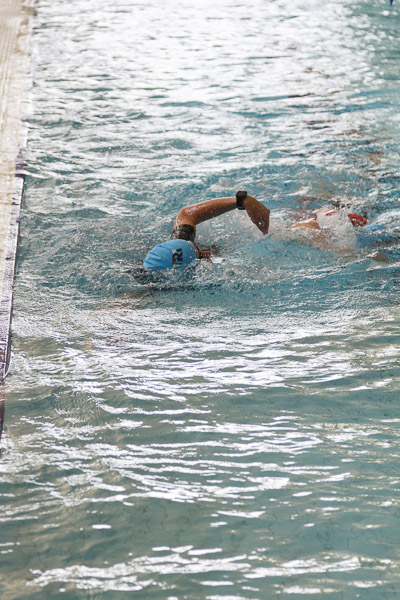 Is she rotating too much? What would Barbara say?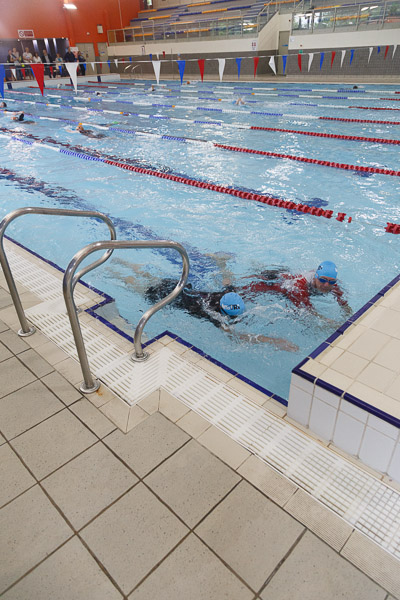 Swim end.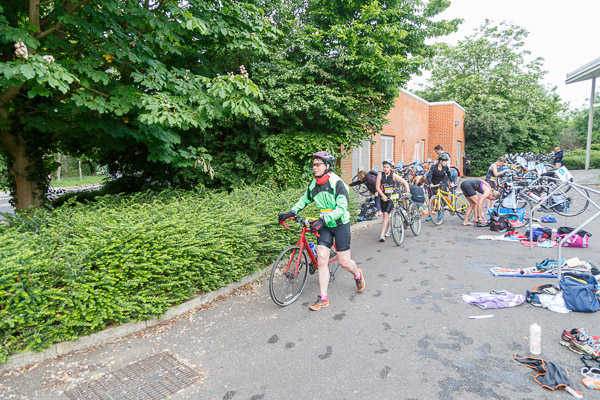 Out of T1.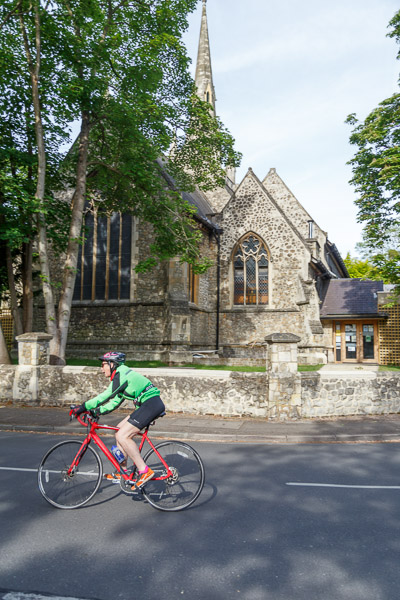 This is the scenic bit of the bike ride. It is not representative.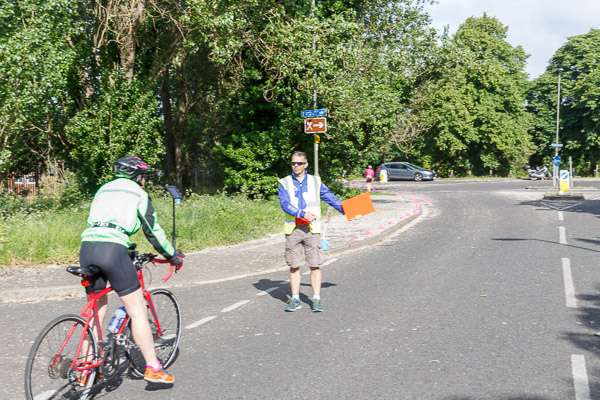 Strictly speaking, T2 begins after you leave the road, but Amanda is unsure and dismounts a bit early.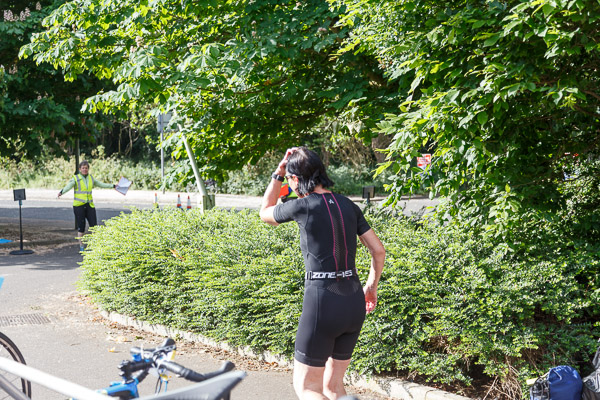 Out of T2 and into the run.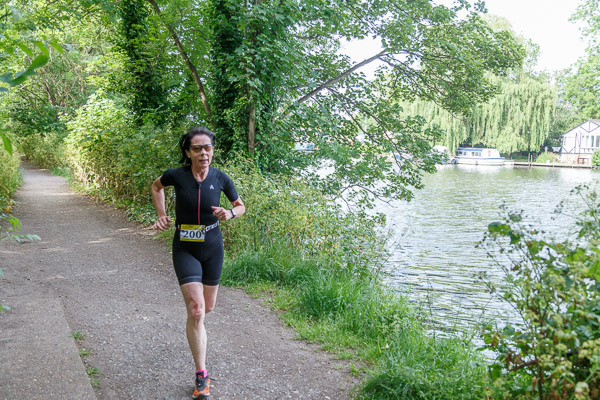 Running is obviously Amanda's strongest discipline at the moment, and she's now overtaken people she couldn't get past on the bike.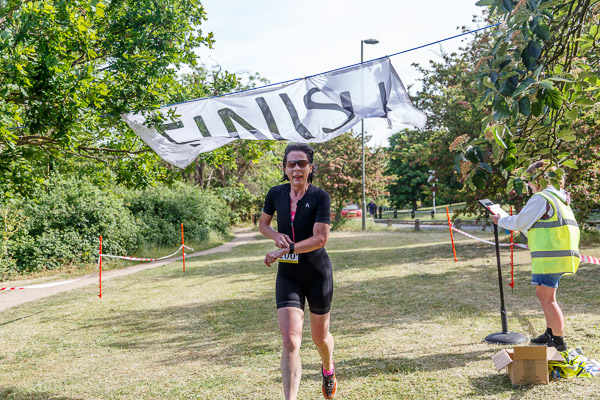 And we're done.

Official timings: <ahem> knows.

"It's ok, I brought my own" timings:

swim start:   07:53:36    swim:     9:51
swim end:     08:03:27    T1:       3:03
bike start:   08:06:30    bike:    41:02
bike end:     08:47:32    T2:       1:21
run start:    08:48:53    run:     25:57
run end:      09:14:50    total: 1:21:14


Of course, as I write this now (a bit late...), we've just seen the ITU Leeds triathlon completed in about 25 minutes by people whose wetsuits fly off by magic, whose bikes are clearly nuclear powered, and who run in seven-league boots! It's unfortunate that Leeds [Castle] is going to have some serious top tri-ers, because Amanda's going to think, "Oh god, I'm so pathetic compared to Olympic champions" rather than "Hey, I'm ahead of all the other middle-aged matrons who've never done an Olympic tri before!".

On a related note, we went to Shepperton on Wednesday, and Amanda did her first ever open-water swim in a wetsuit. While she was doing that, I got chatting to Emma who was in charge, and she told me that the mere fact of practicing would put Amanda ahead of a lot of first-time Leeds entrants. I was a bit flabbergasted, to say the least - people really start a serious competitive event without ever having done the specific discipline in training?!

But no, maybe I shouldn't be so surprised. As the saying goes, nobody ever went bust underestimating the public.

Thank goodness you are all not the public!

Love to all,

Steve