Now you all know that Leeds Castle is actually in Kent, and now so does the guy I overheard admitting his embarrassment at asking his friend if he couldn't find an event nearer to home than Leeds...

Well here we are, at Leeds in Kent, for the big triathlon event that Amanda's been working up to. The Sevenoaks sprint tri back in April was her first ever, then she did a little local event for a bit more practice, but this is the real full-fat Olympic jobbie. Ooh err...

It's not just the greater distances, it's her first ever open-water event too, and although she's been practicing in the lake at Shepperton Open Swim three times now, it's still a big unknown.

Just as with Sevenoaks, it starts at a ridiculous hour of the morning, so we're staying locally. Very locally: in the castle grounds themselves!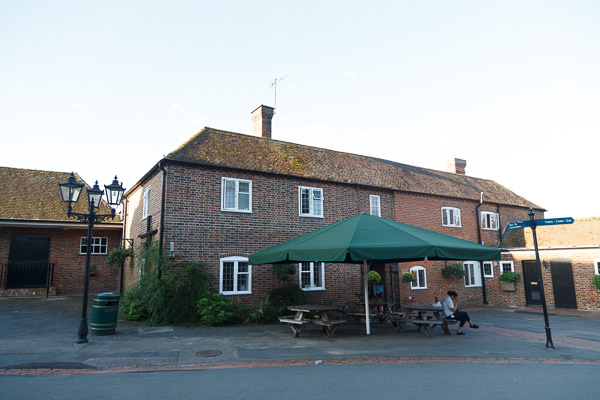 This is the old stable yard, part of which has been converted to B&B accommodation.

The rooms are all named after famous people who've stayed at the castle, and we're in 'Flynn', as in Errol. It's the upper left pair of windows here, barely a minute's walk from the castle proper, although it's a lot further than that to registration at the main road entrance on the other side of the estate. Good job Amanda's got a bike.

I've brought mine too, but after thinking about the logistics, have decided it's not going to be of any practical value: within the grounds walking is going to be easier, and outside it's pointless because I'd never be able to get ahead of Amanda. The bike stage is basically a straight run down the A20 and back again, so there's no opportunity for any short cuts, and beating her in a straight line is so not going to happen!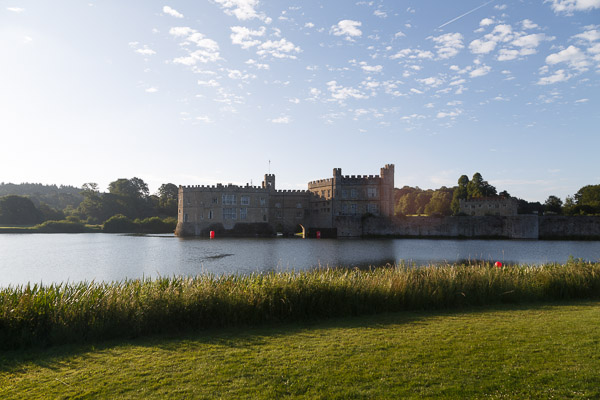 So I just walk down to the race start area, taking a few atmospheric pictures. They'll be swimming the moat here soon.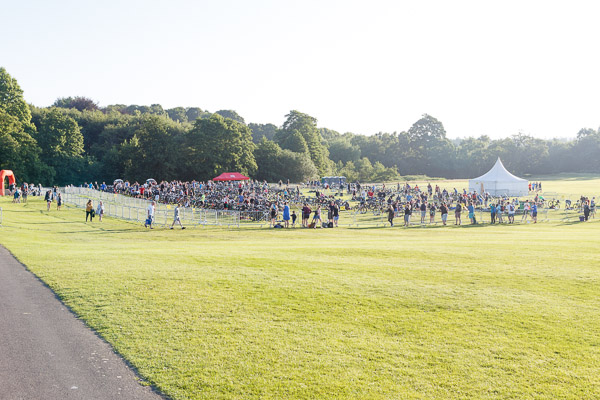 Transition is a buzz of activity. I look around for Amanda, but can't see her. Then my phone rings: she's in a huge long queue for registration half a mile away. She's still back in plenty of time, but is panicking because as best I can tell she's been given some duff gen. At registration, apparently they told her she was running late and only had five minutes to get ready, but that's only true for the first group, waves A and B. Amanda is in wave D starting half an hour later.

I do my best Michael Caine "Calm down, dear", which works about as well as you might expect.

Of course, she's fine for time. The first group are still in their pre-race briefing, not even lined up to start.

Oh, just to add a bit more confusion, after yesterday's baking heat, the moat temperature has reached 25C and wetsuits have been forbidden at the last moment. On the one hand it's a bit frustrating that she's been practicing wetsuit swimming for nothing, but on the other, she was expecting a pretty terrible T1 struggling to get the thing off. Watching the experts do it is a bit like watching a Houdini trick.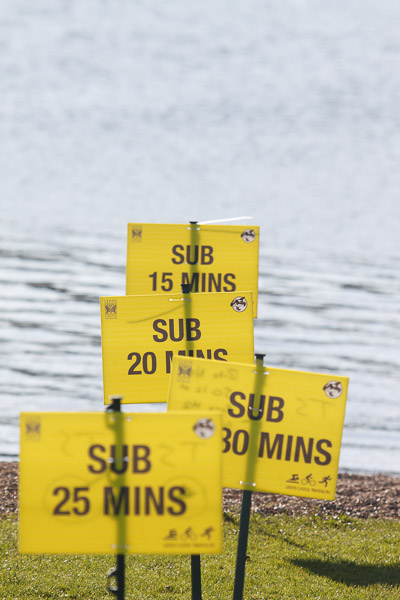 Hmm... Given that 17 minutes is Olympic gold medal standard, I suspect these signs are not quite what they appear to be! Maybe they're times for one lap. Amanda's best time for two loops at Shepperton is about 40 minutes, so half of that would fit quite well.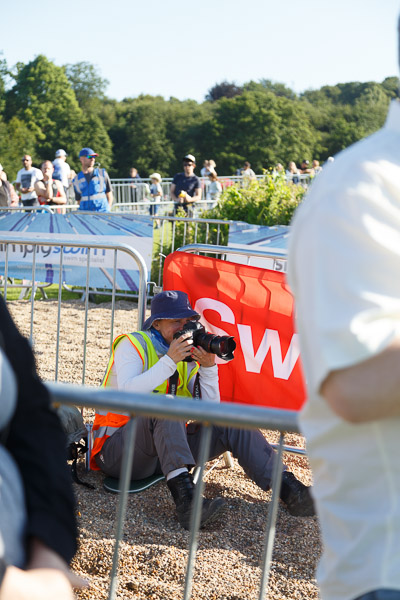 I go down to the side of the lake near the entry/exit point and there's Sally, busily snapping the leaders of wave A as they emerge.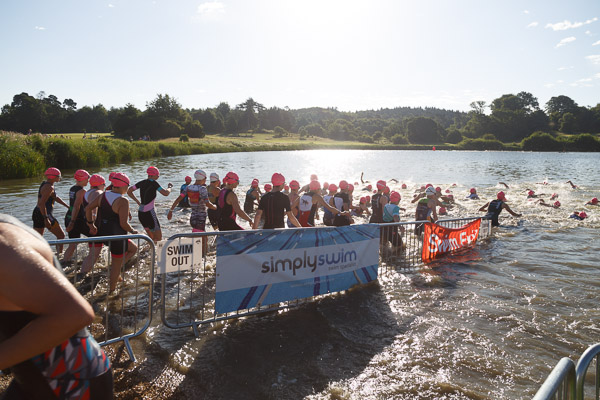 Wave D - it's the pink ladies!

The wave allocations seem a bit odd, although we're told somewhere that it's according to official rules relating to age and gender. No doubt I could look them up, but instead I'll see if I can reverse-engineer them. It appears that you do something like the following: take the men below some age limit and arrange them in alphabetical order by surname. Draw a line half way down and that's waves A and B. Then take the younger women and that's wave C. The older women are wave D; then E and F are the older men.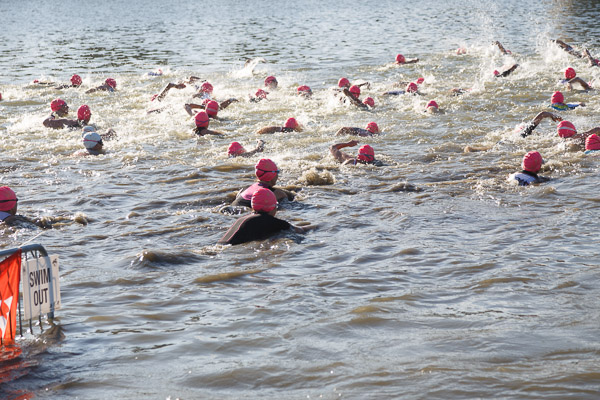 And Amanda's off. She's the figure nearest to us in the picture, although you could be forgiven for not knowing without being told. I've been wondering whether it will even be possible to get pictures of her in the swim stage, because there are nearly 80 people all mostly submerged apart from their identical pink caps. We'll find out now.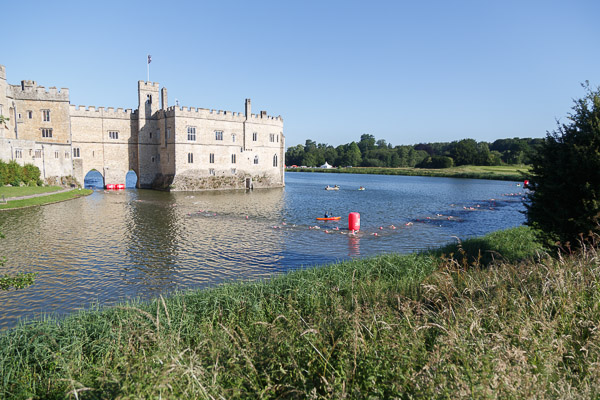 Here they are about halfway through the first lap, on the other side of the castle. After passing the buoy, they will swim back through the arches.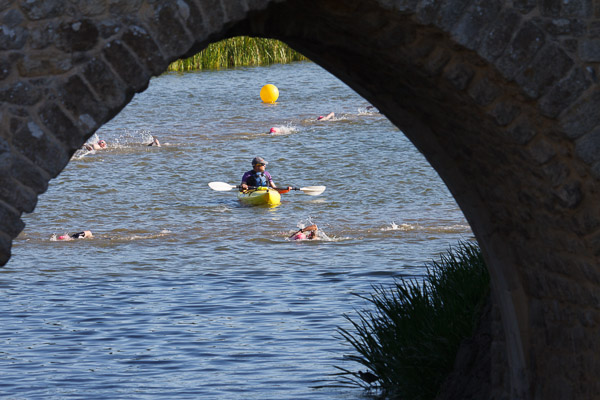 This is a different arch to the ones in the previous picture, and they don't swim through it, but it provides quite a nice framing view. And pleasingly, I have been able to spot Amanda in the water: that's her now. It's not easy, but people have enough variety in accessories and clothing that they can be distinguished. I would expect that with greater experience, I should be able to recognise her just by the way she moves, which is certainly the case with her running.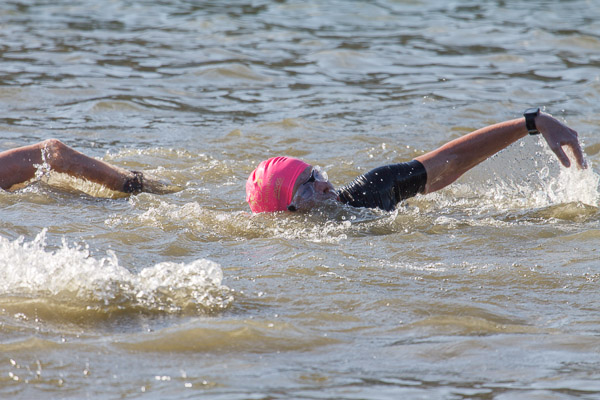 See, there she is!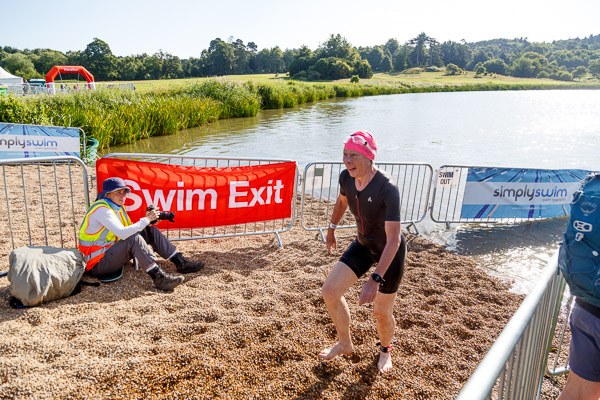 A quick hello to Sally and she's off to T1.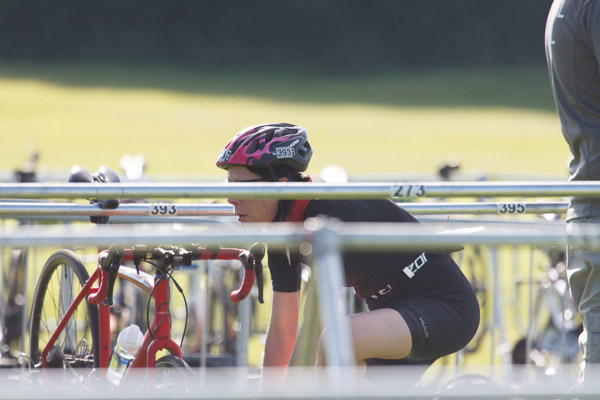 I'm not allowed into the transition area, of course, so it's a good job I've got a long lens.

She'll later tell me that she initially ran down the wrong aisle, but realised her mistake quickly enough, and a marshall congratulated her on recovering a lot faster than many of the others who'd done the same previously.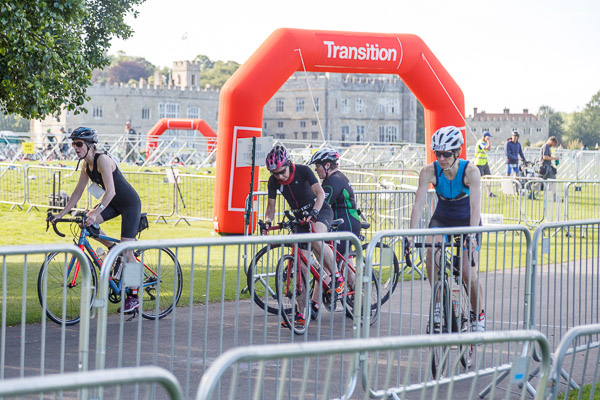 And the bike stage commences.

As I mentioned earlier, the stage is mostly outside the castle, on the glorious [FSVO glorious] A20. One possibility is that I can take the car to a couple of points along the road, but the normal gate for B&B guests is closed for the morning. There's supposedly an alternative way out, but I think it's temporarily blocked by a parked truck, or maybe I've missed a sign somewhere. In all honesty, I probably don't try as hard as I could do, because when we did the recce the other week, there didn't seem to be much if anything in the way of good photogenic places. Later we'll find that SSP have nobody out on the road either, whereas they did for Sevenoaks.

It's not long after Amanda leaves that the leaders of wave A are coming in. I won't be able to do this with Amanda herself, so I'll dragoon some unsuspecting strangers into starring in a little tale of the bike return...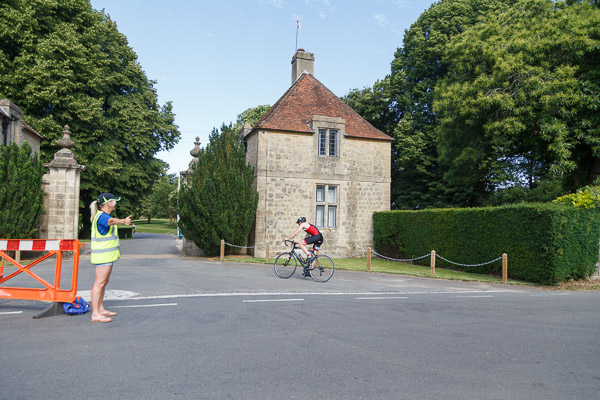 This is the entrance I can't use with the car for now. The riders leave the A20 and come down the road from the right and then head back into the grounds.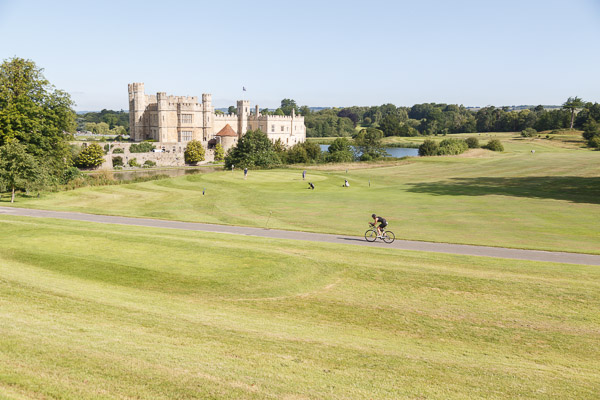 They pass through the golf course with a view of the castle.

Just a little further on, they'll get snapped by SSP with the castle behind them.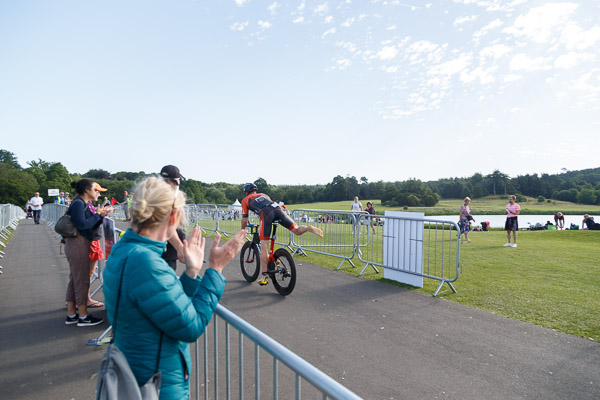 Past the castle and it's off the bike and into T2.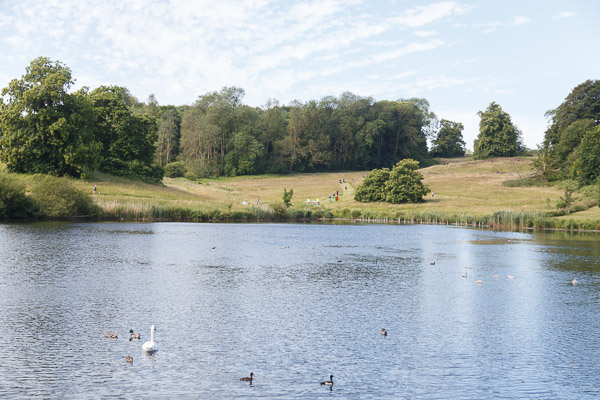 While I'm waiting for Amanda, if I turn and face away from the castle, you can see part of the run route across the lake. There's a fair bit of hill work to be done, although it's hardly in the Trionium league.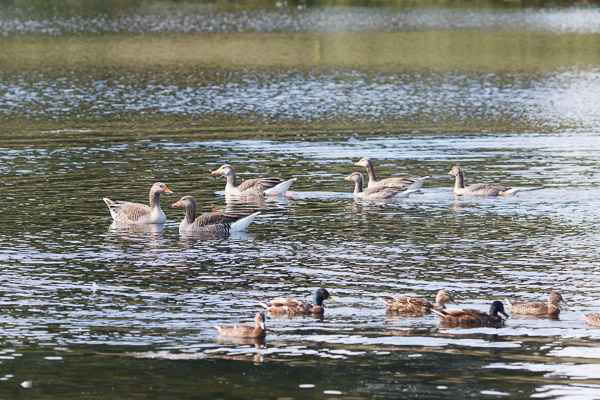 The ducks don't look very impressed.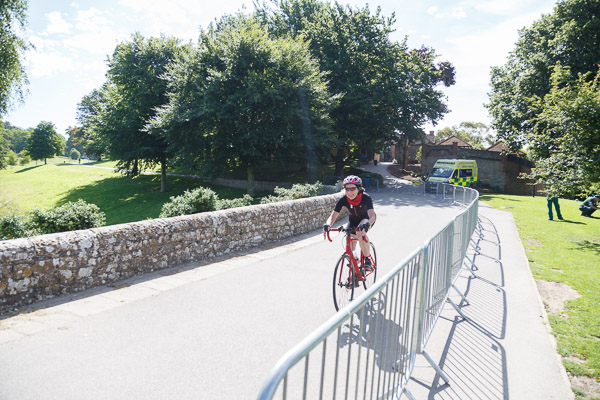 She's early! I'm thinking that based on her estimate from the recce, I should be getting ready for her quite soon now, but not actually now now. From this spot, if you look just to the left of the trees, there's a clear line of sight all the way back to the gate, and I'd expected to catch her in the far distance first. She, on the other hand, saw me from way back.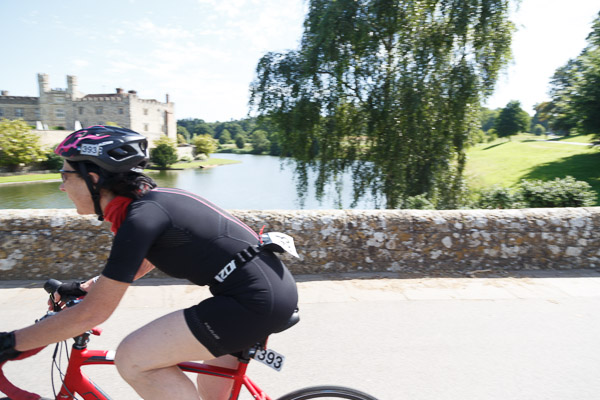 Whoosh! No point me even trying to get back to T2 in time, so I'll go straight out onto the run course and meet her there.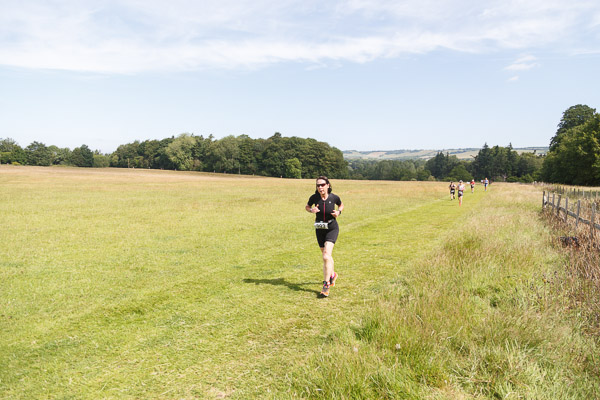 This field is probably about the highest point on the course, and you can see some rolling Kent countryside in the background.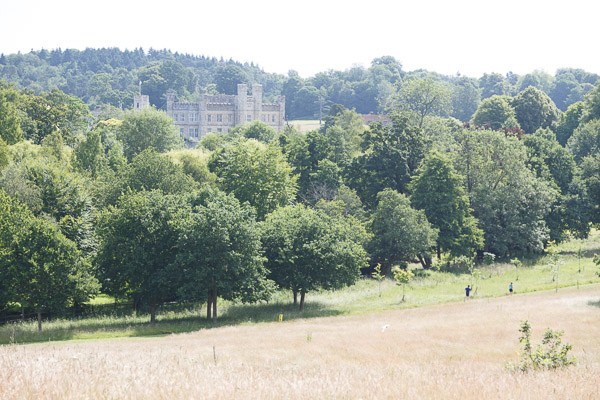 From here there's a fine view of the castle beyond the trees, which the runners down below don't get. There's only one part of the lower trail where the trees leave enough of a gap to see through, but even then it's brief and semi-obscured.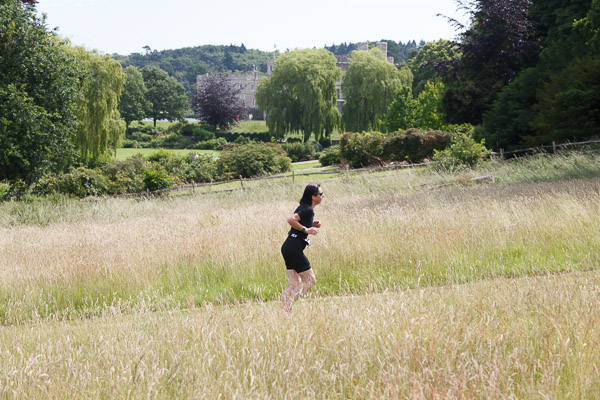 Here, to be precise.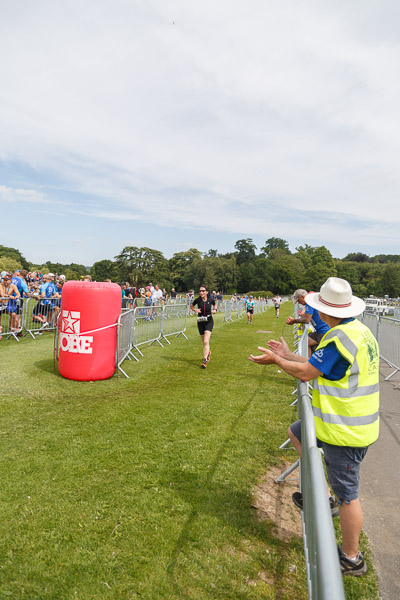 So as Amanda comes in to the final turn before the finish line, you'd think she'd notice the man in the bright red shirt pointing a camera at her and shouting "Well done, Darling!" Well wouldn't you? But no: there's an SSP guy just to my left and she notices him, but somehow she misses me, and then when she doesn't see me round the corner - because I'm running round from this spot myself - she's almost ready to burst into tears at being abandoned!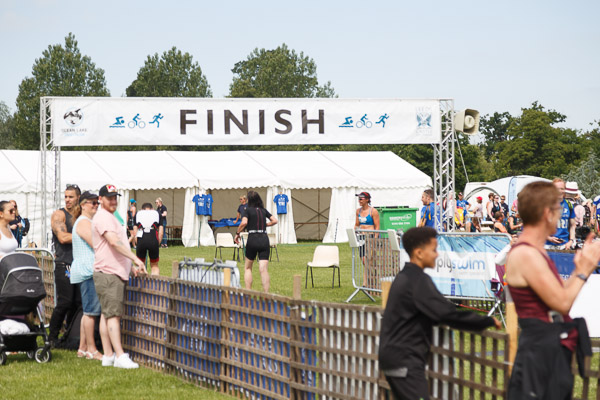 See, I'm right behind taking a picture of you crossing the line!

But all's well that ends well, of course, and this has ended extremely well. The timing system is rather efficient (intoTri take note!), so she's handed a personal printout as she leaves the finish area and it's rather pleasing: two minutes off her previous best 1.5k swim time; ten minutes off her time from the test ride last week; and a 57 minute hilly trail 10k after all that is hardly shabby!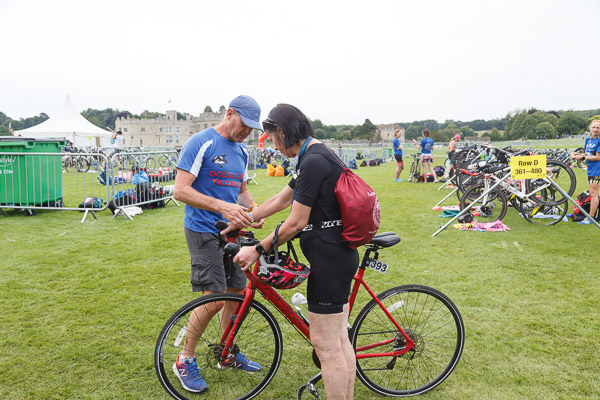 They're polite but thorough in checking that all your bits have the right numbers on before you can leave. But that field must have had a good million quid's worth of bike parked up, if not more, so it's understandable that they don't just let anybody walk out with anything.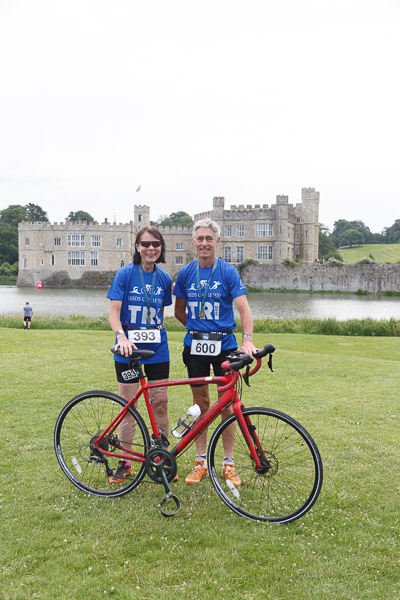 Mark is a fellow member of the Stragglers Tri group, and Amanda is slightly in awe of his performance in the pool, but it turns out she's actually beaten his swim time! And when he picks up her bike, he's stunned by how well she's done carrying so much weight. Even stripped down from its normal shopping trolley mode, it has no pretensions to being a true racing bike.

We go back to the castle restaurant to get some lunch, and after eating Amanda nips into the loo to get changed. While she's there, the waitress comes to clear our table, and conversationally asks about our plans for the rest of the day. I say that basically we're going home, as Amanda's just done the triathlon. Oh, she says, is that what they were up to down there earlier? Yes - they don't tell you anything about it? To my surprise, that's the case; nobody's even mentioned it. So I explain what they've all been up to, and she is suitably impressed.

But before we do leave, we're going to check out the maze. It's bigger and more difficult than Hampton Court, but the central point is raised up sufficiently that you can see the maze pattern and give directions to otherwise lost members of your party.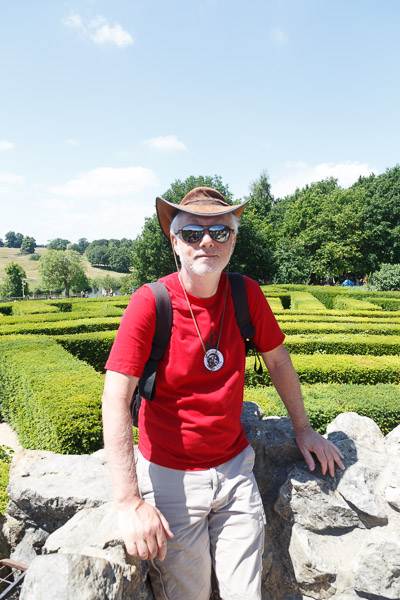 You can't see the castle from here, so I shall just pose against the maze itself.

And now we shall go home and raise a celebratory glass of fizz. Perhaps two. More? Ooh, my arm!

I fear we may be at the top of a new slippery slope...

It seems that almost any castle worth its portcullis has a triathlon, and we do rather like castles. And there's one at Chantilly in France, which might make a nice contrast with the Marathon du Médoc.

And if we're going to take this seriously, then a serious bike is going to be needed.

OMG!!! Watch this space.

Love to all,

Steve.