No, not the Rocky Horror show, that's another story [and it will indeed be another story: there's a little teaser for those who don't know what I'm talking about]. No, this is more transporting ourselves into the future from many decades ago.

Amanda and I both grew up in Beckenham: she was born there, my family moved there just before my fifth birthday. Naturally, we didn't actually meet until we'd both moved away, but then, of course, we realised we had a lot of back-story in common.

We've not been back much since the 80s, really. We used to visit my mother before she died, but that was a fair while ago now, and even then we didn't pay a huge amount of attention to the locality generally. In more recent years, Amanda's done a few Beckenham Trail 10k's, and even I've done a Beckenham parkrun, but we keep thinking we ought to give the old place more than just a glance as we drive through.

Now changing the subject completely - or so it would seem - the 2020 London Marathon was first postponed and then virtualised, but the organisers made it quite clear that this would still be classed as the real thing, and you'd get all the credit and goodies for finishing in the normal way.

This got Amanda thinking: Beckenham is in the London Borough of Bromley, That would make it the perfect place to run a Virtual London Marathon, but at a low-key pace, taking in what's changed and what hasn't since our youth. 26.2 miles is a bit much without going round in circles, though, so the route expanded to begin in Beckenham but then continue through Sydenham, Crystal Palace and Dulwich, all of which featured in our early lives too. We'd end up in Dulwich Park, hopefully to meet up with Claire and complete the distance with a few final laps.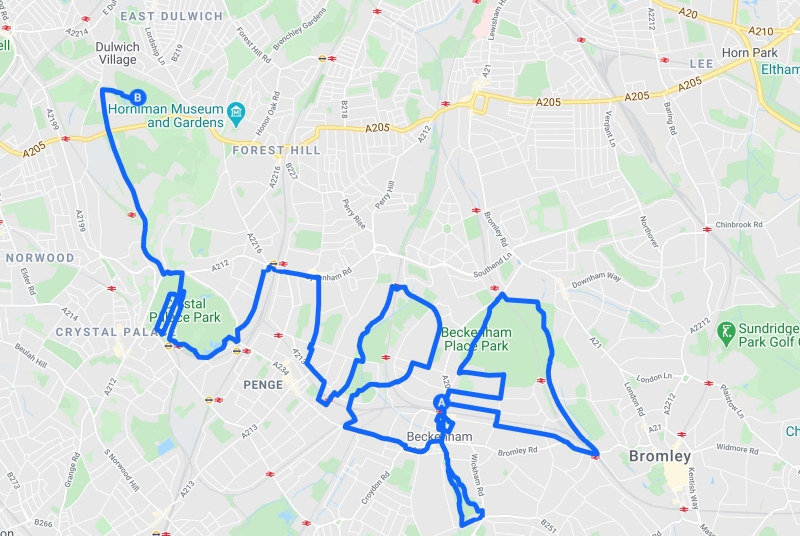 This is the route we planned in Google Maps.

It's about 28km as drawn, suggesting we need about 14km in the park, but Amanda thinks that's too much running in circles at the end, so we'll modify it slightly as we go to try and get a few more km in the bag. (In our Beckenham days, of course, that would have been about 17.5 and 8.7 miles or so. Probably still is!)

Logistically, we've been even more cunning. We're going to drive to the Beckenham Park Hotel (point A on the map), drop Amanda and overnight supplies, then I'll change into my cycling gear and drive to just outside Dulwich Park, where I'll leave the car and ride back to the hotel. Then we can set off in the morning with Amanda running and me cycling, knowing that we have food and dry clothes waiting for us at the end.

Right. Now you know the plan, let's begin the tale...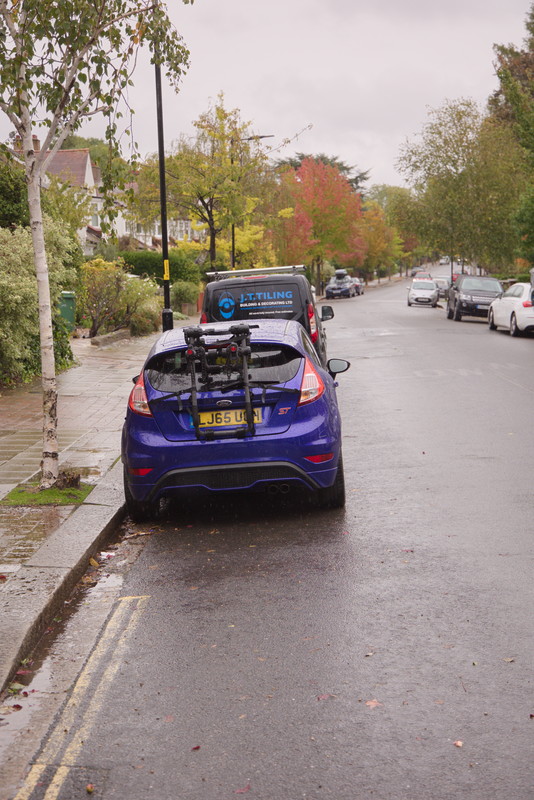 Court Lane, right opposite the Court Lane Gate entrance to the park. It would be hard to get any closer, and it's free. What more could we ask?

I suppose I could have asked for an easier drive to get here. The traffic was a total nightmare. It will now take me less than half the driving time to cycle back to the hotel!

I've pre-made dinner that we can eat cold in our room: lobster in a cauliflower, almond and sesame sauce, with coconut and saffron rice and steamed broccoli florets. A little simple something, as one does. Amanda thinks it should be suitable race fuel.

We have two Garmin watches prepped. The VLM smartphone app is loaded, but we aren't sure what to expect. The developers were beta-testing until Thursday and they've already issued an update since the first release. Anyone who's ever had anything to do with the software business knows how to translate this into words: "Let's light a candle to every saint we can think of and hope for the best!"

Until tomorrow, then...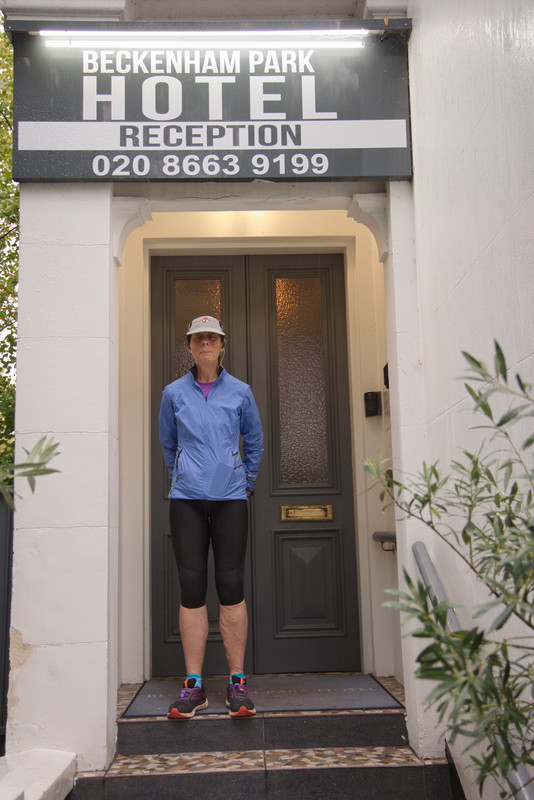 Ready to rock'n'roll!

Early rumblings on Facebook suggest that the app isn't a complete disaster, but there are some grumbles. We have backup, and backup for the backup; we're not taking any chances.

The weather is pretty yucky. Not monsoon rain, but the sort of constant grey shower that just feels like it can go on all day and probably will.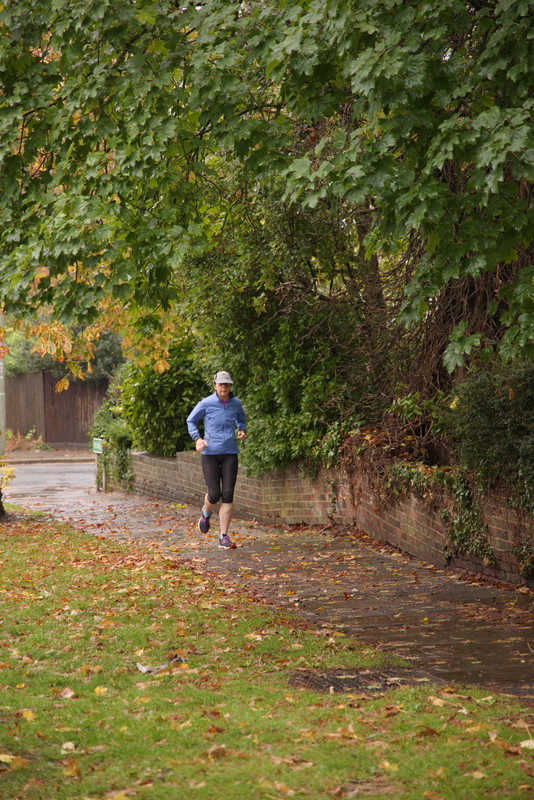 And she's off!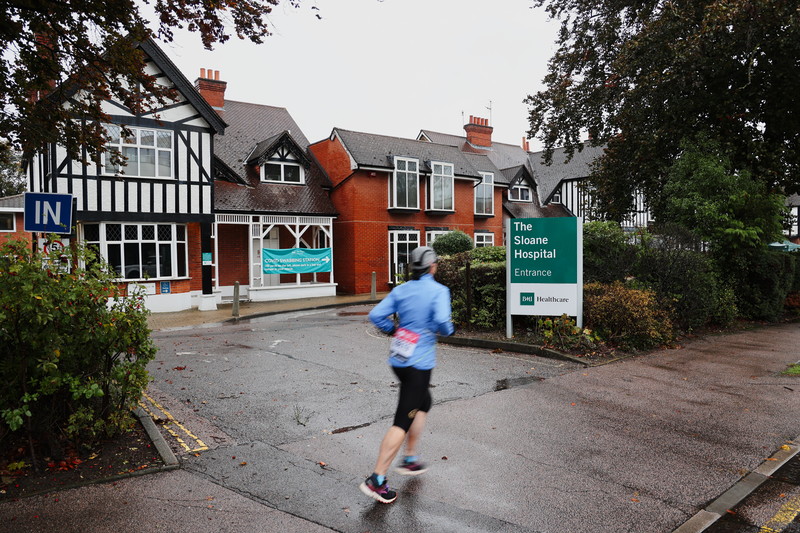 Back when my mother was a nurse here, this was just the Sloane Clinic and I don't remember it looking quite so smart. It's obviously gone up in the world since then.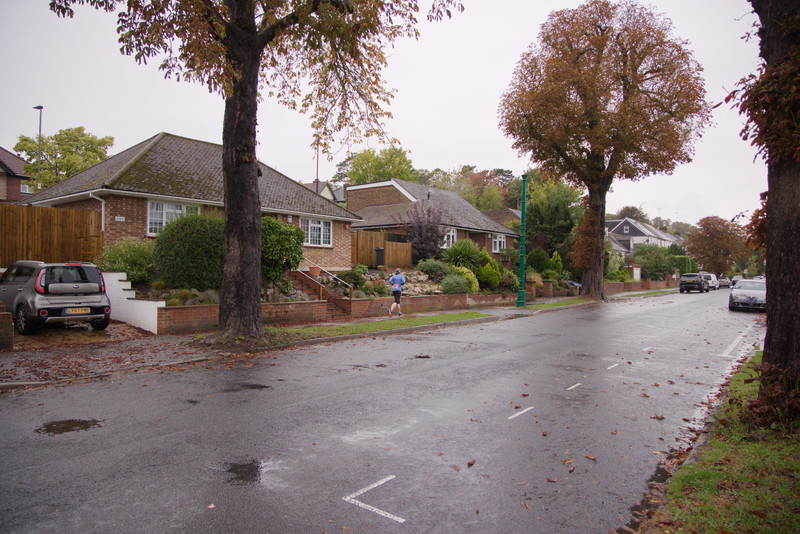 We're not sure exactly which of the houses along here is where Amanda's parents lived before they bought the house where she was born.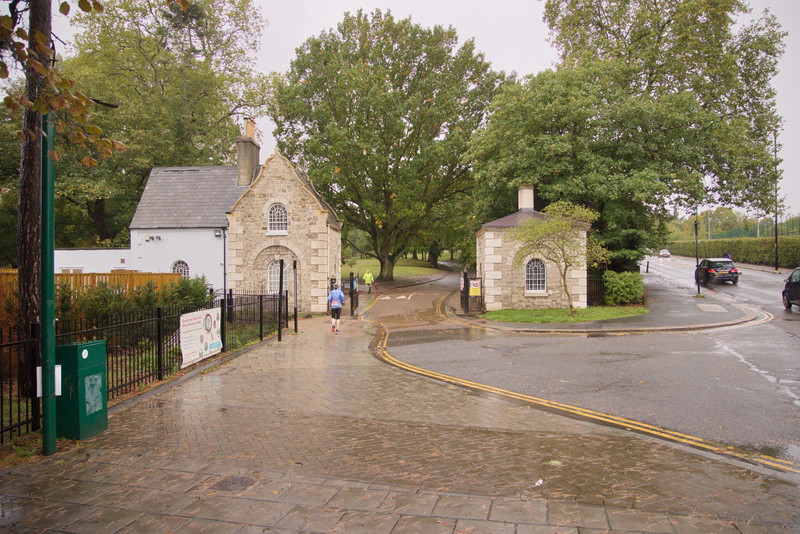 Beckenham Place Park has these rather fine gatehouses at each end of the road that leads to Beckenham Place itself.

The house was built by John Cator in the mid-1700s, who bought the lordship of the Manor of Beckenham and owned pretty much everything for miles. "Cator this", "Cator that", placenames still feature throughout the borough. In our day, there was a public golf course here, which was popular and well reputed (although neither of us ever had any interest), but since then it rather fell upon hard times and closed in 2017. However, Lewisham Council, despite being behind the closure in the first place, don't seem to have updated their web site: https://lewisham.gov.uk/organizations/beckenham-place-park-golf-course still informs us that, "Beckenham Place Park is now the home of one of England's largest and busiest public golf courses."

A lot of work has been put into regenerating the park, and it really deserves a closer look than we have time to give it. (And better weather too!)

Within the park, a woman walking her dog sees Amanda's race number and shouts encouragement to her. Nice of her, but we think nothing more of it as we pass by.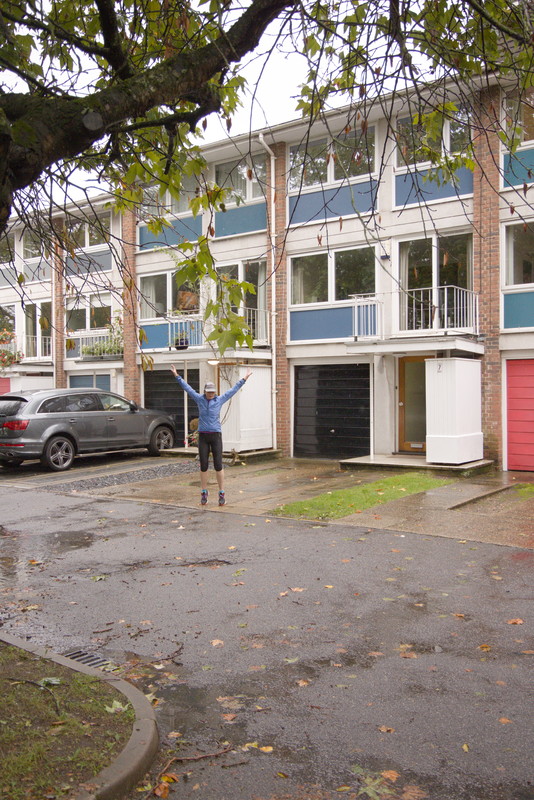 That's where Amanda was born!

This has featured in a couple of previous blogs too, because it's just across the road from Beckenham Tennis Club which is the race HQ for the Beckenham 10k.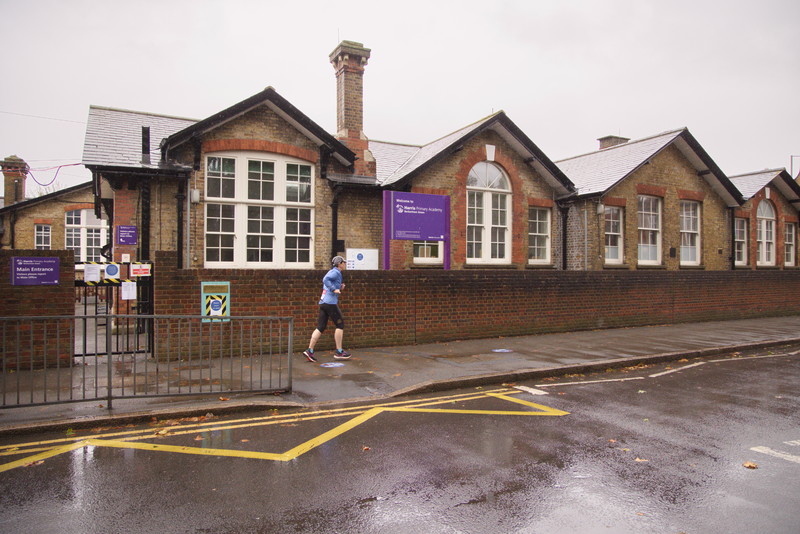 This is now a "Harris Primary Academy", which probably means something to modern parents, but it was St George's School when Amanda went there. Rather sadly, the adjacent former playing field is now a car park.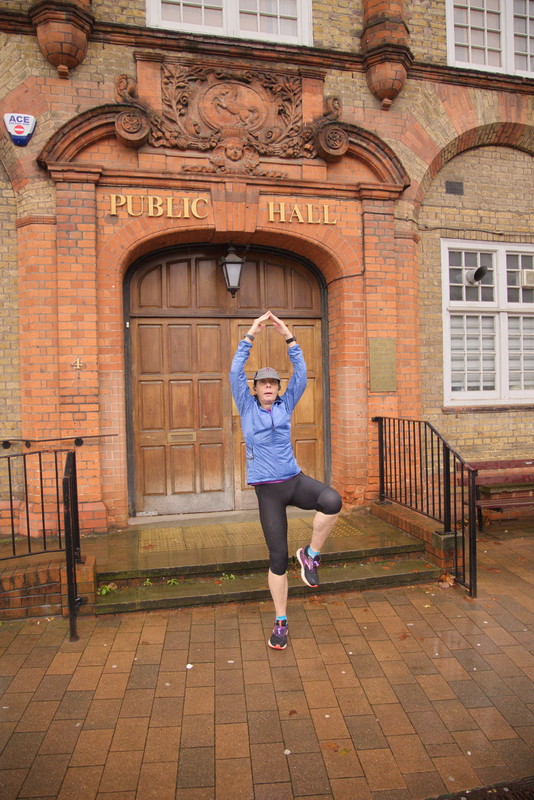 And here's where Amanda had her ballet lessons.

A bit of confusion here, because when we were planning the route, she said to include the Town Hall. This, however, is the Public Hall, but apparently "Town Hall" is what she remembers it being called. Strange, because Beckenham did have an actual Town Hall which was a completely different building. I remember it because that's where we had to go to the School Dentist. School Dentist? I imagine that's a service schoolchildren no longer receive.

I can't say I remember it at all fondly, but Emma, our rather less frightening dentist today, has remarked on how well the work I had done then has stood up over time.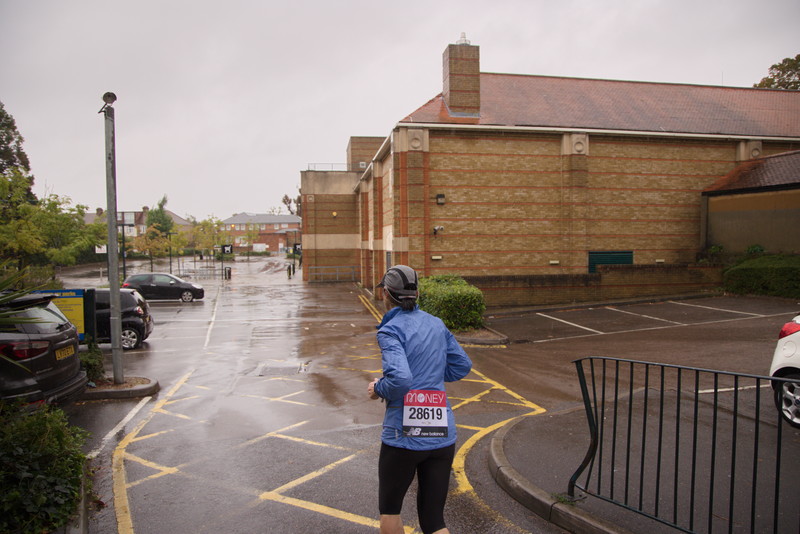 The old Town Hall itself has not stood the test of time, unfortunately. Built in 1932, it was the pride of Beckenham, but was demolished in the 90s to make way for a supermarket and its car park.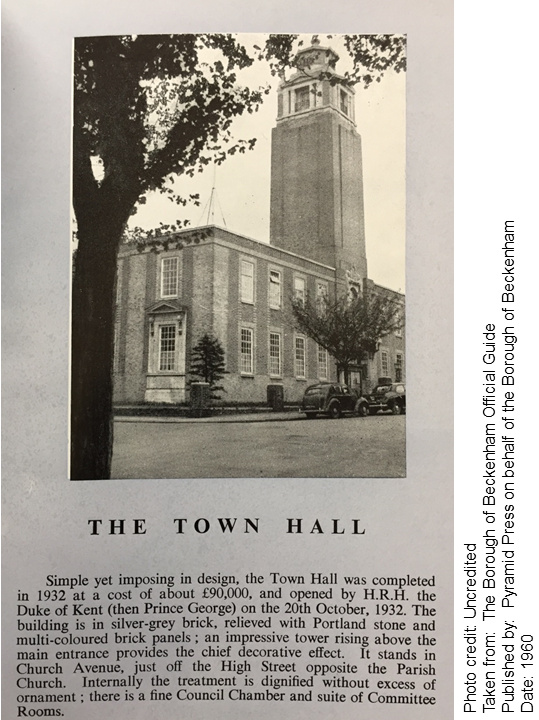 It used to look like that!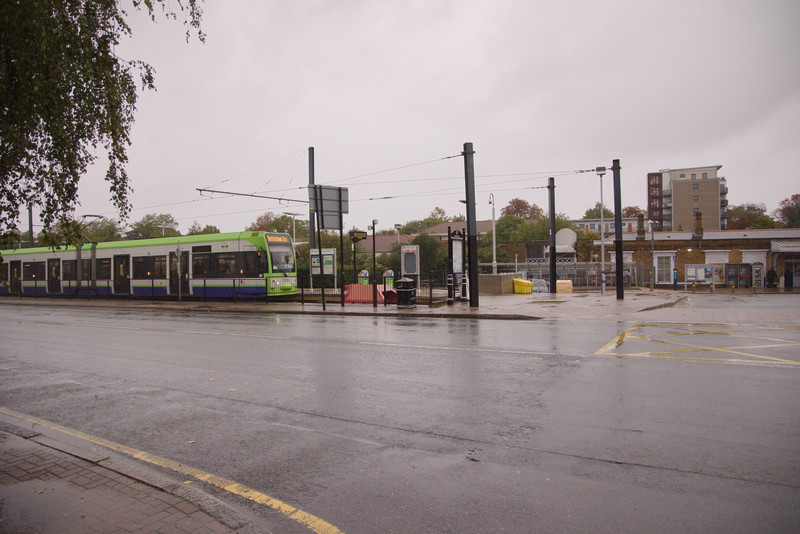 We didn't have those big green things, either.

Beckenham Junction was just a plain railway station before Croydon Tramlink was built. Neither of us have ever been on the service. I left Croydon well before construction started, although there'd been talk of it for a while.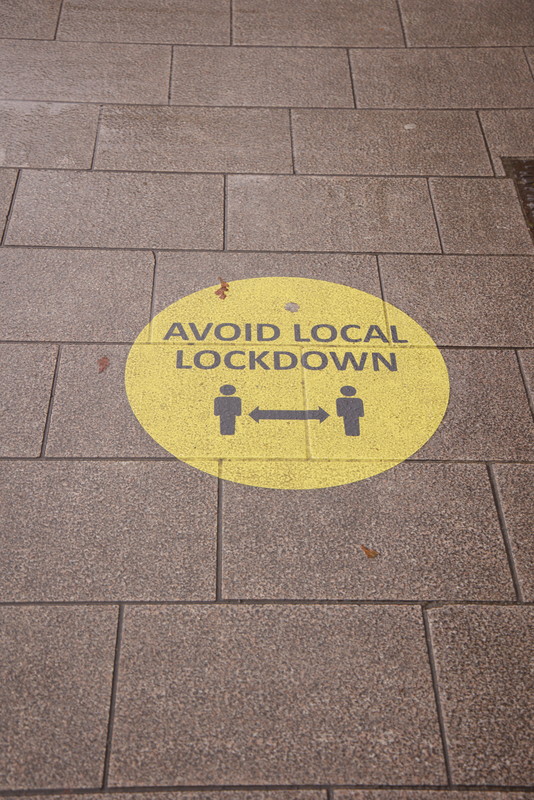 Something else we didn't have, but neither did anybody else. Just a year ago, that would have been pretty much unimaginable.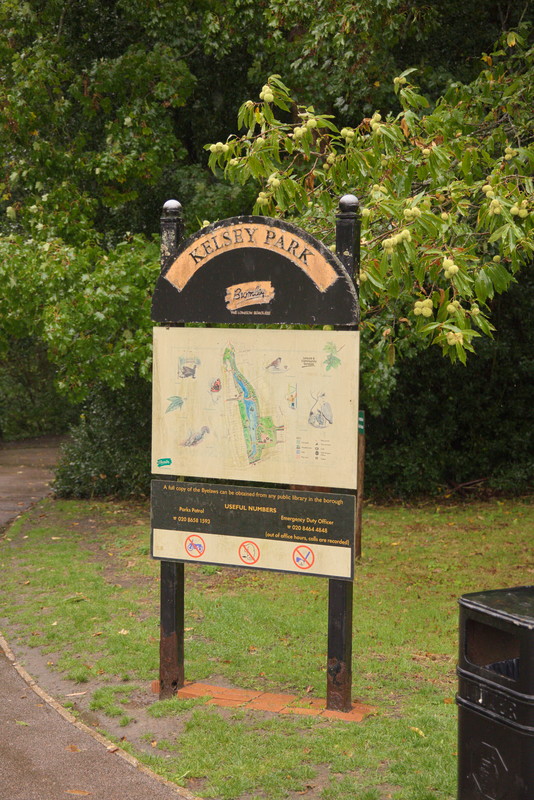 We leave the High Street area for Kelsey Park. We'll run through here, check out the Chinese Garage, then back round and repeat the loop to get a bit of extra distance over the Google plot.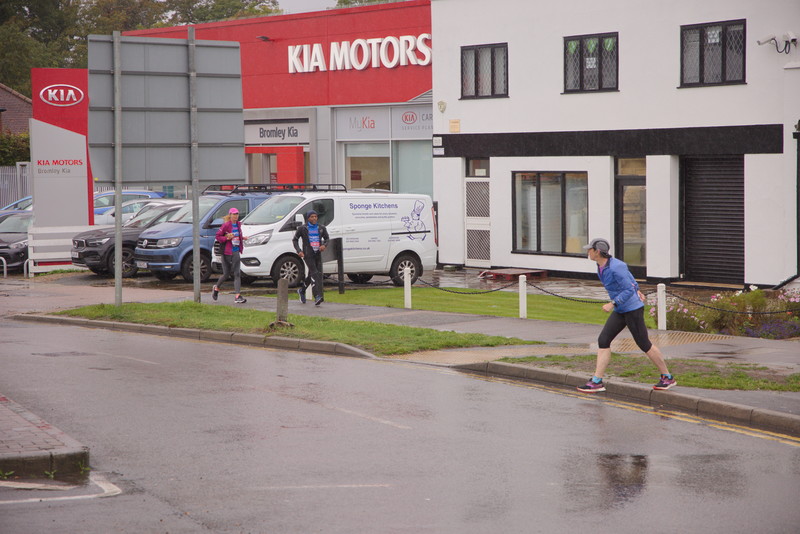 Look, more virtual London Marathon runners. There's definite smattering of them all over the place.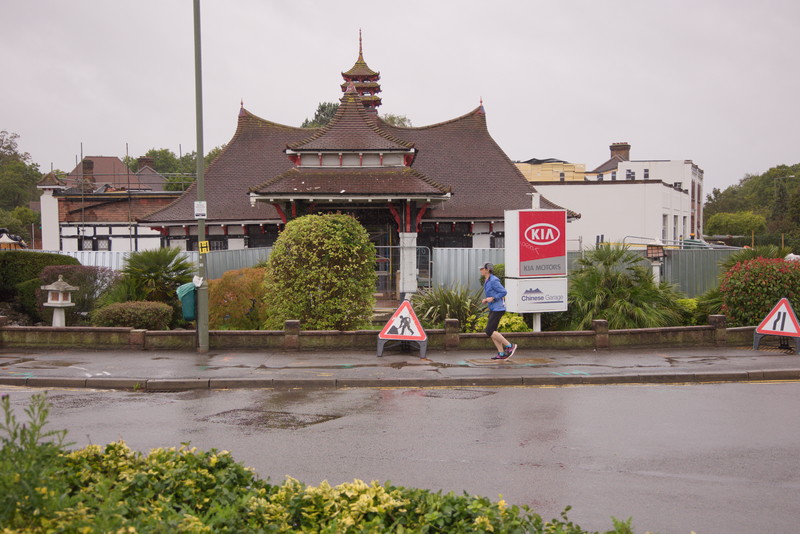 Also looking rather sad...

The Chinese Garage is so called because it was built in a Japanese style.

Look, it was 1928: nobody in Beckenham knew the difference!

It's Grade II listed, and in 2001 was voted "most unusual garage in England", or so Wikipedia tells us: https://en.wikipedia.org/wiki/Chinese_Garage The most recent news I can find is that in May last year, planning permission was granted to turn it into a Tesco Express, but it appears that any such project has rather fallen by the wayside, for now at least.

Right, back to the High Street again.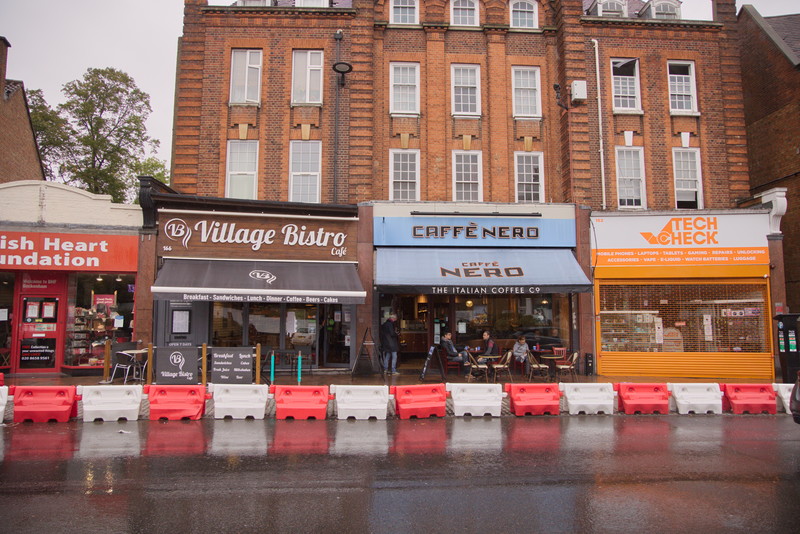 Plastic barriers to ward off the evil eye, or at least let people walk into the street to avoid getting too close to each other.

We think, but aren't completely certain, that Village Bistro or Caffé Nero is the site that was formerly "Importers"; a small cafe that also sold loose tea and coffee, the latter of which was roasted daily on the premises. You could smell it from the street as you got near. Amanda used to be taken there as a treat, while I used to buy all my coffee there once I discovered the difference from Nescafé!

They sometimes used to have Jamaican Blue Mountain, which was more than double the price of a normal top-grade coffee; I don't think it was twice as good, but hey, what's wrong with a bit of indulgence now and again!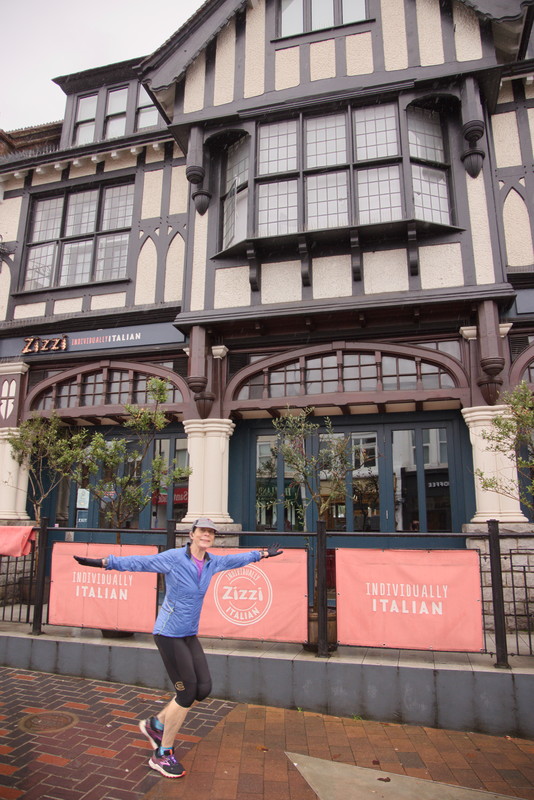 No doubt about this: this is the former Three Tuns pub.

It was quite cavernous and a bit impersonal, which was good if you were in a large-ish group of underage drinkers who didn't particularly want to stand out. As my mate Kendall said some years later, "It makes me feel like a young girl again".

It's also the place where David Bowie used to play before anyone had ever heard of him, but when I said "underage drinking" I didn't actually mean when I was 12 years old.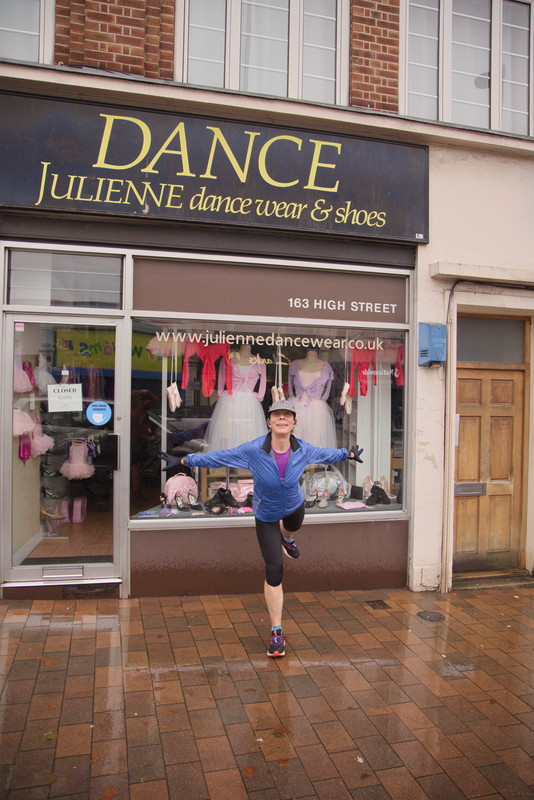 Earlier we saw where Amanda did her ballet; this is where she got her clothes and shoes.

So did my sister, as it happens, and although she and Amanda were never actually ballet buddies, they are the same age and ended up sharing a flat, which is how I got to know Amanda.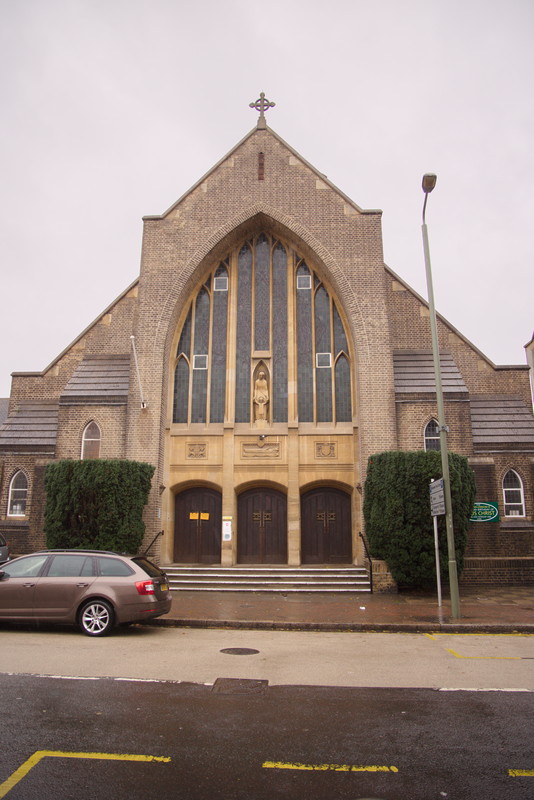 Have you ever wondered how I came to be so spiritual?

No, I thought not. But St Edmund's Catholic Church would have to take the responsibility if I was. When I was seven or eight or thereabouts, my parents, who had not yet abandoned all pretence of faith, made me go to Catechism class. What some might call "Sunday School", except that it was on a Saturday, and it was Catechism - quite a different thing!

Even at that age, the whole thing was clearly absurd to me, but hey, if that's what God wants... I am therefore one of His elect, rejoicing in the certain knowlege that I am a fully paid-up member of the One True Faith.

The church building is pretty much contemporary with Guildford Cathedral (and Beckenham Town Hall, for that matter), but while they are all clearly products of the same architectural language, I have to say that Guildford always looks clumsy to me. For a religion that sometimes seems to pride itself on sticking to its good old mediaeval traditions, the RCs are much more adventurous than the C of E when it comes to building. Pass by almost any place with a cross outside, and the more interesting it looks, the more likely it is to be RC.

The Devil still has all the best tunes, though. (Except for Bach; we'll give God Bach.)

Oh, and I honestly don't remember any of the priests being in the slightest bit dodgy. I mean, there weren't even any whispered rumours about "Father X is a bit... you know... funny...". Or maybe just none of us were pretty enough?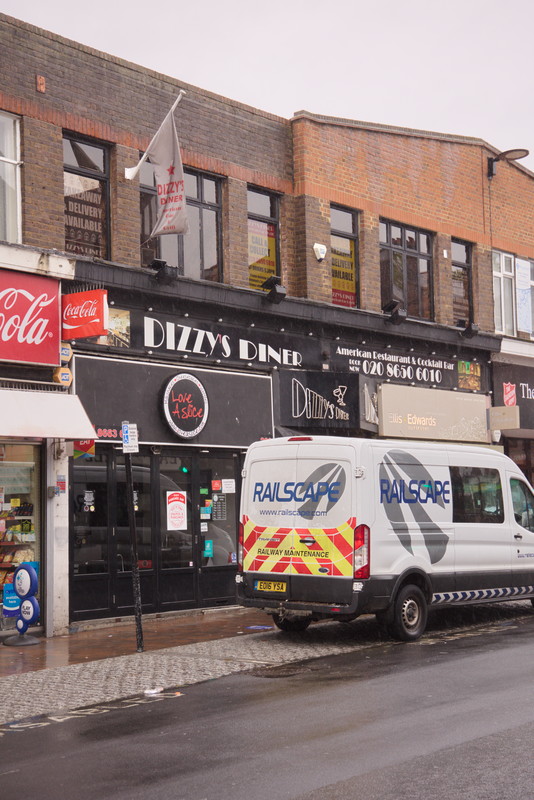 Good to see Dizzy's is still going.

I remember it opening in 1979, when my mate Kendall (as mentioned earlier) and I began our project of working our way through their cocktail menu, and ensuring that we would not reach the end by inventing new ones. We got to be quite friendly with the bar staff, and I believe one or two had their knuckles rapped by management for pouring a little too generously at times.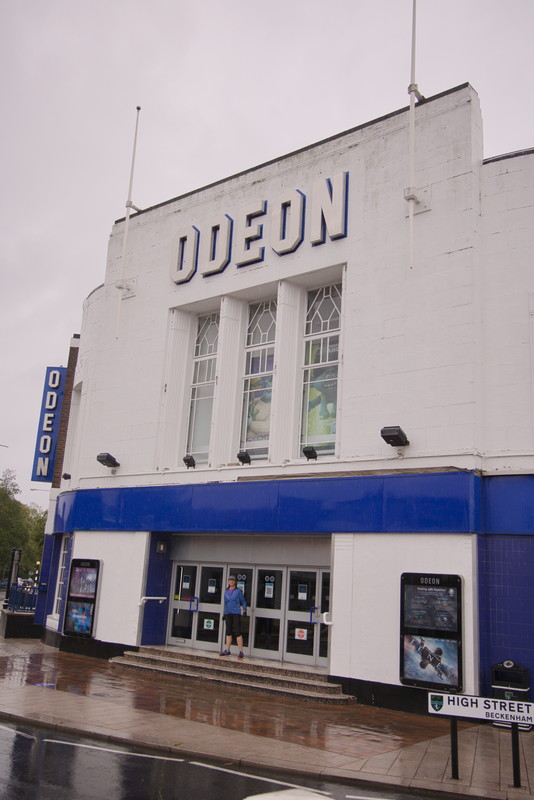 The Odeon used to be an ABC, while the Odeon in Penge was demolished and is now a Sainsbury's.

Mind, before it was an ABC, it was the Regal Cinema and Ballroom, and some people still called it the Regal into the 1970s.

I'm not going to swear to it, but a quick search of major film releases after late 1987 makes me think "Who Framed Roger Rabbit" was probably the first film we saw together there. I also bought the video game! I think Amanda preferred "Defender of the Crown", though.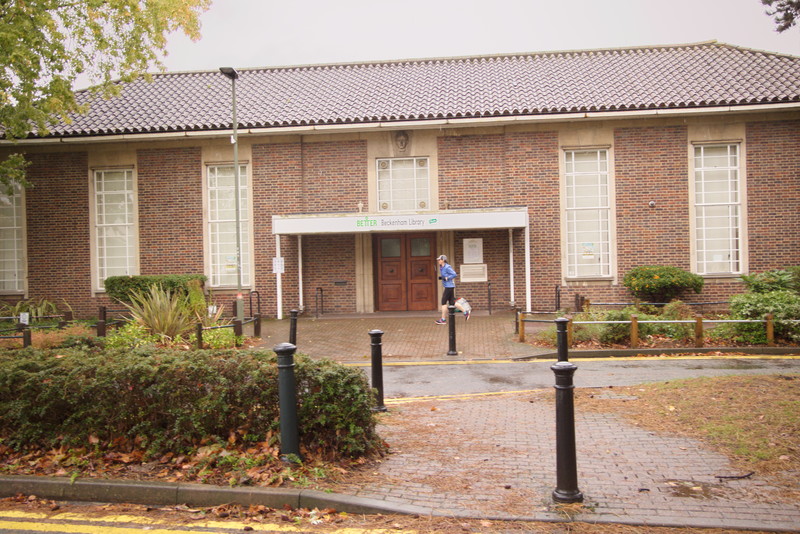 From lowbrow to highbrow (ish). Beckenham Library.

We both spent many hours there, and externally the building is pretty much unchanged. I'm sure it's different inside now, but it certainly used to be everything you expected a traditional library to be.

Opposite used to be Beckenham Road Baths, but no more.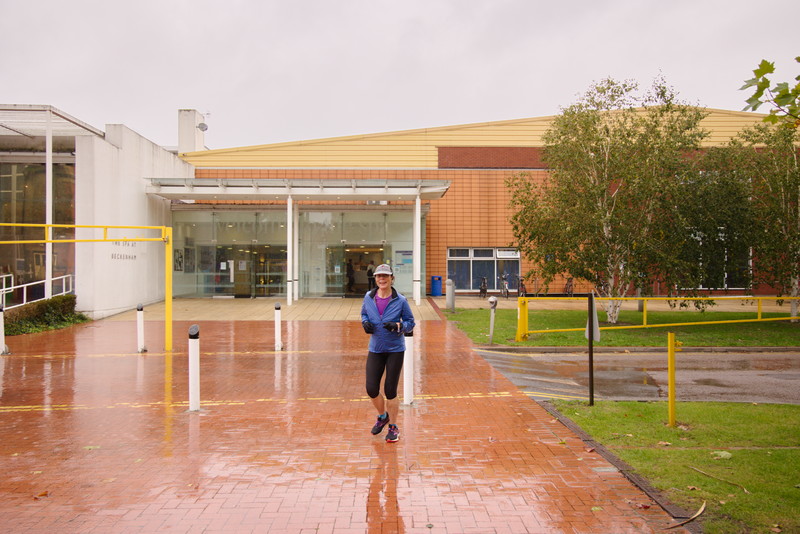 It's been replaced by a modern complex, "The Spa at Beckenham".

The original was a rather glorious very early Edwardian building (1902), but almost a hundred years later, it probably wasn't possible to do anything sensible to preserve it as a functioning entity.

I never liked swimming much, and didn't really look forward to the weekly coach trip from school to our swimming lesson. Amanda, by contrast, was an absolute water baby, and swam competitively in her youth at (I think) county level.

We need to make up some distance now, so we're going to swing out to some parts that are slightly more indirectly connected to us.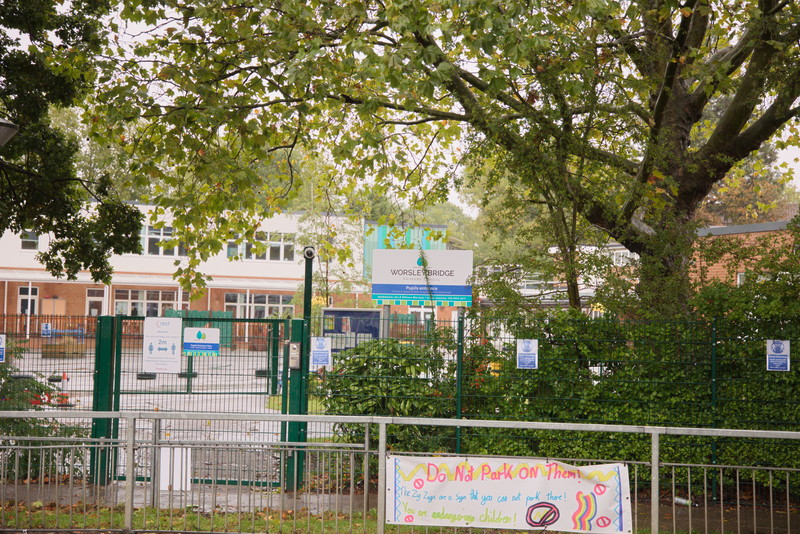 Neither of us went to Worsley Bridge school, but we both knew a lot of people who did. Amanda's sister Dinah, for one, and the gradually-becoming-famous Kendall for two.

Our neighbours three doors down are called "Worsely", and although Lucy of TV and Historic Royal Palaces fame is not a relation, they told us once how useful it was that thanks to her, everyone now knew how to pronounce their name. This surprised us greatly, having never realised that Worsely Bridge was such an exotically named place!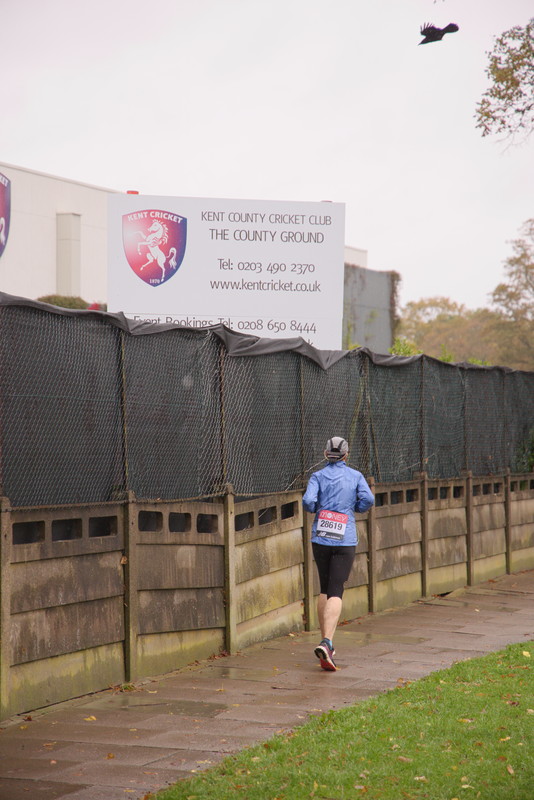 Neither of us are, or ever have been, cricket fans. But Amanda's colleague John is, so this picture is for him.

It's maybe 15 minute's walk from where I used to live, and thinking about it now, I'm mildly surprised that my father, who was a cricket fan, never took me. I'm pretty sure that in the days before the novelty of fatherhood wore off, if he'd been in the habit of going I would have been at least once.

Maybe he preferred playing to watching. He did use to go to watch Crystal Palace play football, though, taking my brother who actually enjoyed it. I accompanied them once and that was quite enough. Cold and bored.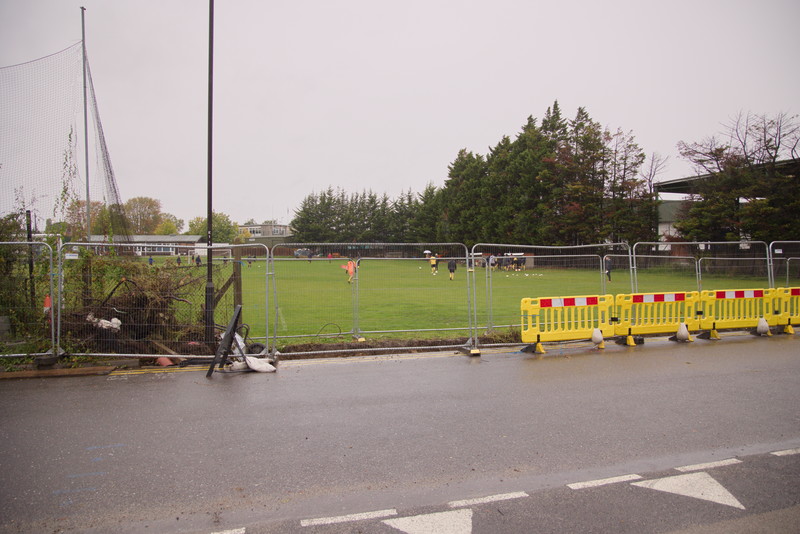 And while we're talking about football, a moment of no historical significance whatsoever.

These lads are having a bit of kickabout practice and a moment ago kicked one of their balls over the fence and into the road. "Excuse me, would you mind throwing our ball back to us please?" Well, of course, no problem, but Amanda's closer and picks it up first. She's about to throw it back when she realises she's not sure she can throw it over both fences and not have it end up in the ditch between, where at least one ball is already residing.

She decides discretion is the better part of valour here and gives me the ball. Fortunately I throw accurately and everybody has a laugh.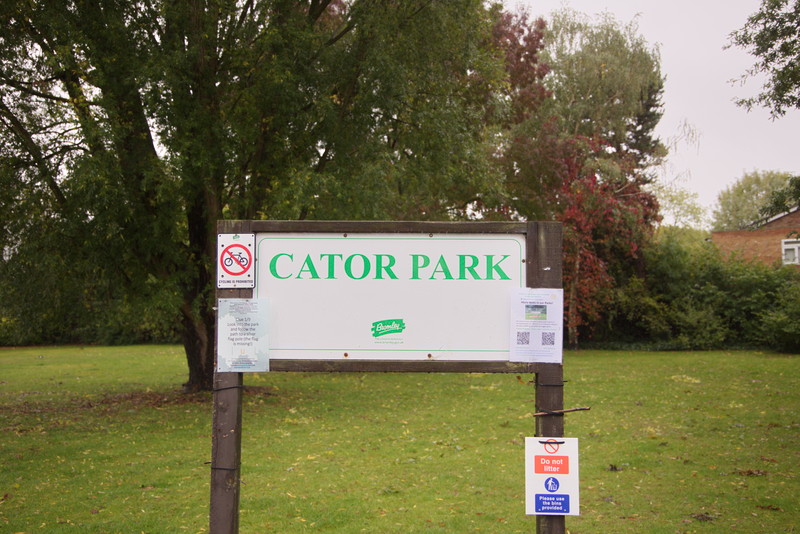 Remember I mentioned how Cator is everywhere?

Now the strange thing here is the "cycling prohibited" sign, which seems rather at odds with the marked cycle lane I've just been riding through the park on...

Two rivers flow into the park and join up: the Chaffinch Brook and the Beck (which is named after Beckenham, not vice versa). We used to play in the rivers, catch sticklebacks and things like kids did in those days. Then in 1968, the worst floods in a century covered large parts of the surrounding land and Something Had To Be Done. The result was the rivers being turned into ugly fenced-off concrete canals with no amenity value and significant loss of wildlife habitat.

Half a century later, efforts are being made to reverse some of that destruction and make use of modern understanding of more natural measures to ameliorate flood risk. Parts of the nearby River Ravensbourne have already been 'renaturalised' and Cator Park - pre-Covid at least - was in the planning stage. I hope it goes ahead.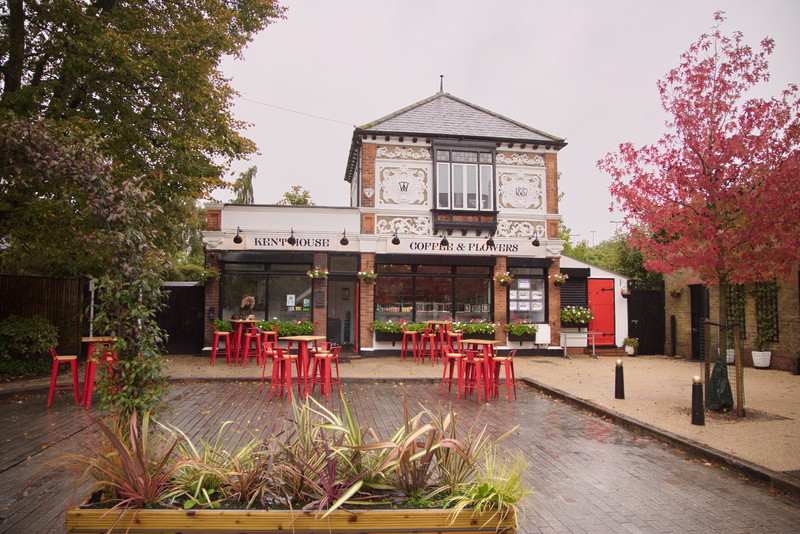 Blimey! That certainly wasn't what was outside Kent House Station when I lived here!

I won't swear to it, but I think it was an estate agent, and while the fabric of the building must have been much the same (the date 1887 is painted on the right hand panel, meaning that it dates back to pretty much the original station construction), it certainly wasn't as well decorated, and there was none of the landscaping we see here. [Amanda is pretty sure it was an estate agent too, so that all but settles it!]

Oh, "Kent House Coffee and Flowers" gets almost a clean slate of five-star ratings on TripAdvisor!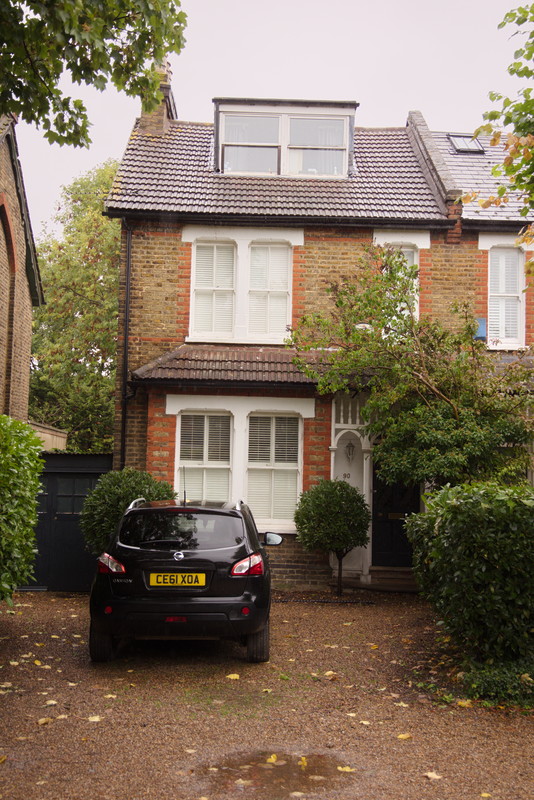 My old house. That's hardly changed at all, although it really should have.

About the only big difference from when I lived there is that the front garden wasn't just an open gravel area but a proper front garden. There was a low wall with wrought-iron gates, pedestrian on the right, vehicle on the left, with flower beds in the centre and around the sides.

It's looking a little less ramshackle than I recall the last time we saw it, some years back, but still not great. Zooming in, it looks to me like the main windows are still the original single-glazed sashes and the garage still has its corrugated roof which I'm sure was asbestos!

The loft extension does look slightly different. We had it built in the late sixties, and for cost reasons, it didn't really match the rest of the house well. The windows were casement, not sash, but they now seem to have been replaced with some really ropey sashes, one of which is held up by a couple of props!

I wonder if the plumbing has improved?! Amanda used to hate having to stay with my family for Christmas, or indeed any length of time greater than a few hours, because flushing the toilet was a dark art! It was the old sort with a cistern high up on the wall and a chain that you needed to pull. But the chain had to be pulled at just the right speed: too slow or too fast and it simply wouldn't work. "It's easy, darling!" I would say as I pulled it for her, but despite that, we're still together.

Just out of shot to the left is a big old tree that's certainly been there all this time, and while I can't be sure it's the same one, there's a tree shown in exactly that spot on an Ordnance Survey map from 1894! https://www.kentrail.org.uk/kent_house.htm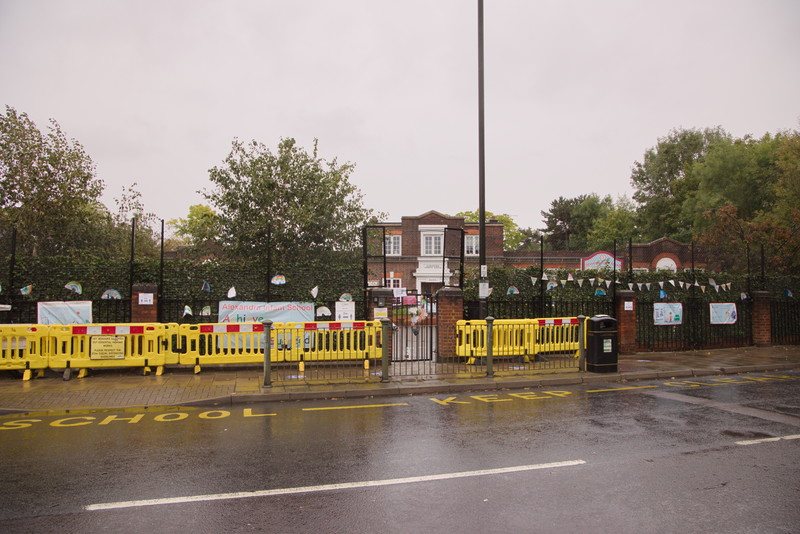 Just around the corner, my old Infants School.

Even by today's standards, it might still be permissible to allow an unaccompanied child to walk around a corner with no road crossings, though I wouldn't put money on it.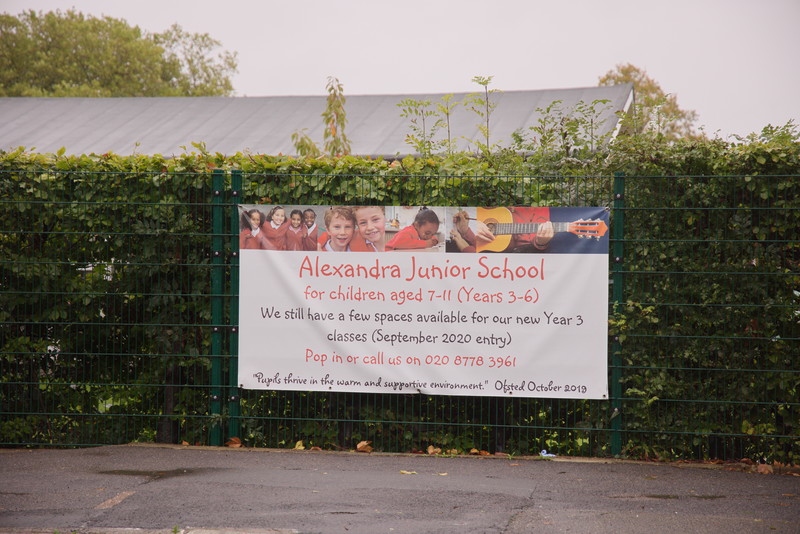 I'm pretty certain my Junior School would be off-limits, though. That's nearly a mile, and takes 15 minutes to walk!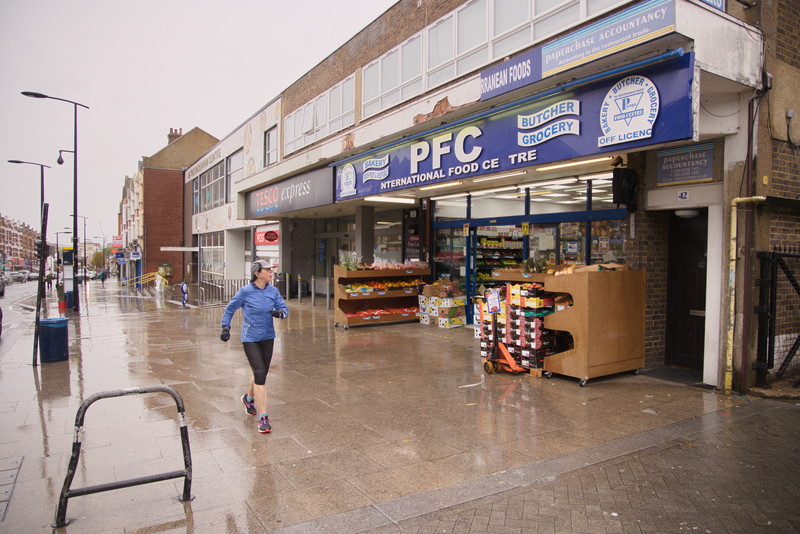 To Sydenham, where Amanda bought her first property. The NTERNATIONAL FOOD CE TRE was a 7-Eleven, then, but not just any old 7-Eleven, it was the very first in the UK!

Now I'm sure it's just coincidence, but a couple of years after Amanda and I got our house in Esher, 7-Eleven stopped trading in the UK completely. The shops were largely taken over by Budgens, but it seems they have moved on too, here at least. Interestingly, the picture in Google Street View, marked as taken in July 2019, shows the PFC signage all in fine shape: they seem to have gone downhill rather quickly.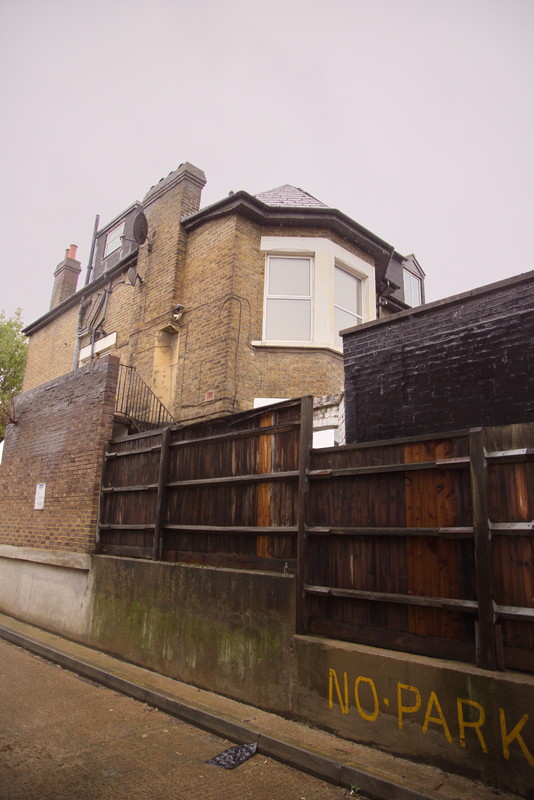 Amanda's flat was on the ground floor of this house, and can't be seen without going down the narrow passage behind the fence. We didn't investigate more closely as there wouldn't really be much to see even if we did. The more modern building in what must have once been the front garden leaves only the minimum space needed for access.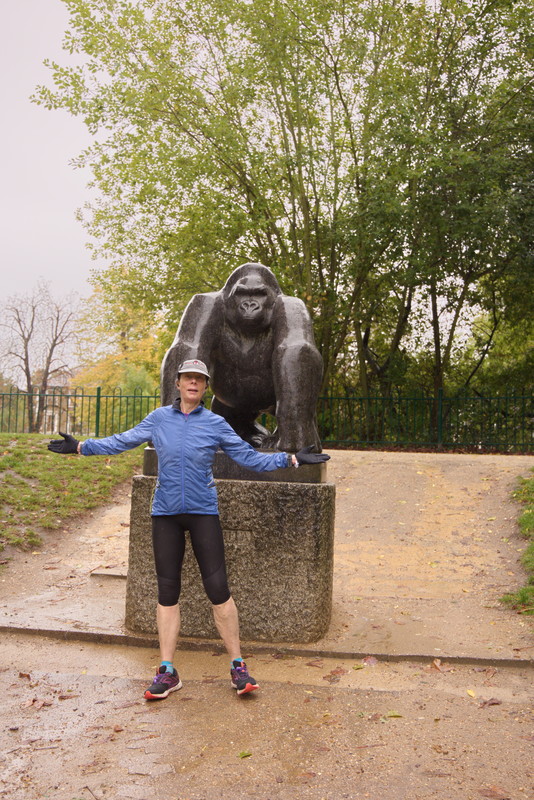 Crystal Palace Park: Guy the Gorilla hasn't changed.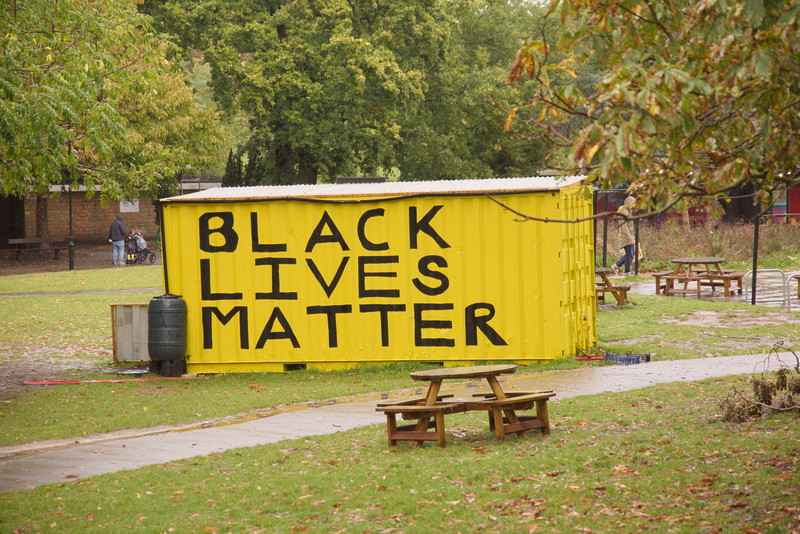 That's new, though.

It's hard now to believe quite how casually racist everybody was in the 60s and 70s. Much of it was ignorance rather than malice, although there certainly was plenty of the latter. Of course, now we've moved on, and it's people like Priti Patel who want to send all the immigrants home.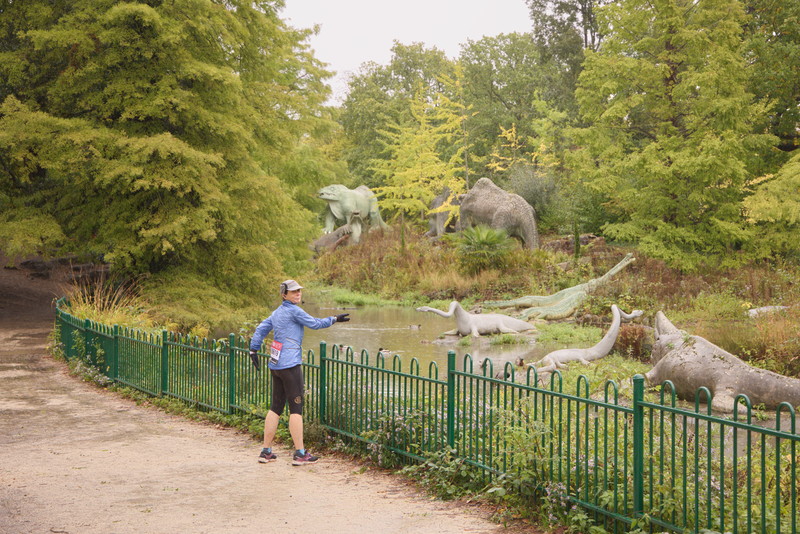 "Can we go and see the Prehistoric Monsters?" we all used to beg our parents. Parkrun with Claire in 2017 was pretty much the first time either of us had seen them since, and while some had been beautifully restored, others were in a very sorry state indeed. Signs said that the first batch of restorations was now complete and a second would soon be underway. We're not quite sure what the current state of progress is, but there's certainly evidence of continuing work.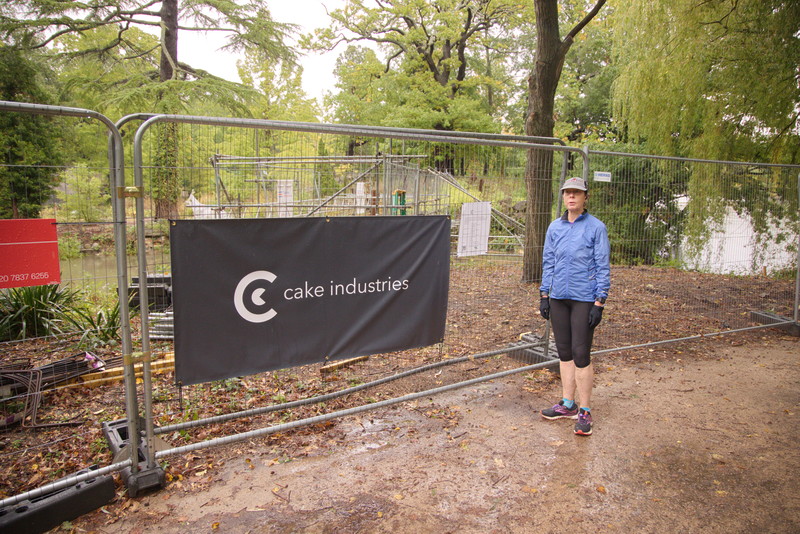 Obviously you reinvigorate your dinosaurs with cake. Ok, I don't get it...

But this is the Age of Google. Cake Industries "design, engineer, fabricate and make beautiful things, from sculpture to staircases to cabinetry to pavilions". No specific mention of dinosaurs, but I guess they certainly come under 'sculpture'... Ah, looks like their job has been to build a new access bridge: http://cakeindustries.co.uk/portfolio/dinosaur-bridge/ It's not clear whether that will be open to the public; I suspect not. Nice if it is, though.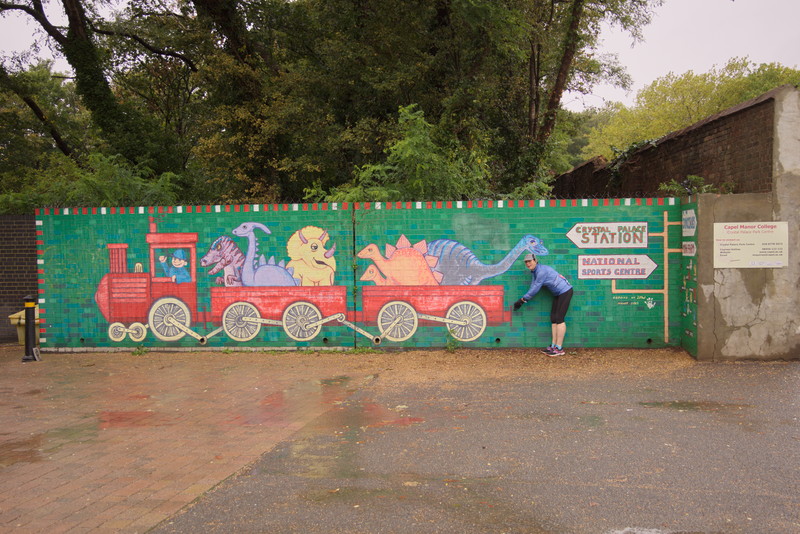 Just what Amanda needs on her marathon run: a train to give her a bit of a pull.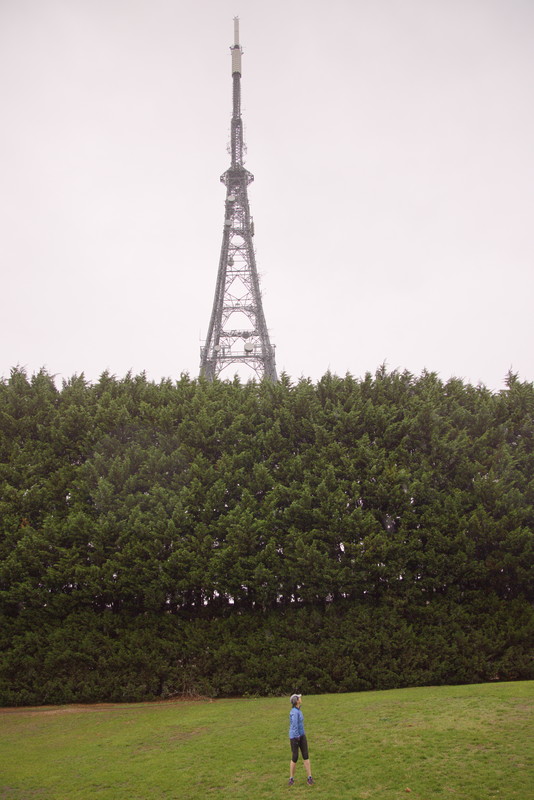 This is about as close as we can get to the Crystal Palace mast on publicly accessible ground.

It used not to be so tall. The white section at the top was added when they started broadcasting BBC2 on a new set of frequencies, but that was just before Amanda was born, so while I remember it, I rather doubt she does.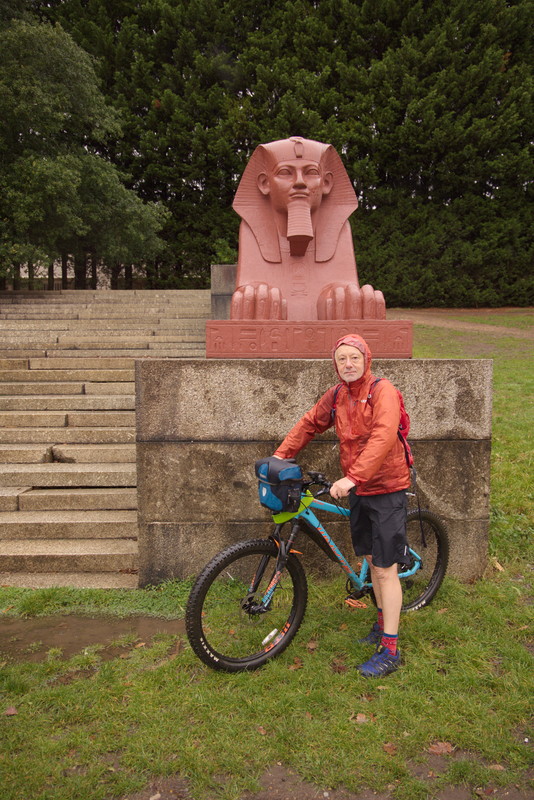 My turn to pose! I'm sure the Sphinxes have been tarted up a bit, but I have to admit I don't really remember.

Ok, a spin round the park has given us a useful few km more, so down the other side of Sydenham Hill we go. Not down the road called Sydenham Hill, of course, that would be completely wrong unless we wanted to go to the Horniman Museum. If it wasn't for the fact that the roads and traffic in that area are pretty horrible nowadays, we might have added it to the plan, but it doesn't quite have enough intrinsic significance for us to make it a must-see.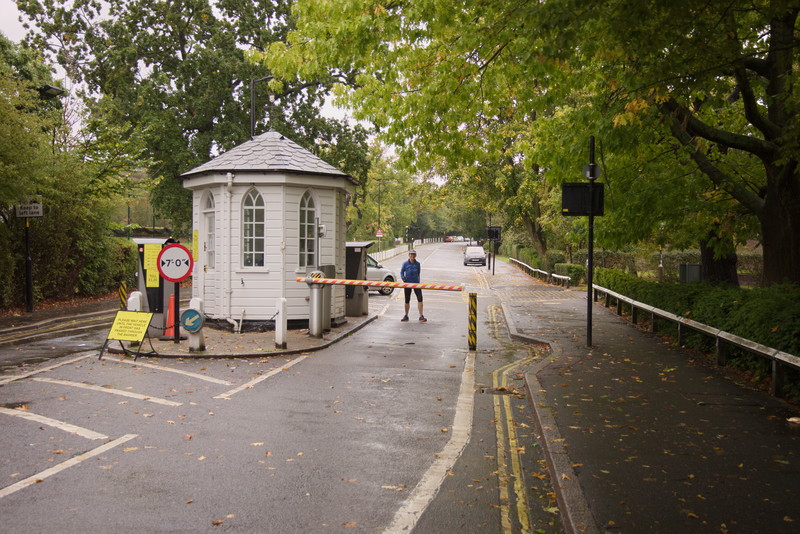 The College Road tollgate is now completely automated, and costs £1.20 for cars.

When Amanda's family used to drive down here, the children would eagerly compete for the honour of being the one to hand over the magic sixpence! (By which I mean 2.5p, of course.)

By the time I went to school at Dulwich, I think the cost of operating the tollbooth generally exceeded the revenue, so it was normally free to pass, but at intervals they would still enforce the toll. I believe it was to keep the right, which would lapse if they allowed unlimited free passage, and it seems that modern technology has changed the economics again.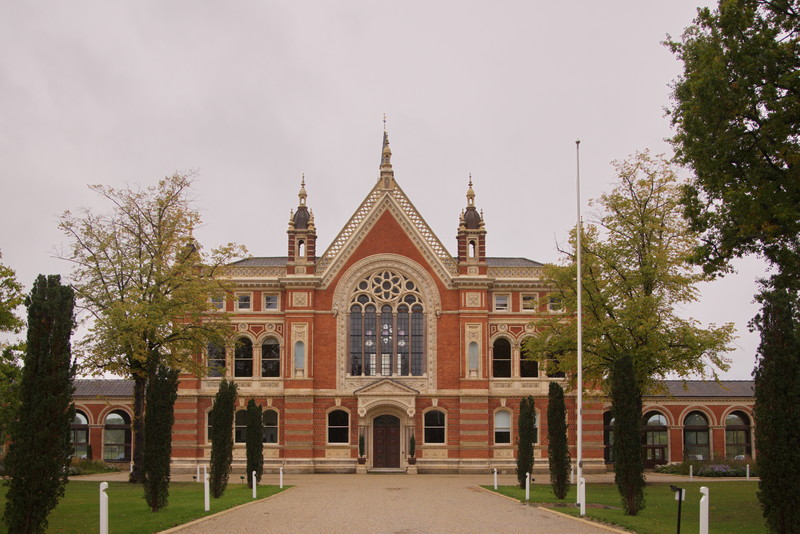 Goodness, the College is looking very smart.

Although the College as an institution dates back to the early 17th century (Shakespeare was very nearly a contemporary!), today's main building is a mere stripling from the late 19th. As I'm taking this picture through the main gate, a group of people open the pedestrian gate (which requires an electronic key) and ask if I'm coming in. I tell them that I'm an Old Boy and it's all looking cleaner and brighter than in my day, and one of them tells me that it had a major clean a few years ago.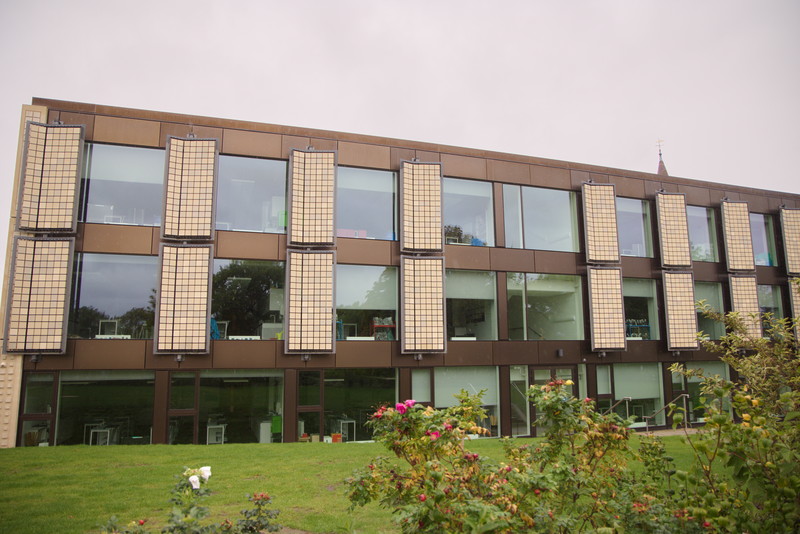 Blimey! They have seriously pimped up the Science Block!

The original building was a fairly nondescript 1950s concrete structure, perfectly functional for its time, but I guess its time had passed and it certainly wasn't what you'd call beautiful. It's now "The Laboratory", designed by architects Grimshaw, built in 2015 and costing £14m or £21m depending on which article you read. When you look, there's a fair bit about it on the web, and it obviously made a bit of a splash in the architectural world: RIBA London Award 2017 and RIBA National Award 2017. https://grimshaw.global/projects/dulwich-college-laboratory/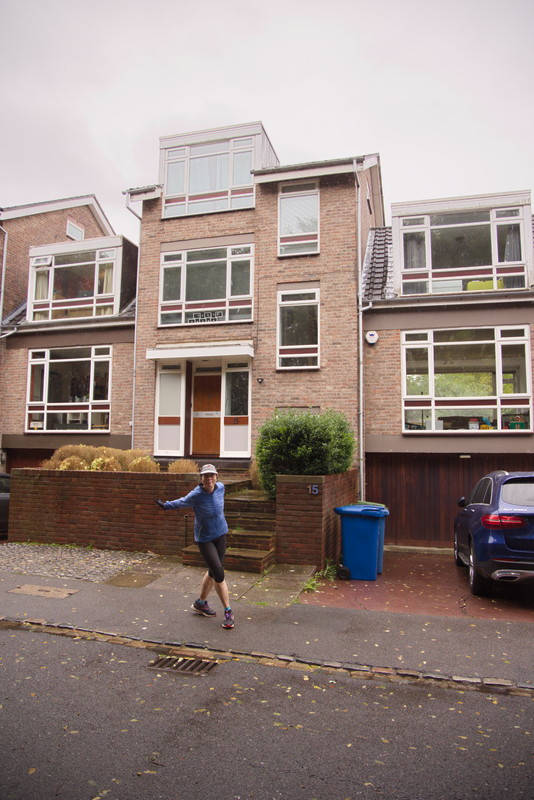 A slightly smaller splash. A shout out to Kendall (again!) and Jane, who used to live here before moving to the US.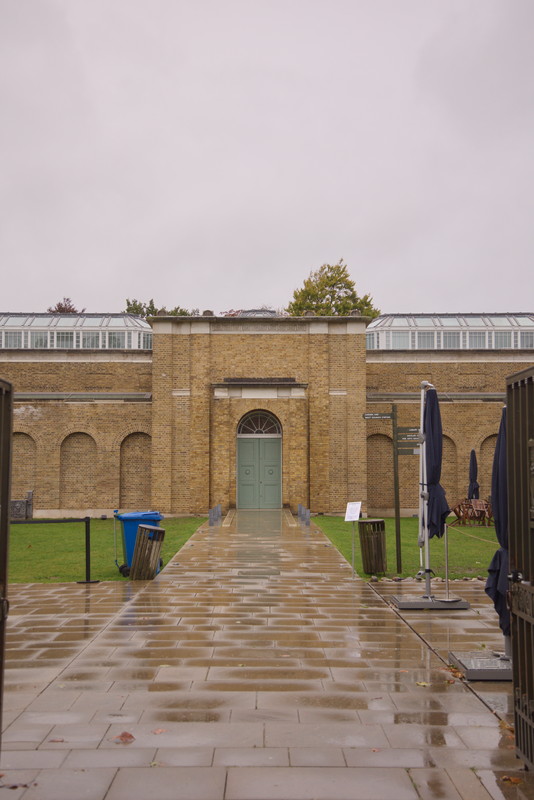 Dulwich Picture Gallery is looking sad and closed thanks to Covid.

The gallery itself is much as it always was, although the landscaping and cafe are much improved.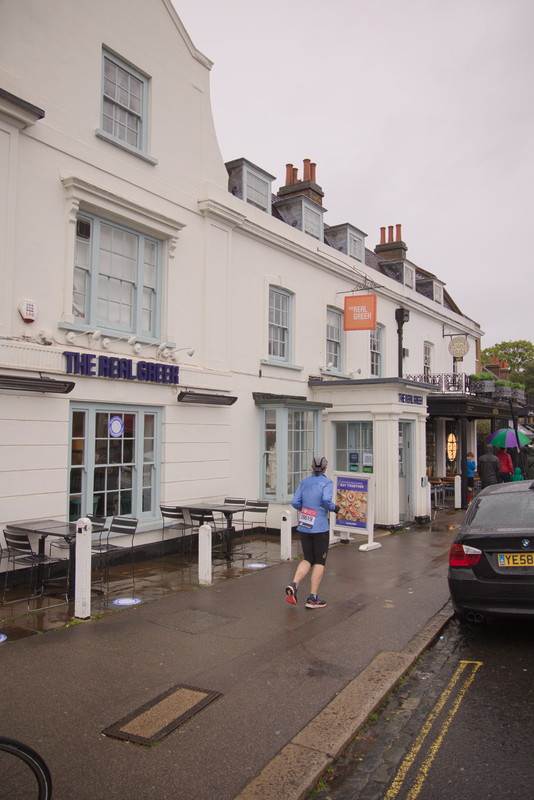 And a much more contemporary memory that's changed!

This was formerly a cafe which we went to after Dulwich parkrun with Claire, only to find out that they had no almond croissants!!!

Traumatic or what?

And since we're hoping to see Claire before too long now, that kind of pulls us back towards the present.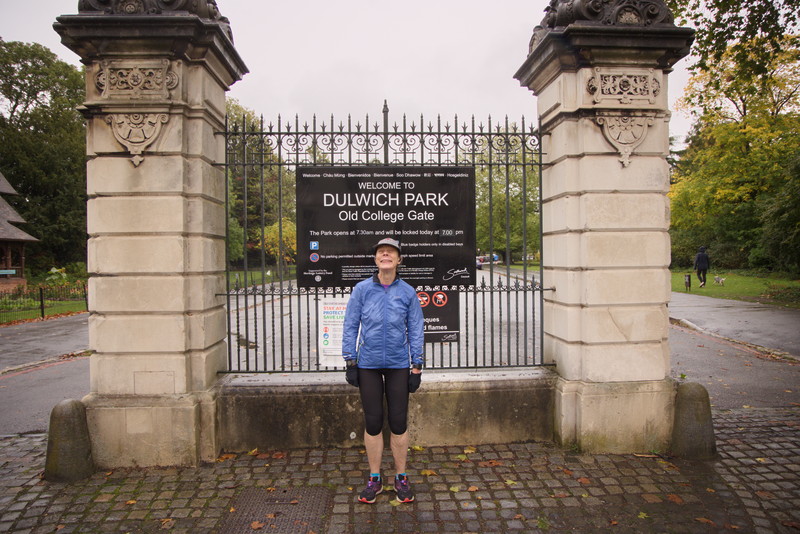 We're going in!

Hmm... This will be the third parkrun venue we've visited today, and the loops to make up the remaining distance will pretty much be the Dulwich parkrun itself.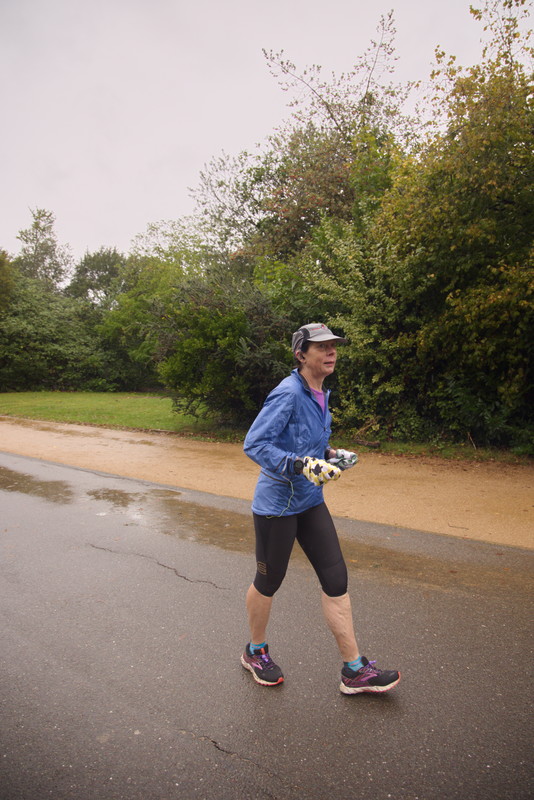 Amanda's gloves have become so wet they are not really much use any more, so she's trying the alternative of wrapping a couple of buffs round her hands.

The rain is more dismal drizzle than seriously inclement now, but everything is soaked through after 20-something miles.

Not sure where Claire is, though. Her estimated time range to get to the park has come and gone.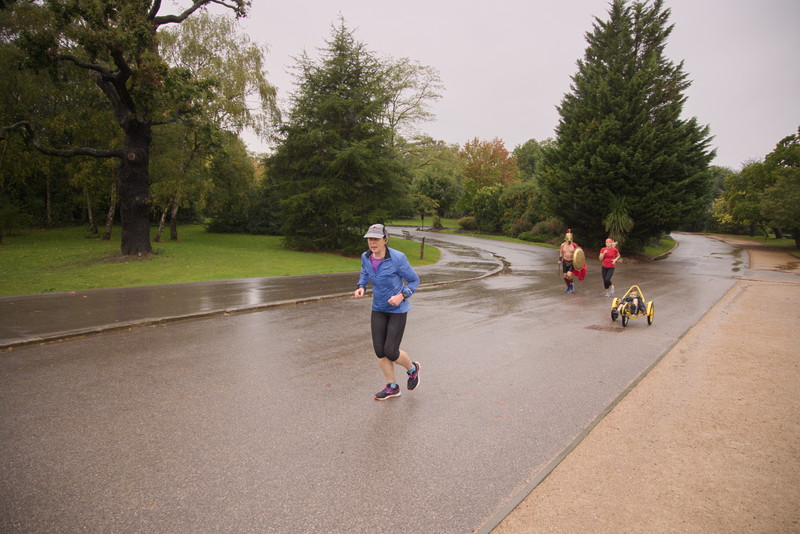 This is it. Amanda is just about to finish, hotly pursued by a half-naked Spartan!

There's something I don't often have the opportunity to say.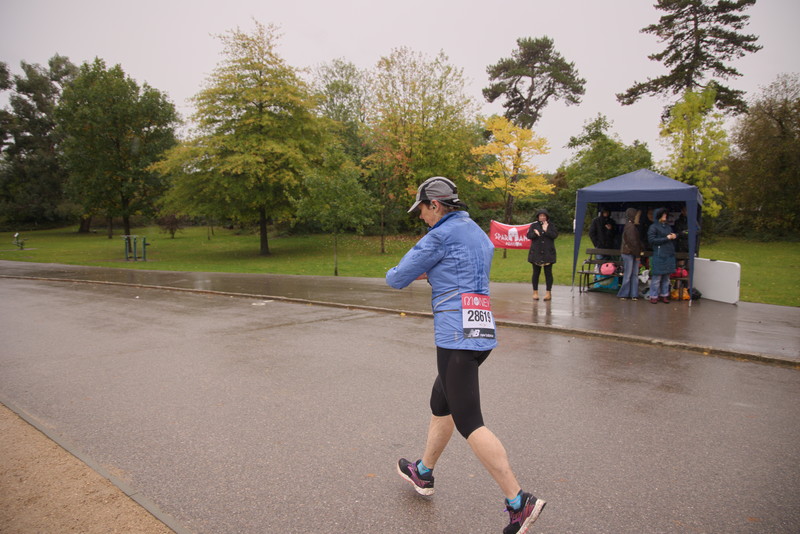 And by sheer coincidence, her distance is up right by the Spartan's gazebo.

Which is also an uncommon phrase.

Now the gazebo is actually a Dulwich Runners thing, although we don't know any of the people there. Well, not exactly...

On a previous loop, I stopped here briefly for some reason I forget, and a woman called out to me, "Didn't I see you in Beckenham Place Park earlier?" Well blow me, it's the dog-walking woman who gave us a cheer! She's not running herself, but is here supporting some of her clubmates.

Later, I will learn that she is Clare Elms, who's a fast woman even by the standards of my own fast women!

Amanda's Garmins both agree that she's done the full marathon distance (one in miles, one in km, just to keep it confusing) but the Official App says she's well short. PAY NO ATTENTION TO THE APP DARLING, I try to subtly suggest, but she's having none of it. She's done running, yes, but she'll damn well walk until the app says it's happy.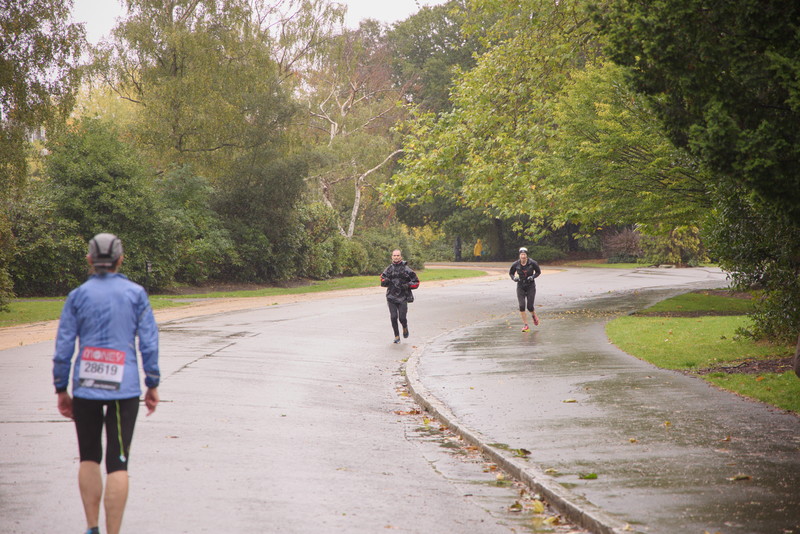 And there's Claire! With her friend and clubmate Paul, who's not doing the marathon but just offering her some moral support for her last few miles.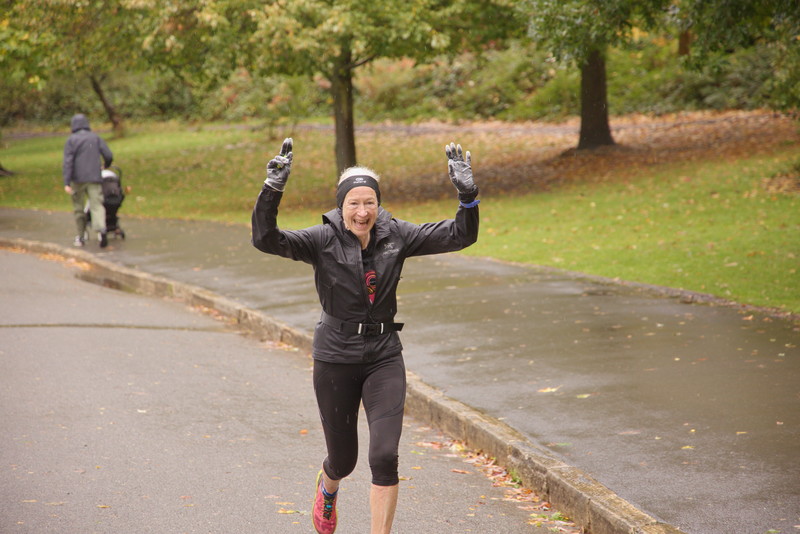 Claire's finished too, and in a stonking good time at that. She doesn't have the app problem, because at some point earlier, the app decided she'd run for four seconds and covered no distance, at which point she thought sod this for a game of bloody soldiers, and paid no further attention to it. Very wise.

Sadly it's too cold and miserable to hang around much. I go to the car and get the goody bag we'd prepared for Claire, and we have a bit of a chat by the gazebo, where I'm introduced to Clare, but Amanda has to retreat to the car to get warm. She had thought she'd rejoin us after getting changed, but suddenly she's frozen cold and needs to get home and into a nice bath.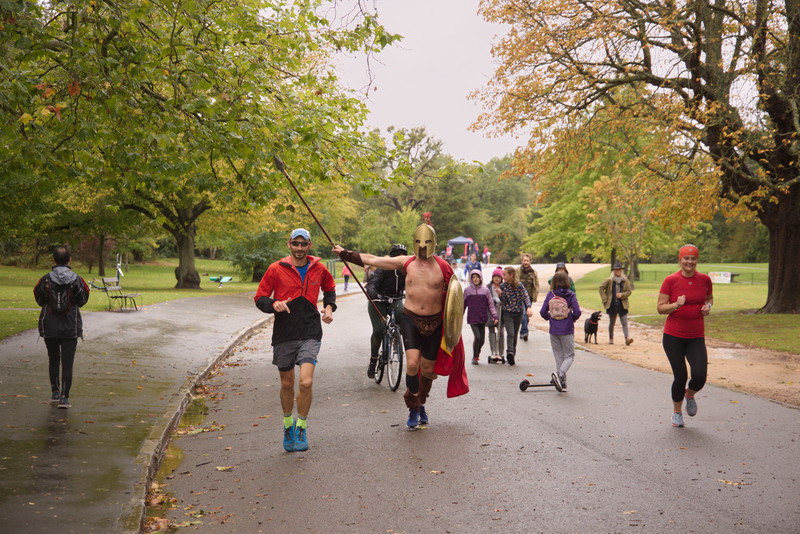 But here's a thing: this is what Claire will say in an email later:


Grzegorz finished in 4:11, his 40th marathon and I believe his 10th in his Spartan outfit. He's tough, he's Polish, he apparently doesn't feel the cold and had to stop several times because he was overheating.


I don't know what to say, so I think I'll stop!

Love to all,

Steve.