Darn! I forgot to check the phase of the Moon and which direction the geese were flying, so I can't be sure what the exact Covid-19 rules are this morning.

Still, I gather that Dave has cast the Woggle's horoscope and come up with his own theory, which I'm sure is as good as anyone's: we're going to be starting in groups of six at three-minute intervals. This is going to make the start a lot more drawn out than the Ashtead 10k the other week, and the first departure will be at 08:00. Amanda's scheduled for just after half-past, so it's an early start for us.

On the plus side, it's an easy drive down early on a Sunday, although we're still amazed at the number of cars and people already filling the giant car boot sale on the A3 as we pass. It seems it will take more than a mere pandemic to keep the bargain hunters from their prey!

But as ever, we resist the temptation to be drawn in. Perhaps one day we ought to go just out of curiosity.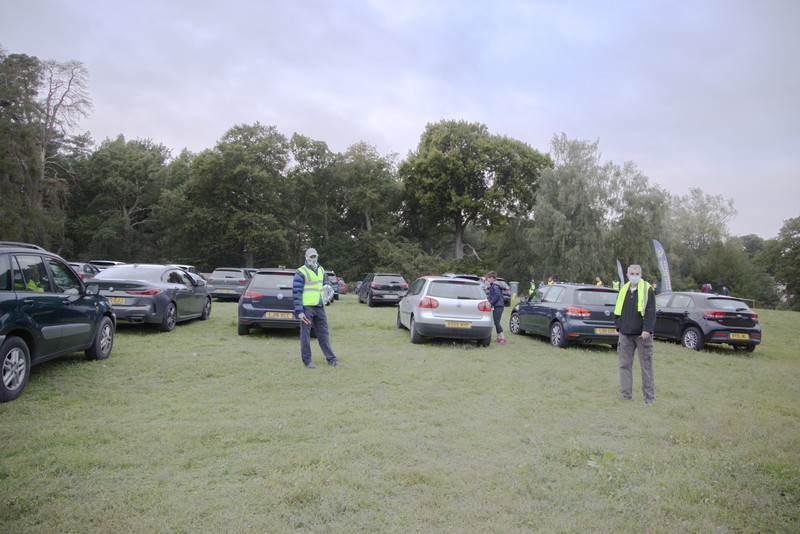 The Men In Masks greet us on arrival.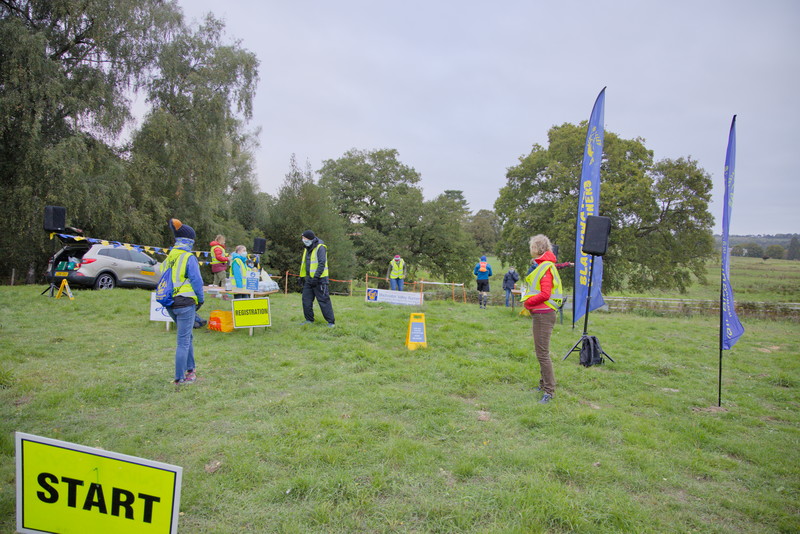 This is rather different from the usual bustle at Myrtle's Courtyard, to put it mildly. No Bacon-Butty-Ninjas here!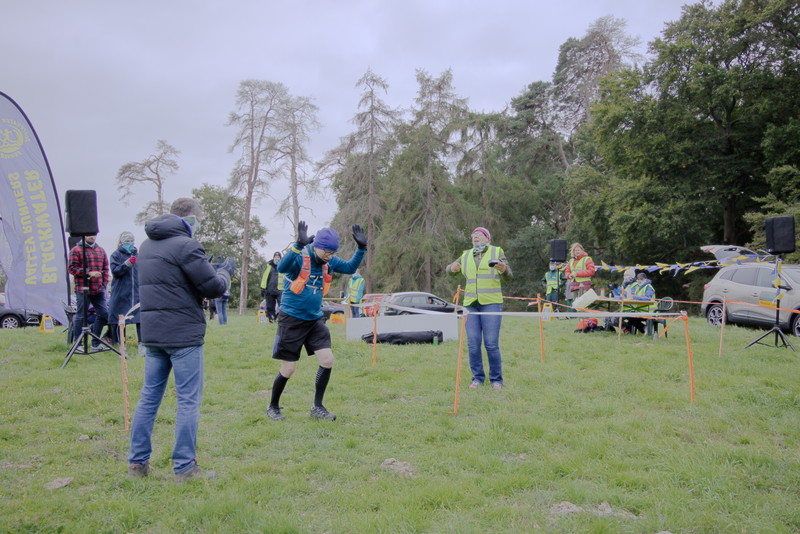 And while, as I mentioned, the idea was to start in groups, it seems there's been a pretty substantial drop-out rate. This group of six has become one! During the time I'm around at the start, I don't think any of the slots are completely empty, but twos and threes are common.

Why there are so many no-shows I can't say, but it's pretty cold, and if you have to travel any distance to get here, starting two hours earlier than normal would be off-putting too.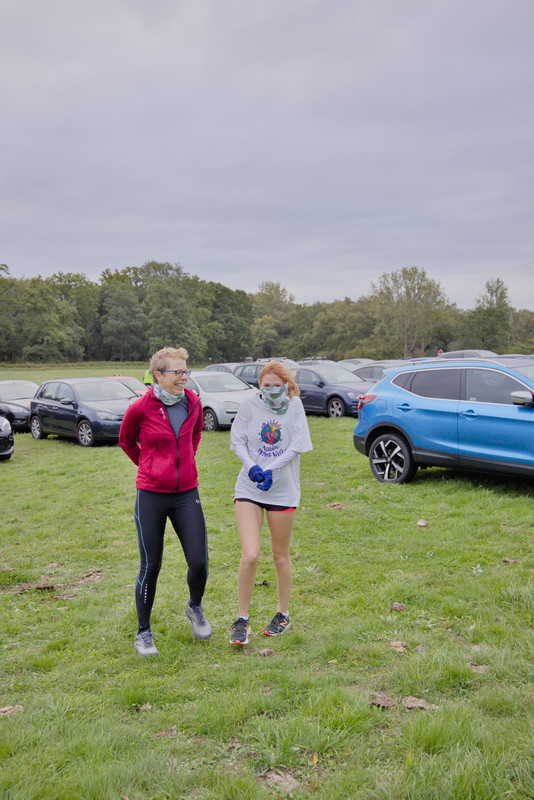 The idea is you sit in your car until you hear your timeslot called out, then you just walk up to register a couple of minutes before you run. Amanda is staying in the warmth while I'm out doing my official photographer bit. Good job I'm rough and tough.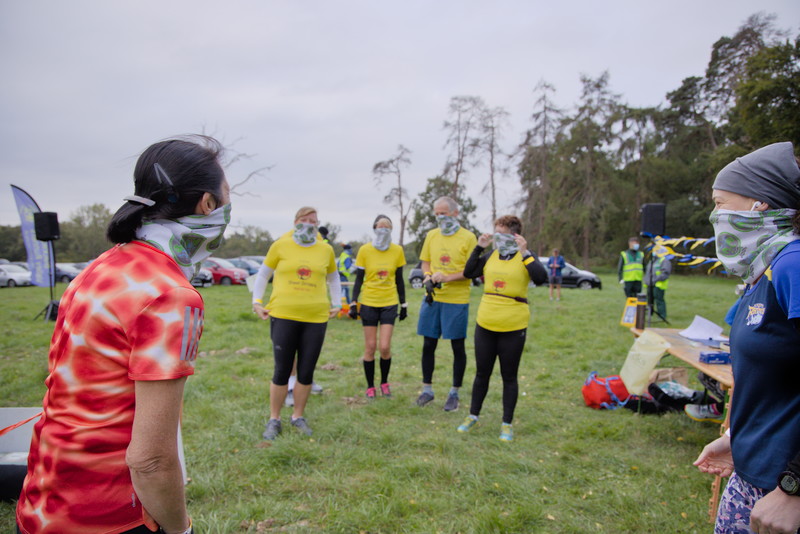 Ok, so after all the nearly-empty slots, Amanda's is full! In fact, it's slightly over-full: there are five of the Sheet Striders in yellow, and somehow there are seven in this group. Shh! Don't tell Boris!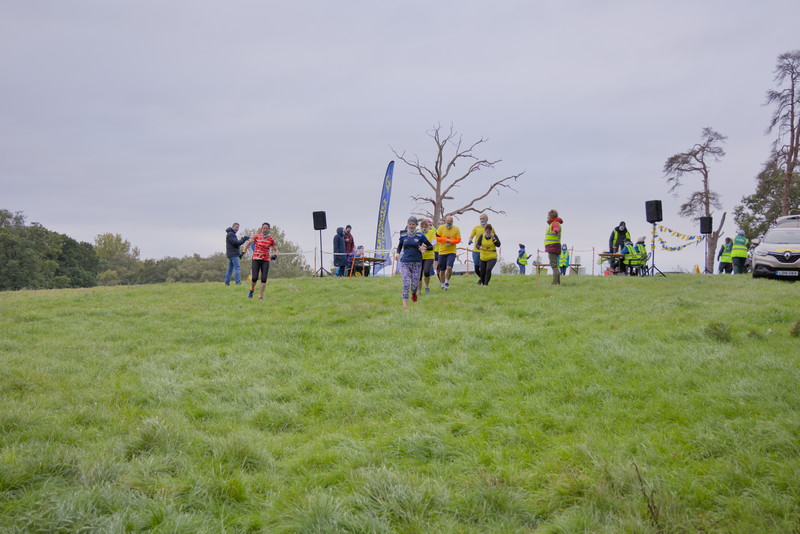 There are two start pens though. I think the idea was probably that a group wouldn't have to completely wait for the previous one to depart before lining up, but that's not been needed, so Amanda can have one all to herself.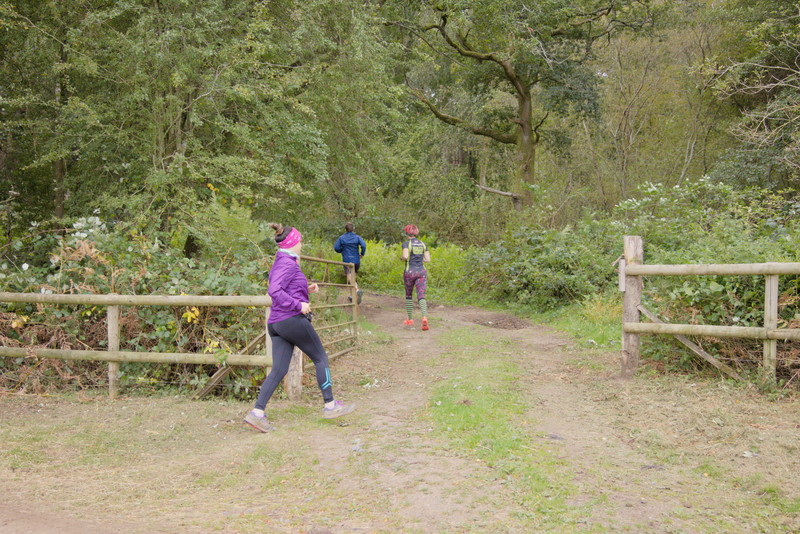 Although the Woggle route always changes a bit from year to year, this version is very different. For a start, it's in the opposite direction. This would normally be where the runners emerged into the final turn before the finish straight, but now they're starting that way and will take a broadly clockwise rather than counterclockwise path.

I've got the route on my GPS, and have some plans about how and where to pop up, but as always, there's an element of luck with how well the theory translates into practice.

Initially I'm going to try to go through some farm fields, but before too long, I find there are no gates in the fences where I need them to be, so I'm not going to make the first planned point. No matter, the next one is a known quantity and will be fine.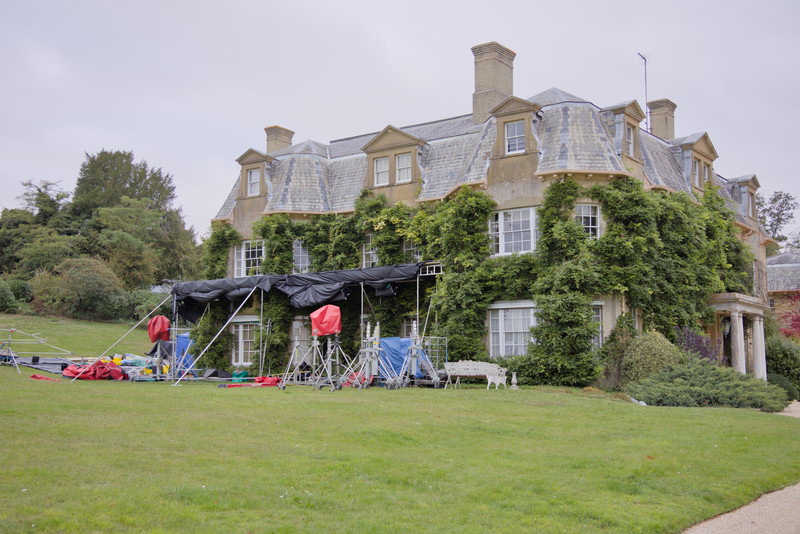 In a normal year, the runners would be streaming past here, but today it's just me. The scaffolding and other gubbins is there because the house is currently being used for filming ("Mothering Sunday", with Colin Firth, we are told) but they've obviously all been given the Sunday off.

I don't know whether Colin Firth is intending to reprise his Mr Darcy wet shirt moment in any of the local ponds, but they're there if he needs them.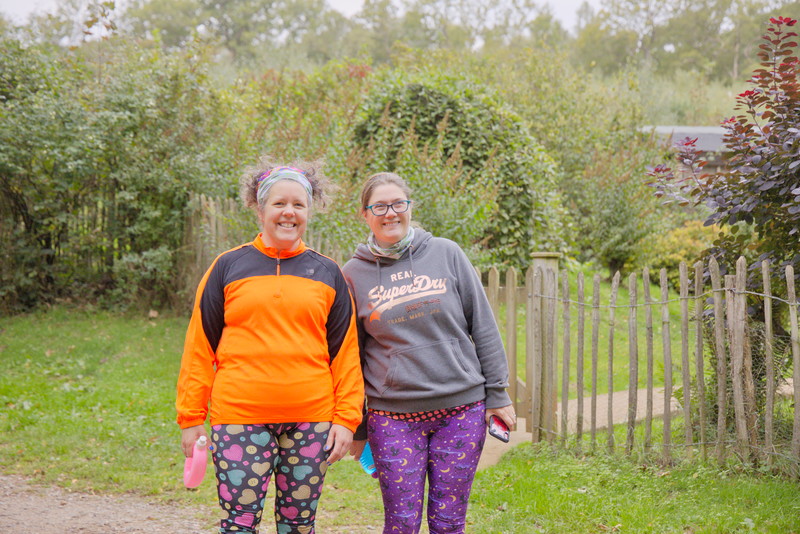 You don't have to be fast and furious to enjoy a good Woggle! The 6k-ers will be much more mixed up with the 10k-ers than usual because of the starting arrangements.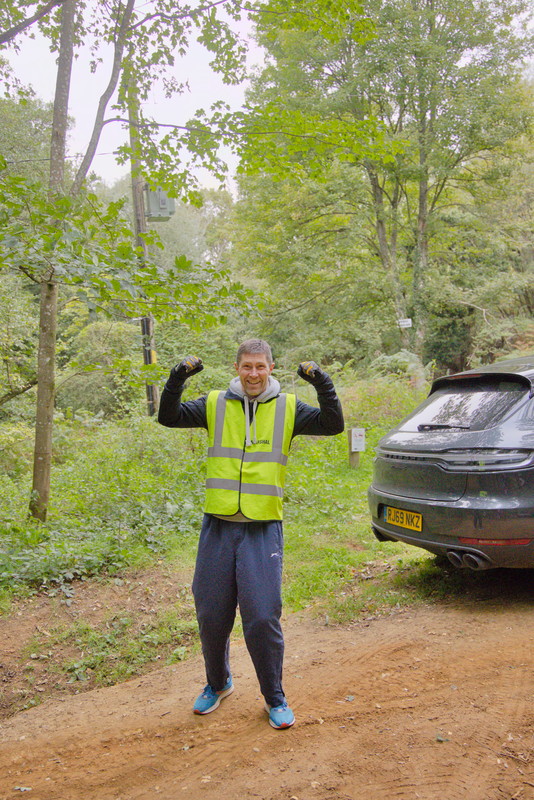 Hurrah for the marshals!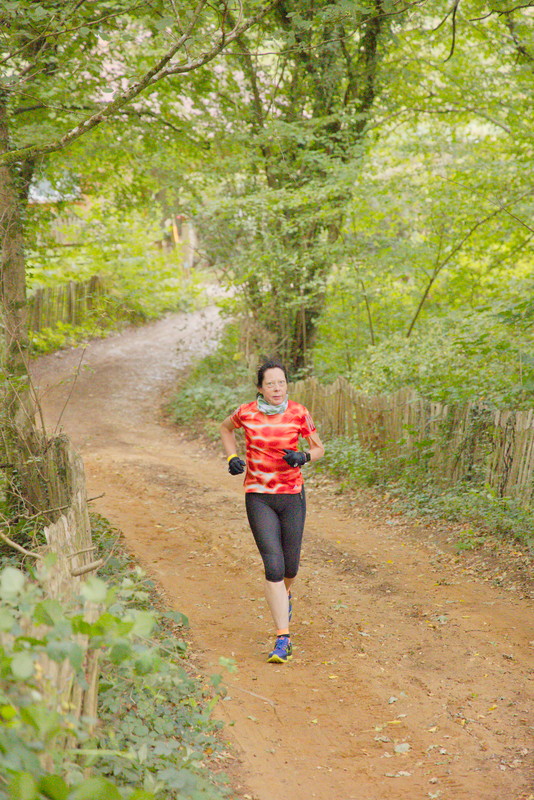 And just as I'm starting to wonder, Amanda appears. I saw one guy miss the turn onto the North Downs Way here and called him back just in time, but Amanda is clearly on top navigational form today.

The 6k and 10k routes will separate in a moment, but the former will be an excellent short cut to the next point where the two cross again, so she'll go thisaway and I'll go thataway. Or vice versa. I'm not sure if there's a canonical definition of 'this' vs 'that' way.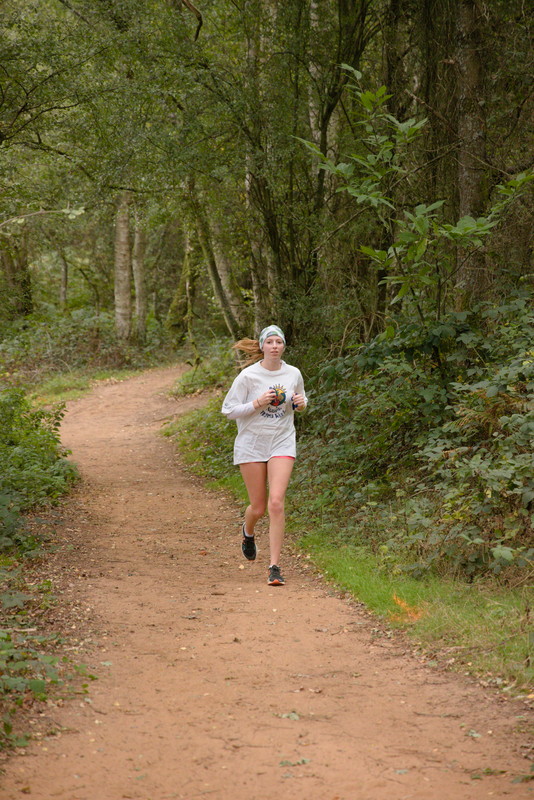 Ah, remember her looking cold at the start?

Well she's supposed to be doing the 6k, but realises she's missed the fork at the previous point and accidentally taken the 10k route. So this is another point where straight on is the 10, off to the right is the 6, and she carries on for a moment before realising she's missed it again!



But then, what the hell! In for a penny... She'll run the whole 10k anyway!

That's the spirit! No visible numbers, so I can't look you up and give you a namecheck, but well done whoever you are.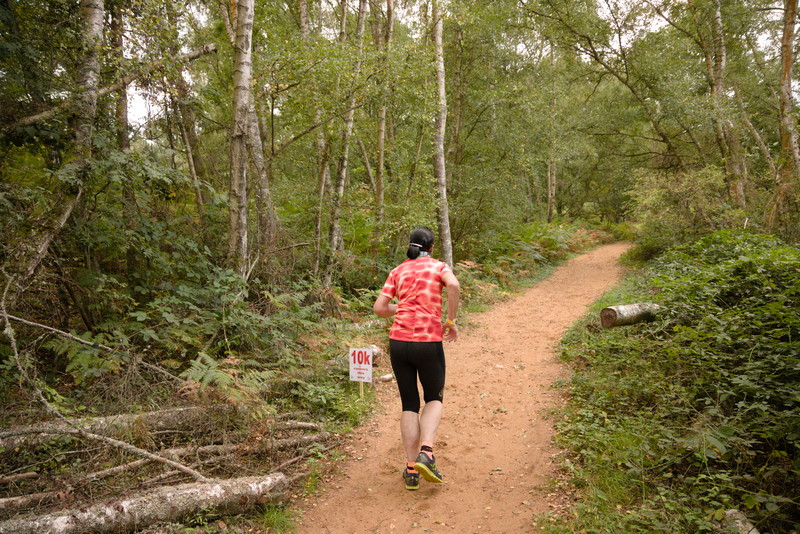 Ah, I know who she is.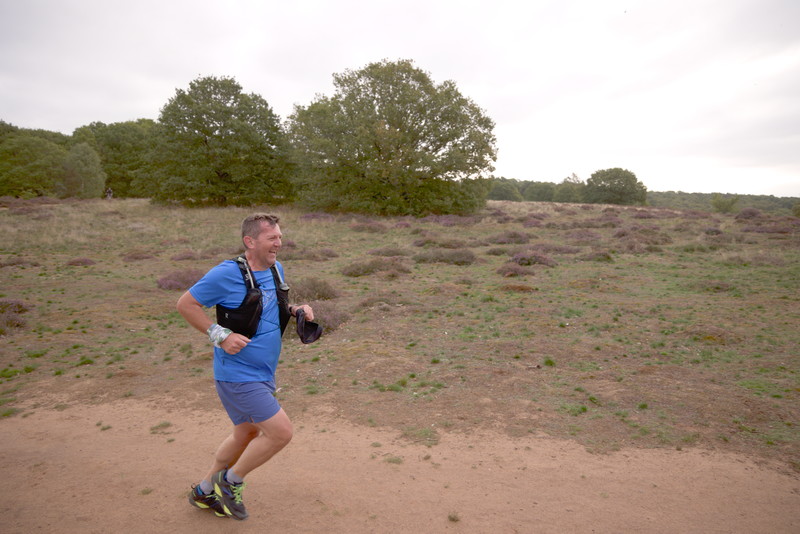 Into the open, up on the top of the Downs. There are some good views to be had for the runners in places, but you have to balance that against the risk of tripping and breaking your neck. I take a bit of care descending on the bike, and one section - definitely not on the race route! - is rough enough that even I'm not gung-ho enough for it, and get off. Well, I've got a valuable camera just sitting in the open handlebar bag and I wouldn't want it to fall out, now would I?!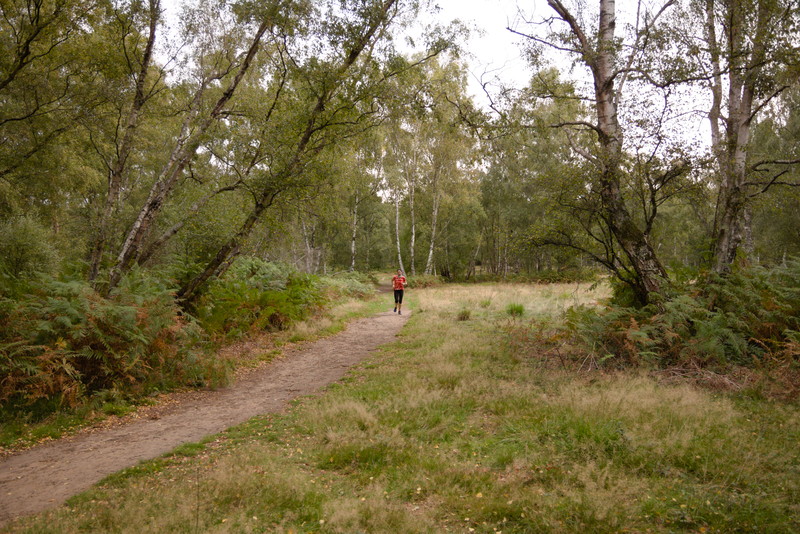 Nearing the end now, when typically hereabouts would be more the first half. After this, I'll head for the finish.

Readers of previous ediitions may recall that more than once I've missed Amanda at the finish, and rarely if ever caught her out on course as much as this. In part, I think this is due to the fact that I've got a GPS plot of the real route, not just an approximation from a previous year.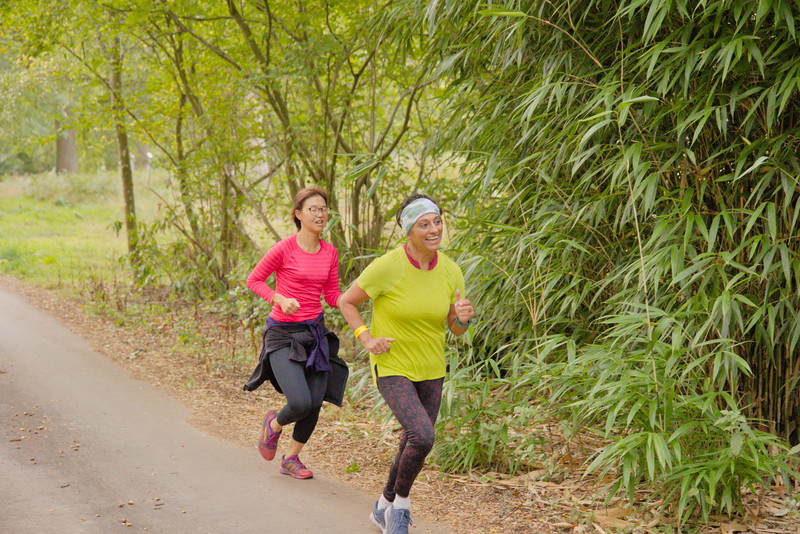 The last few hundred metres are on the estate road. These two have been somewhat ahead of Amanda for pretty much the whole race, so I've seen them quite a few times now.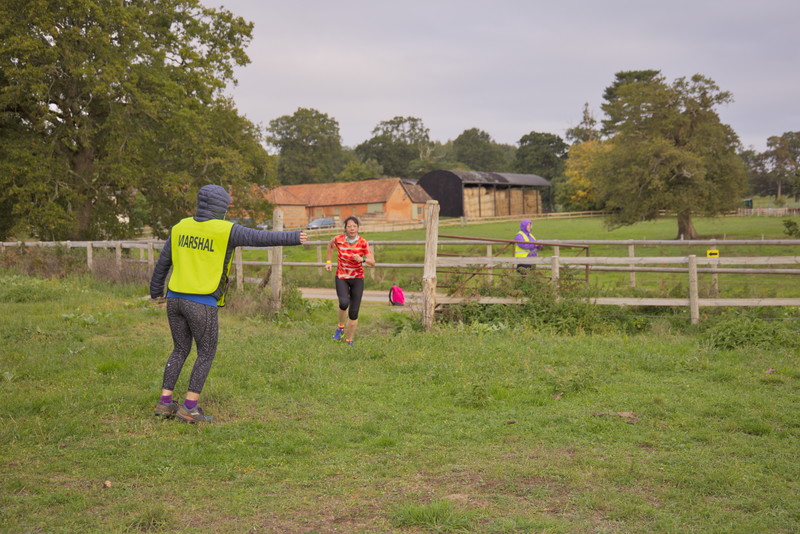 Then it's back into the field...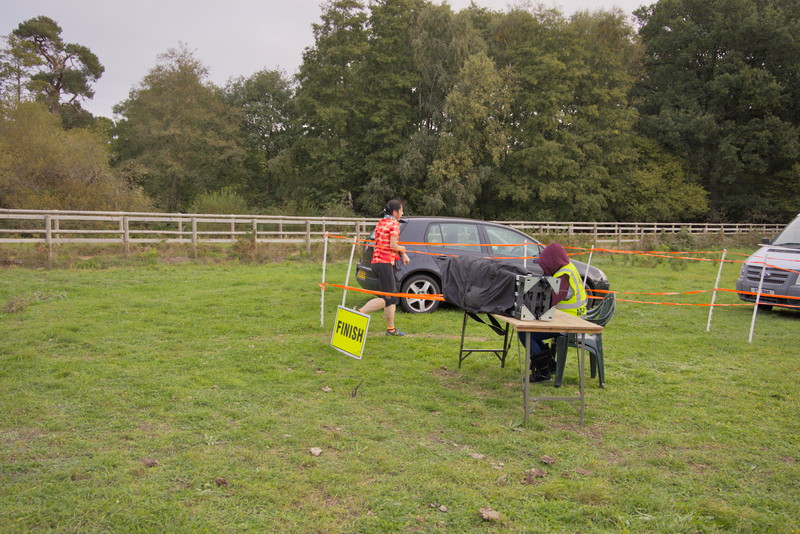 ...And she's Woggled!

No spectators, no cake stalls, none of the fabulous balloon sculptures we've become accustomed to in past years. Perhaps next year we can make up for it.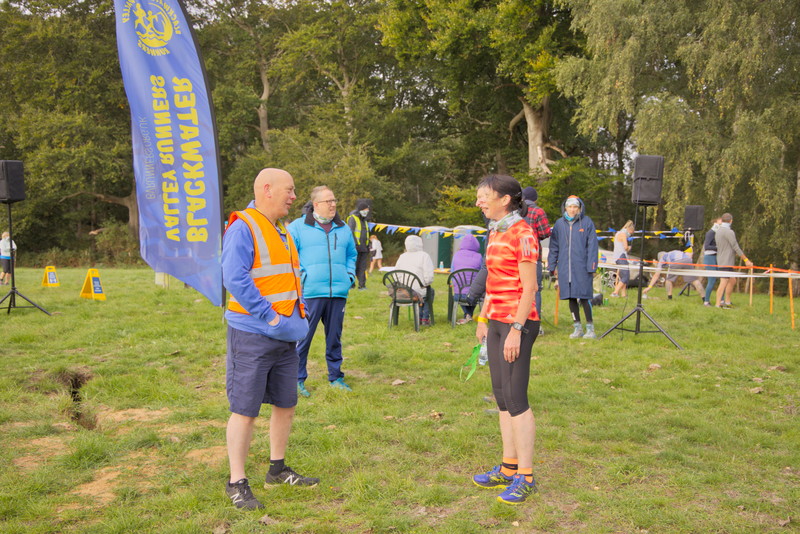 And as she and Dave have a socially distanced chat...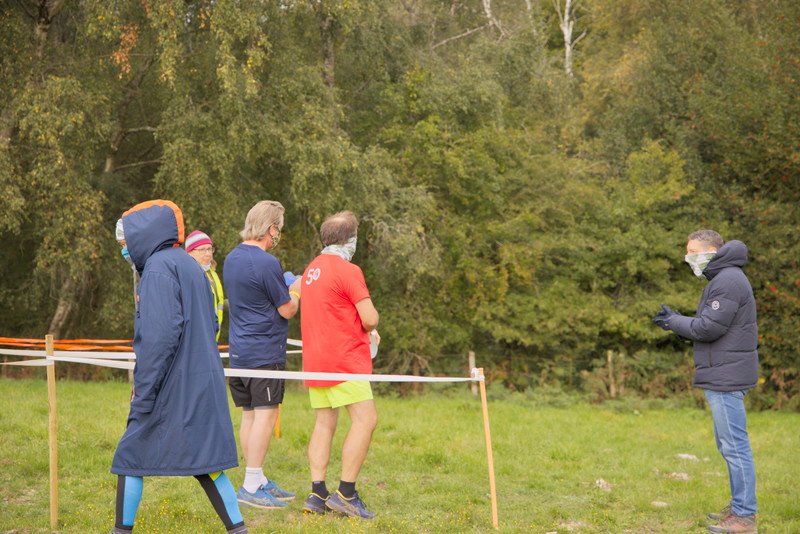 ...Another pair of runners are getting ready to start!

We're going to stay around for a bit and I'll take more pictures, but no way will I have everybody, and it's hard to know even what percentage I might have.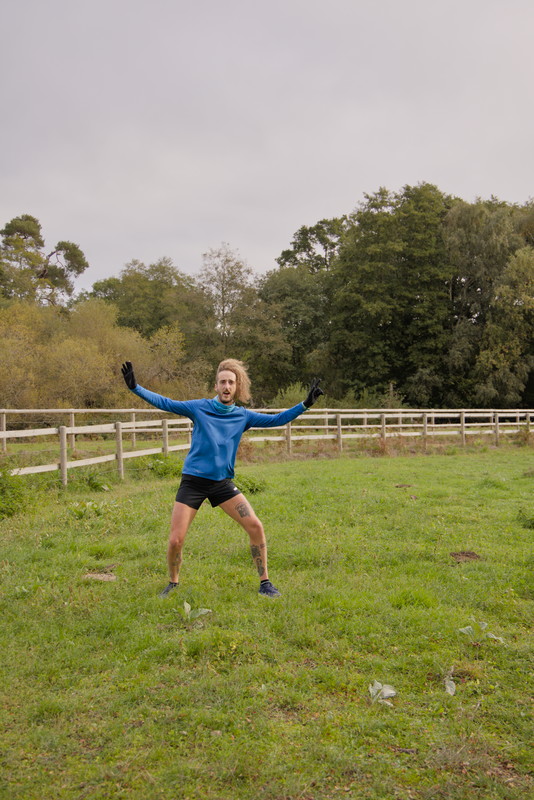 If he's celebrating a PB, the time taken celebrating might blow it!



When she's not telling the runners to run through the gate, she's taking pictures of them with her phone. It'll be a long day for her if she's doing the whole thing.

I'm going to make my way along the race route in reverse for a bit, and see if I can find a photogenic spot not too far away.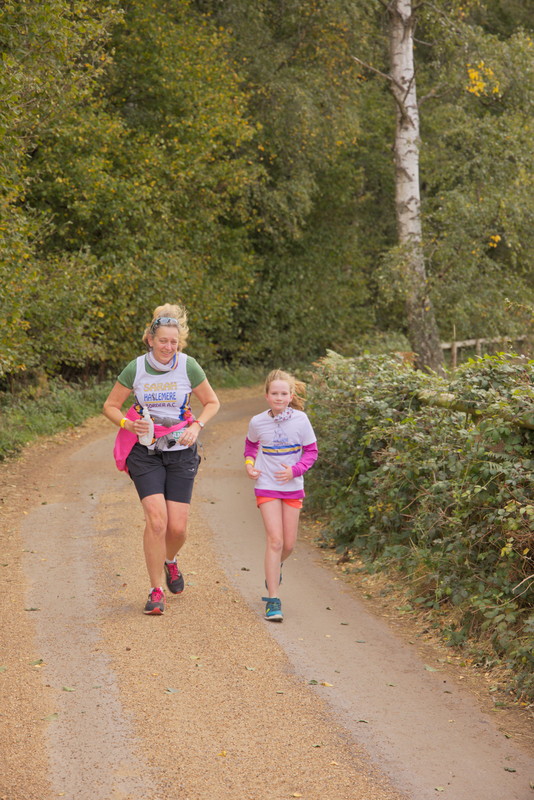 Has she worn Mum out yet?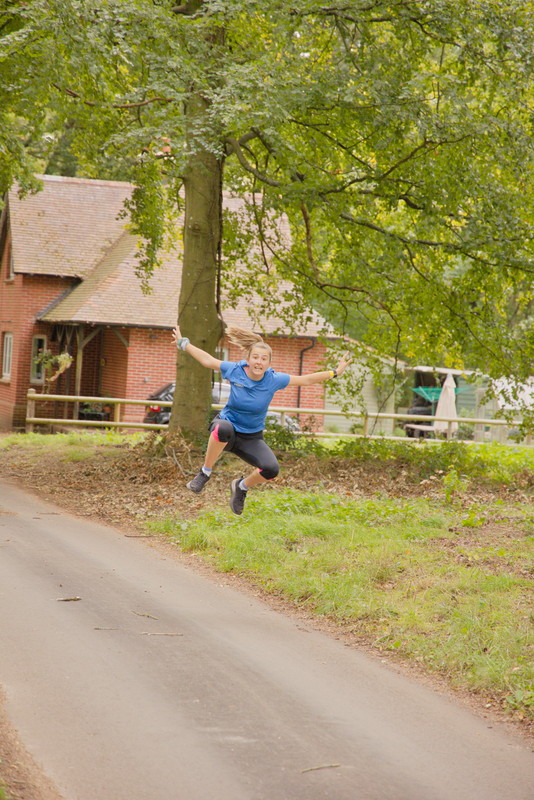 Now that's what I call showing off for the camera! Take note, mister man from three pictures back!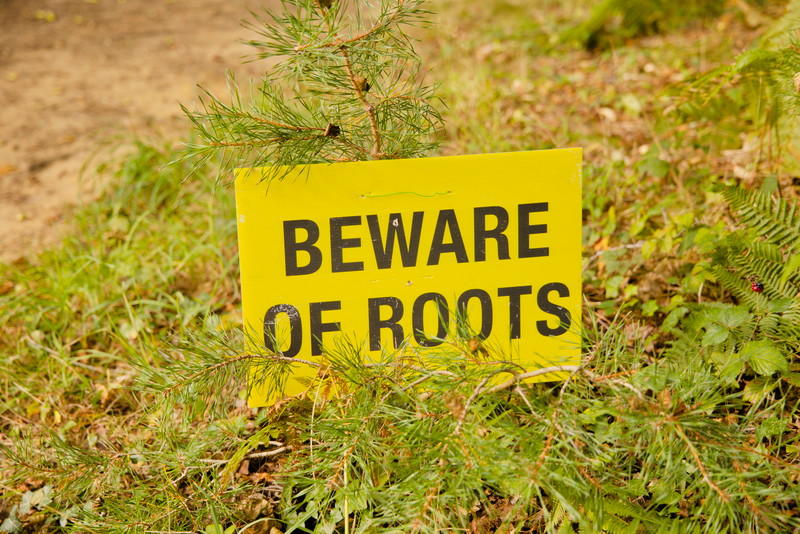 Amanda was rather taken by this sign, considering that it could probably be duplicated almost everywhere on the route. Dave tells us that he was particularly concerned here, though, because there's a fine scenic view of the lake to distract the eye from the roots.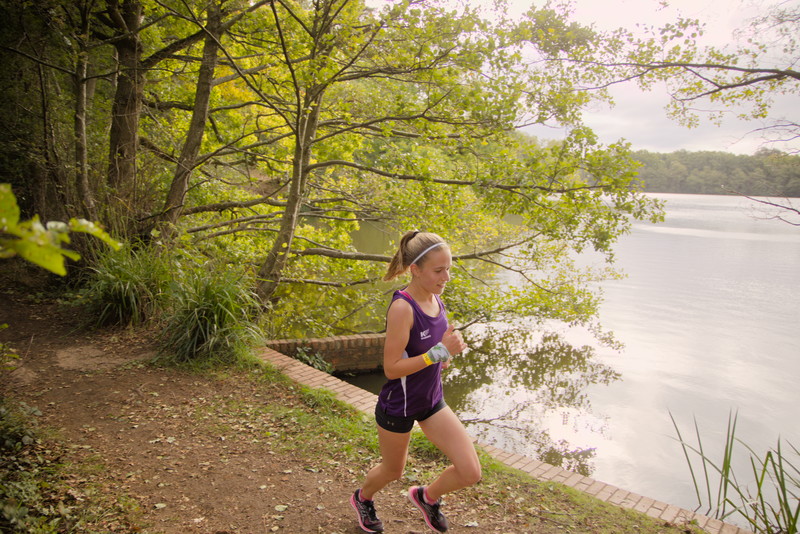 We actually had a little brief sun on the lake, and very pretty it was too. Naturally there were no runners passing at that time. You get occasional little groups, but mostly it's well dispersed single runners.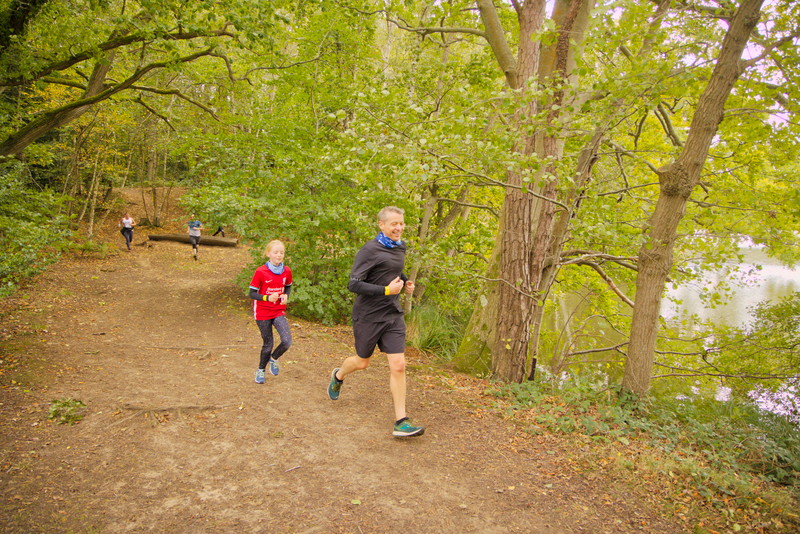 Looks like another high-speed family outing.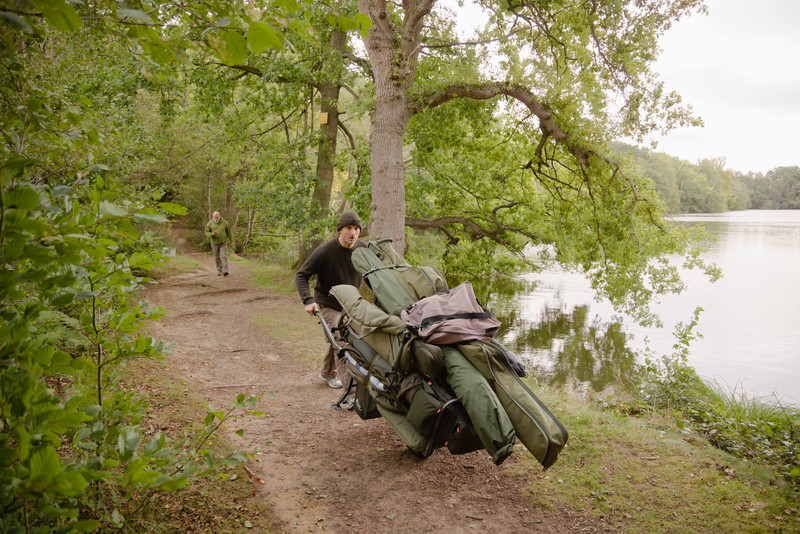 And finally, he's not in the race at all, but as an obstacle, he could make things interesting.

While I've been at this spot, Amanda has brought the car down to a nearer car park, come to meet me out here, got too cold and jogged round the lake to warm up, still been too cold and gone back to the car again. I haven't by any means seen the last runner, but I'm starting to get a bit chilly myself, so time to call it a day.

Thus ends the second of our post-Covid real events. More virtuals coming up: London Marathon this Sunday, for which the tracking app seems to be in much the same state as NHS Test and Trace, but we shall see... The next real one? Who knows? Indeed, who knows anything much these days? About the only thing we can say for sure is that Boris Johnson knows less than any of us.

Till whenever then.

Love to all,

Steve.