In February 2020, we booked the Frampton Arms in Moreton, to stay the night before the White Star Unicorn Frolic in May.

Guess what? May didn't happen.

WSR were hopeful that they could reschedule for the beginning of August, and we were free for the proposed new date, but, you guessed it, that didn't happen either.

So in February 2021, we booked exactly the same place for the same event a year later, wondering if history would repeat itself again. But this time we've been lucky! It won't be quite the same with the various Covid-safety changes, but we'll all take what we can get.

What we hadn't realised so far in advance is that it's a Bank Holiday weekend and the start of half-term, and the traffic is a complete nightmare. We thought we'd stop off to see Corfe Castle, and booked timed tickets for 2pm, thinking we'd be there in plenty of time to have some lunch first, and they'd probably be happy to let us in a bit early. Huh! A little after four, they are happy to let us in a bit late.

At least it's most of the way there, and the rest of the journey is off the main tourist routes, so the remaining few miles are easy.

After a long day, a cold beer is needed, and I think I'll just get a pint from the bar to take to my room. Even this is harder work than expected, as you can't just go up to the bar now. You have to take a seat, wait for someone to take your order, wait for others ahead of you in the queue to get their drinks, finally get yours, and then wait while they have to go and get the card machine from somewhere else so you can pay for it... It's enough to drive a man to not drink!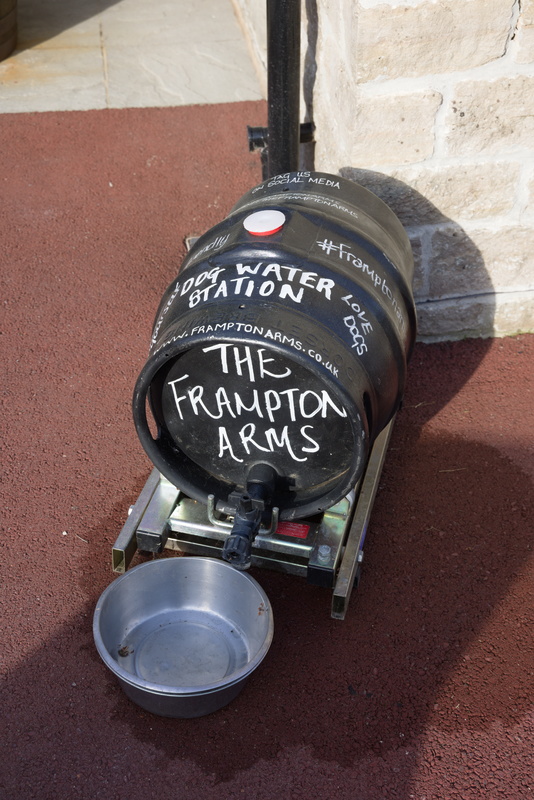 It's a lot easier if you're a dog.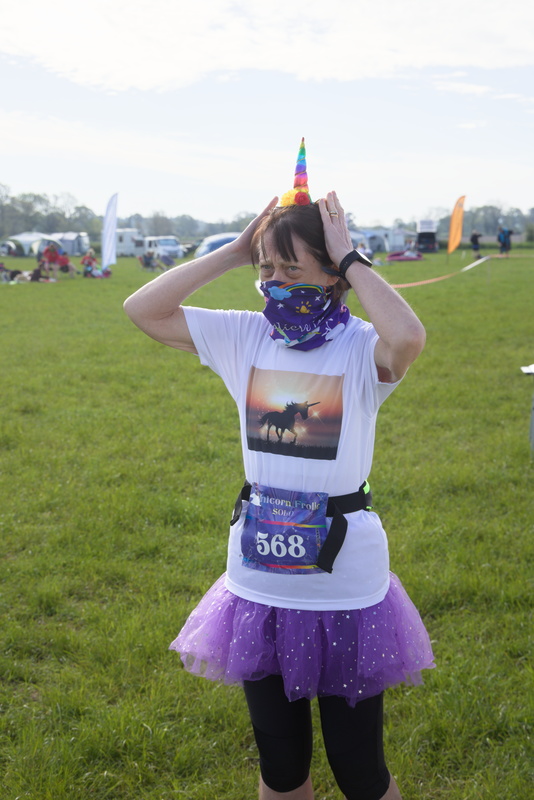 Race prep: make sure your horn is located securely and comfortably, while not breathing on anybody.

The T-shirt has been custom printed for the occasion, and I've got one too. It was quite hard finding unicorn pictures that weren't a bit too childreny; we are extremely serious people as you know.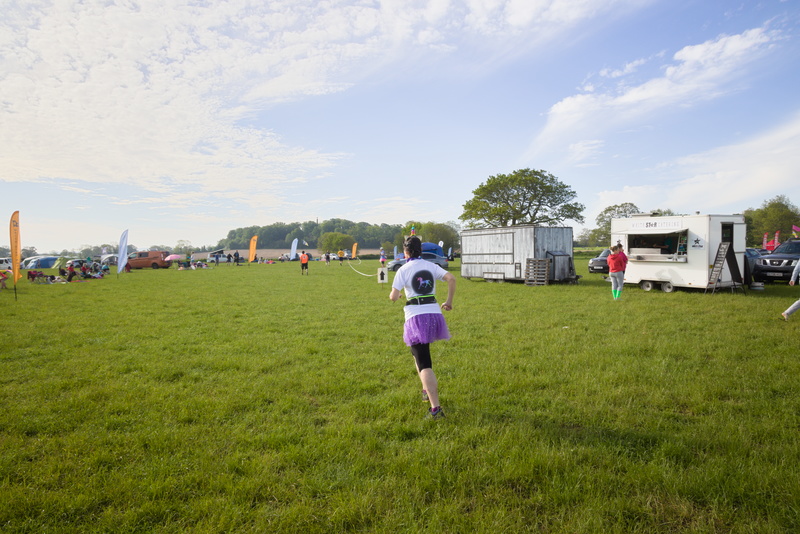 Let our Frolic commence!

I've programmed a few points into my GPS that I think would be good locations, but I've forgotten to download the actual race route into it. I did have a printout, but I left that at home. Oh well, these events are rarely amenable to detailed pre-planning without on-the-ground local knowledge, and even when I have had all the data to hand, I've often still had to make it up as I go along.

One advantage of the staggered start is that there are others out on all parts of the course ahead of her, so I can roughly figure out what's happening even without the map.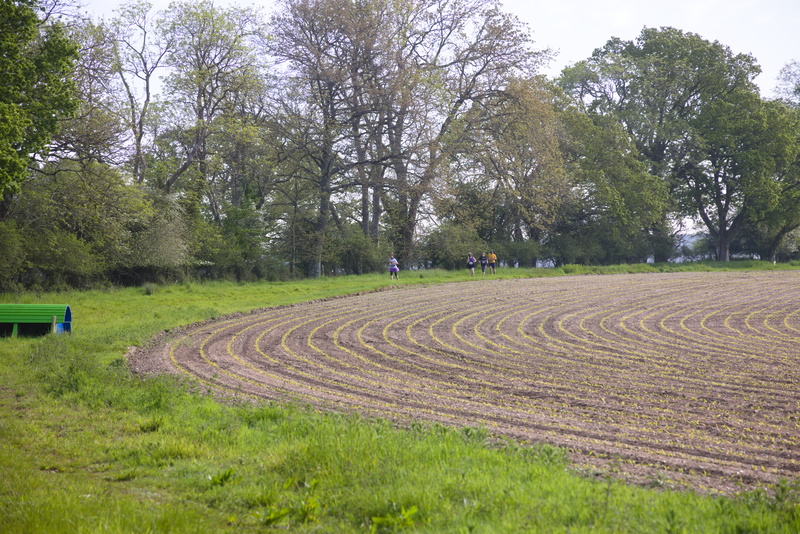 And here she comes around the edge of a field. The base for the event, and much of the course layout, is within the area of the Moreton Equestrian Centre, so we've been told to watch out for horses, but have not yet seen any. There are lots of hints around, though: I think that green thing is something that a horse might jump over.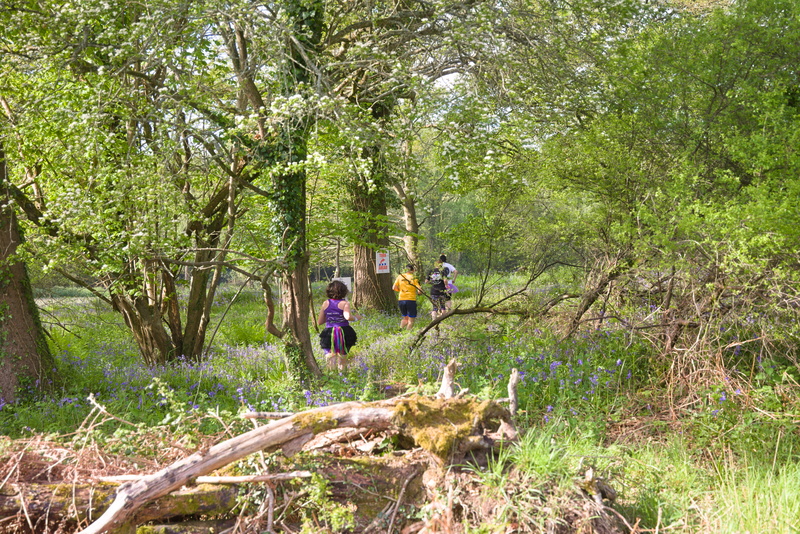 More bluebells in fine form as they take a short path through a wooded section.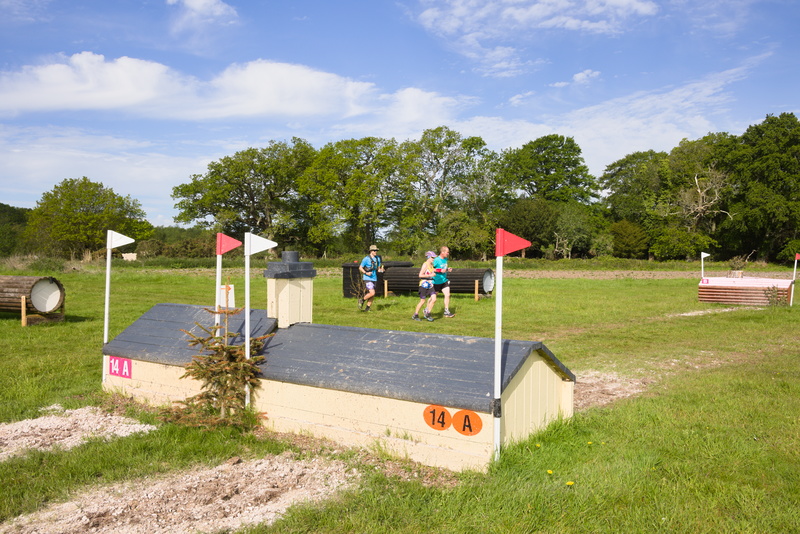 More things for horses to jump, many of which are terribly whimsical. As well as the little house on the prairie in the foreground, the brown object behind the runners is a camera with a long lens. Yes, even longer than mine!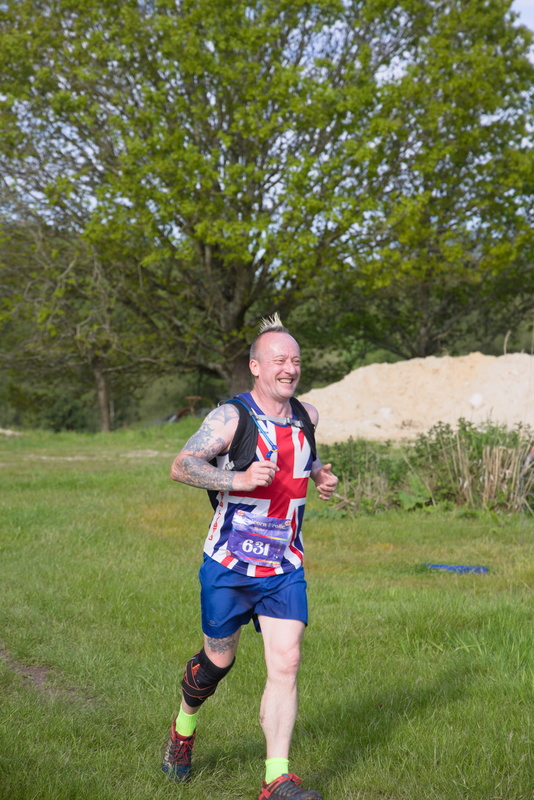 Is that a Unicorn Jack, or a Union Jackicorn?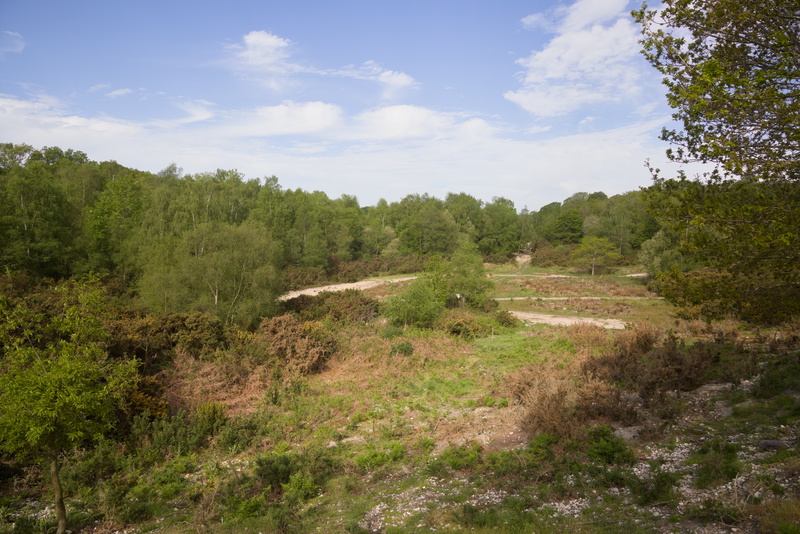 The edge of the horse-jumpy field is a high point on the course with a fine view.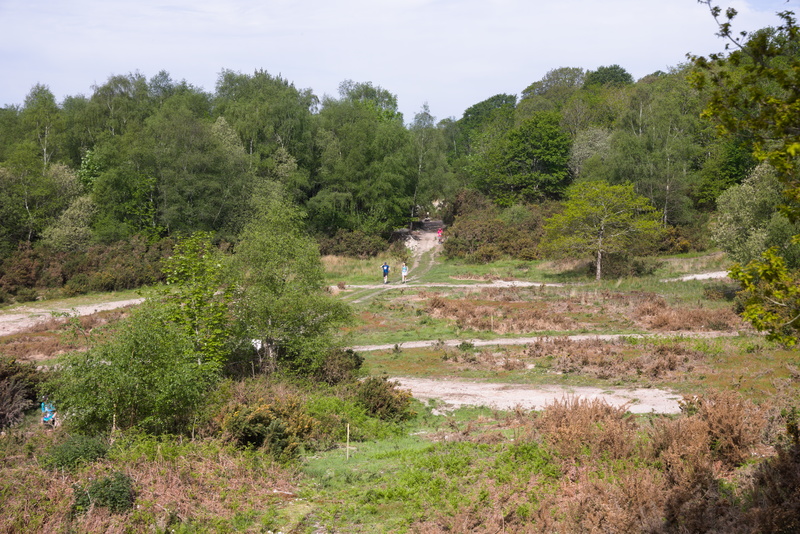 You can see the runners coming down to the bottom of the previous hill before they have to ascend this one.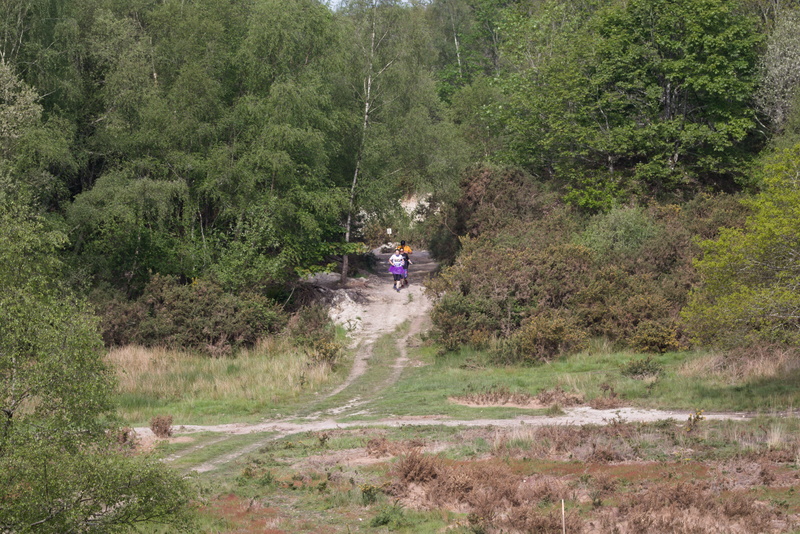 It's taken longer than I expected to see Amanda, and it turns out this is quite near the end of the lap. She's planning on three laps for a (rather generous) half-marathon distance, so I should be able to do better next time round.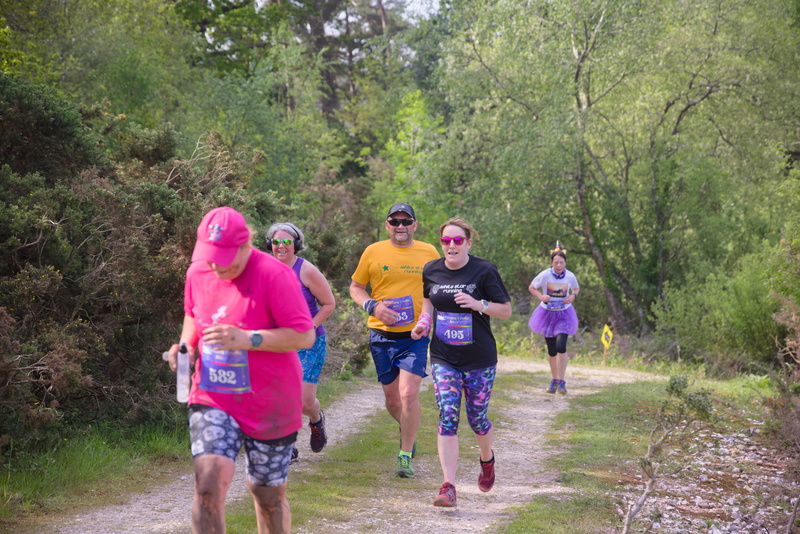 Up the hill she comes. There are an awful lot of people walking up here, but because I'm in a good mood, I usually give them fair warning before taking a picture so they can put on a five-second spurt for the camera. Amanda, naturally, is running properly without needing to be prompted.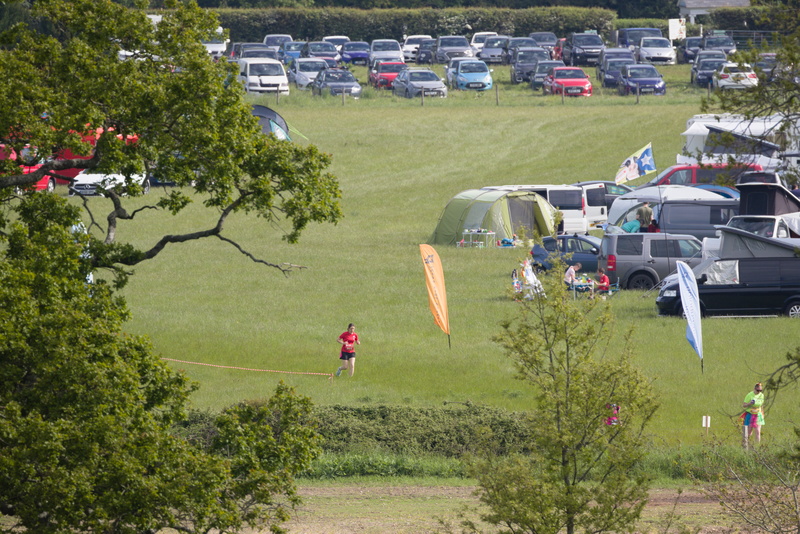 Looking down from the other side of the hill, you can see the camping and car park area, with people just into the start of the lap.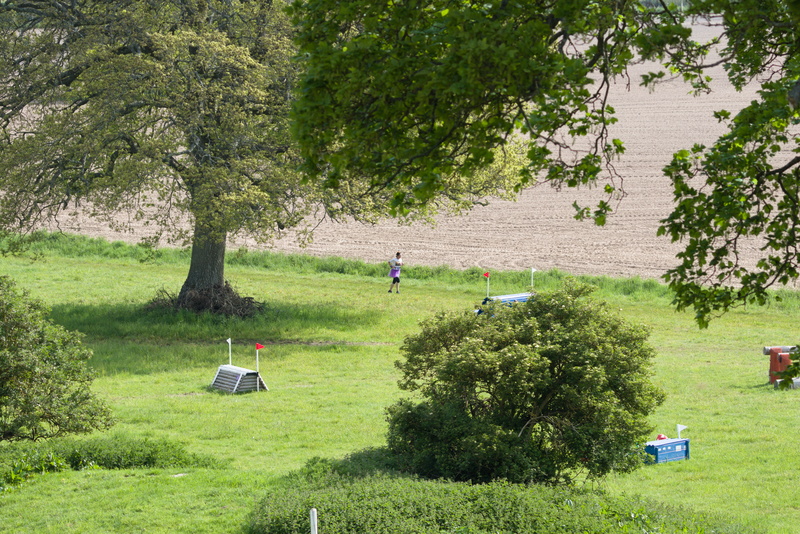 And then a little further along, it's back alongside the ploughed fields with more horse bits. Still no horses, though.

To be strictly accurate, we did see a couple of horses when we arrived and drove into the wrong bit by mistake at first. Probably about to be put in their horseboxes and taken away from all the strange running folk. You know what they say: "I don't mind what they do so long as they do it in private and don't scare the horses." Oops, too late.



Amanda had been concerned that she might be the only person wearing a tutu. You'd think she'd know WSR by now, wouldn't you?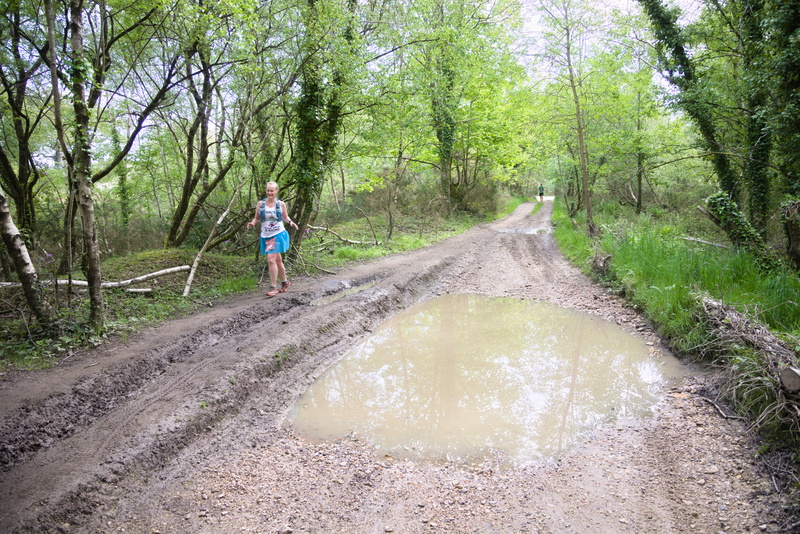 If you look carefully, you can see my bike tyre tracks to the left. What the visible bit doesn't show is how I nearly skidded off and fell in the puddle before that. It turns out to be much safer and easier just to go through the water than negotiate the slippery ridge, on a bike anyway.

I follow the route a bit, then hear the sound of music. Not "The Sound of Music" as such, but through the trees I can see the WSR lovestation team rocking the woods. I can't quite see how to get from here to there officially, but the barbed wire fence is low enough to step over carefully.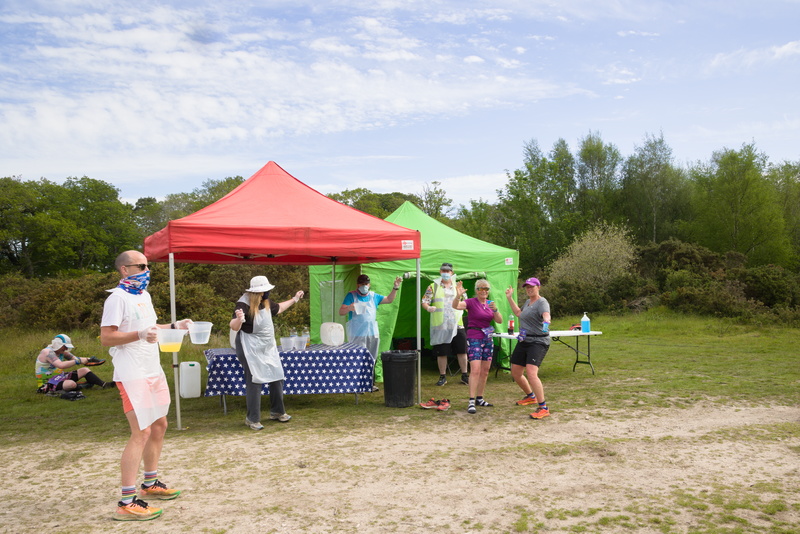 I presume his nickname is "Two Jugs".

I fear the clear one contains water, not gin. I will later learn that I have missed the gin station on my travels, although Amanda will tell me that it wasn't even open on her first lap. Shoddy service, I call that.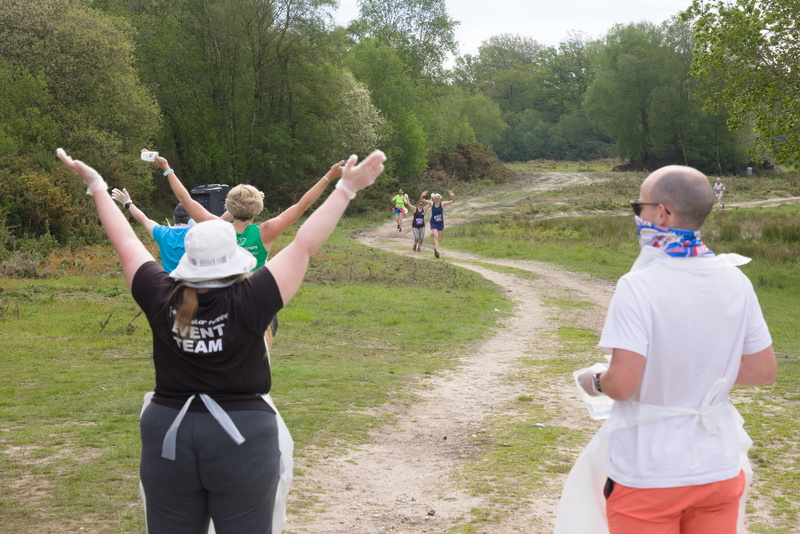 "WE WILL, WE WILL ROCK YOU! WE WILL WE WILL ROCK YOU!" It's almost exactly like I remember Queen at Wembley Stadium all those many years ago. Admittedly, my memory has never been good.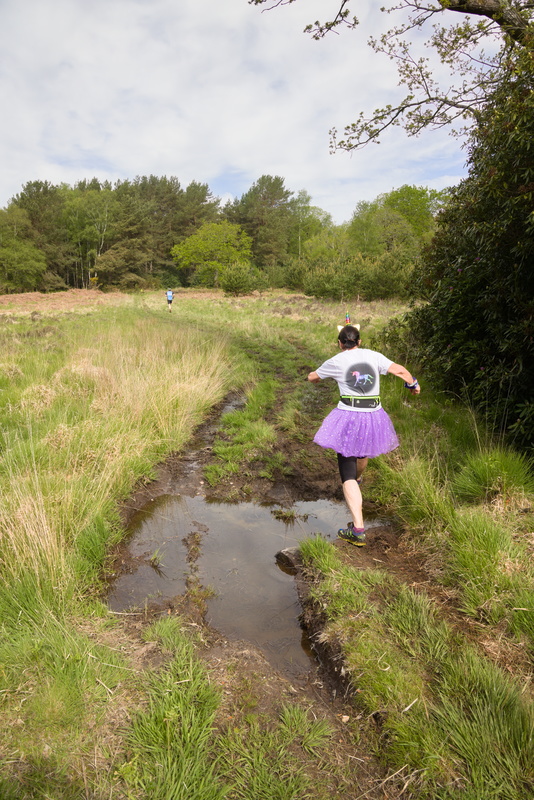 The route continues through Eeyore's Boggy Place. I gather that few find the dry line, such as it is, and Amanda will tell me she hears people talking about changing their shoes and socks before they start another lap. How such wimps would fare in the rugged trails of Bookham scarcely bears thinking of.

[Amanda's famous swim in the Bookham 10k is a key feature of the first ever blog on FatSlowCow! https://fatslowcow.uk/2014/An%20Illustrated%20Poem/index.html - they've grown quite a bit since then.]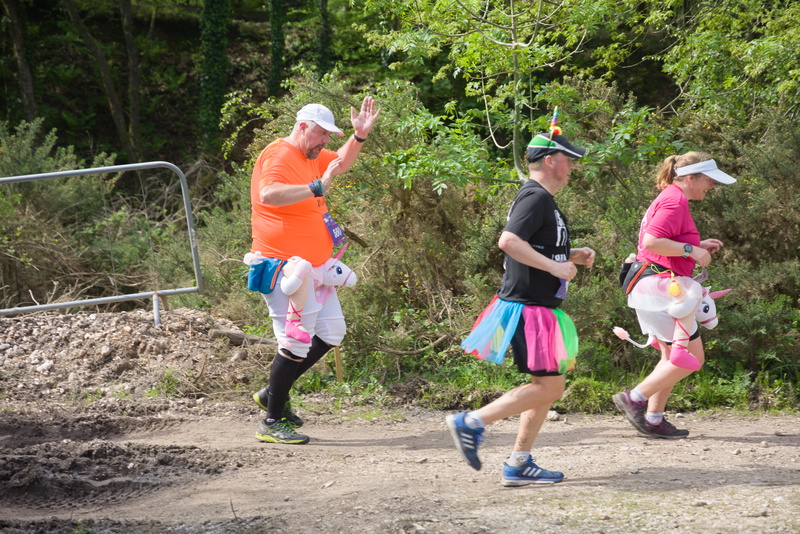 Like I say, Amanda worried that others might not be dressing up.

I've found a neat spot here, where runners come by on the bridleway in one direction, and it's halfway up the big hill in the other direction.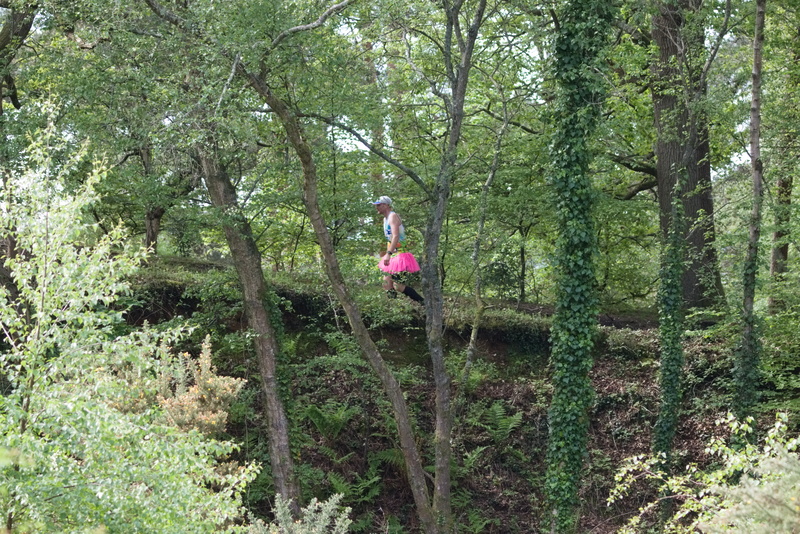 And I realise that through the trees, there's another section just visible, so three different parts of the course can be seen just by looking in the right direction.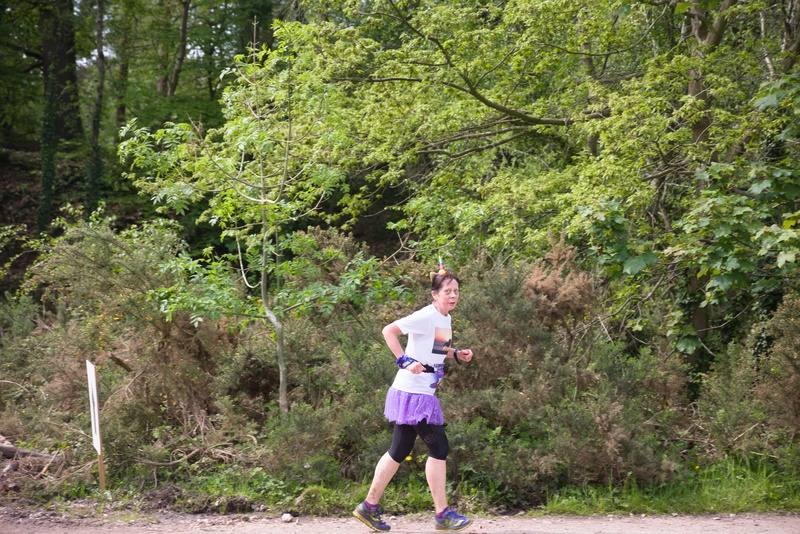 I thought I'd got here before Amanda came up the hill for the second time, but it seems I missed her, so she's been running for quite a while since we last met. She calls to me from the bridleway...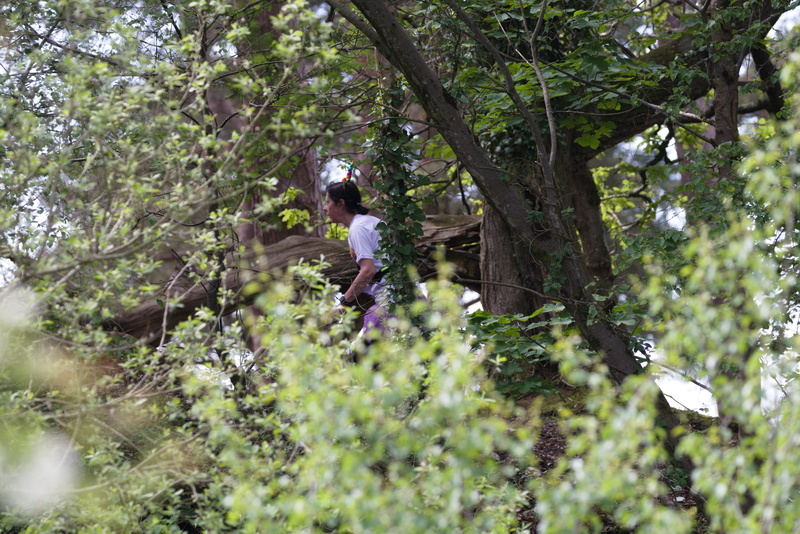 And then again when she passes back the other way through the woods.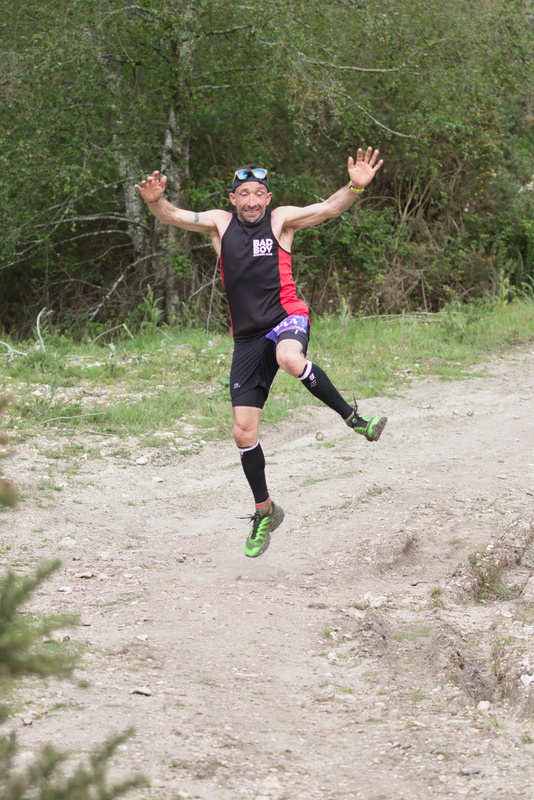 So back to the third way: up the hill.

This chap does a jump just after I've taken his picture, so I tell him he has to do it again now that I'm ready. Give him his due, he does! Most people don't have the energy to run here, never mind jump.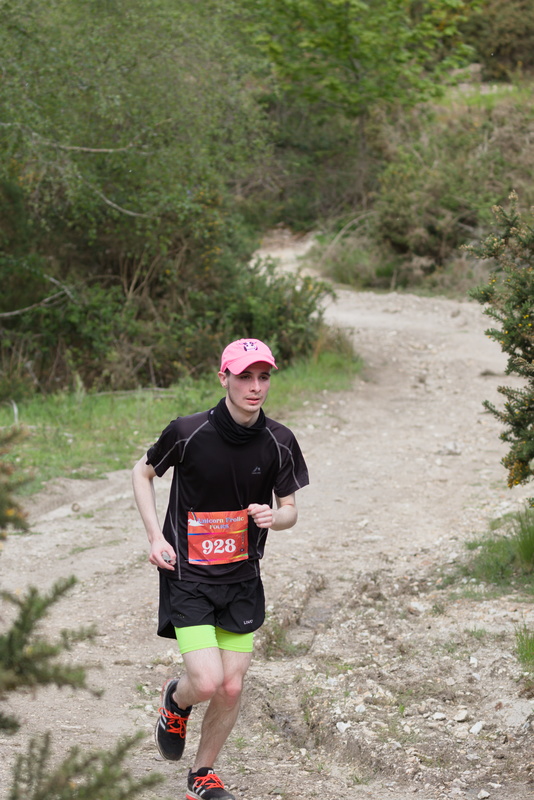 And talking of running, here's a fit young lad doing just that.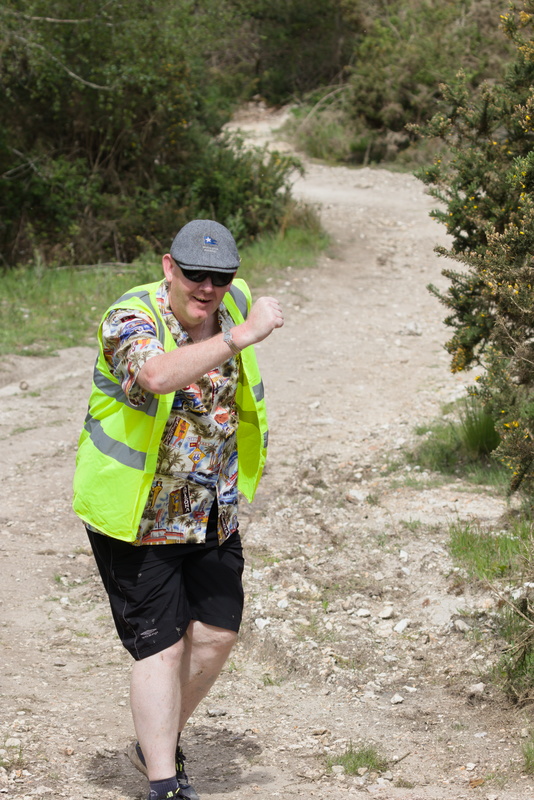 Perhaps just a teeny bit less young and fit?

I tell people that they can just pose as if they were running and it'll look ok in the picture... and quite often it does. But not always, sorry. There are limits to even my skills as a photographic illusionist.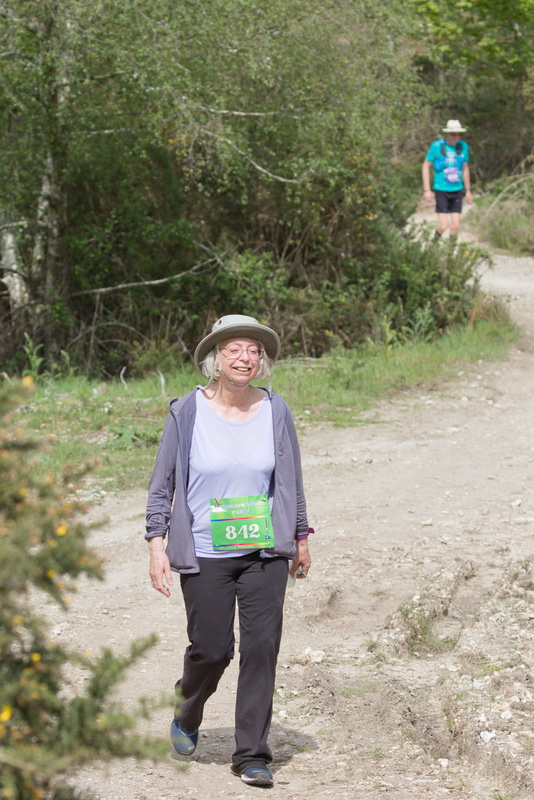 "No, I'm not even going to try to pretend! I'm walking!"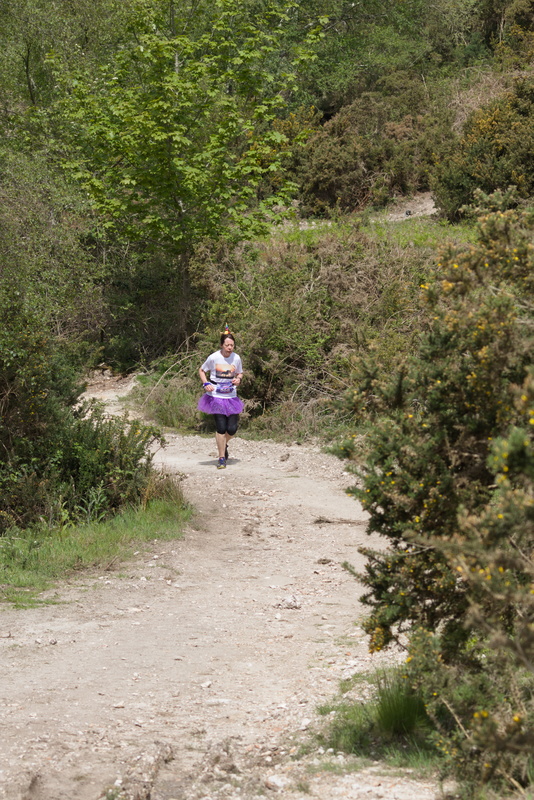 Amanda's still running, but definitely flagging a bit. The sun is strong in the open, although the air temperature in the shade is still cool. This is her final lap, but she'd be finished by now if it was a more townie, less White-Starry half-marathon.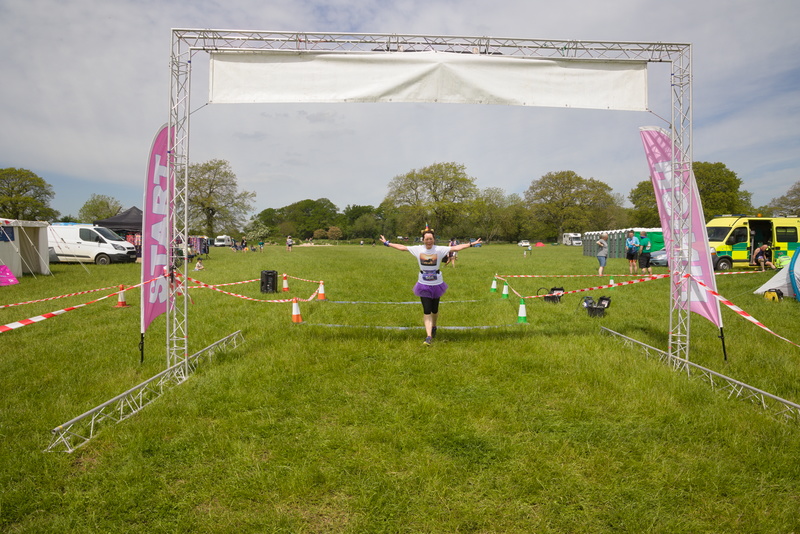 Best part of 16 miles according to the Garmin, definitely a 'country' half!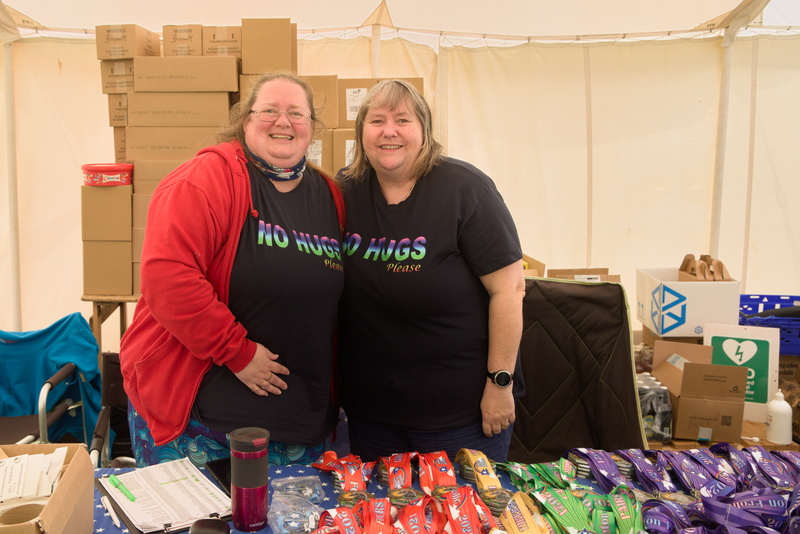 The hugging team are still furloughed, so they've volunteered to not give out the medals, but at least supervise the process of taking them. The Unicorn Frolic itself is just one part of "A Weekend at the Races", so as well as solo and team Frolic medals, there are additional bits of bling for completing more than one of the events. During the course of the Frolic, more than one crazy masochist remarked to me that maybe it wasn't so sensible after doing the marathon yesterday. But since when did runners and 'sensible' become a thing? Exactly!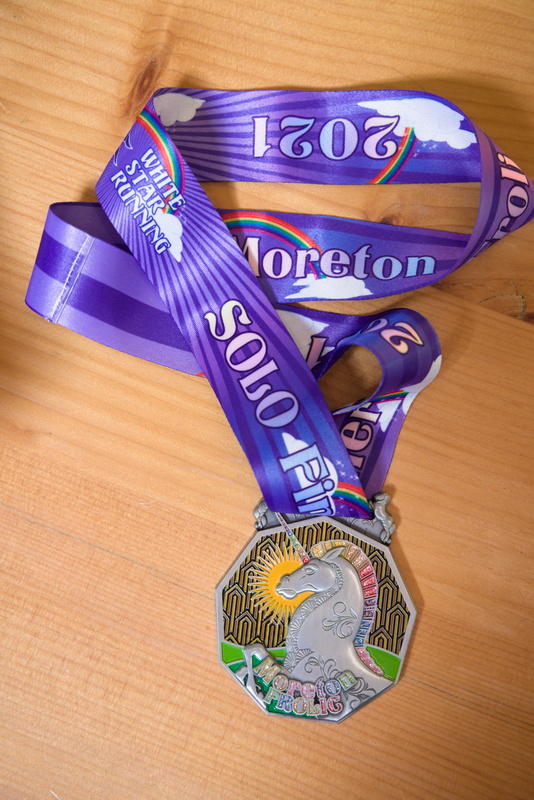 This is Amanda's medal, and a very fine unicorn it is too.

So now we're off to Cornwall for a week. It's hard to believe that this will be the first time we've been away for more than a weekend since September last year! Of course December/January would have been our trip to Patagonia, but just like the Frolic, we're hoping to do the same thing a year late.

Off we go, then, and wouldn't you just know it, the traffic today is brilliant. Ironically, we were expecting it to take forever anyway, but the last time we were in Cornwall was about 25 years ago and since then they've made the A30 into an actual road rather than the kind of goat track that even goats would only take if they weren't in a hurry.

Also since then, GPS and Google Maps and 4G mobile phones have been invented, so although where we're going is pretty much the middle of nowhere, we have no trouble getting there.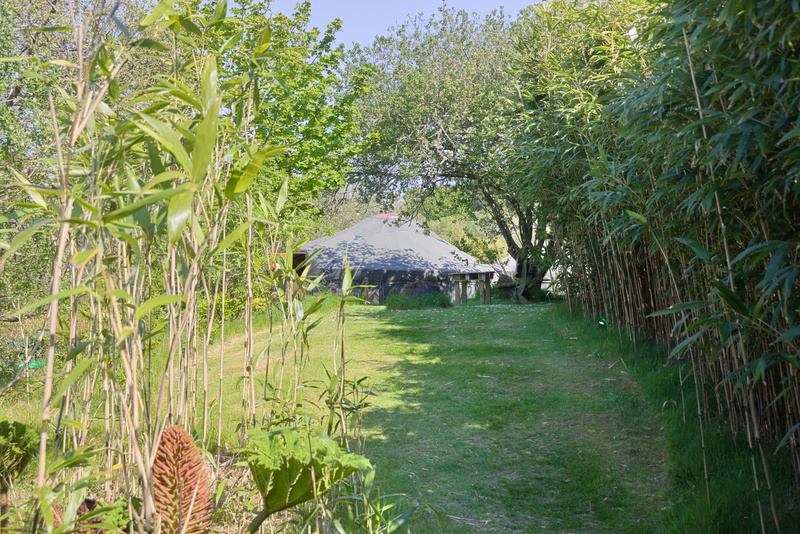 We're staying in a yurt. We've stayed in a yurt before, but that was in Kyrgyzstan and quite, shall we say, 'authentic'. This is a bit glamper: underfloor heating no less!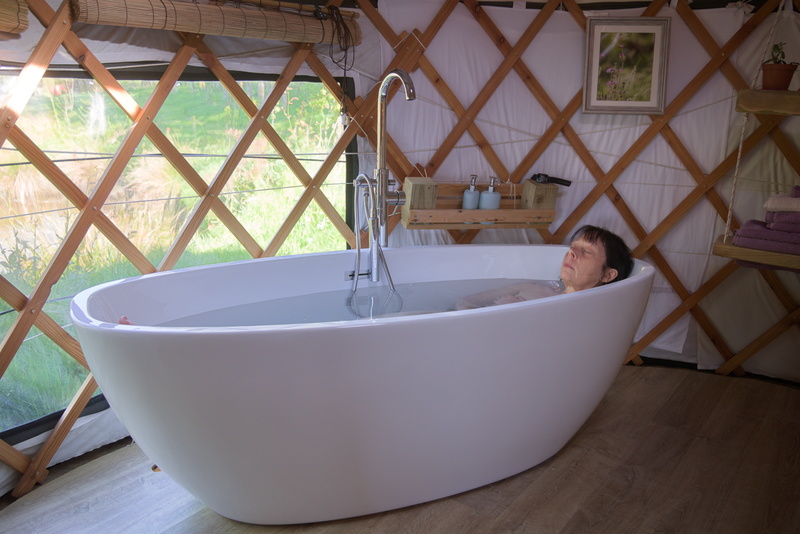 And we most certainly didn't have that in the Celestial Mountains!

Then again, I doubt anyone camping at Moreton had that either. You can tell we're really city softies who just pretend to be hardy rural folk.

[Shout out to the lovely owners, Ruth and Jim: if you want to stay in the far South West and don't think "self-catering holiday" is a contradiction in terms, we can't recommend The Sail House too highly. https://pengellyretreat.co.uk/accommodation/the-sail-house-luxury-yurt/ ]

Gosh, I think I've just got one more blog to write and I'm up to date! Whatever will I do? I'm sure I'll think of something.

Love to all,

Steve.

PS: When we see the results, we will learn that Amanda is the number one fastest three-lapper, male, female or otherwise! Hurrah!