Third Time Lucky!

⬅ previous ⬆intro next ➡
---
5 January - Villa O'Higgins to BordeBaker Lodge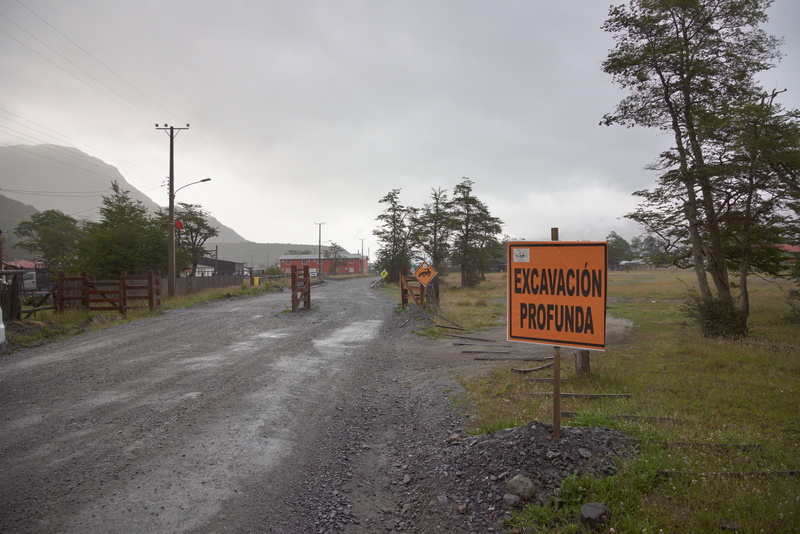 Leaving town turns out to be a bit of an adventure because some areas are blocked off for major roadworks, including what would have been our route out. But as you will remember from the aerial view, this is not a big place and it's not hard to figure out a suitable alternative.

Our destination today is a lodge quite near the Baker/Nef confluence we visited the other day, and we've seen its sign on the road a couple of times, so we're pretty sure it will be easy to find. It's a good few hours drive plus ferry time, but we're in no rush. Back when we were planning this trip in the UK, this was the stage that Lauren was most worried about logistically, but in fact, all our driving has been smooth and easy. Ok, as I said before, it helps if you are not stressed by the occasional slight discrepancy between where you want to go and where the car wants to go, but Tiggo will always do what he's told eventually, at least if you're polite about it.

But then, at times like this, I'm often reminded of our trip to Namibia in 2005. A gravel road, but absolutely dead straight, visibility for miles...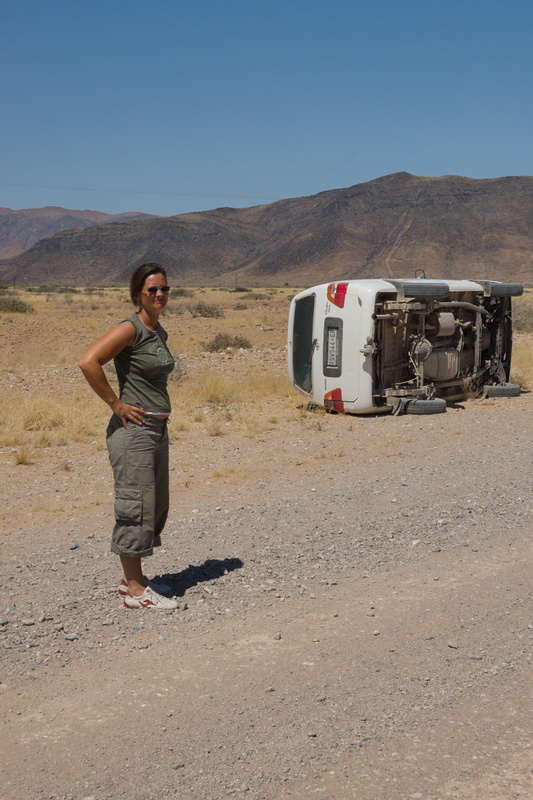 How do you do that?! Her boyfriend managed it!

(I wondered if it might have been our first ever Audley trip, but on investigation that was actually to Jordan the following year. Still, 2006 to 2022, we must obviously like the company!)

But back to the present... I have not done anything like that and have no intention of doing anything like that [and indeed I don't do anything like that].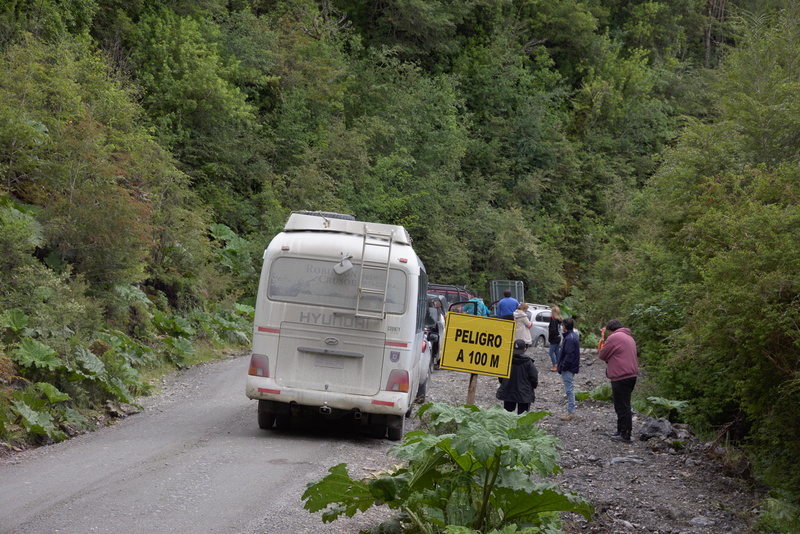 "Danger" is perhaps too strong a word. What it means is that 100m ahead, there are cones where the traffic has to stop and queue for the ferry. There isn't enough room at the terminal itself for more than a few cars to park at the best of times, and they're doing some building works right now that mean there are barely enough for the workers.

We were told, incidentally, to make sure we were at the terminal in good time, which we did. We were somewhat surprised to find quite a few cars ahead of us who didn't seem to be nervous tourists either. But as we wait, the queue builds up, and while our southbound ferry was half empty, we start to wonder if everybody who wants to get on will actually be able to do so. Ok, not our problem, but again, it does support the notion that this could be a tricky journey if you are a bit slow or have delays.

Incidentally, note how dusty the back of that bus is.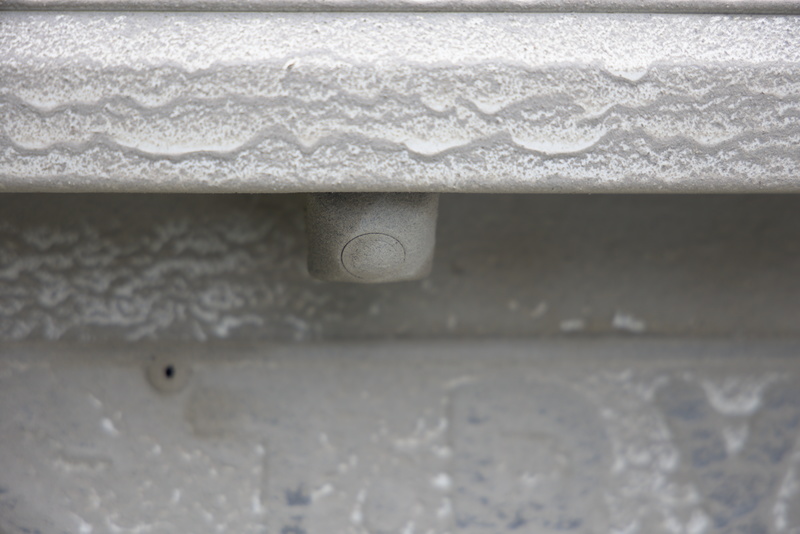 The back of our car is just as dusty, and that little white lump there is the rear view camera which can see literally nothing until I wipe it.

It's funny how quickly this frippery becomes a vital function and one gets a bit flummoxed when it fails.

And apropos of nothing, but it's been a recurring feature of our journey, this sign: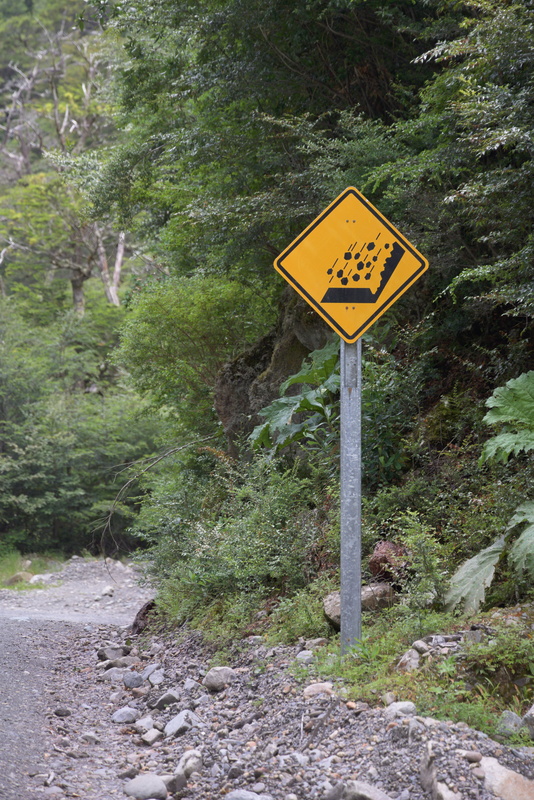 We fancifully interpret it as "risk of meteors striking your chair".

Anyway, the ferry arrives, and although it's a bit of a squeeze, nobody is left behind.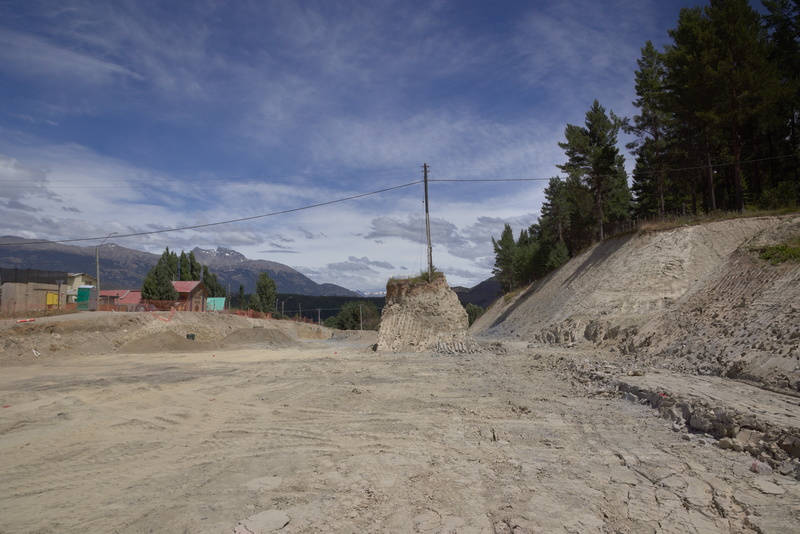 They're upgrading the Carretera Austral here, and building a new road in parallel with the existing one. But another road used to cross here and a power cable ran along it. They've taken away most of the road, but had to leave the bit with the pole!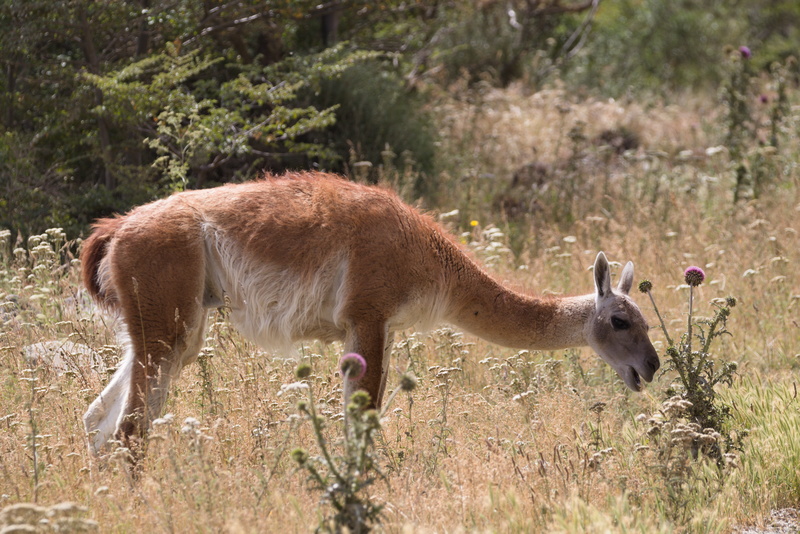 Although we never saw the huemules in the National Park, we did get a glimpse of them crossing the road at one time as we were driving, but they were far too quick for a photograph. The guanacos, relatives of the llama and alpaca, are less shy, and we can stop and take some proper pictures. Admittedly, this is the first time we've seen them [and it will also be the last], so they are clearly not that common.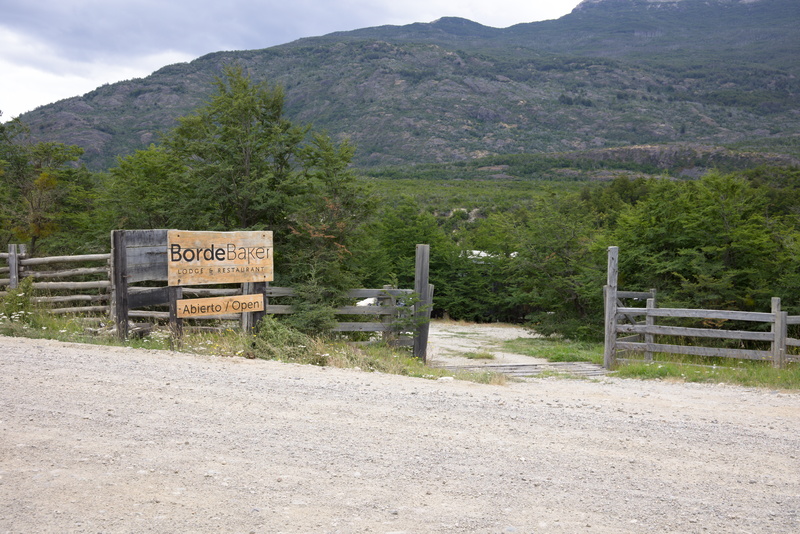 And here we are, the BordeBaker Lodge.

It's a short track from the road to the car park, but it's still more than worthy of 4WD.


LIke Caleta Tortel, but on a far smaller scale, the site is all linked by wooden walkways and stairs. The cabins are well situated and very private.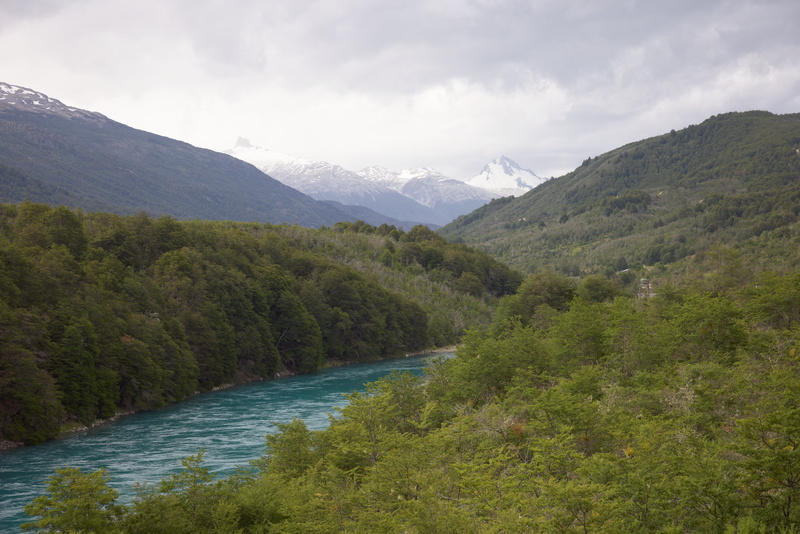 Can't knock the view from the room!

The cabins are simple but comfortable, and although they have wood burners, it's not cold enough to need them, quite unlike Puerto Guadal or Villa O'Higgins. But there may be a reason for this...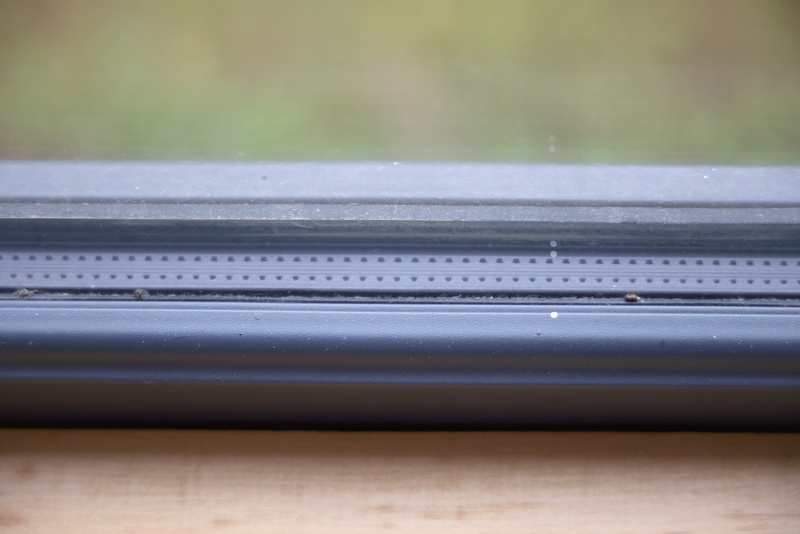 Look, double glazing!

Yeah, yeah, you say, not exactly exciting stuff, but this is the first we've seen anywhere in Patagonia!

Here, let me show you the bathroom window at Las Ruedas in Villa O'Higgins: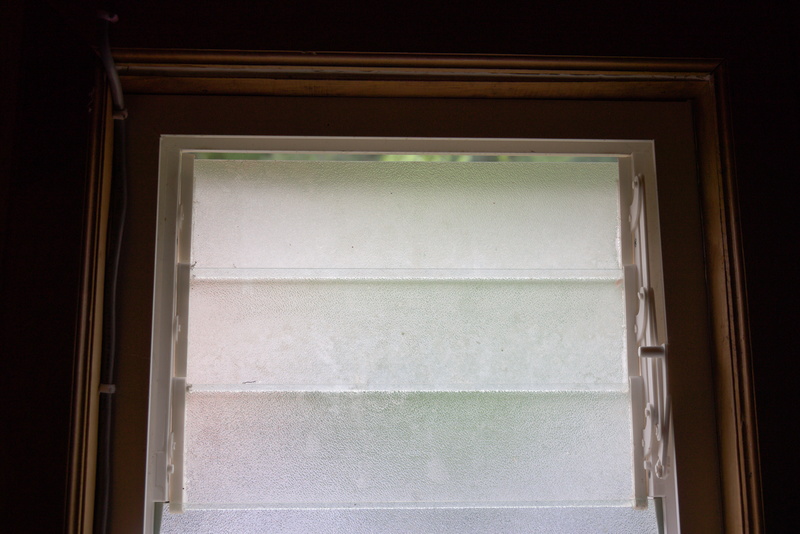 Glass louvres with not just an absence of any seals, but look at the top: pure empty space!

Even at Entre Hielos, where the rooms were otherwise lovely, they were only single glazed.

So yeah, this is dead posh!

One other thing about the room which isn't so existentially significant but makes us smile: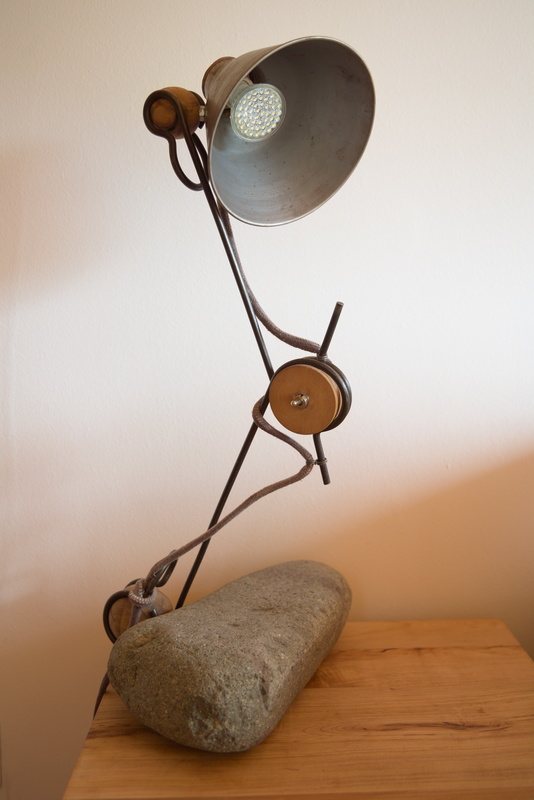 We do like these bedside lights.

So we go to dinner and ask what white wine they have.

Err, none. They only have red wine!

Ok, that comes as a bit of a surprise, but they are happy to chill the wine we've brought with us in their fridge, and don't even charge us corkage.

Dinner itself is not bad, but not up to the standard of Entre Hielos, which remains the culinary high-point of the trip. (And yes, I'm jealous I couldn't get anything like the same quality of ingredients when I was cooking myself.)


---

⬅ previous ⬆intro next ➡