The Rain in Spain!

⬅ previous ⬆intro next ➡
---
Day 4 (May 11) ~ Sant Miquel to Girona


Farewell Roy and Goretti; you've been fabulous and your place is fabulous!

The morning is quite cloudy, but it's not raining and there are a few spots of blue. We have a couple of options for today's ride, and we reckon we'll play it safe this time and choose the "shorter, flatter" alternative. Initially we're off following the same path we walked yesterday to Sant Feliu, and although it's quite smooth by track standards, it's still a bit bumpy on our road bikes.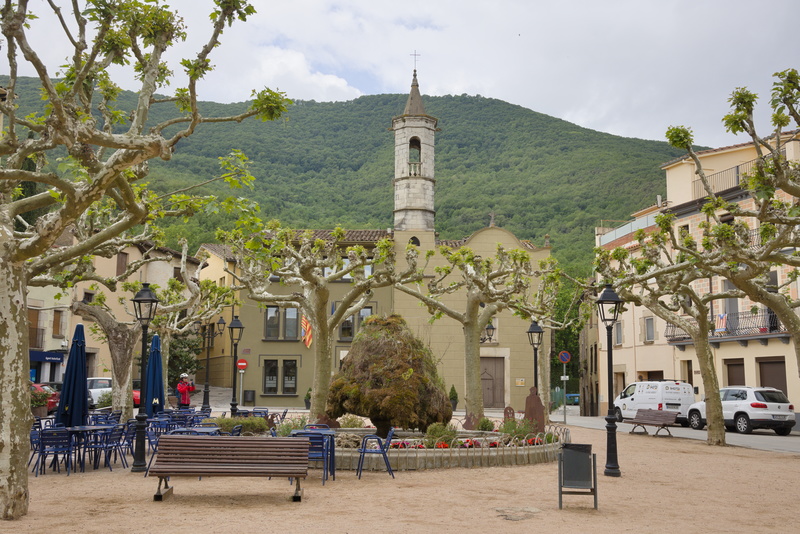 The village has an attractive little square, and we pop into a couple of shops for some provisions.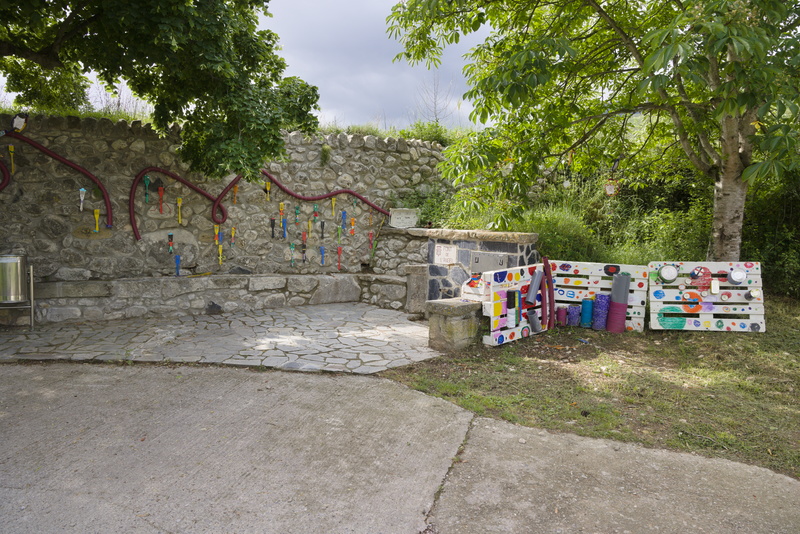 Out of town: what's this?!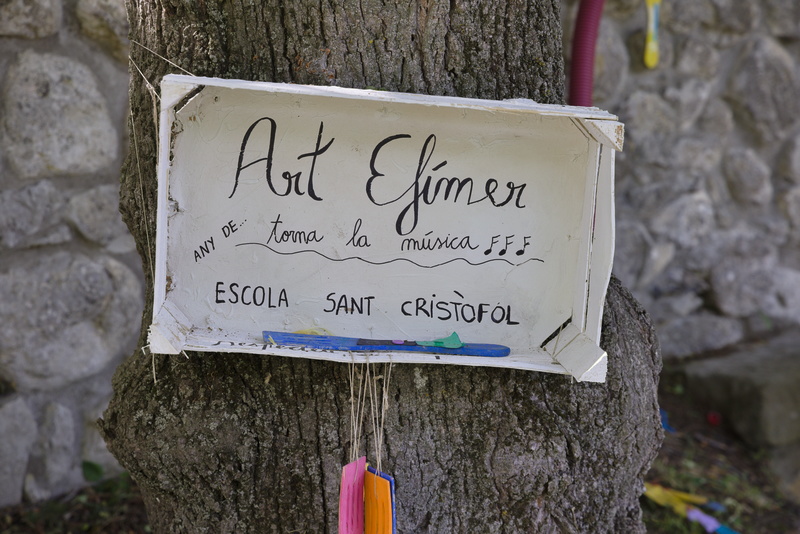 Seems it's an art installation by local schoolkids.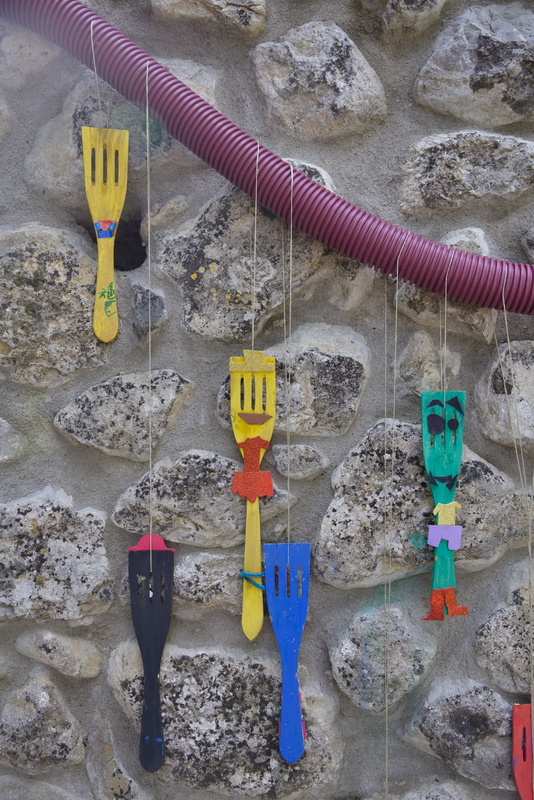 Maybe it has some local significance that we don't get.

Onwards!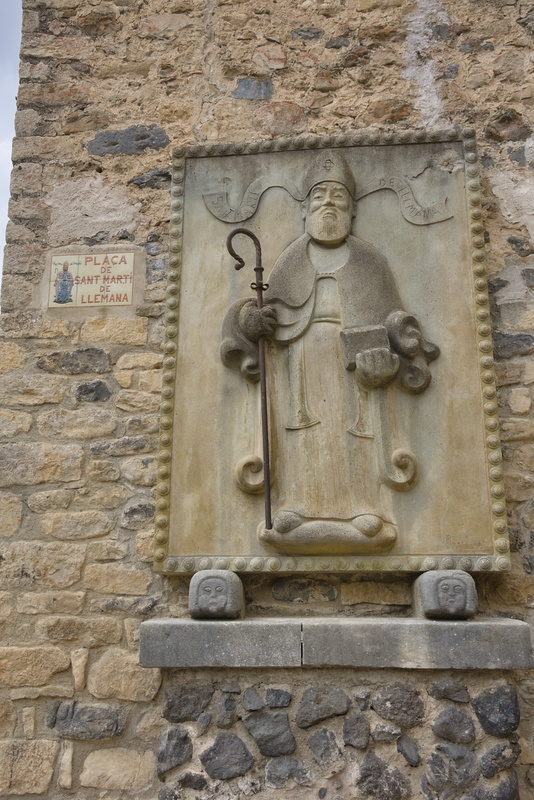 Through the small village of Sant Martí de Llémena.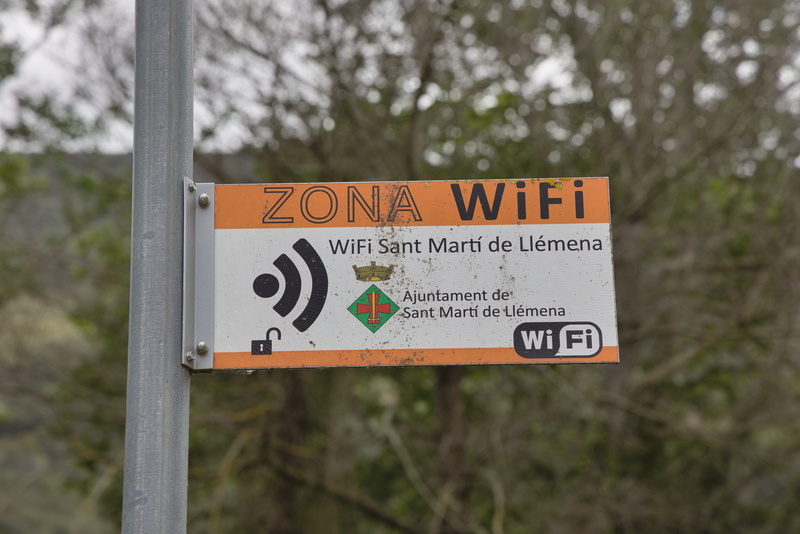 We aren't expecting this in the car park, though!

As it happens, we are not presently in need of WiFi, so I can't say how good the service might be.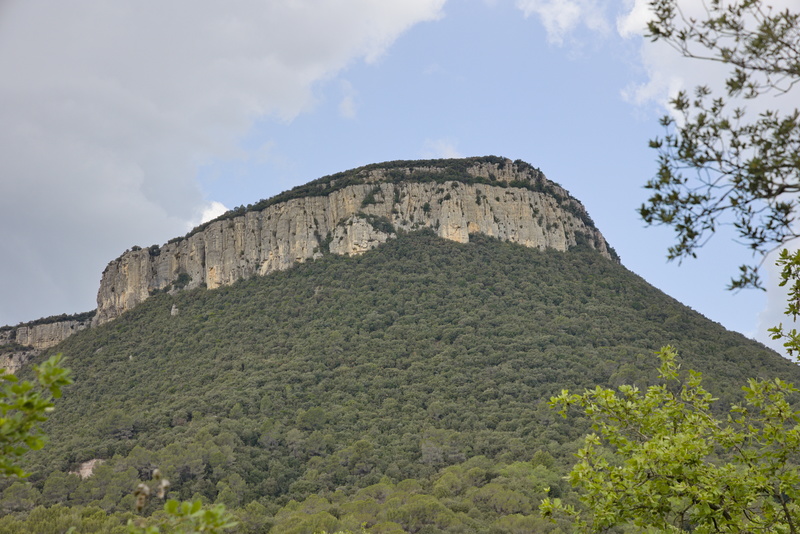 Perhaps fortunately, we're not cycling up there. This is the sort of thing that stops roads going from A to B without traversing most of the rest of the alphabet first, and why we were unable to find anything resembling a short cut when the weather started turning on our first ride.

As we start getting closer to Girona, it's not just curious natural phenomena we see. For some time we appear to be heading in the general direction of an enormous building on a hill, a giant almost featureless beige block. It turns out to be some kind of factory.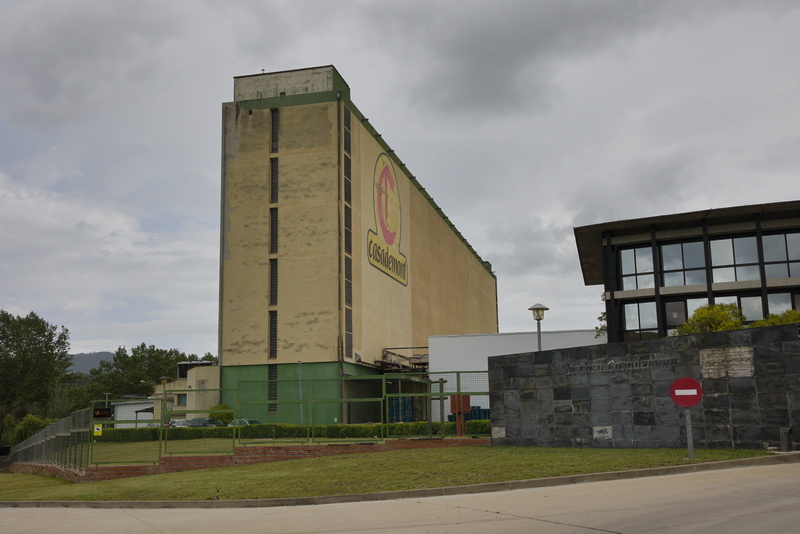 "Casademont". Never heard of it.

But thanks to the miracle of technology, I can now tell you what its parent company's web site tells me:

From its origins in a workroom producing 'fuet' and other cold meats in Girona in the mid-20th century, Casademont has upheld a balance between tradition and innovation to offer products which best meet the needs of consumers, ensuring the best flavours and quality around.

Committed to quality, which is understood to mean product excellence in the fields of taste, texture and properties, and a way of being. And so too a commitment to society and the planet, through the development of innovative products, which adapt to new consumer habits and certificates for Animal Welfare – with the option of more sustainable packaging.

Well there you go!

Nearer still, we are following a river/canal and seeing signs like these: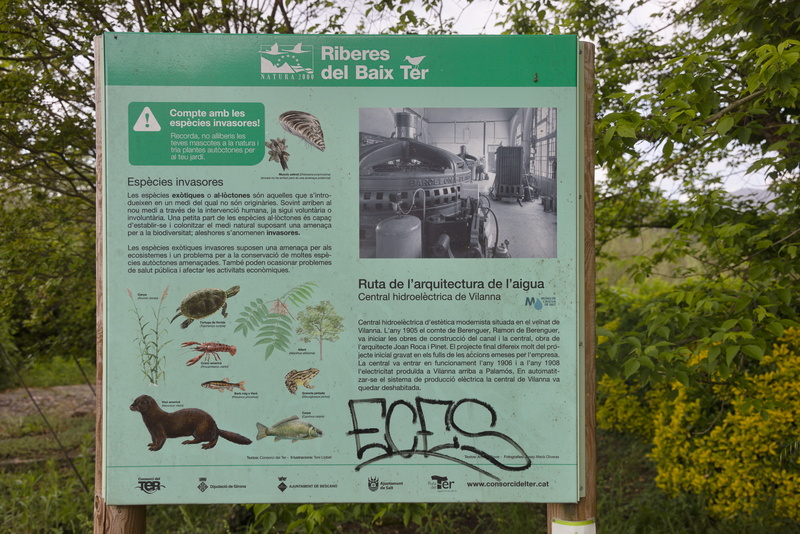 It's the route of the architecture of the water! Historically, the river was a source of hydroelectric power. We stop for lunch beside the now semi-derelict generating station.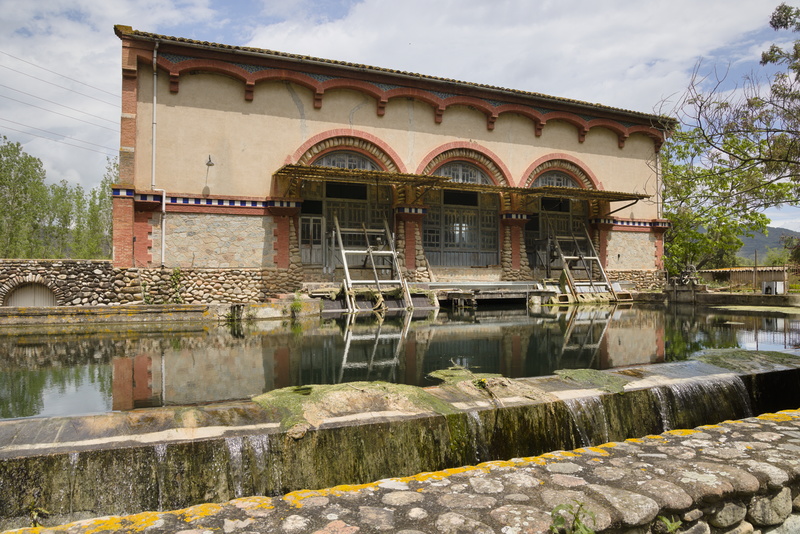 Still an interesting building, though. It's a pity we can't get any closer to look inside.

The weather's getting slightly iffy again, and while there is obviously a bit of sun in this picture, it was a bit damp not long previously.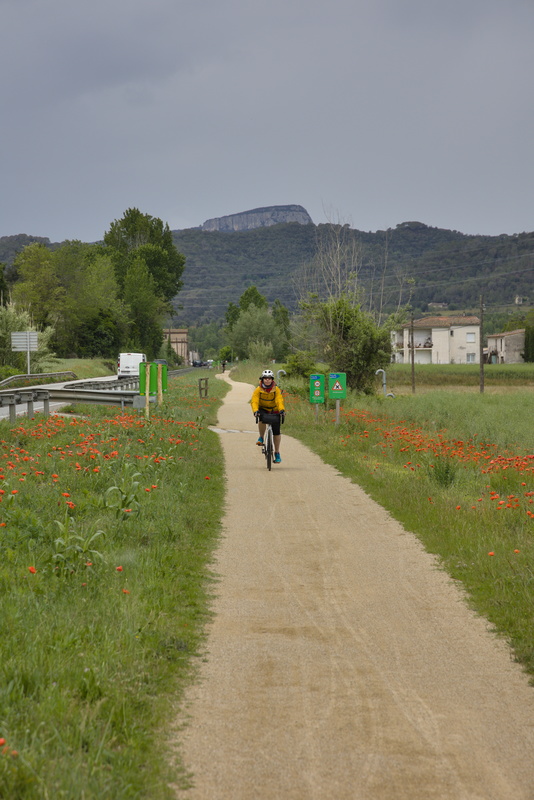 On the final approach into town now.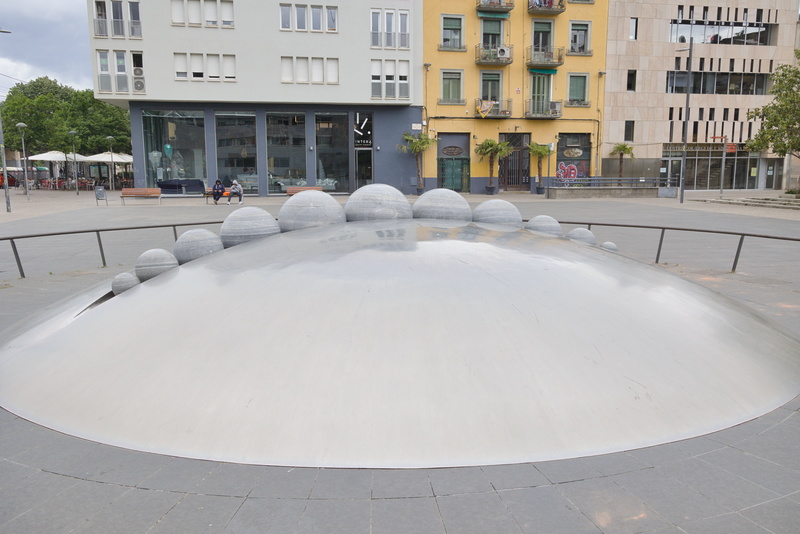 We pass through some pretty unexciting modern city, and then this curious sculpture is just before we cross the river into the mediaeval part. The sculpture probably wouldn't be as shiny if it hadn't been raining.

Today at least we are in good time, so we tie our bikes up and have a little walk around.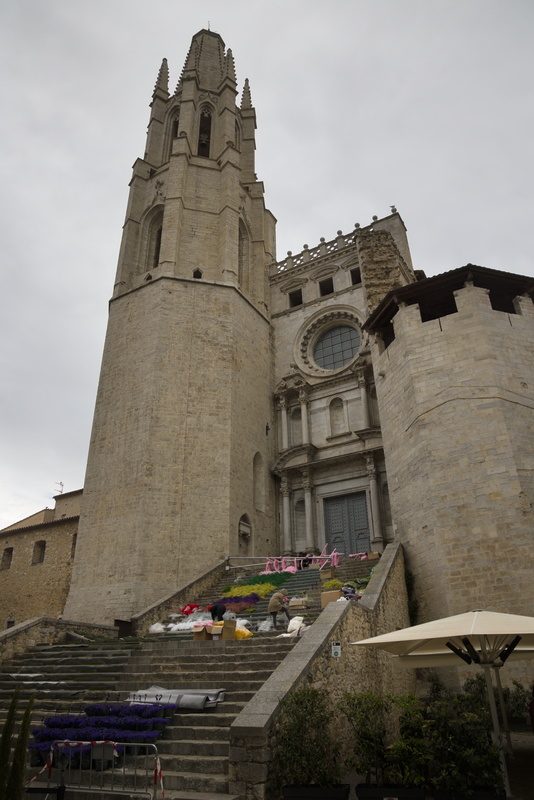 This is the church of Sant Feliu, and obviously something is happening here.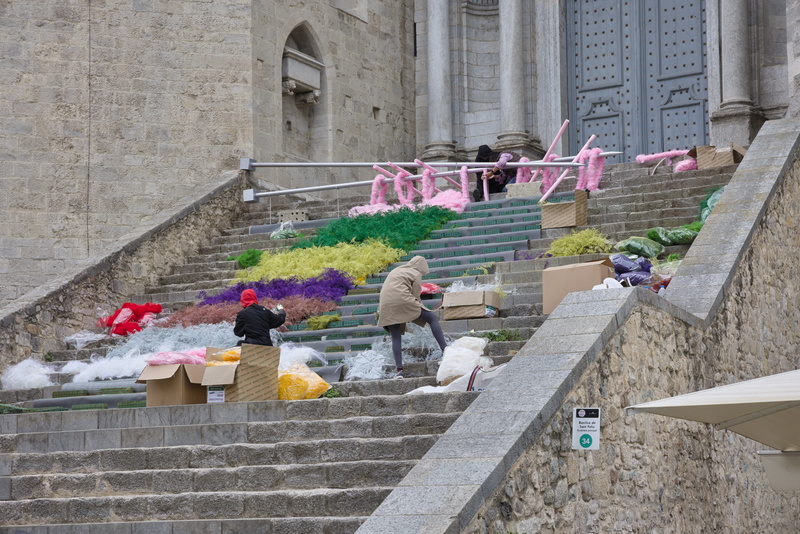 We have no idea what, though, or what the pink swans might be for. [Spoiler alert: they're not pink swans.]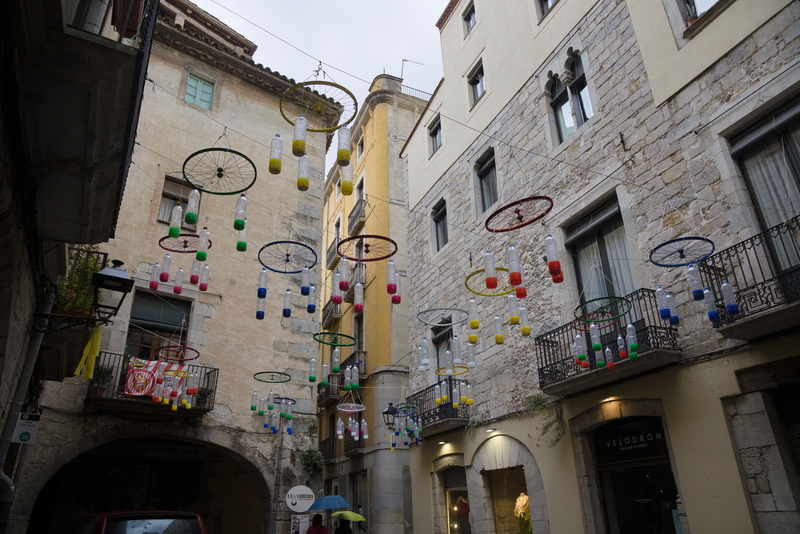 It seems clear that there's some kind of city festival in preparation. Perhaps this display is by a local bike shop?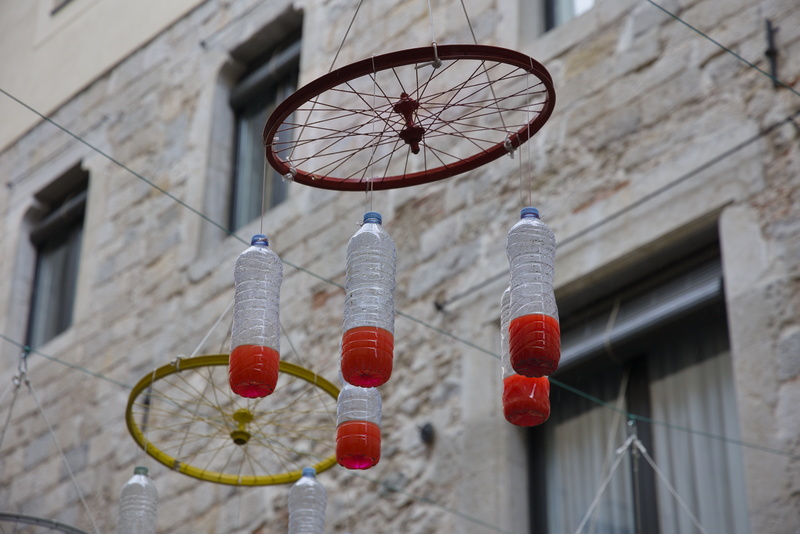 Whoever thought you could be so creative with some old wheels and plastic bottles!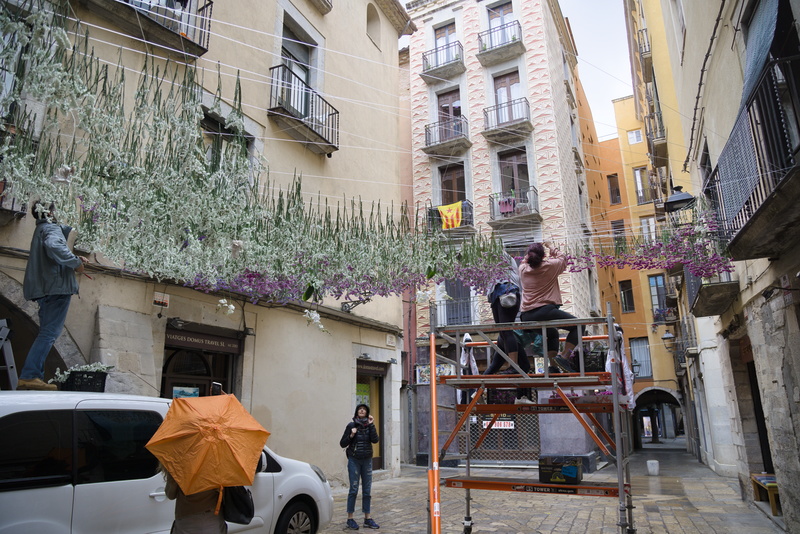 Although some of the displays are obviously complete, most are still being worked on.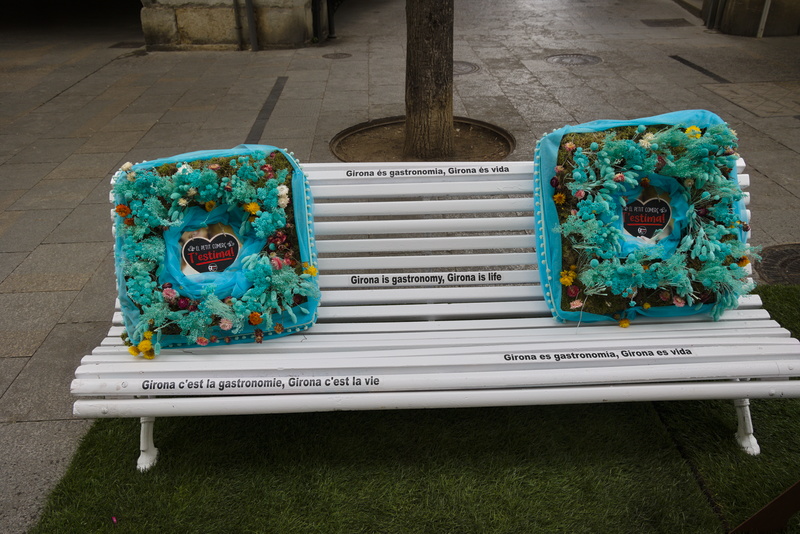 Well now you know: Girona is gastronomy, Girona is life. Sounds good!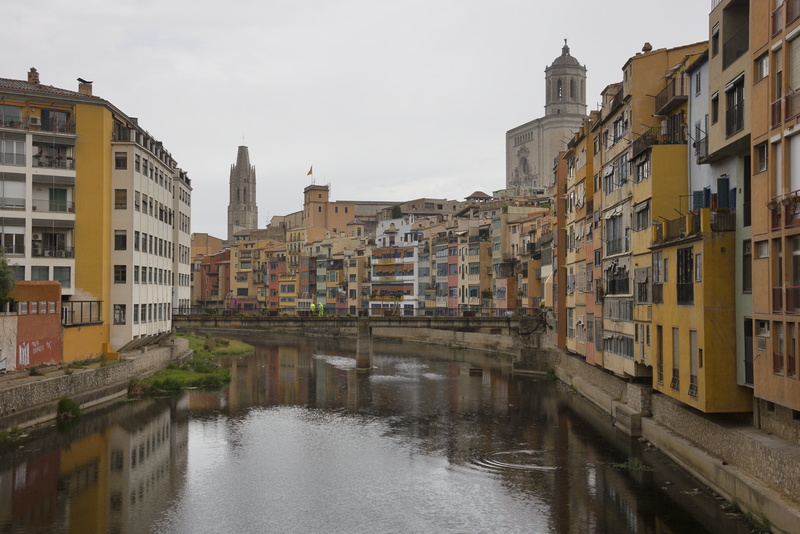 We overhear a tour guide telling his party that this is the most famous view of the city. With luck, we'll get to see it on a sunny day, because right now, if we're honest, we're not that impressed.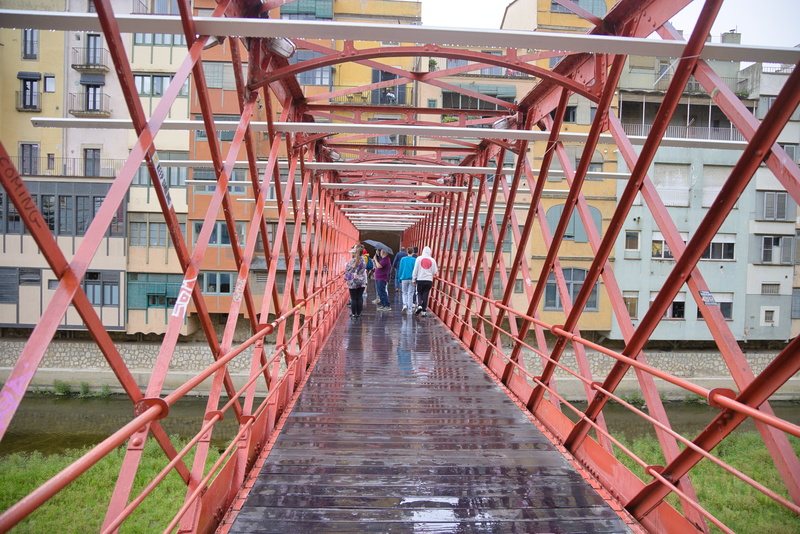 This is the bridge from where the previous picture was taken.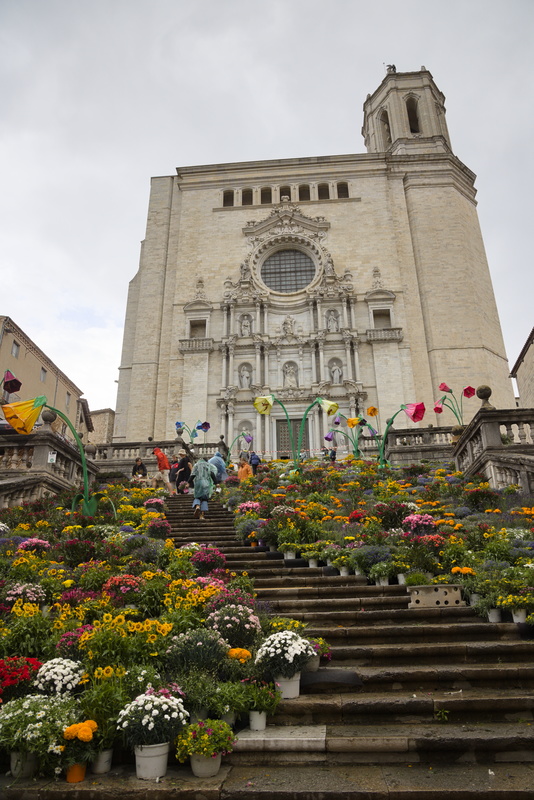 More flowers, both real and sculptural, on the Cathedral steps.



These remind us slightly of similar installations at the "Glow" at RHS Wisley, although those are illuminated and I don't think these ones are. The Wisley Glow takes place in winter, when it's starting to get dark by late afternoon.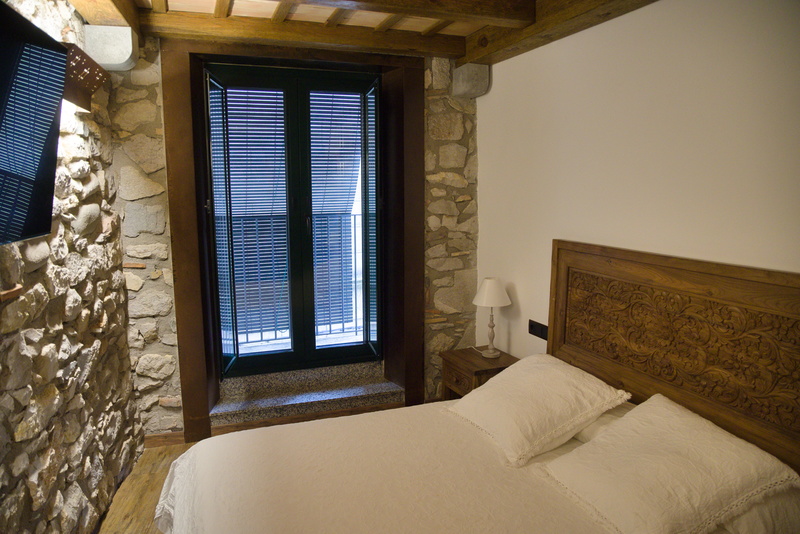 Our hotel is just round the corner from the cathedral. The room is quite small, but solid stone walls are solid stone walls, and not easily movable. Theoretically it's four-star, but there's quite a lot of work still to be done to bring it up to the standard it's obviously aspiring to. For example, we have an aircon unit on the wall, but the outside heat exchanger that should be installed on the roof is still on the ground floor at the bottom of a staircase.

The hotel doesn't have a restaurant, but there are loads of places within easy walking distance, many of which can be booked online after searching via Google Maps, so we choose one more-or-less at random. A place called "Draps" is quite close, has decent reviews and sounds interesting enough, let's check it out.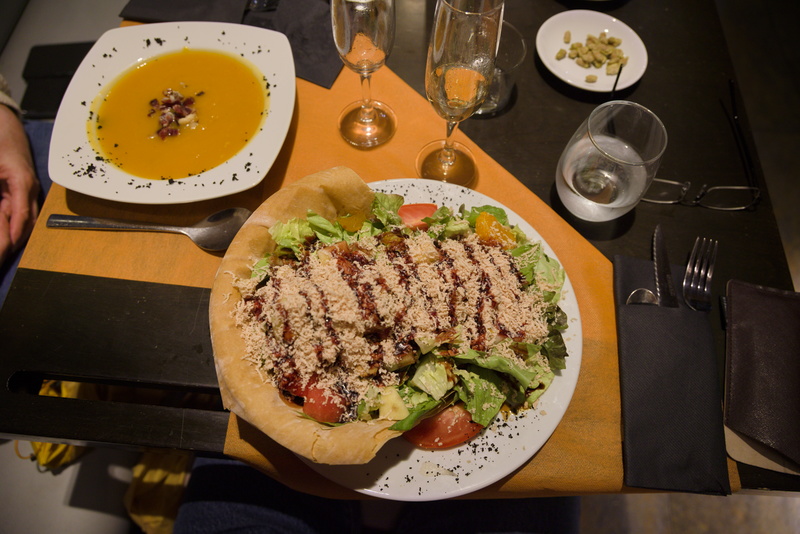 These are our starters. Amanda is having soup, while I have got... err, I'm not entirely sure! It's an absolutely enormous salad and the pink stuff is grated foie gras! The mains are much less interesting. I'm not sure we'd necessarily go back, but overall we don't think we've done too badly.


---

⬅ previous ⬆intro next ➡