year index
The Rain in Spain!
---

How time flies. It's almost exactly twenty years to the day since our first cycling holiday in Catalunya!

Funnily enough, until I checked, I thought it had been even longer ago, because I thought it had been before we went to Madrid, but that was 1998. And another reason I thought it had been back in the mists of time is that I remember Amanda being a touch apprehensive about the fact that I had 'history' in Barcelona with a previous girlfriend; but that was something like 1980-ish! Fortunately, she absolutely loved the place, and given that we're still together and married and all that, my past has presumably been forgiven.

It was long before I started my photo-blogs, but we used to write plain text diaries in those days. For the curious, here is the PDF for download. It doesn't really work as a web page, because it was specifically formatted to be printed on dead trees so it could be physically put into the photo album.

But anyway, back to the present-ish: last October to be a bit more precise. We've got Chile coming up soon (see here), so obviously it's time to be planning ahead for spring. We find ourselves thinking we've not been back to Spain for quite a while, and perhaps we should. Chile is going to be a complex trip and pretty expensive, so something a bit more modest might be in order for May.

Most, if not all, of our previous Spanish trips have been with a company called Inntravel, and hence their website is our natural first port of call. But either we've got tougher over the years or they've got softer; their current offerings all seem just a little bit lacking somehow. Further research brings us to a company called "Cycle Catalan". We've never heard of them before, but it transpires that they only started shortly before Covid hit the world, so haven't really had much of a chance to become known. The guy who runs it, Mark Abela, seems to have been a pretty hardcore cyclist in years gone by, but his suggested routes seem to strike a reasonable compromise between, err, 'healthy exercise' and slumming it.

So, some email exchanges later, we have a plan! We've taken Mark's "Pyrenees to Coast" itinerary and stretched it out a bit so we can spend some time in each place rather than moving on all the time (which is what we always do with this sort of trip). Now the geographically unchallenged among you will possibly be thinking at this point, "The Pyrenees? Isn't that a bit, well, hilly for riding a bicycle?" And indeed it is. Apparently Girona is a popular place for many of the top professional riders to live and train, because of all the wonderful challenges to be found in the region. Right... Yes... Oh well, plenty of time to be sensible when we're older.

(And no, of course we aren't getting e-bikes! In 2017, when we were cycling in Corsica (which is also not known for being flat), we first realised e-bikes had become a bit of a serious tourist thing when we were passed on a hill by a flock of German hausfrauen, motors humming away. Well we earnt our kuchen at the top!)

At this point, of course, we have no idea that Amanda's mother is not much longer for this world, and that after all the stresses of sorting out her estate we are a damn well going to need a holiday. There's a bit more background in the Chile blog I mentioned earlier, and also in what is - until now! - the only blog of 2023: Everything But The Cake, so I won't repeat it here.

Fast-forwarding, then, we arrive at May 7, the day before our departure. We have an early flight from Gatwick, so we are driving down to the airport Premier Inn to drop our car and stay the night. Petrol plus the accommodation and parking package doesn't cost all that much more than a taxi each way, we've found, and it does make life easier.

That said, the package is arranged by the parking company who book the hotel room on your behalf, and they have a cunning little technique to stop it being quite as easy as it should be. They make the reservation with your name and their postcode, but don't tell you that minor detail, so when you use the self-service check-in, you are told you don't exist. As soon as we speak to a member of the check-in staff, they know exactly what our problem is and solve it for us. They have apparently told the company many times that this is a regular occurrence but the message somehow hasn't got through. Ho Hum.

Now Premier Inns are clean, comfortable and cheap, and you know pretty much exactly what you're getting. Also, what you're not getting, which is a fridge. How then do we enjoy a glass of chilled champagne to celebrate the end of work and the start of our holiday? Well, obviously we could go to the bar, but we suspect it'll either be cheap and nasty (or ridiculously overpriced and ordinary), so we must be adaptable.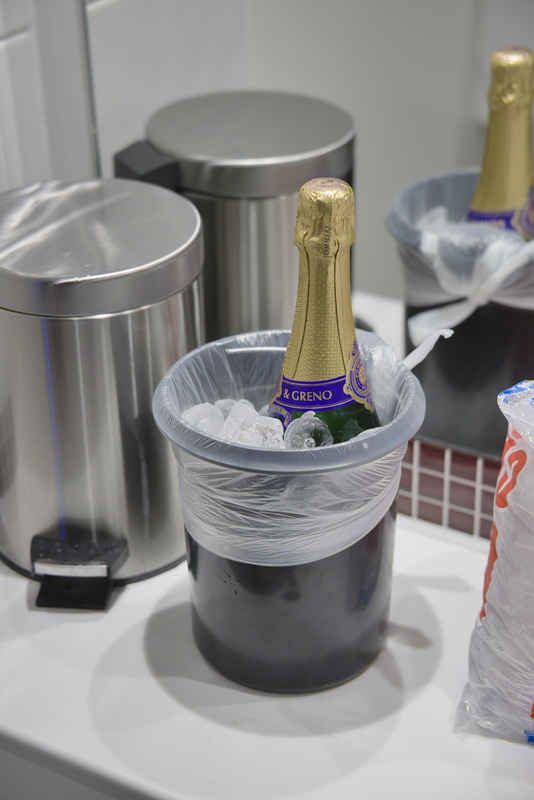 Well look at that! Wastebin inner plastic container becomes an ice bucket!

So let's raise a glass (bathroom beaker, not exactly your crystal flute) to the holiday gods and pray for good weather.

The champagne, incidentally, is Pommery, which we've had a soft spot for ever since visiting the Maison in 1989, our very first trip to France! (I had to go and check the physical photo album archive for that, because it was before we started writing any kind of holiday diaries, never mind this computery stuff.)

So goodnight. Hasta mañana as they used to say, but now I gather the Català phrase is fins demà.

Day 1 (May 8) ~ London➛Barcelona➛Girona➛Olot
Day 2 (May 9) ~ Olot to Sant Miquel de Pineda
Day 3 (May 10) ~ Walking the local hills
Day 4 (May 11) ~ Sant Miquel to Girona
Day 5 (May 12) ~ Girona
Day 6 (May 13) ~ Circular Cycle Route
Day 7 (May 14) ~ Girona to Palamós
Day 8 (May 15) ~ Palamós Coastal Loop
Day 9 (May 16) ~ Palamós to Toroella de Montgrí
Day 10 (May 17) ~ Toroella de Montgrí
Day 11 (May 18) ~ Toroella de Montgrí to Figueres
Day 12 (May 19) ~ Figueres
Day 13 (May 20) ~ Figueres to Home

---
year index