The Rain in Spain!

⬆intro next ➡
---
Day 1 (May 8) ~ London➛Barcelona➛Girona➛Olot


The hotel is literally just across the road from T2, but then we need to take the shuttle to T1. Pretty easy as it happens, now all we need to do is find some breakfast. There's a lot of eggs and bacon on offer, but that's really not what we're after. Ah, how about some noodles at Wagamama's? Great idea! Only they aren't serving anything now except their breakfast menu, which has a lorra lorra bacon on it. Even the vegan options are fake bacon and sausage. "Japanese omelette" ends up being about the only thing we fancy eating.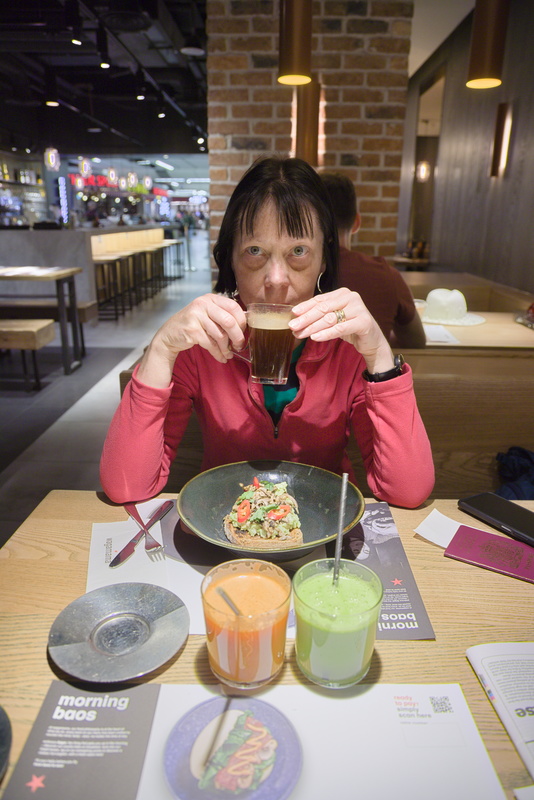 Fortunately, it turns out to be quite tasty, although there's clearly some cock-up in the kitchen because mine takes forever to arrive and we have to ask a waitress to check. Their juices are curious blends with names like "carrot cleanse" and "power", and they're pleasant enough but we probably won't be rushing back.

We're flying with a airline that's entirely new to us, Vueling, They're a low-cost operator mainly serving Spain, and owned by the same group that includes BA, which is kind of ironic. "British Airways", the national flag-carrier, is nowadays just a brand of IAG, along with Aer Lingus and Iberia, proud national institutions themselves. Ish.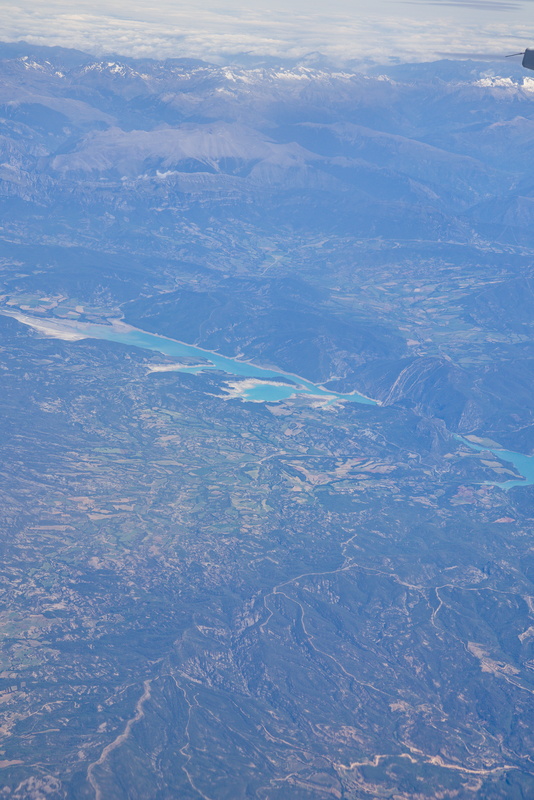 I think that's the Pyrenees down there.

"Welcome to Spain. Get in that queue!"

Yes, it's our first European flight since the "pretend Brexit hasn't happened yet" transition period ended, and we can no longer just breeze through like we used to. It's not like we've never had queues entering foreign countries before, but it's adding insult to the injury of economic self-harm that was forced upon us.

More and more Brexit voters are coming round to the realisation that it wasn't such a great idea, but it remains frustrating that not one single serious political figure has yet had the courage to say so. Even the Lib Dems, who you'd think would be delighted to be able to offer a genuinely different alternative to set themselves apart won't do that.

There's a certain schadenfreude in knowing that the people who voted for it are generally the ones suffering the most from it, but it still pisses me off.

Anyway, our passports are stamped, we're not hauled over by customs, we're through.

Cycle Catalan are just providing the cycling holiday itself, we've organised our own transport. Well, mostly. We've found that it doesn't seem to be possible to buy train tickets from Barcelona Airport to Flaça (where we are to meet Mark) in advance: the website just says buy the ticket locally. However, the ticket machine doesn't seem to have Flaça as a known station, so we are very confused.

After a minute, though, we realise that there is another bank of ticket machines for what looks like a completely different company, so maybe that's the answer. While we're trying to figure it out, a member of the station staff sees us and rushes to help. She gets us two tickets, then says take the next train and change in three stops. That will be Barcelona Sants, which is one of the main central stations, so that makes sense.

This is fine: on the train we get, and three stops later we get off. Unfortunately, Barcelona Sants is badly lacking in information about the services it offers; we can't find anything like a display board that will let us find our destination and tell us which train to catch. However, we do think we know what time it should be leaving, and lo and behold, a train with that departure time is shown on the platform display.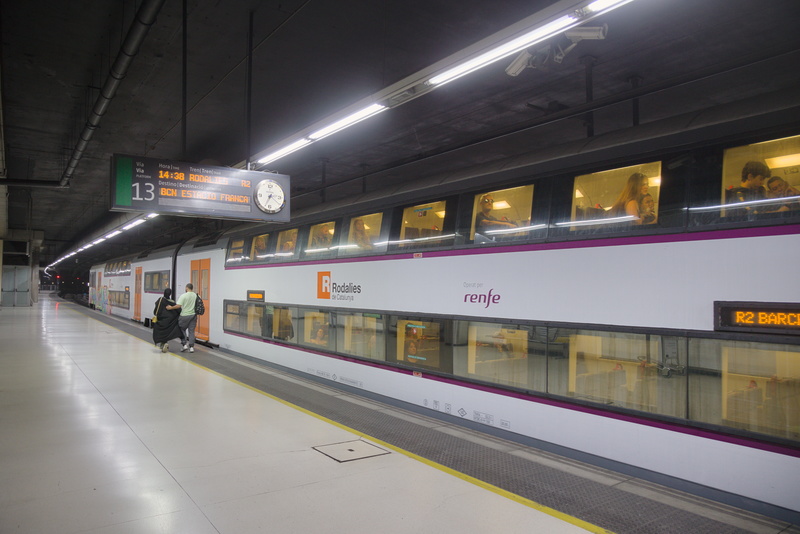 It's the R2 service, which is good. Only it isn't. Not sure at all why I thought that, but we actually wanted the R11, and if we had looked more closely, we would have realised it was only going as far as a Barcelona terminus. Oh bugger, we'll have to come back and catch the next service. Only trouble is that half the trains seem to be cancelled and we are going to be a lot longer getting back than we'd expected, and aren't at all sure when we can get a Flaça train now.

Amanda recalls that there was originally also an option to meet in Girona (for people flying into the airport there) and we think now that this is going to be a better bet as there are more trains for there. We call Mark and explain our cock-up and proposed solution, and he agrees to meet us at Girona instead. Just let us know when we have an ETA.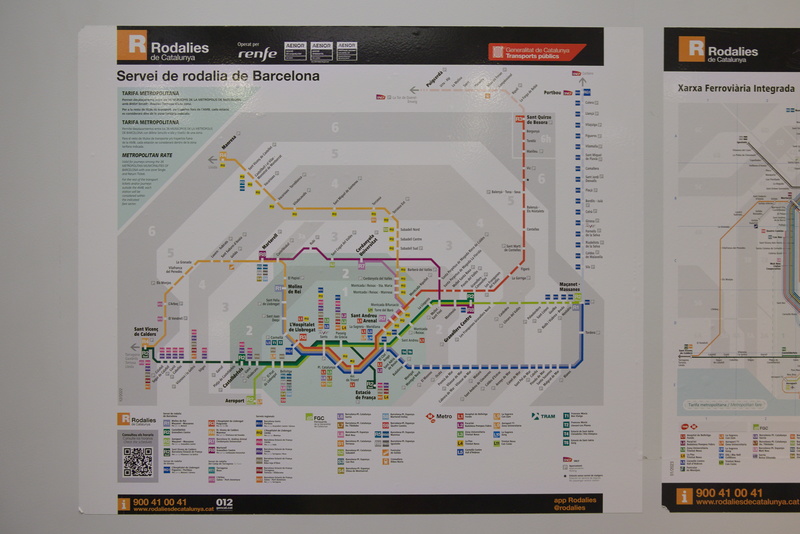 This map actually reveals all, but when you don't really know what you're looking for, it's too complicated to understand at a glance. If we'd had it in advance with time to study it properly, all would have been clear. [As I write this, now knowing what to look for, I can indeed find it on the RENFE web site: https://www.renfe.com/content/dam/renfe/es/Viajeros/Secciones/Cercanias/Mapas/barcelona-2022-23.png if you're curious.]

We'll just chalk it up to the probate-related aggro in our lives not allowing us enough time for proper research and planning.

Of course, now that we've said "Girona", we find ourselves catching a train that will also stop at Flaça anyway, but hey, let's just stick with Plan B rather than running around in even more circles.

And wonder of wonders, we get to Girona without further incident, meet Mark and his wife and business partner Shelley, and we're all off in the van to our hotel for the first night, just outside the town of Olot.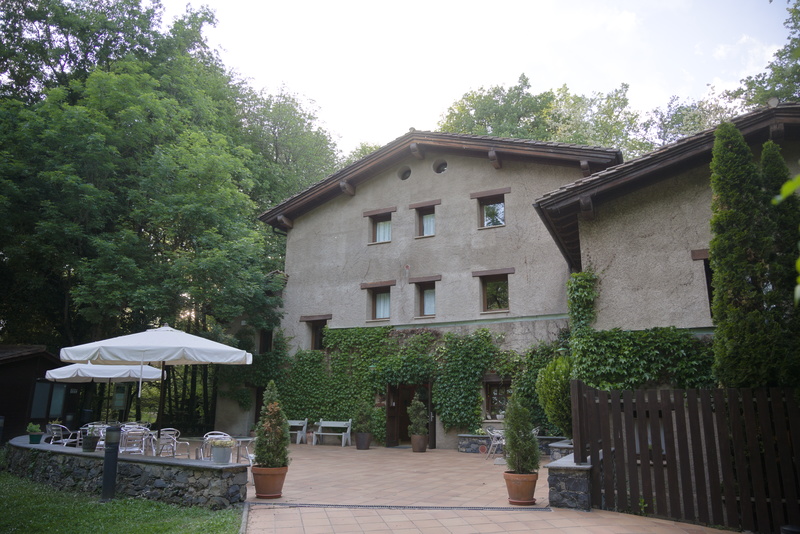 Can Blanc. The proprietress doesn't speak much English, so Shelley inroduces us and oversees the formalities. I explain that my Spanish is limited, but I do know the important words: Sí, No, Gracias, Cerveza at which point everyone bursts out laughing.

We have a quick check of the bikes and adjust saddle heights, etc. They're pretty decent spec road bikes, indeed better than our own at home, which is not something we've found with hire bikes before! Ok, in fairness, Amanda has what is known as a 'gravel' bike, so a bit rougher and tougher to suit mild off-roading, while I have an out-and-out mountain bike and a very cheap road bike. The roads around where we live have become so broken and pot-holed in the last year or two that I am very glad to have suspension and big soft tyres, but Mark has told us that things are very different here.

Another thing that's different is that we are going to be navigating using a phone app called RideWithGPS. We've always had paper notes on cycling holidays before, which in more recent years I've supplemented with GPS routes on my Garmin eTrex. I'm not sure what Plan B is if your phone battery runs out, but we've both got the app installed, so hopefully if my phone does give out, we can switch to Amanda's.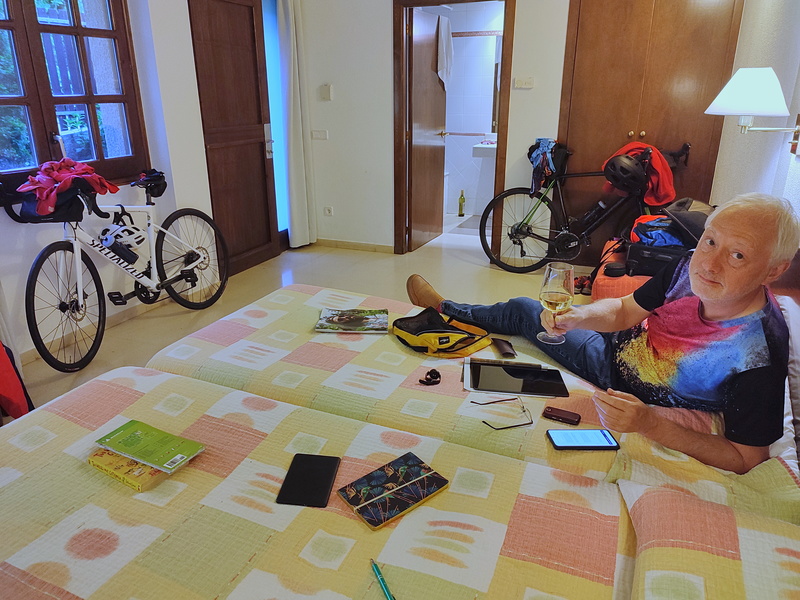 A glass of wine before dinner.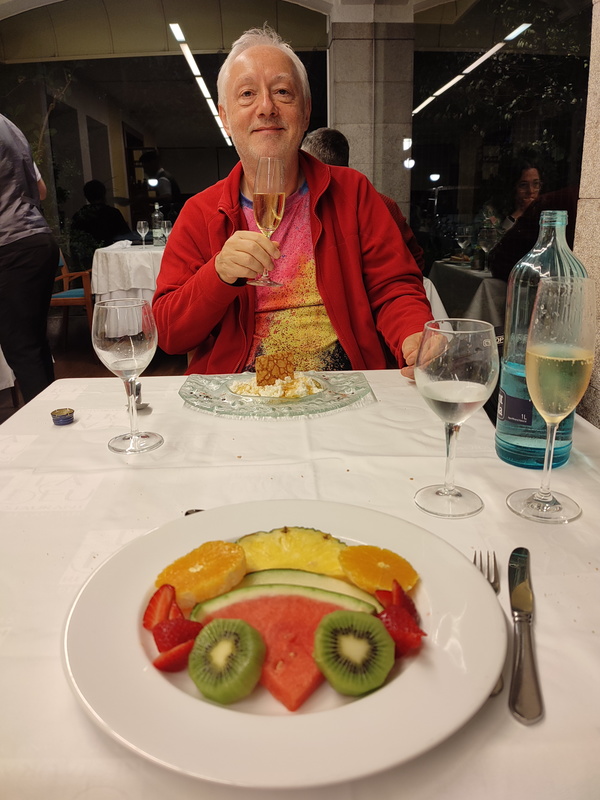 Can Blanc doesn't have an on-site restaurant, but we are recommended to go to a place a short walk down the road called La Deu, and very nice it is too.


---

⬆intro next ➡