The Rain in Spain!

⬅ previous ⬆intro next ➡
---
Day 8 (May 15) ~ Palamós Coastal Loop


Before we ride, we'll have a little stroll around town.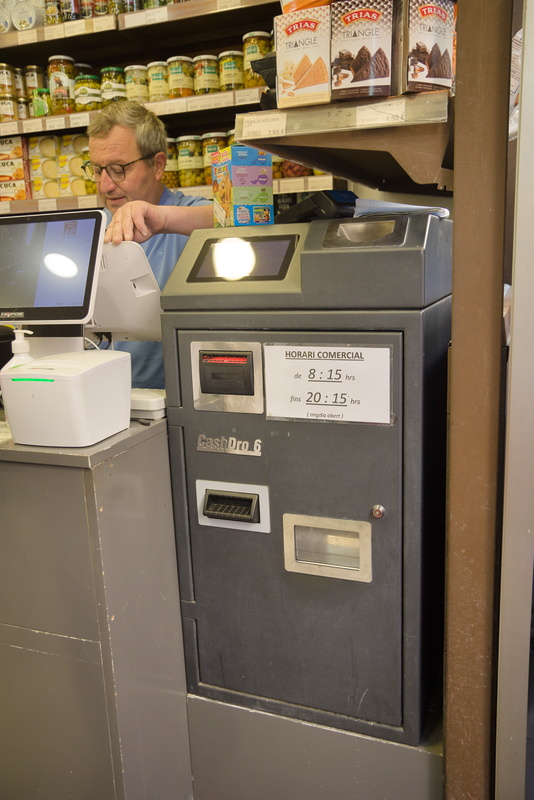 We buy a few snacks for the day, and are quite surprised when the shopkeeper tells us to just drop our money in the machine. First Decathlon, now this, whatever next?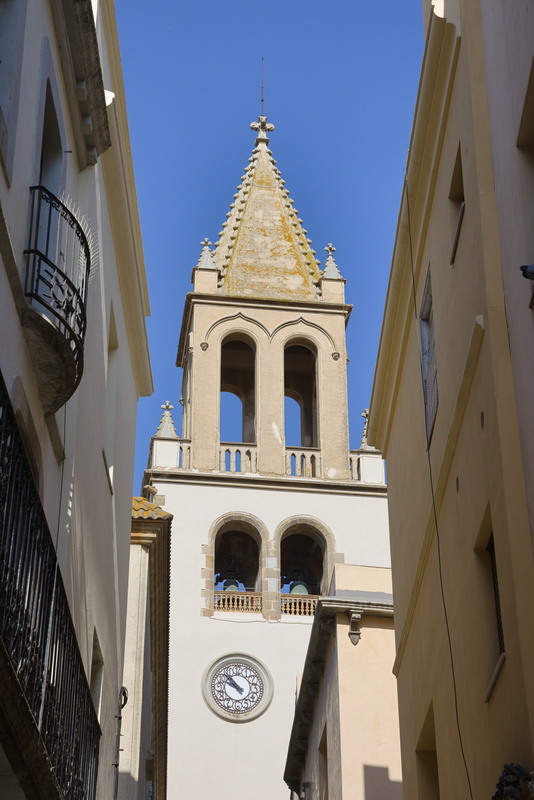 Let's have a look in St Mary's.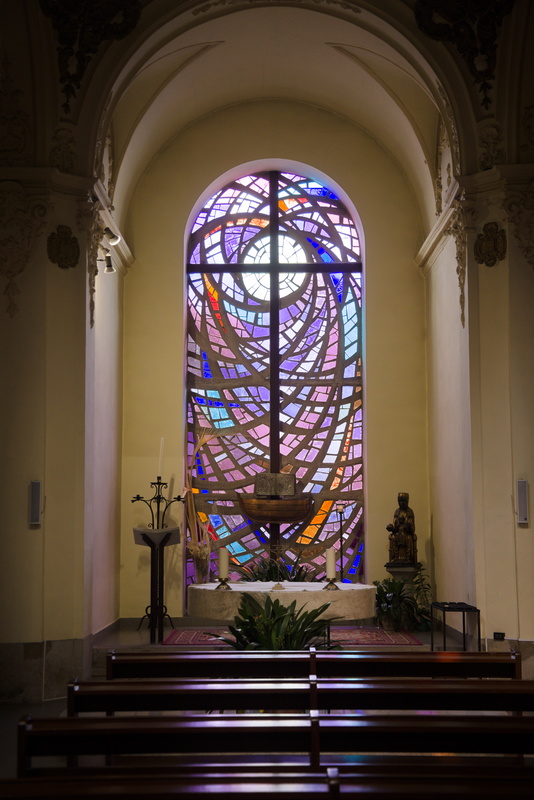 Good modern stained glass. We like it.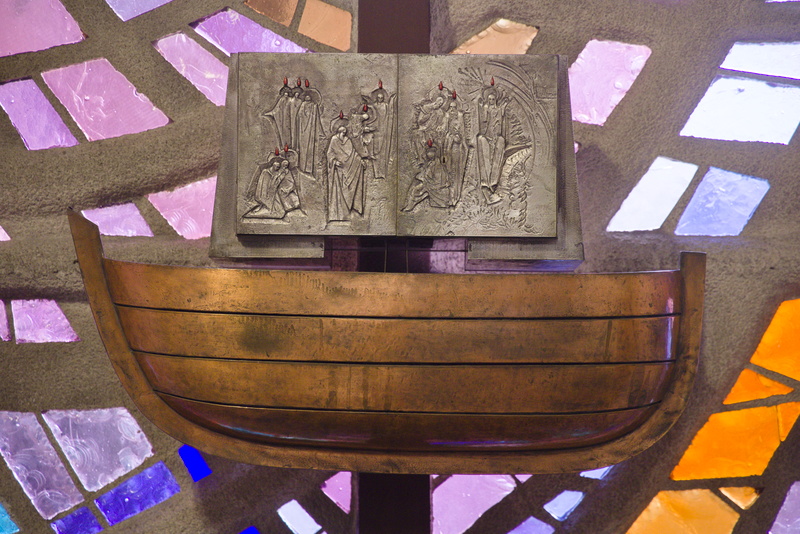 I'm not quite sure why all these people have pomegranite seeds on their heads. Actually, close up they look more like giant teardrops of blood falling from the sky, but that doesn't make much sense either. The Lord's artists move in mysterious ways too.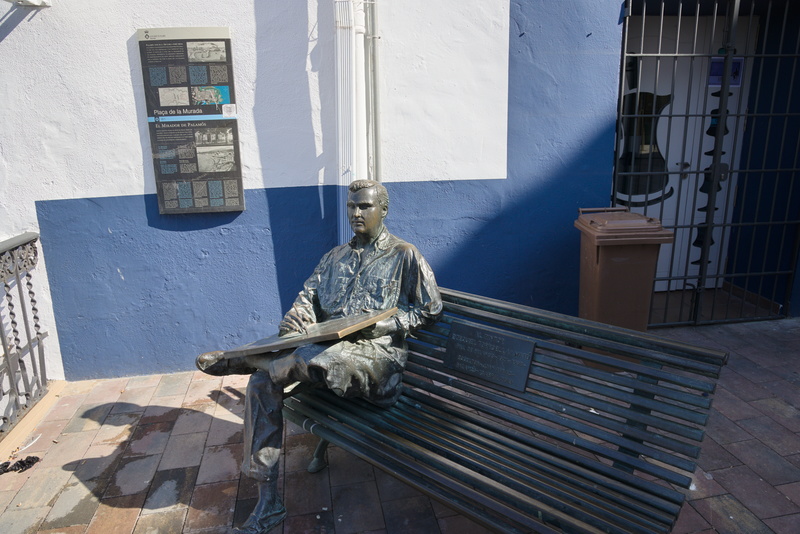 In a little square overlooking the harbour, there's a sculpture of somebody painting what is presumably a popular scene. He appears to be lacking in any paint, though (and it's definitely a brush, not a pencil he has in his hand).

So now, off biking we go.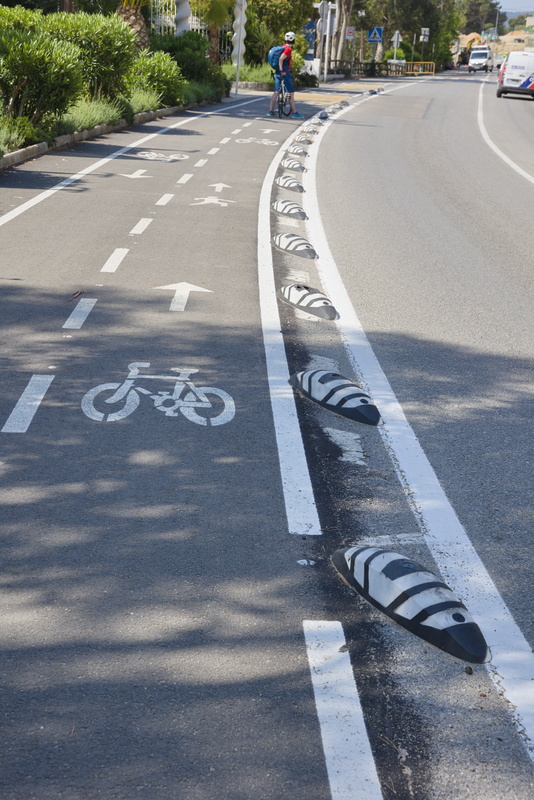 We're rather taken by the humbug divider things.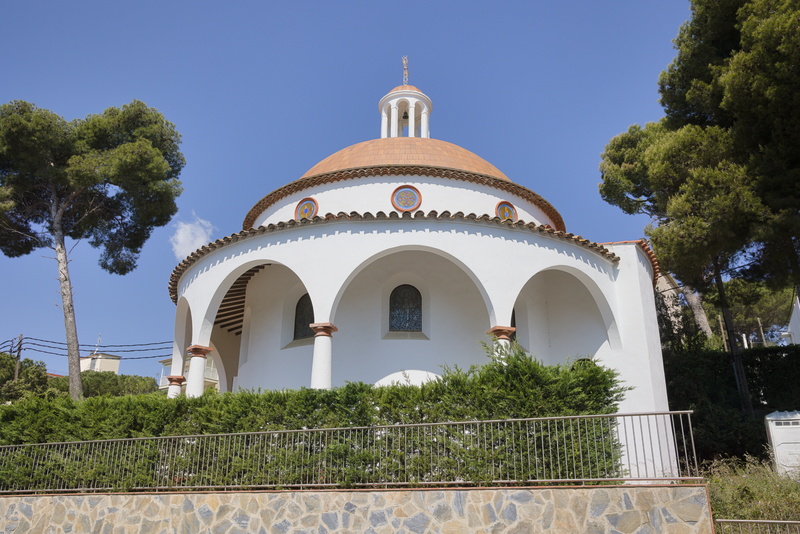 The Russian Orthodox church in Calonge.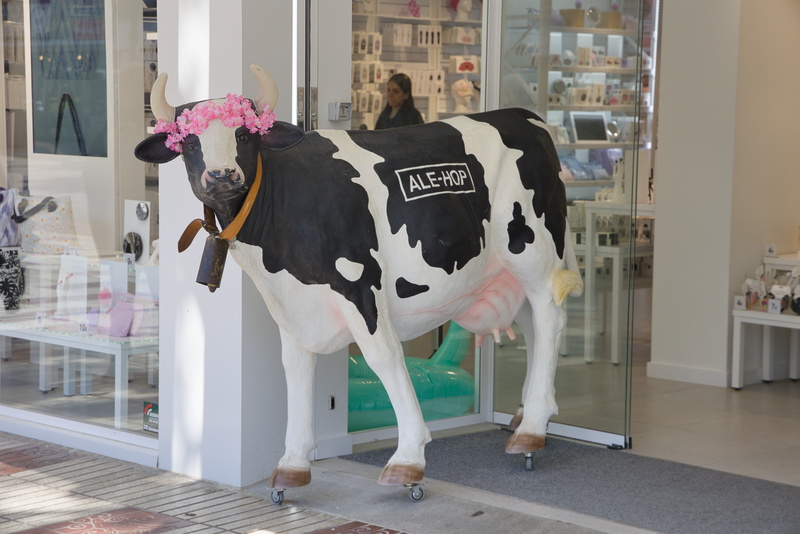 Remember our mysterious cow in Girona? Well, here we are at another branch of the same shop and we have another cow! This is clearly their thing.

"ALE-HOP", by the way, is nothing to do with beer. It's pronounced more like "allay-op" and it's basically the same thing as the English version (borrowed from the French) of the circus performer's cry, "allez-oop". The shop itself is nothing to do with circuses (or cows), but sells a miscellany of random items that might vaguely be categorised as "fun" gifts, fashions, etc.

Onward...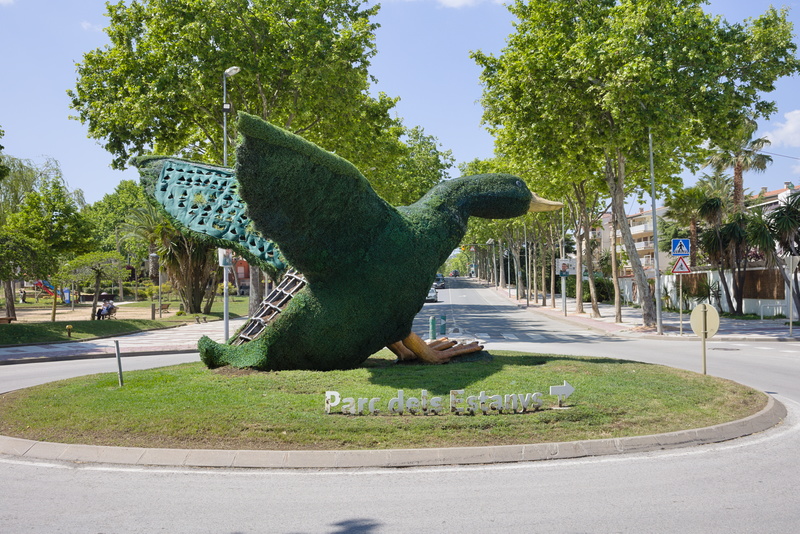 A box hedge duck growing on a roundabout. Of course.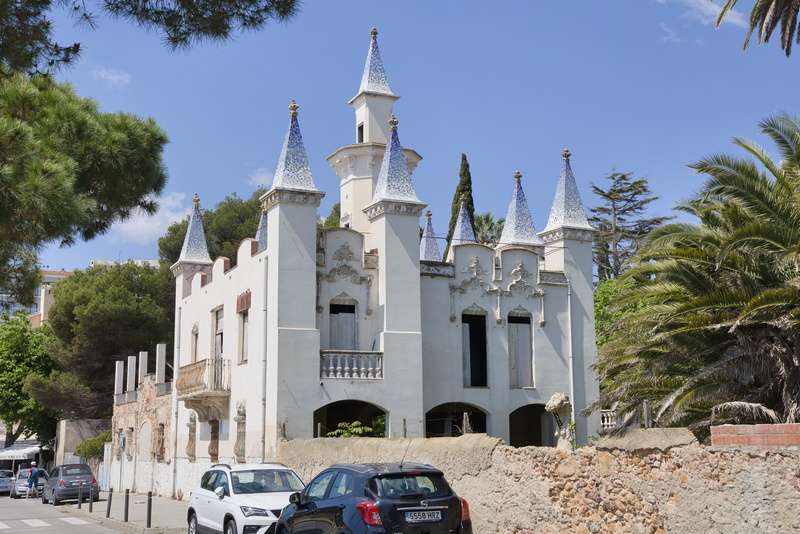 This rather fabulous, though somewhat dilapidated, architectural fantasy is just opposite the beach of Sant Pol.

It's presently on the market for the knock-down bargain price of €5,300,000. Wow! I don't know how long this estate agent's link will be valid, so I will copy some of the interesting facts here.


Torre de les Punxes is a modernist estate designed by the famous architect Josep Goday and built between 1890 and 1912. It has 348 m² built on a 4,894 m² plot of land on the very first line of Sant Pol beach, in S'Agaró, a privileged and truly unique location.

It consists of two bodies, with the largest crowned by nine towers topped with a point. From the centre of the building emerges, at a higher height, a central tower. These architectural elements have made the building popularly known as the Xalet de les Punxes, Torre de les Punxes or Casa de les Punxes. These towers that give it its name correspond to each of the owner's children, who had them built for commemorative purposes.

It consists of a ground floor and an upper floor, with a higher central tower and other small towers around it decorated with white and blue trencadís. Access is through a lateral body that communicates with the garden and with the house. One of the most remarkable elements of this estate are the ornamental moldings on the windows, with typically modernist plant decoration.

The farm is located in the area where the beautiful Sant Pol beach began to be urbanized at the end of the 19th century. The owner of the estate was the first to have a residential building built in the area, testimony to a stately summer vacation at the beginning of the last century.

It is one of the most special and historic estates on the Costa Brava.


There is almost nothing inside - it's pretty much just a shell, and not in great repair at that. Never mind your five million-odd to buy it, you're looking at a hefty chunk of cash to turn it into something you could live in.

We need a toilet stop, and think that the port area at Sant Feliu de Guixols is a likely place to find one. Indeed we do, but it's part of a complex with a rather splendiferous cafe with a train inside it!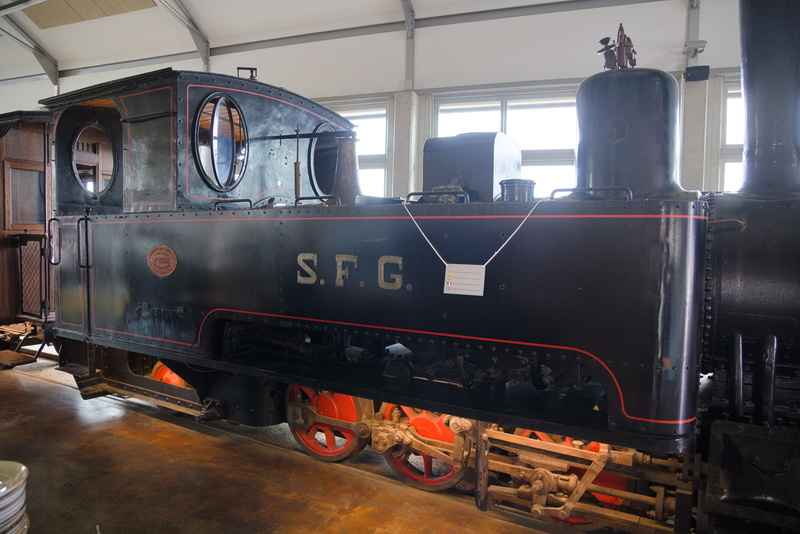 The little red plaque on the cab reads,


LOCOMOTIVEFABRIK KRAUSS

&

CIE


AGENZIA EN ESPAÑA


NO 2355


JULES LAHOUSSE BARCELONA


MÜNCHEN

&

LINZ 1890


If you are a hardcore railway nerd, you may already know of Krauss and Company, as it seems they were quite big back in the 19th century. What's more, Georg Krauß who founded the company was quite the man: Wikipedia tells us he

"was awarded the Knight's Cross 1st Class of the Grand Duchy of Saxony-Weimar, as well as the title of Royal Bavarian Industrialist (Königlich bayerischer Kommerzienrat) from King Ludwig II of Bavaria for his services. In 1903 followed the Order of Merit of Holy Michael 3rd Class, and with the conferral of the Knights Cross of the Royal Order of Merit of the Bavarian Crown he rose on 6 March 1905 to ranks of the nobility. The Technical University of Munich awarded him the title of Doctor of Engineering honoris causa and the VDI gave him the Grashof commemorative coin."
Blimey!

[Aside: you would not believe how much effort it took to get my rendition of the plaque to look approximately correct. The original text is curved to fit the elliptical shape of the plate, and I haven't tried to duplicate that, but text styles of 1890 are surprisingly hard to replicate with freely available fonts in 2023! In hindsight, it would have been way quicker to just add a picture of the plaque, but then I'd never have learnt all sorts of weird shit about HTML. Of course, in a better world than this, HTML wouldn't be essentially just a massive collection of weird shit. This is why everyone except me uses things like Wordpress for their blogs.]

Where was I? Oh yes, the cafe: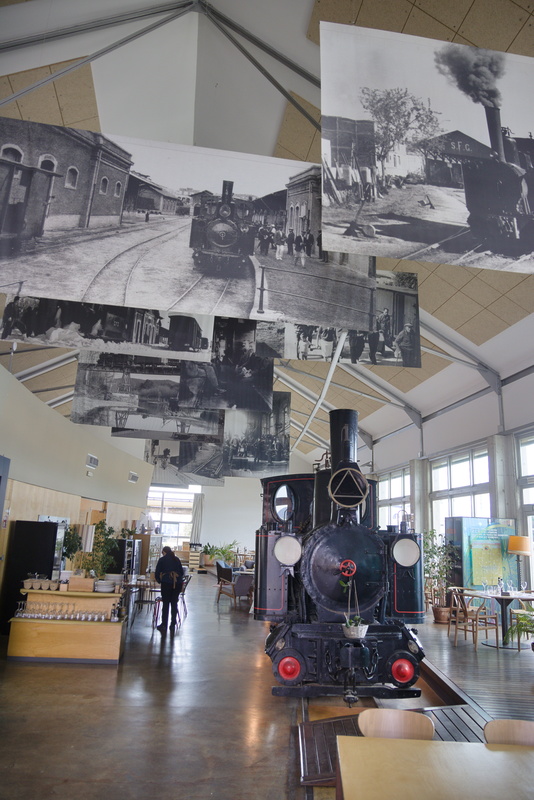 They have pictures from the time when the train was in use, and some captions explaining about it too.

If we hadn't already made a packed lunch, I think we could have done worse than a bite to eat here. Should you be passing, it's called El Tinglado and Google Reviews are mostly very positive.

But as I say, we have our lunch already, and just need a nice spot to eat it.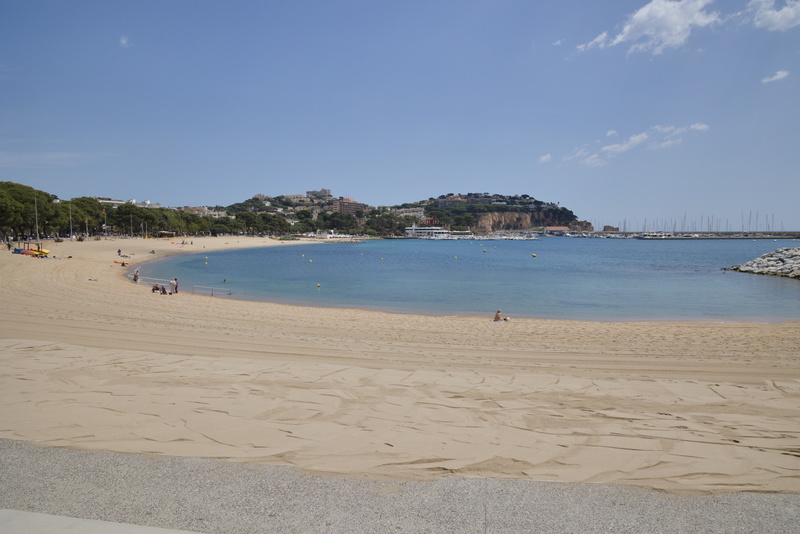 The other side of the harbour is a nice beach where we find a bench to sit in the sun. I will forgive you if you have a nagging feeling you've seen this picture before, because it looks remarkably similar to the one of our entry to Palamós, but I promise you it is a different place.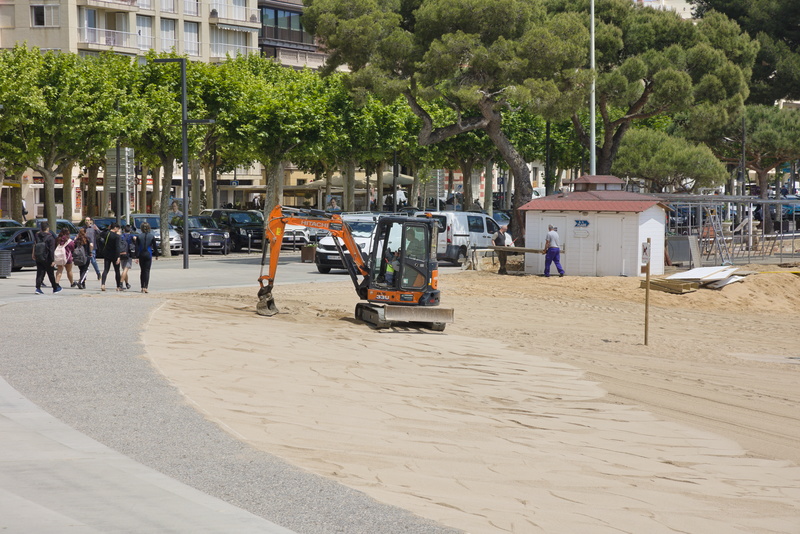 And here's something we've never seen before! Never mind seven maids with seven mops, this is one man with his digger, and his job is to smooth the sand when all those messy holidaymakers have spoiled it!

So back to our bikes.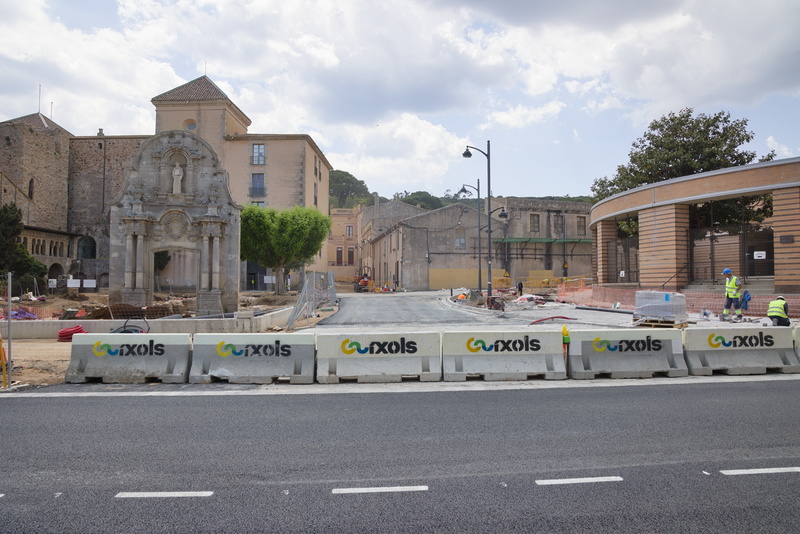 Oops. Our route is supposedly up there! No problem, though; a little checking of the map shows that we can easily skip by these roadworks and get back on plan just a little further along.

Then a strange thing happens. I'm just riding through more of the works at a modest pootling pace when suddenly I hit something and am flung onto the ground. It looks quite dramatic to Amanda and the workmen, I gather, but it's not a big shunt and I'm fine. But I'm totally mystified: WTF did I hit?! I don't remember seeing anything problematical, and as I walk back a little, I'm even more sure that I was on a clean line between any possible obstacles. I am very confused (and no, it's not concussion!).

[Much later, the only reasonable explanation comes to me: my main bike at home is a mountain bike, and its pedals have more ground clearance than this road bike. I must have hit the pedal on a bit of rock that I'd dismissed as not being in my direct way and therefore not important. I will also later have one or two other, "oh, this isn't what I'm used to" similar experiences, such as when my chain bounces off after dropping over a kerb a bit too quickly.]

Out of town, the roads are quiet and it's a bit hilly but not that bad.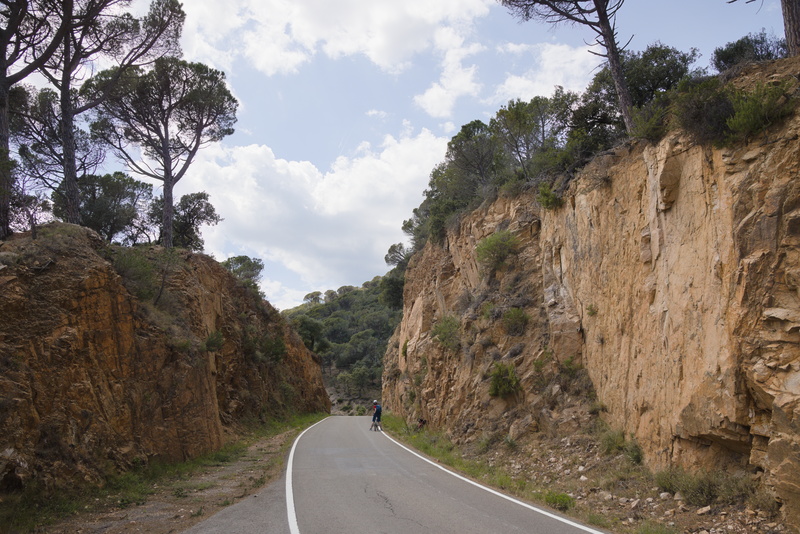 The road splits in two and the right hand carriageway is cut into a former bit of cliff. The other half just hugs the side of the cliff in a way that looks less obviously dramatic but is far less forgiving if you bear a bit too far to the left.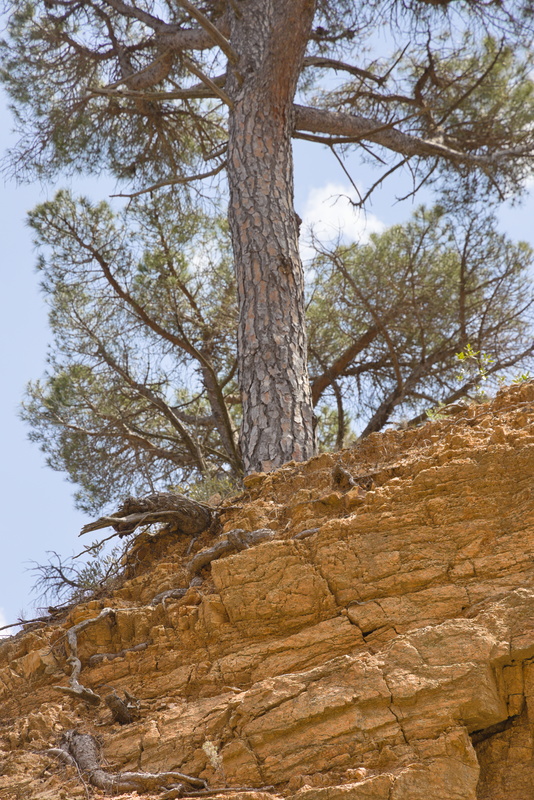 We like the way this tree's roots extend down through the rock and seem unfussed by the fact that it's been blasted away to build the road.

What with various faffings, we find we're not making anything like the progress we need to complete the itinerary route, so once again we decide to DIY and improvise. We'll travel a bit further on this road, then turn back rather than trying to make the original loop.

For a few km there's really no alternative to this road, but soon we can turn off to stay nearer to the sea than on our way out.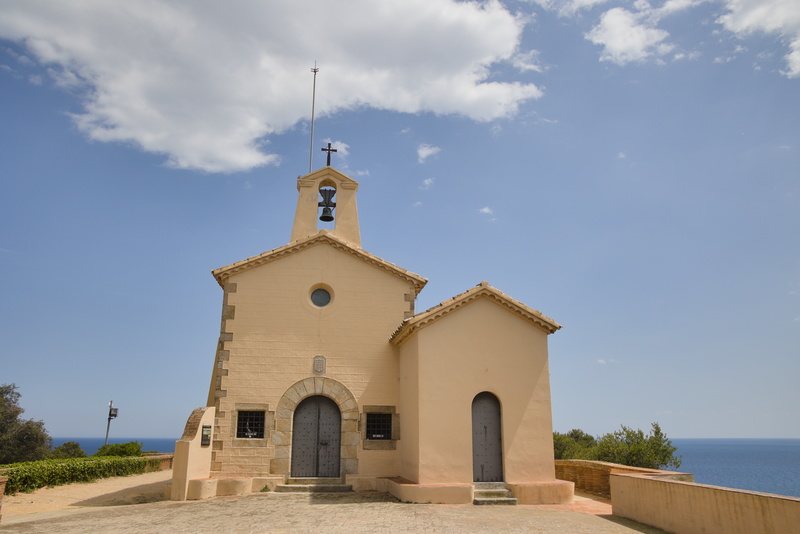 Another attractive little church at the top of a headland.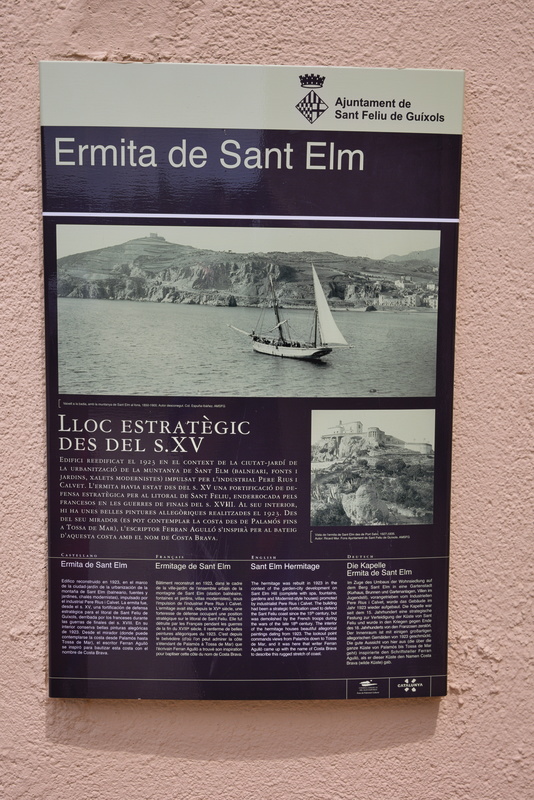 Oh, but it's a bit more significant than we first realise. You won't be able to read the text at this resolution, so I'll be a gent and transcribe it for you.

Sant Elm Hermitage

The hermitage was rebuilt in 1923 in the context of the garden-city development on Sant Elm Hill (complete with spa, fountains, gardens and Modernist-style houses) promoted by industrialist Pere Rius i Calvet. The building had been a strategic fortification used to defend the Sant Feliu coast since the 15th century, but was demolished by the French troops during the wars of the late 18th centrury. The interior of the hermitage houses beautiful allegorical paintings dating from 1923. The lookout point commands views from Palamós down to Tossa de Mar, and it was here that writer Ferran Agulló came up with the name of Costa Brava to describe this rugged stretch of coast.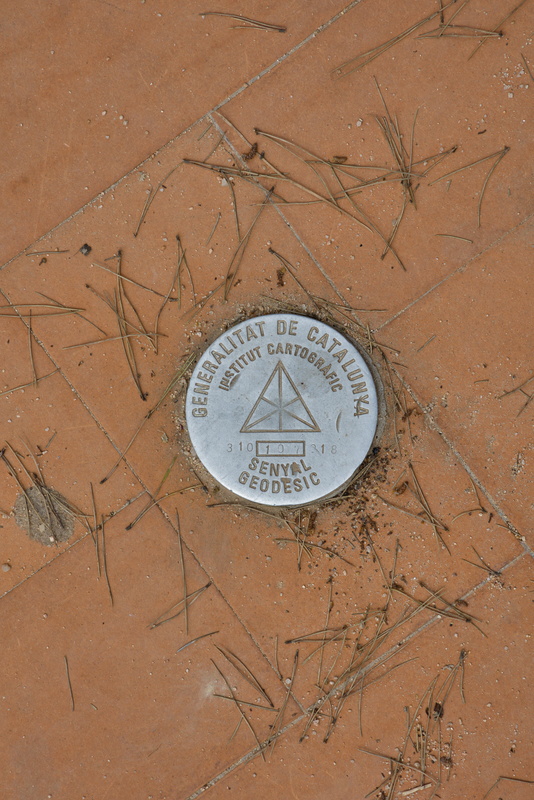 It has the Catalan version of a trig point too.

Incidentally, if you type "senyal geodesic" into Google, this very one will pop up as almost the first hit.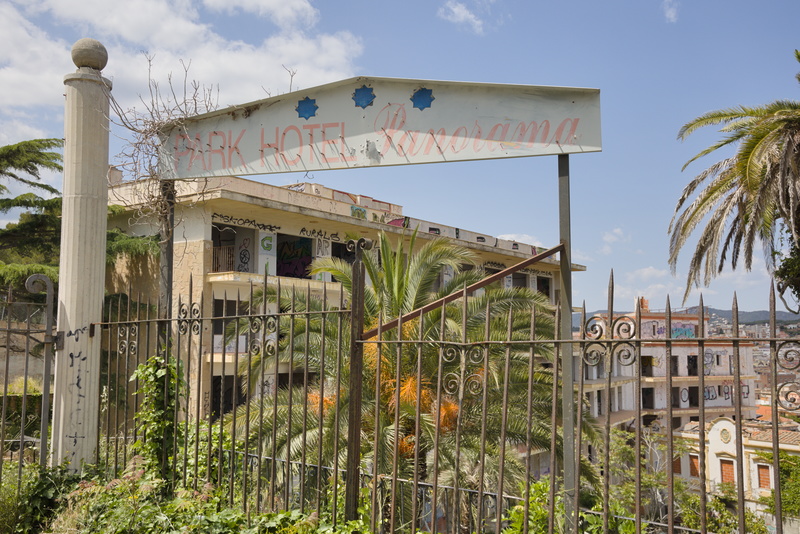 Approaching Sant Feliu again, but from a different angle. It's not entirely clear whether the Park Hotel Panorama is halfway through being demolished or was abandoned when only half built.

But I have done some research. You might be surprised to learn that you can find an entry for it on TripAdvisor, albeit rather lacking in detail, and "There are no reviews for this hotel yet."

And goodness! Gohotels.com says, "The hotel has 247 rooms that are fitted with all the necessities to ensure a comfortable stay."

In fact, pretty much every hotel booking website seems to think this is a real hotel, just not very popular.

Digging a bit further, it seems to have quite a history and the ruins are now supposedly the most haunted hotel in Spain! It closed twenty years ago after the death of its owner, and since then it's just been neglected and vandalised, but tales of the supernatural seem to have accumulated around it. Admittedly, the stuff I've found on the web doesn't necessarily come across as comprehensive and authoritative history, and an article in a paranormal magazine was apparently half plagiarized from a genuine local history enthusiast and half just totally made up.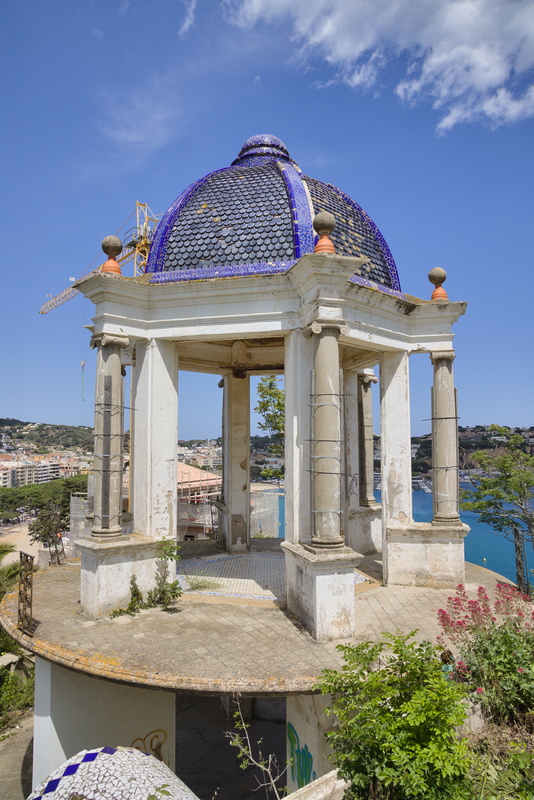 A folly suspended in mid-air almost. It's all very curious.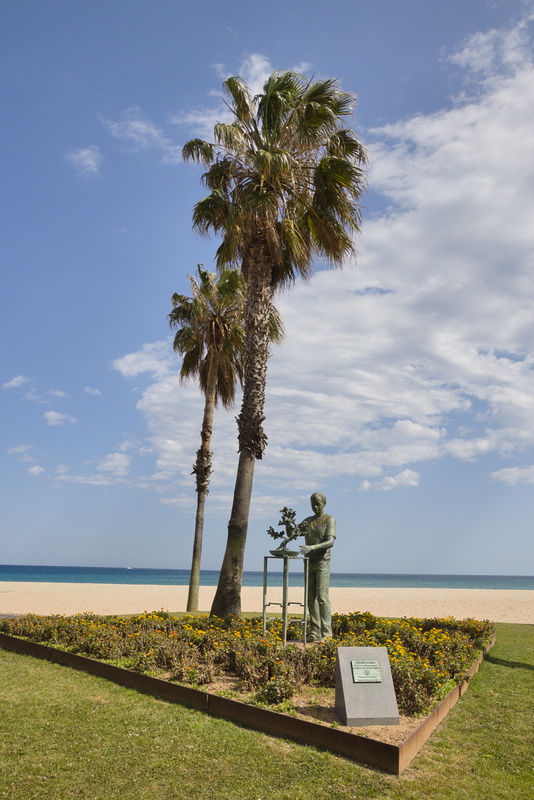 The last few km back to Palamós is along the beach path. We are not entirely sure how a bronze sculpture of a young man pruning his bonsai fits in, but the plaque may give a hint. As well as the title ("Cuidador de Bonsai" - original, eh?) and attribution (Alberto Gómez Ascaso, 2022), it says "Foundation Dimitri - Bonsai Lessons". So it looks like it's a very subtle advert. The artist himself is important enough to have a Spanish Wikipedia entry, but you won't find much from outside his home region.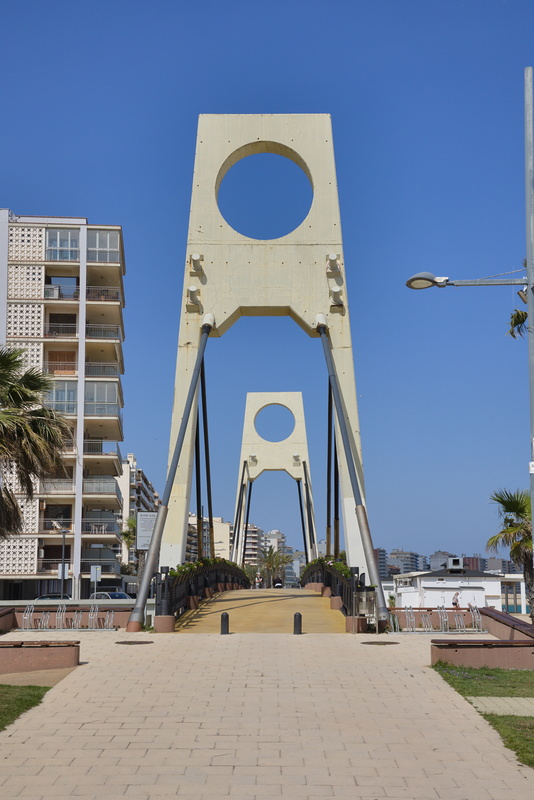 Quite a sculptural bridge.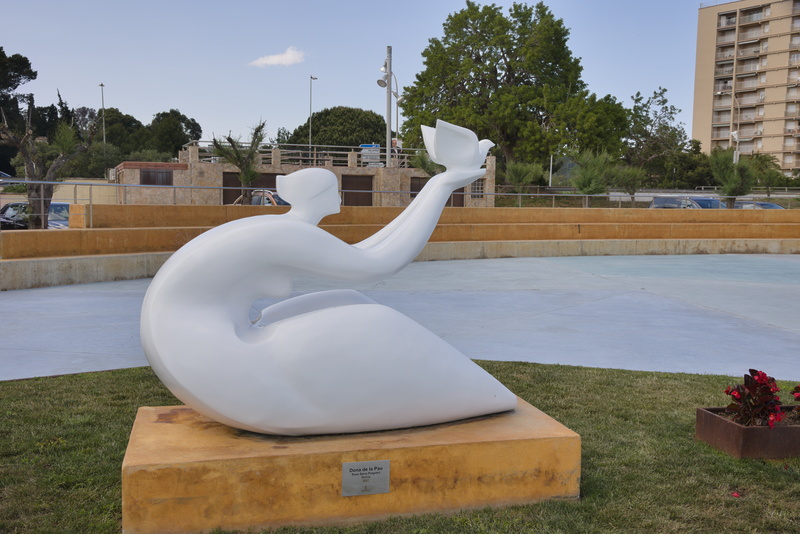 And more actual sculpture sculpture. We are clearly on a very cultural beach.

A little further and we're back at the northern end of the beach where our hotel is. We've done about 44km instead of the planned 69, but we've finally had a nice sunny day and a very pleasant ride.

Feeling much more energetic this evening, we are going to find a local restaurant. We've found a few options online and reckon we'll just have a little stroll around town to see a bit more of the place generally and decide which one looks the nicest.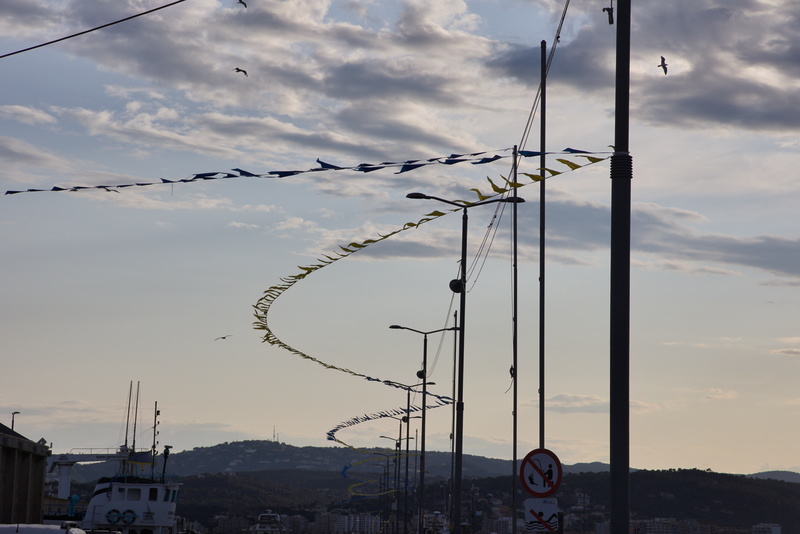 The wind has really picked up now, and is blowing the bunting perfectly horizontal.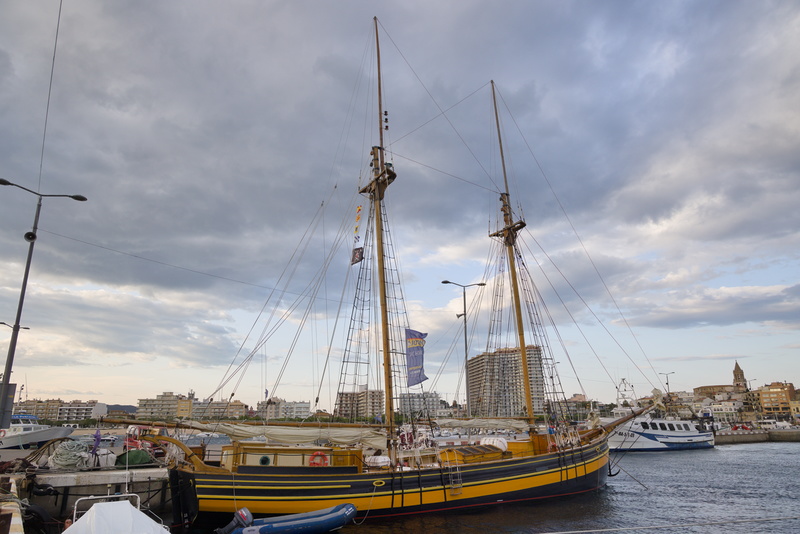 Amongst the many modern gin palaces in the marina is this beautiful two-masted schooner.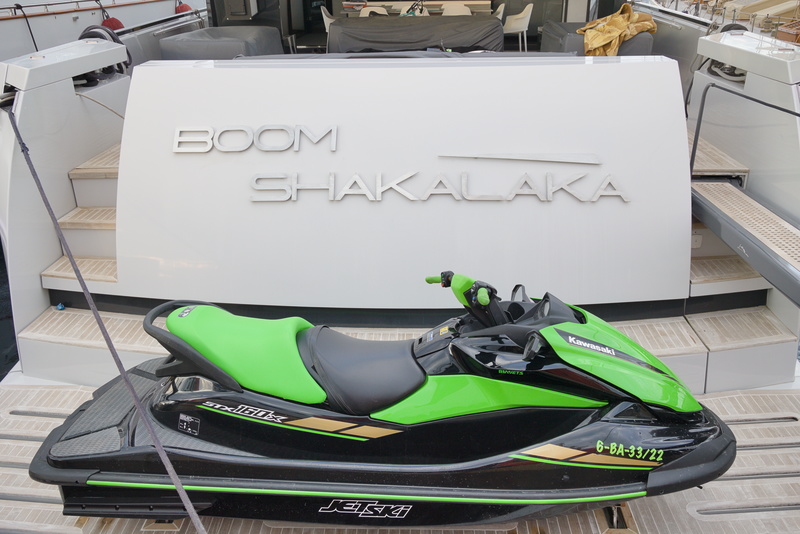 This is rather less elegant, but we're amused by the name and love the bright green of the jet-ski.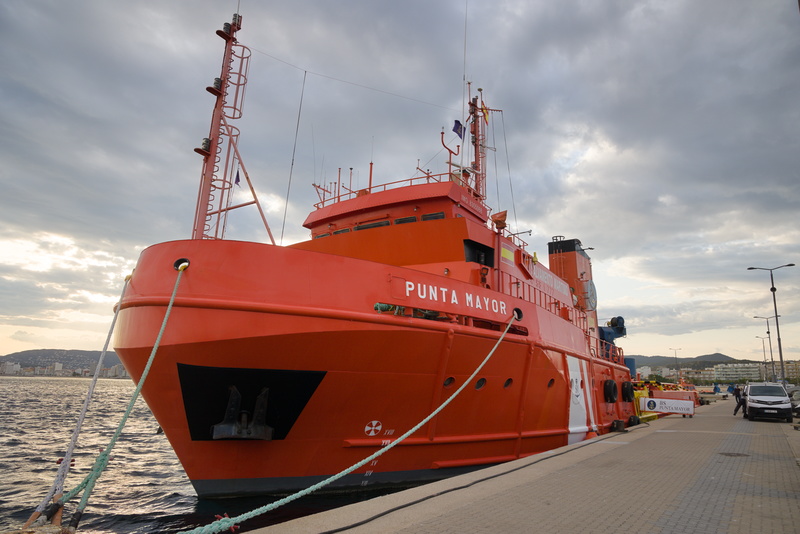 And yet a third type. At first we think it's a ferry, but investigation shows it's really an "Offshore Supply Ship". The rather fabulous website I have just discovered, www.marinetraffic.com, says, "PUNTA MAYOR (IMO: 8305066) is a Offshore Supply Ship that was built in 1984 and is sailing under the flag of Spain."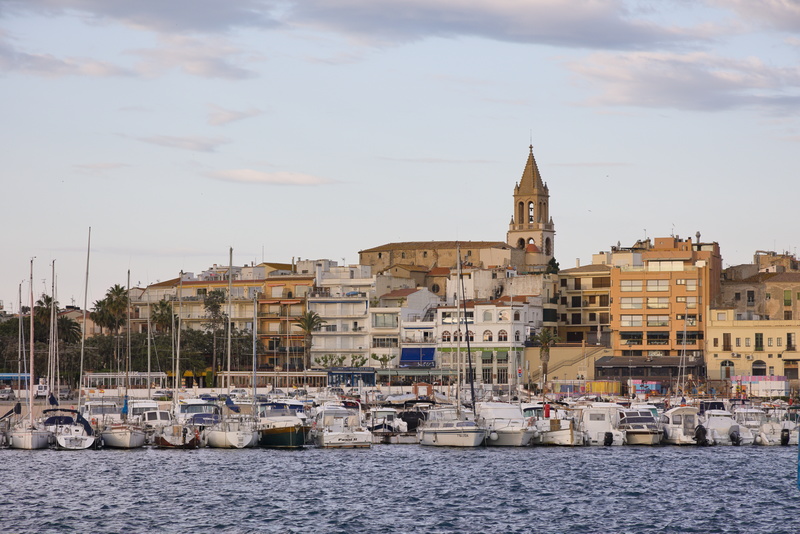 Looking back inland, you can't really call it a 'pretty' town, but we've seen a lot worse.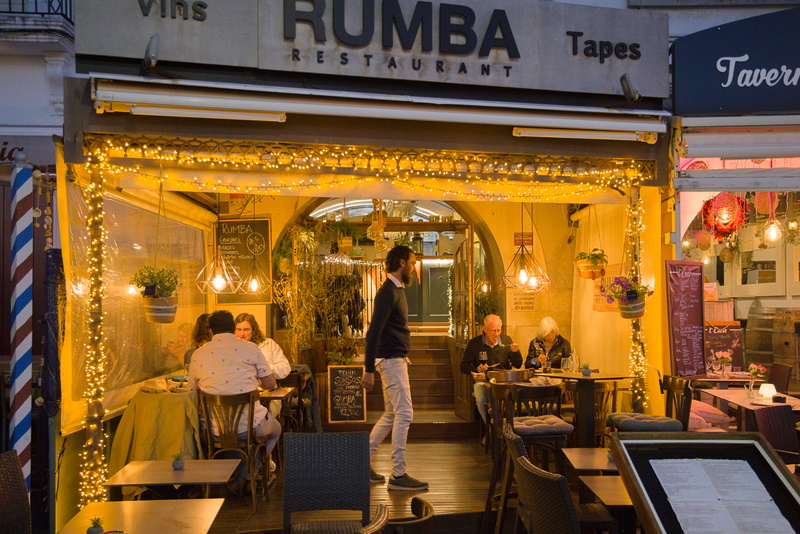 And so to dinner, at Rumba tapas bar and restaurant.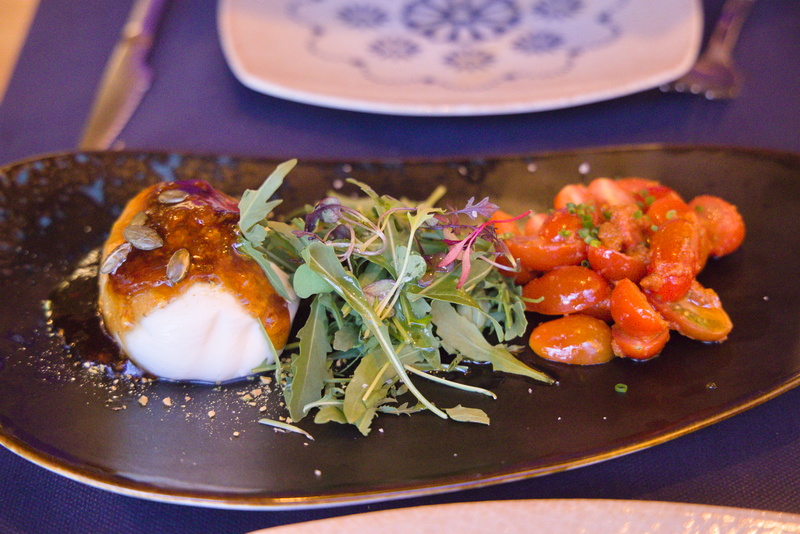 Seriously yummy and beautifully presented.

Not pretentious 'fine dining' by any means, but 100% recommended.

Oh, do you remember Siouxie and the Banshees' song "Hong Kong Garden" about a Chinese takeaway? Well "La Rumba de Palamós" by Trikitown is nothing like it, but I wasn't expecting to find it on YouTube!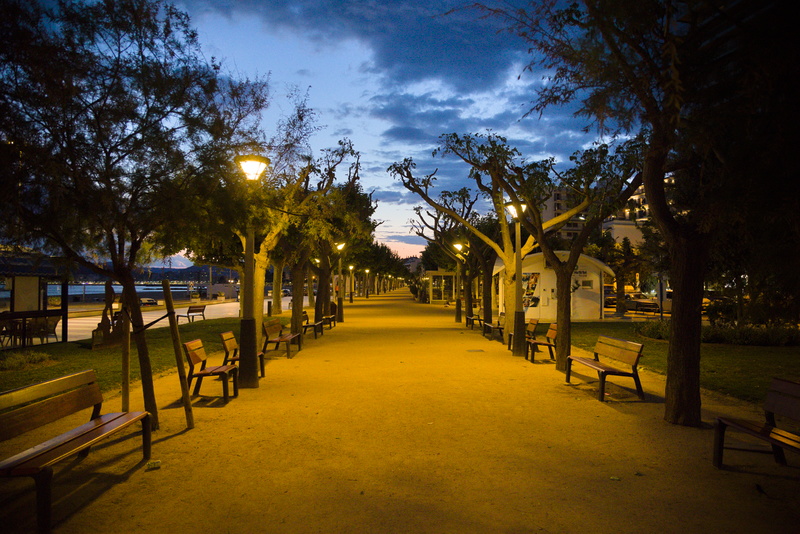 And as dusk falls, we walk the short distance back to the hotel.


---

⬅ previous ⬆intro next ➡