The Rain in Spain!

⬅ previous ⬆intro next ➡
---
Day 9 (May 16) ~ Palamós to Toroella de Montgrí


Today we head generally north, albeit in rather a zig-zag fashion.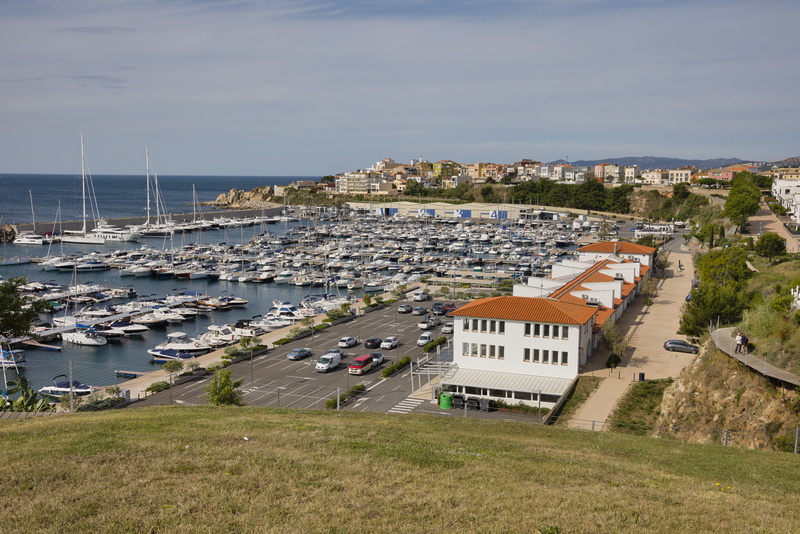 As we leave town to the North, we look back over another marina. Everything we did and saw previously here lies behind the headland.

Before long, we leave the road and are back on another via verde. It may be flat now, but there's a strong headwind.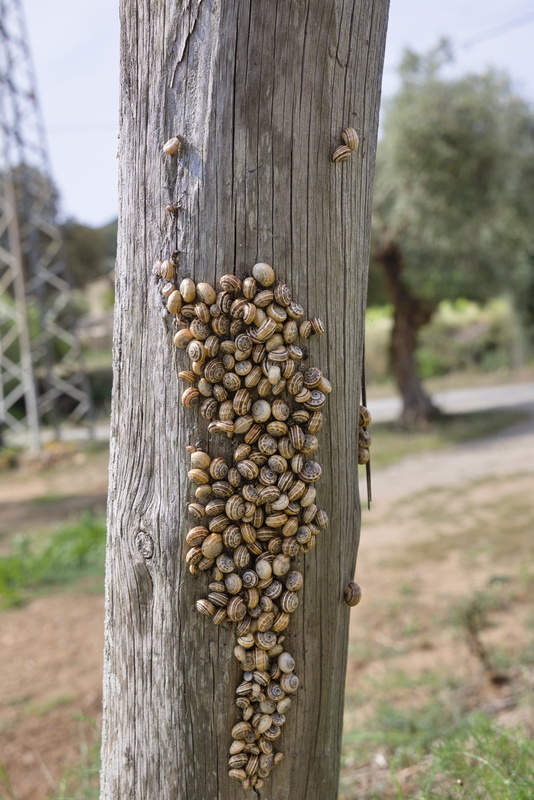 Snails on a post rather suggest that there's a definite prevailing wind round these parts!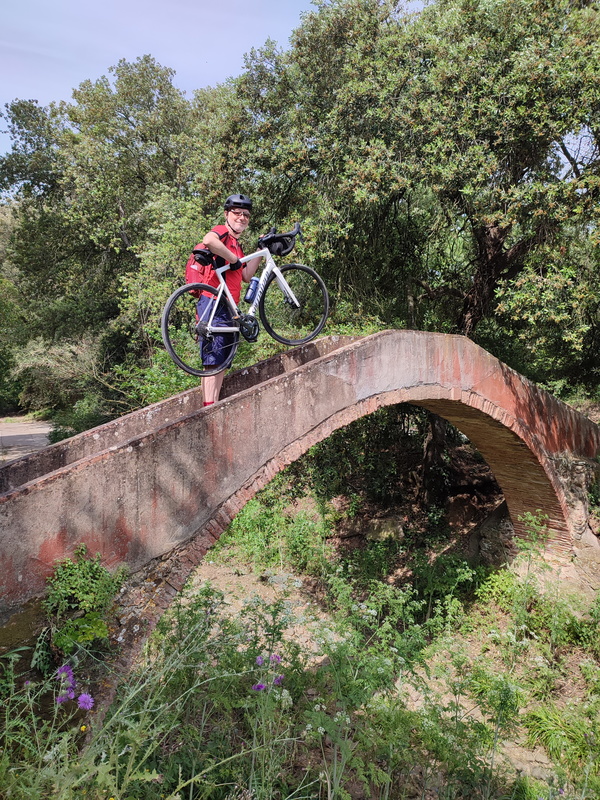 Oops. We should have left the via verde for a small road forking off it just a little way back, but no need to retrace ourselves, there's a convenient footbridge.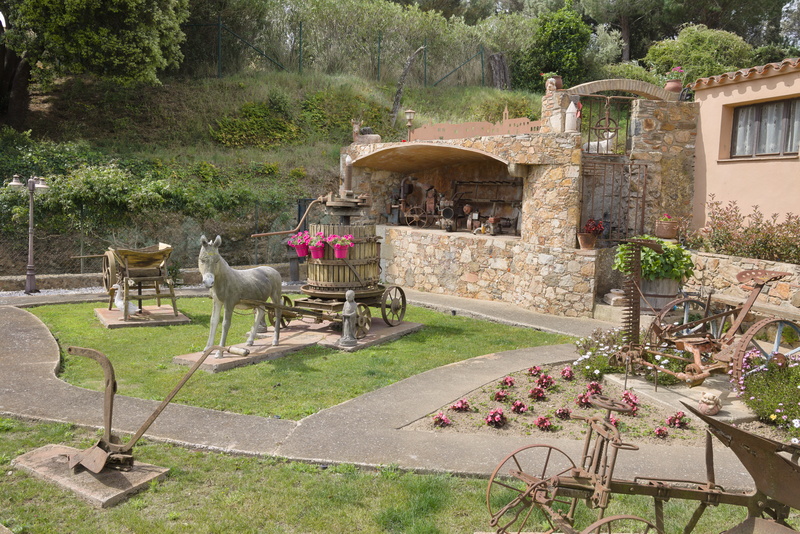 On the outskirts of the town of Palafrugell, somebody seems to have turned their garden into a miniature farming museum.

Other than this, Palafrugell appears to have nothing worth mentioning, so on we go. But blimey, that wind is strong! It's not cold and wet today, but the weather gods are still laughing at us. And soon, we have a nice big hill to climb too. The total ascent from Palafrugell to Begur, the highest point on today's ride, is only about 175m, but it's a pretty constant 2% gradient for about 8km with a gale blowing against you all the way.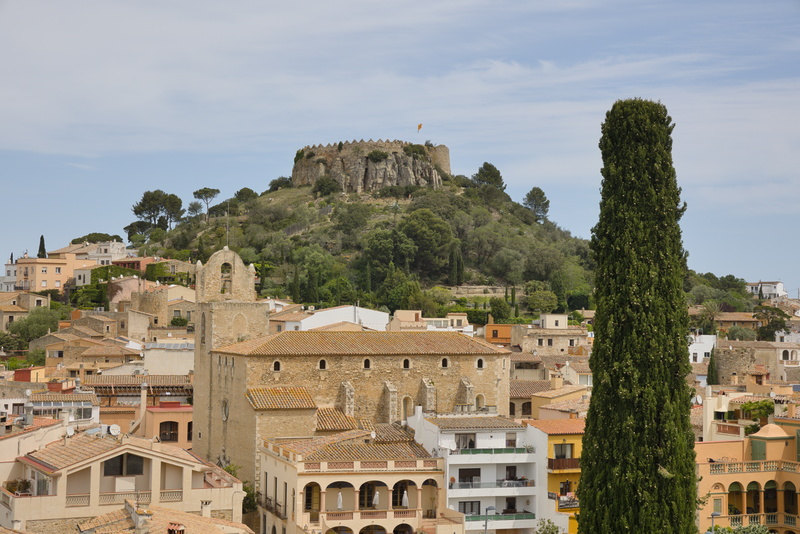 Begur is an attractive little hilltop town, although there's an even hillier bit with a ruined castle on top. It's a bit too out of our way to visit, especially as we're only about a third of the way to our destination and it's already nearly lunchtime.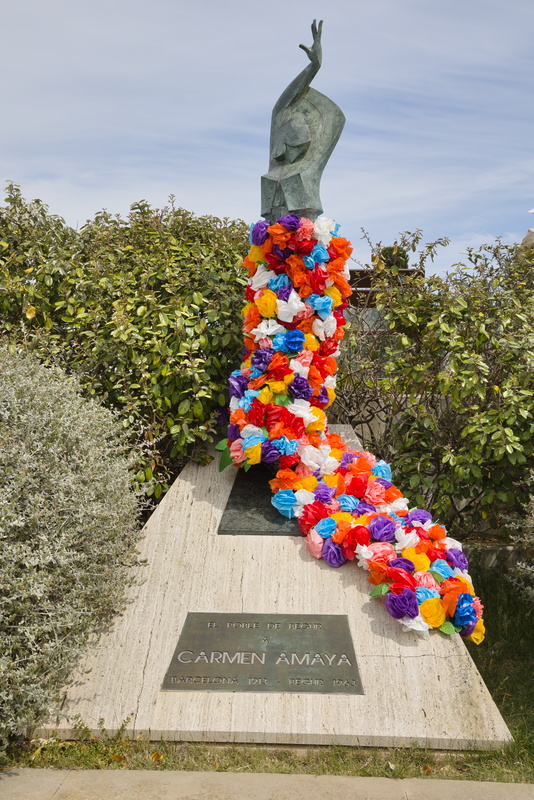 A statue to the flamenco dancer Carmen Amaya, who died in Begur in 1963. If you are not an afficionado of the art, you may never have heard of her, but Wikipedia tells us,

She has been called "the greatest Flamenco dancer ever" and "the most extraordinary personality of all time in Flamenco dance." She was the first female flamenco dancer to master footwork previously reserved for the best male dancers, due to its speed and intensity. She sometimes danced in high-waisted trousers as a symbol of her strong character.

I freely admit I do not understand the importance of the trousers.

We find a somewhat sheltered spot in a public garden and have our lunch, glad to be out of the wind for a bit. Then it's onwards and upwards. Actually, it's onward and downwards, but we're not sure if the wind is stronger than gravity right now.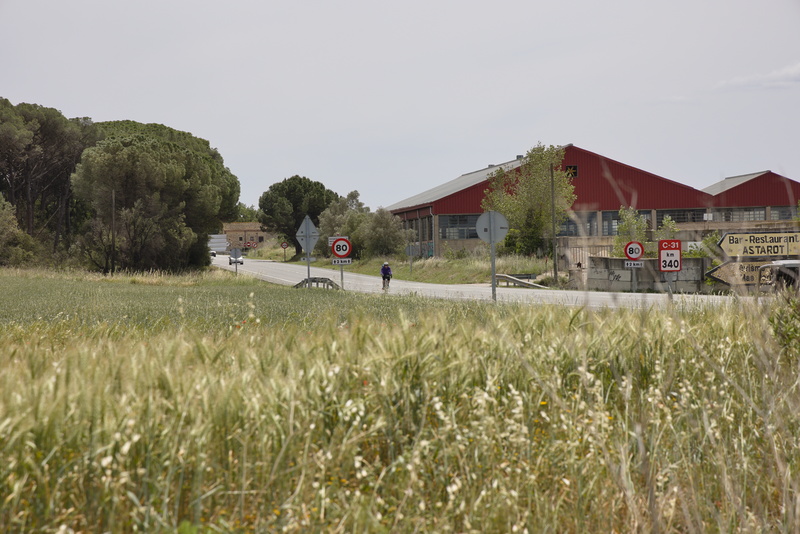 The descent is generally a bit steeper and longer than the ascent, which is good up to a point. Amanda is very nervous about being blown into the path of traffic and feels safer pushing the bike than riding it in parts. I'm far more gung-ho, naturally, but some of the stronger gusts aren't much below the point where I'd be doing the same. The road finally levels out just before the town of Pals, and I take a picture that is not in any way an accurate impression of our experience of the last 17km.

The "Welcome to Pals" signs proudly proclaim it to be a land of rice, but today we are not ricily inclined, we're going for the mediaeval town centre.

[Hmm, I thought as I was writing that, what is the adjective for "of or pertaining to rice"? I mean, there must be such a word, mustn't there? But maybe not... Rice as a crop wouldn't have been known to early Northern Europeans, so there won't be any Anglo-Saxon word, but what about Latin? Well there is a Latin word, 'oryza', which is used for the name of the genus to which rice belongs, but I can't say I've ever seen it in any Anglicised form. The Romans got it from the Greek 'ὄρυζα', which is basically just the same thing in a different alphabet (and the Greeks apparently borrowed it themselves from an Eastern Iranian language), so logically the classically derived adjective would be "oryzal" or similar. If that word exists in English at all, it's clearly vanishingly rare. I don't have access to the full Oxford English Dictionary, but it sure as hell ain't in any lesser ones. So there you go: today's lesson is a word-shaped hole in linguistic space.

Oh, and while I'm digressing, I hadn't realised that although there are other species in genus Oryza, almost all the world's rice varieties (over 40,000!) are cultivars of the one species, O. sativa. "Wild rice", though, as a culinary item, is a term that covers members of the related but different genus Zizania.]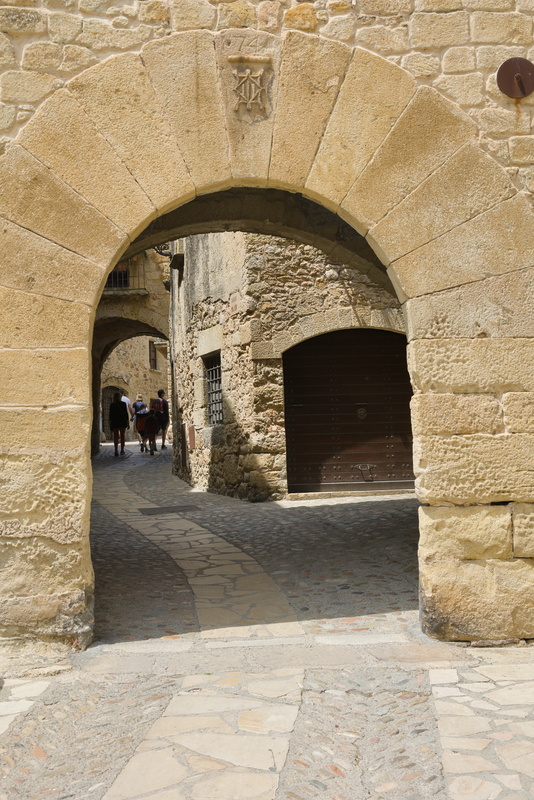 Anyway: into the walled mediaeval town.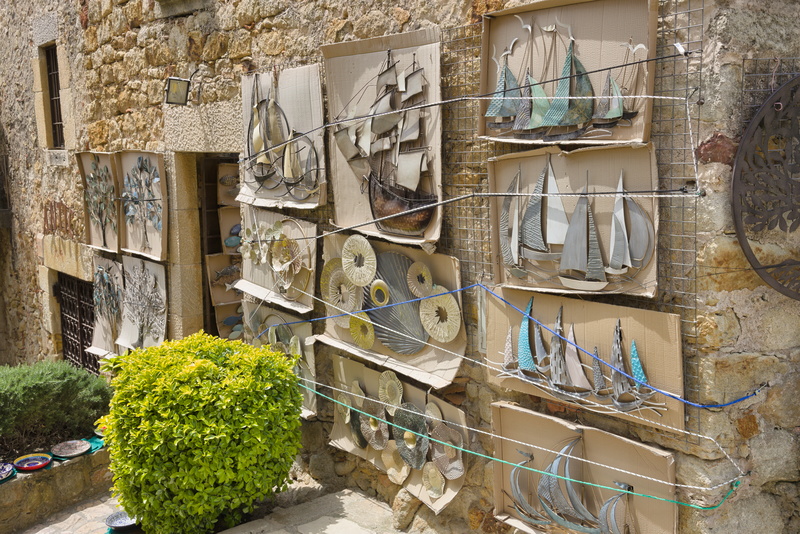 Unsurprisingly, it has some bijou little artisty places where tourists can go to lighten their wallets.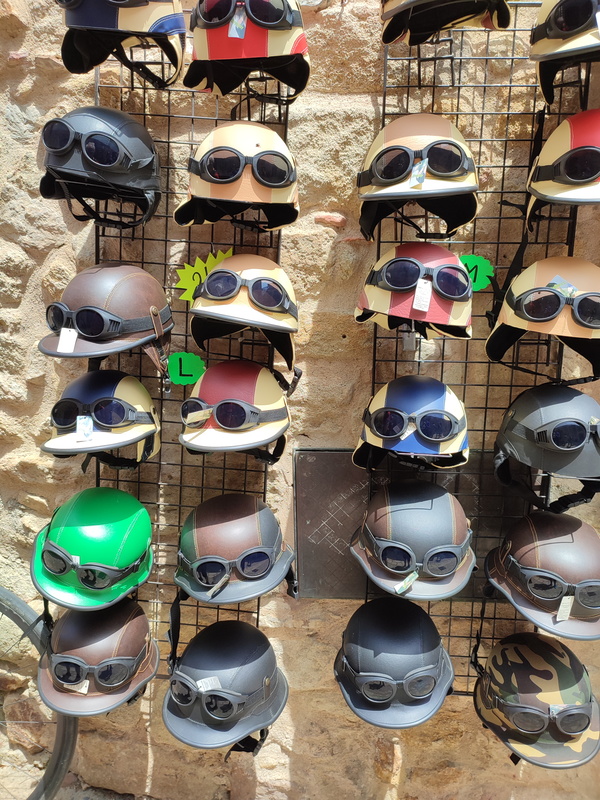 But the retail offerings can be confusing at times.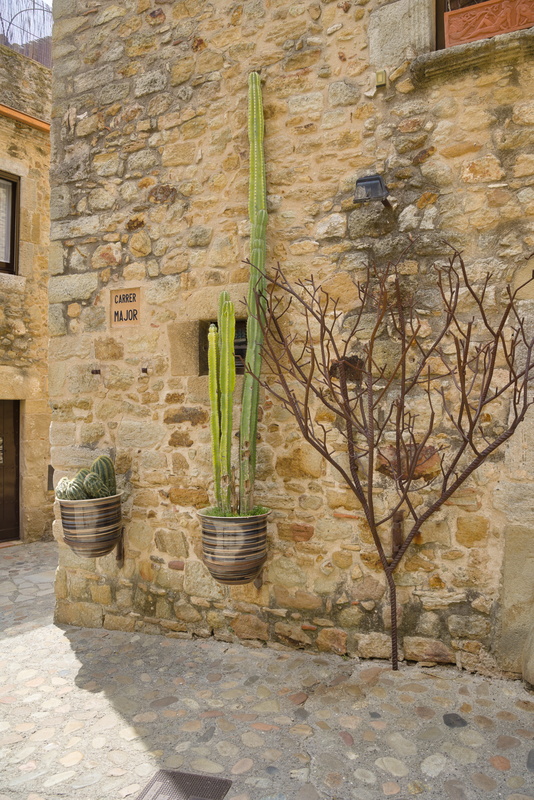 Some very splendid cacti!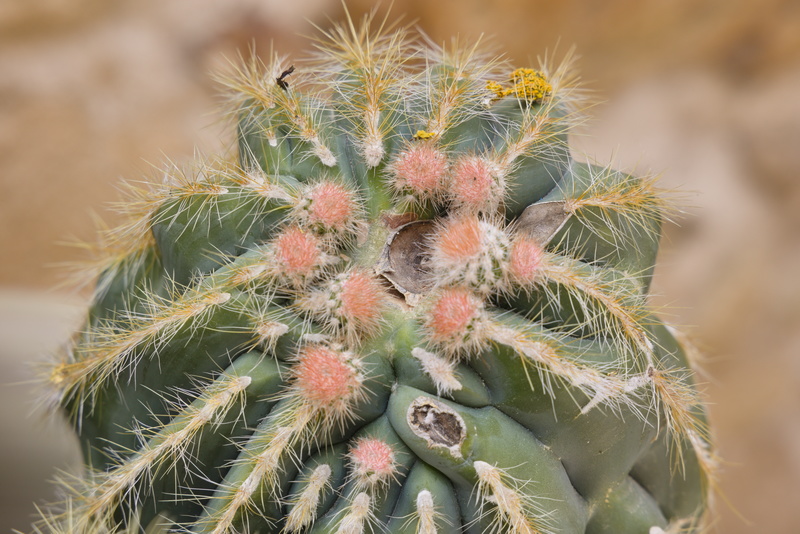 And up close.

Leaving town, we're back in rural parts.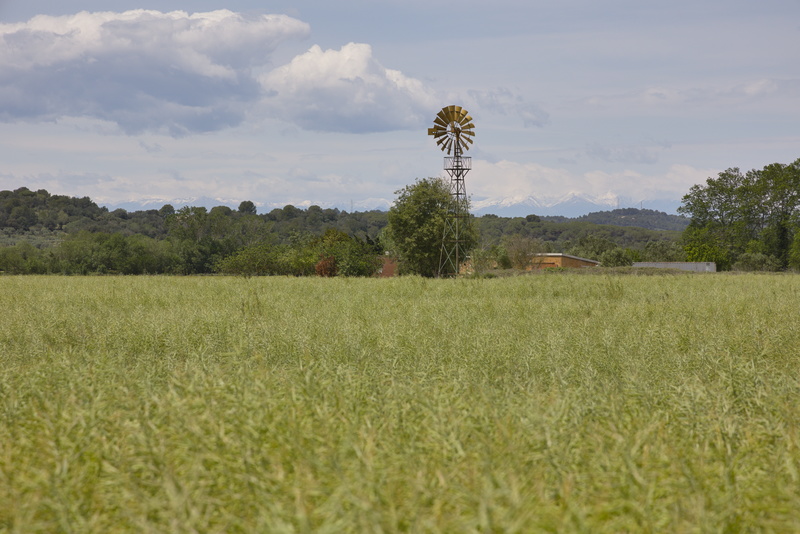 Although these traditional wind-powered water pumps are quite common, we realise we're a bit surprised that we're not seeing domestic electrical turbines. After noticing how common they were in the Orkney Isles last year, it seems odd that people here aren't benefitting from the local hurricanes as much as they could.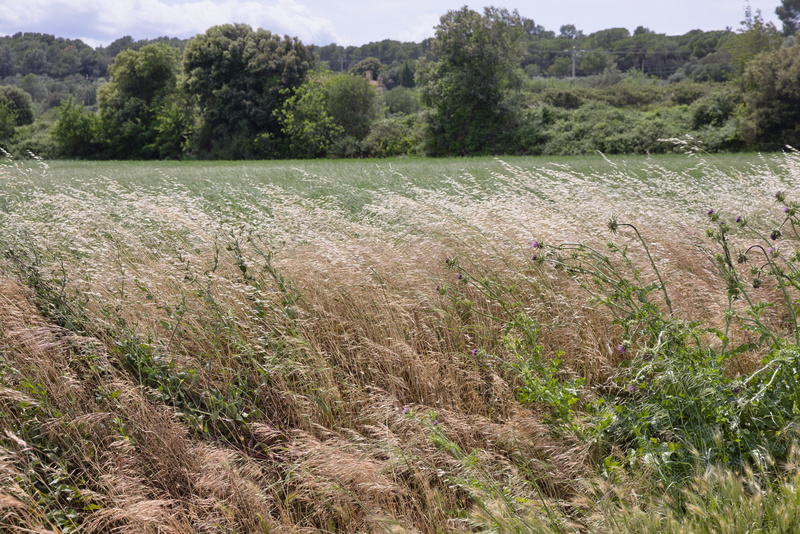 There is most definitely a prevailing wind here.

Now I realise that I may have mentioned this a few times already, but the constant battle never lets up.

Anyway, our next stop is another mediaeval town, Palau-sator.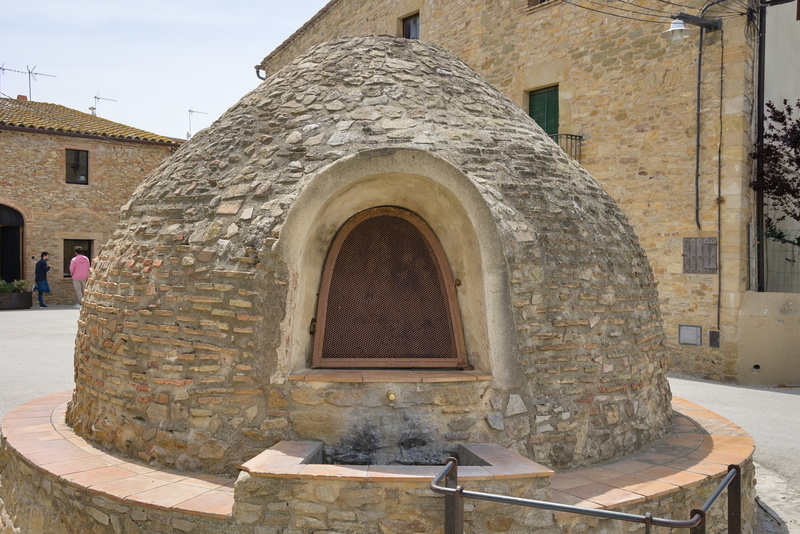 In a square just outside the wall, we're not quite sure what this stone beehive thing is. Below that door, there's a water tap and a cistern, but what's inside we don't know. Perhaps it's a pump mechanism or something, but for once, the Web is no help.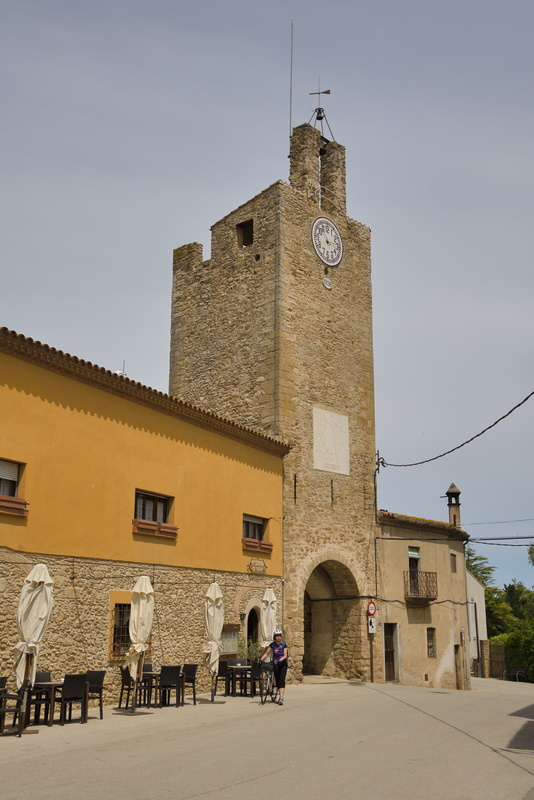 The way into the centre is through the arch under the clock tower. The plaque below the clock face says "1936", so probably not an original feature.

By contrast with Pals, though, there's not that much more to see here. The next town is Ullastret, which is basically more of the same, so we'll just skip it entirely.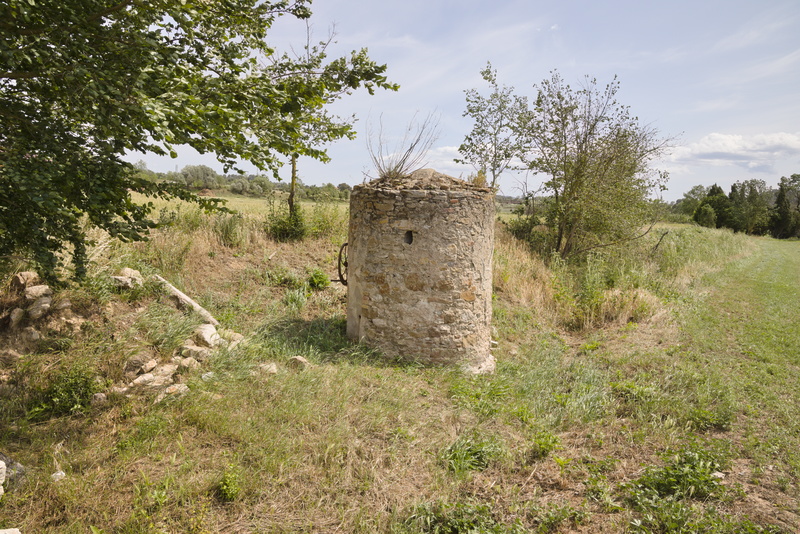 Back on the road, we see this curious little round tower with a wheel in the side. Around the back it looks like it once had a large window, now blocked off, so best guess is that it's a disused well.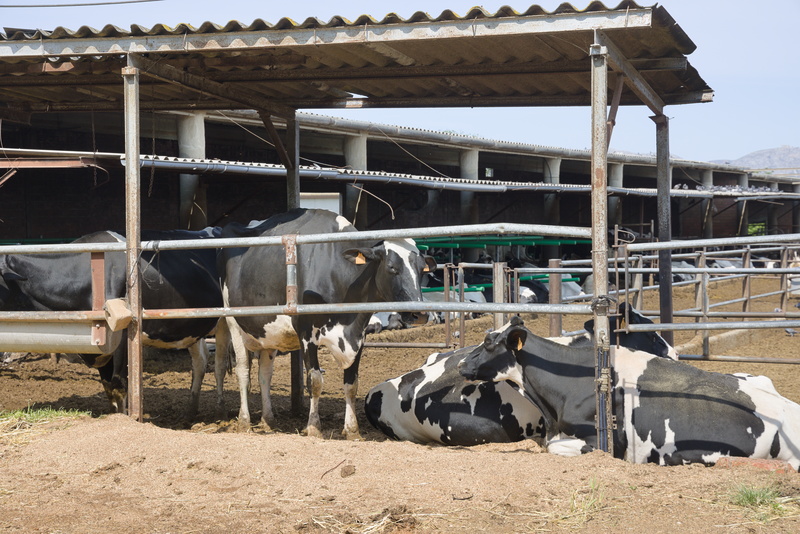 The farming seems mostly arable around these parts, although far from exclusively so, but this is the biggest dairy farm we've seen.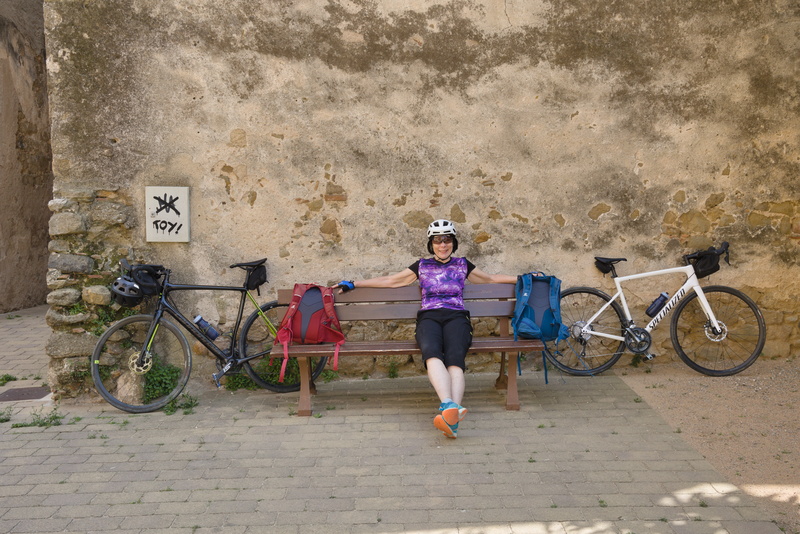 A break from the wind at Parlavà.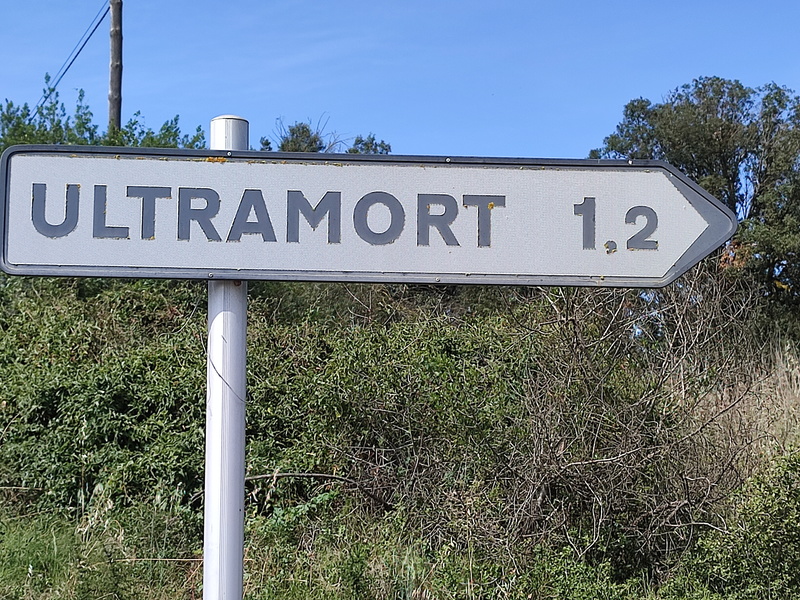 We can't help thinking this sounds like the name of some super-villain out of the MCU, or if it's a place, maybe the local equivalent of Area 51?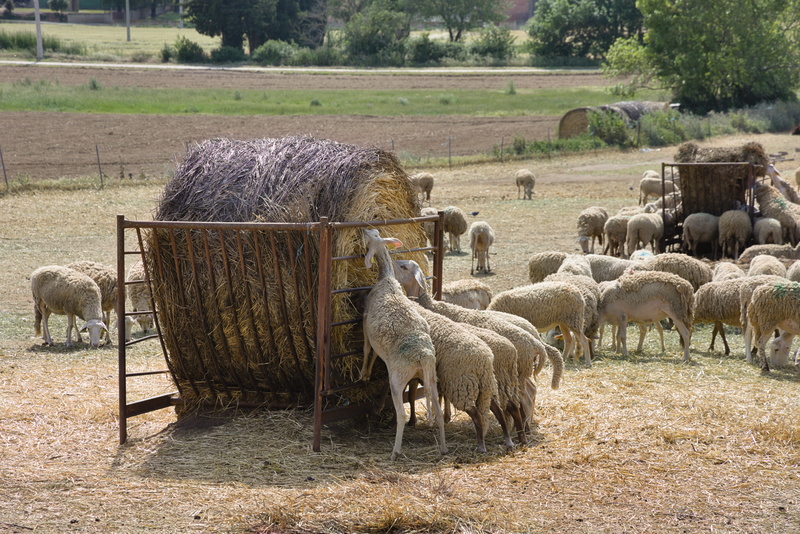 We have seen grass eggs being laid many times, or lying in fields waiting to be collected, but this is the first time we've seen them being (metaphorically) fried up for breakfast.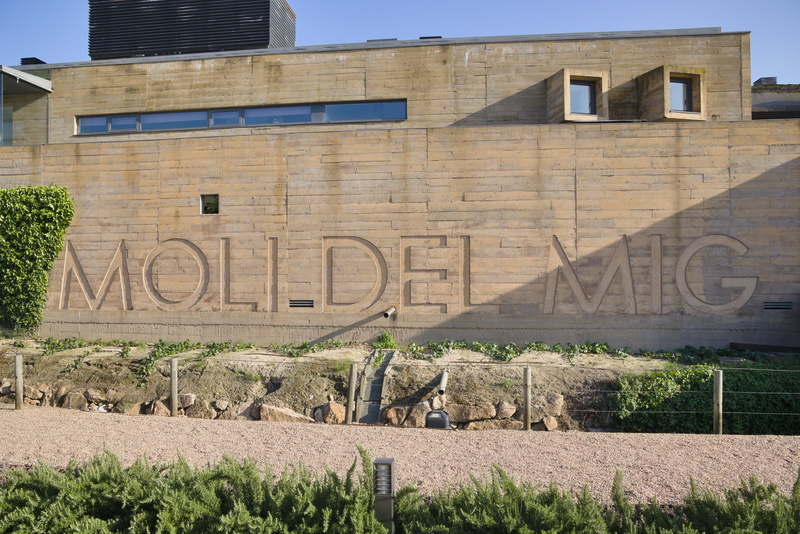 And here is the end of today's journey, the hotel Moli del Mig.

Unlike previous hotels, this is obviously a very new building, although it's based around an old farmhouse. Our room turns out to be the one with the two windows sticking out on the corner.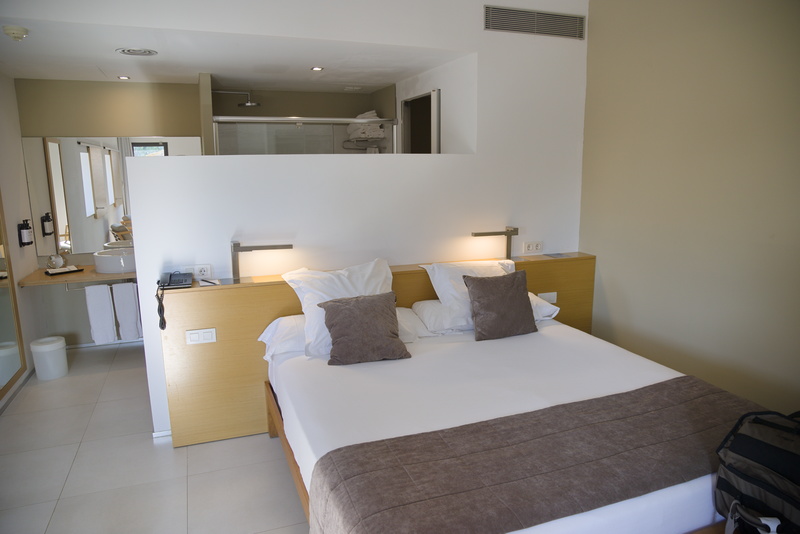 Inside, a very simple contemporary look. It works for us.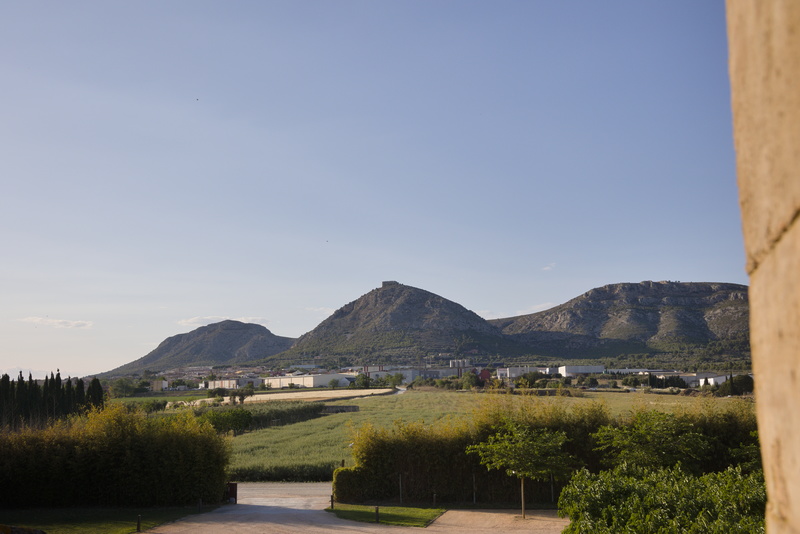 Looking out through the window, there's some sort of castle on the top of the hill behind the town. We think that could be a good destination for exploration tomorrow.

As you can see, we're a bit out of town, so we'll eat at the hotel restaurant tonight.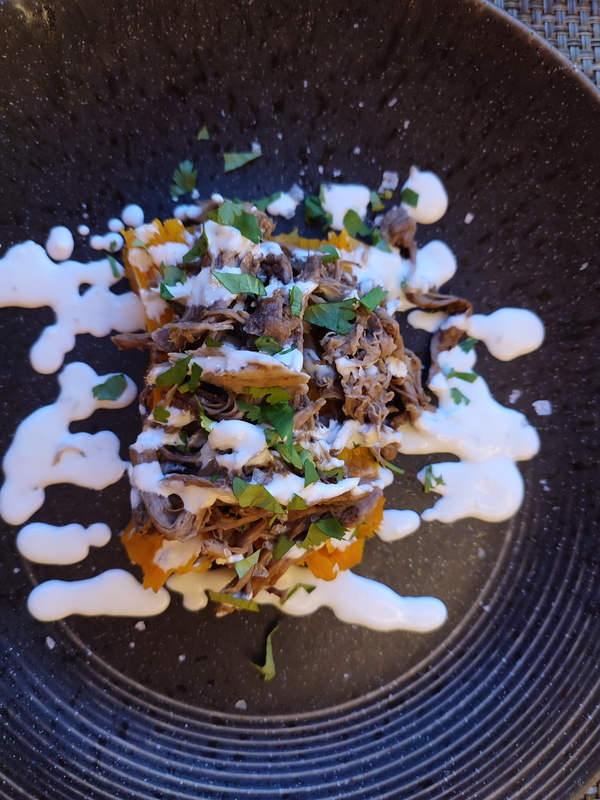 Unfortunately, it looks more interesting that it tastes. It's not bad as such, just doesn't quite live up to expectations.

---

⬅ previous ⬆intro next ➡